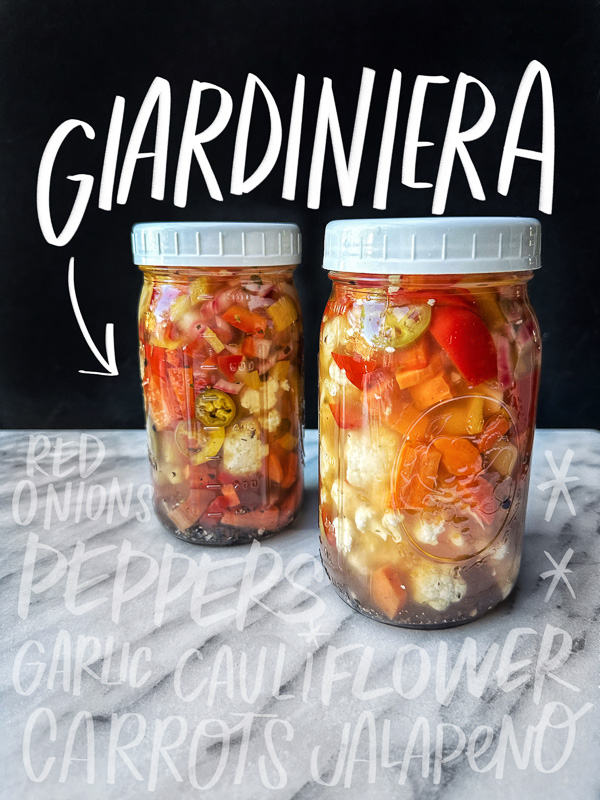 What the heck is Giardiniera? It's a spicy Italian pickled vegetable mixture that's mostly eaten as an antipasto. Sometimes it's included in salads and it's occasionally shoved into a delicious Italian sub. In my case, it's a healthy snack eaten directly out of the jar!
Ever since I had this simple salad at one of our favorite pizza places, I've been somewhat addicted to the taste of crunchy pickled carrots, tangy bites of cauliflower, and red peppers with spicy slices of jalapeno peppers. It's definitely a party in your mouth! When I wasn't able to find a reasonably priced jar of Giardiniera in my local grocery store, I figured I'd make my own. Turns out it's a cinch to make and the second you open the lid, one whiff will you transport you to that kitschy Italian restaurant from your childhood. Pickling your own vegetables is super fun! I highly recommend it.

And we're off!
Get the ingredients together.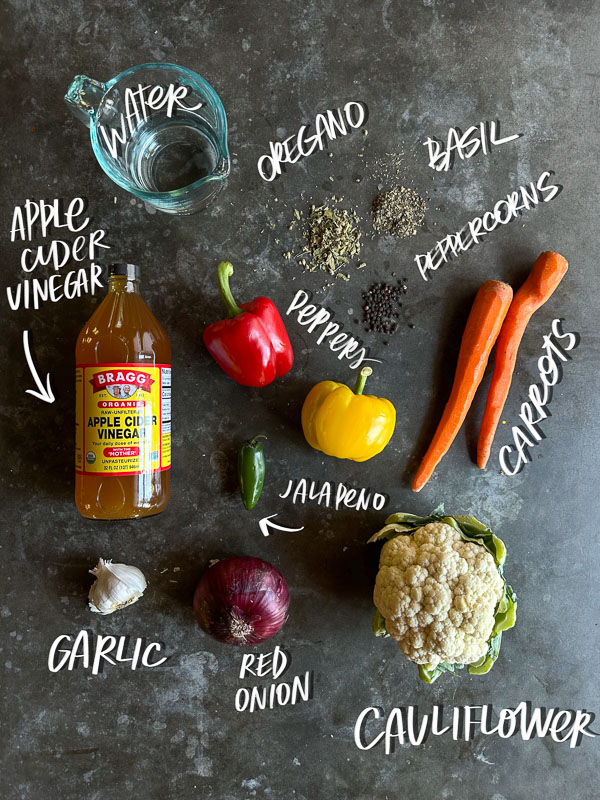 Vinegar, sugar, water, salt & peppercorns get heated up and simmered.
More chopping…
Again with the chopping…
Serrano slicing and onion slicing…don't touch your eyes! Stop crying.
Throw it all in a bowl. MIX.
Put the mixture into two quart-sized mason jars.
Top with halved garlic & jalapenos.
Get the basil & oregano together. Oh! More peppercorns? Sure!
Top the loaded jars with the spice mixture.
Pour the vinegar over the top of each jar.
Put the lid on and shake each jar. Open them up. Let them cool off.
Two days in the fridge…eat some sunflower seed butter while you wait.
Look! You pickled stuff! Now eat that pickled stuff!
Giardiniera

Makes 2 quarts
(recipe adapted from MyRecipes.com)
3 cups cider vinegar
1 cup water
3 tablespoons sugar
1 tablespoon salt
2 cups small cauliflower florets, chopped (about 1 head)
1 cup red pepper, chopped
1/2 cup yellow pepper, chopped
1 cup carrots, chopped
1/2 medium red onion, chopped
1 jalapeno, thinly sliced
4 garlic cloves, halved
1 teaspoon dried basil
1 teaspoon dried oregano
1 1/2 teaspoons black peppercorns
Combine vinegar, water, sugar, salt in a medium saucepan. Bring to a boil, reduce heat, and simmer for 3 minutes. Put all of the chopped cauliflower, peppers, onions & carrots in a large bowl. Mix to combine and then divide the mixture between two-quart sized-mason jars. Top each jar with half the dried herbs, peppercorns, jalapeno and garlic. Carefully pour vinegar mixture over cauliflower mixture. Place the lids on the jars and slightly agitate to evenly mix. Take the lids off the jars and let giardiniera cool off, for about 15 minutes. When cool, seal the jars tightly and place in the refrigerator for at least 2 days, making sure to agitate a couple times per day. The giardiniera will last for up to a month in the fridge.
Shutterbean Notes:
-If your vinegar mixture doesn't fill up the jars all the way, don't fret! Add a bit of water! Agitate it. Done.