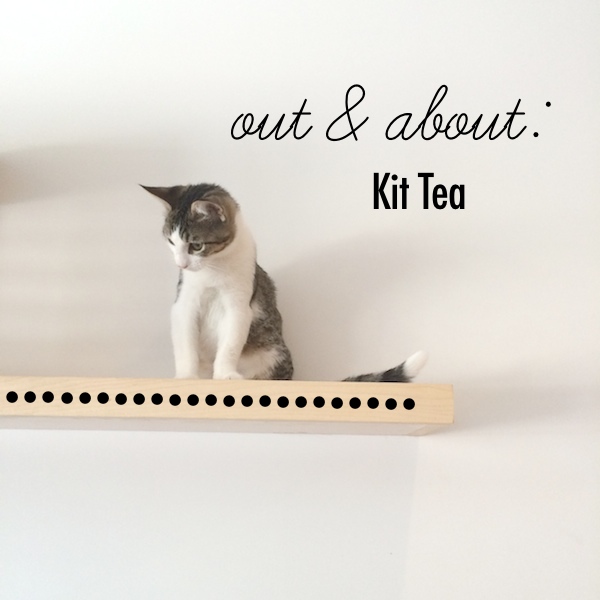 It's been a long time since I've done an Out & About post here, hasn't it?
This weekend my friend Lisa and I had a lady date Saturday morning (we were LONG OVERDUE) in San Francisco. We went to Flax for art supplies and then Kit Tea. There's nothing like art supply shopping and cat snuggling on a Saturday!
Kit Tea is a really cool tea/cat bar in Hayes Valley. I stumbled upon it a few weeks ago when I was going to Zuni for dinner with my friend Gaby. You can make a reservation to cuddle with 10-15 cats while you drink tea (you pay for a half hour or a whole hour!). And that's what I did this past Saturday. We spend a whole hour cuddling & playing with cats.
Here's the lobby: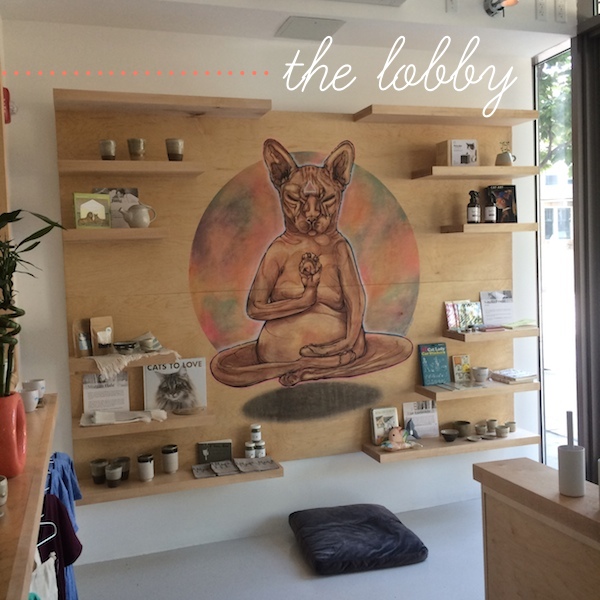 There's the cafe.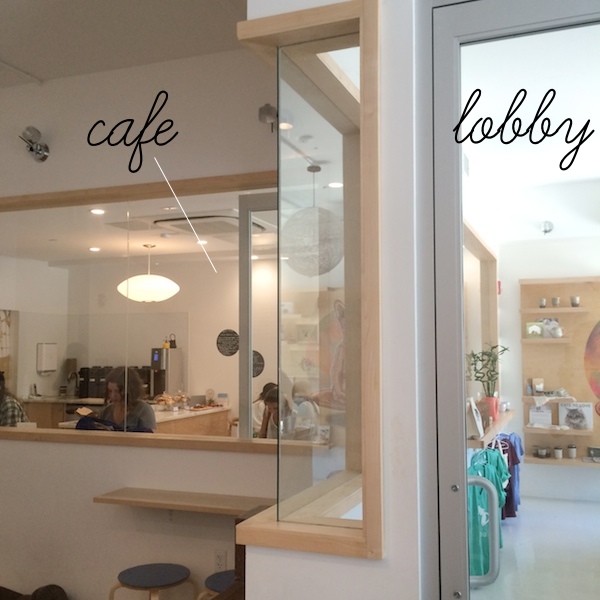 The Cat Playground!!! They have so many neat structures for the cats to climb on.
I believe the maximum occupancy is 10 humans & 10-15 cats.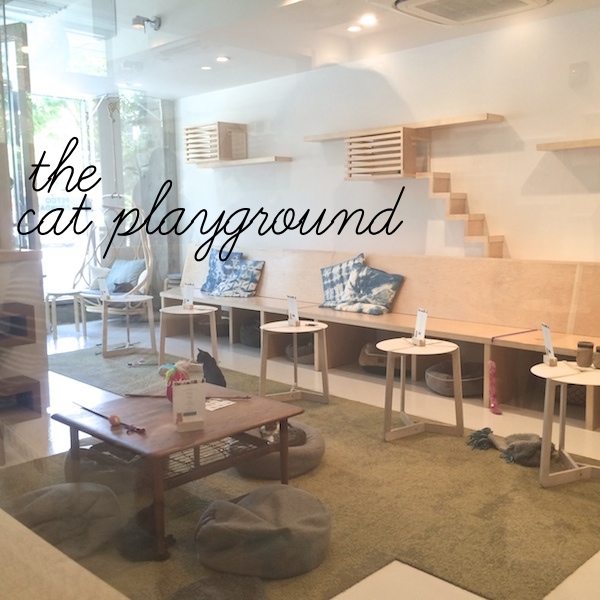 Treats you can take into the cat room with you.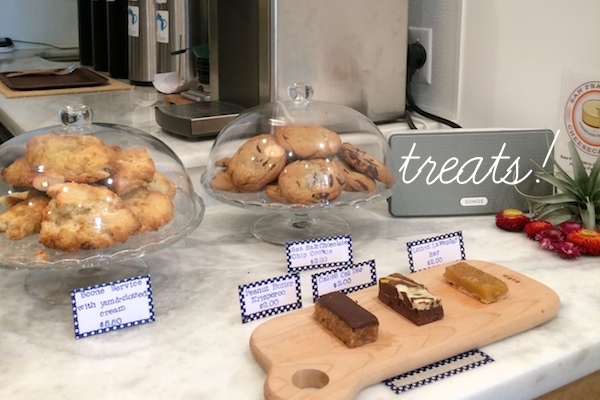 And of course– TEA!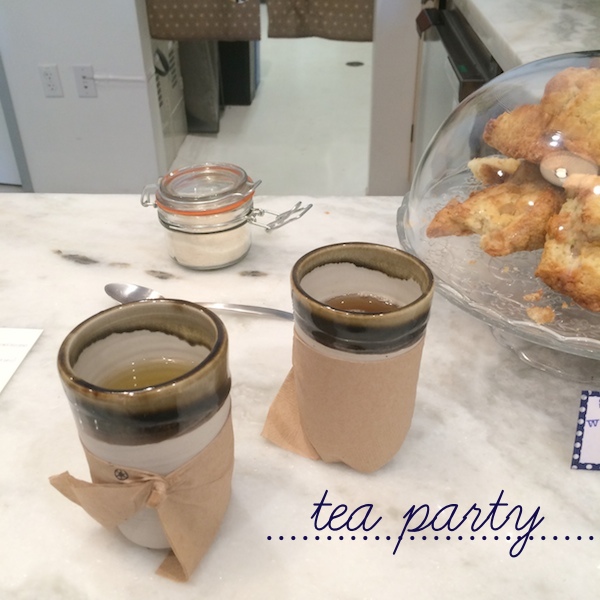 Within seconds of walking in…this cat (Eric!) was right on my friend Lisa's lap.
He was such a little lover.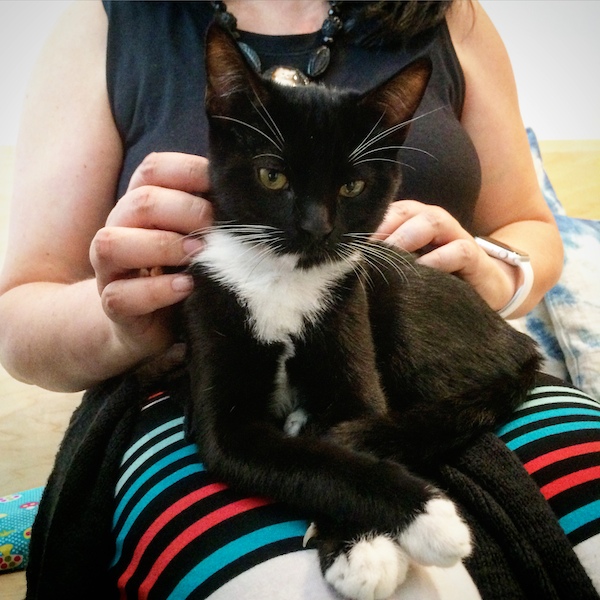 These two were having a fun time playing…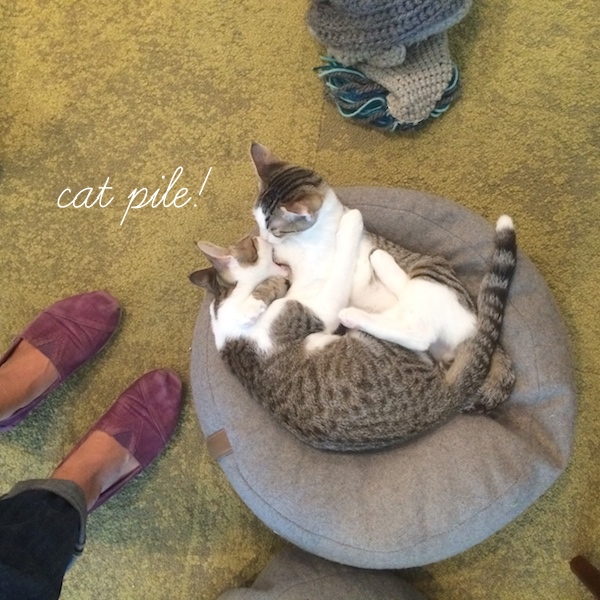 We got a little hoard of cats near us with the toys they supply.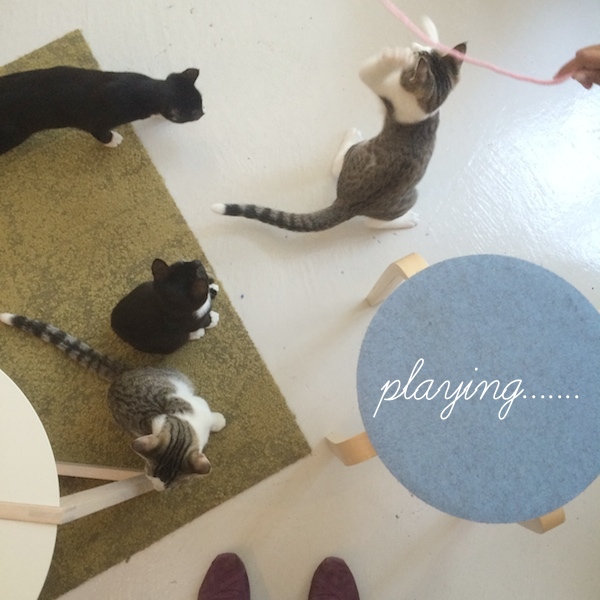 It was funny to watch all the dogs walk past and FREAK out when they saw all the cats.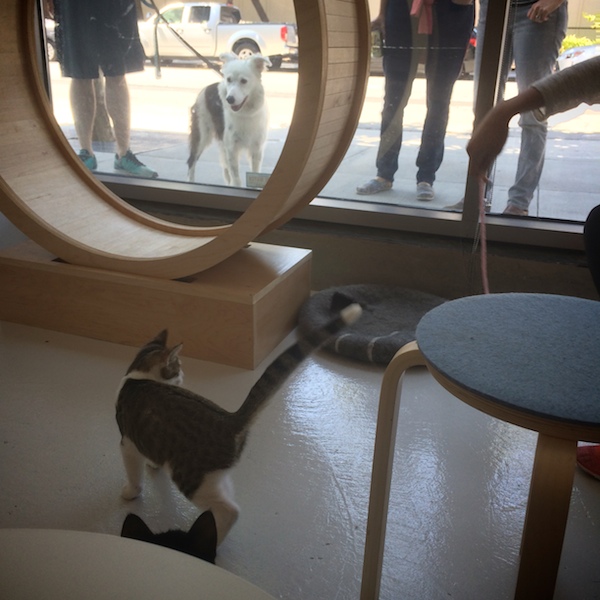 This little baby was about 2 months old. The other cats were around 3-4 months old.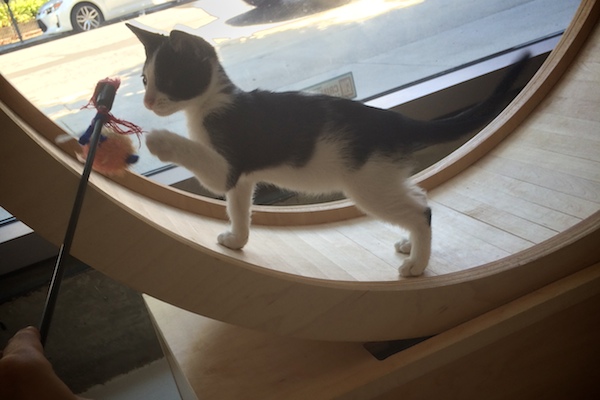 It was really nice to be around cat people. Cat people are my people.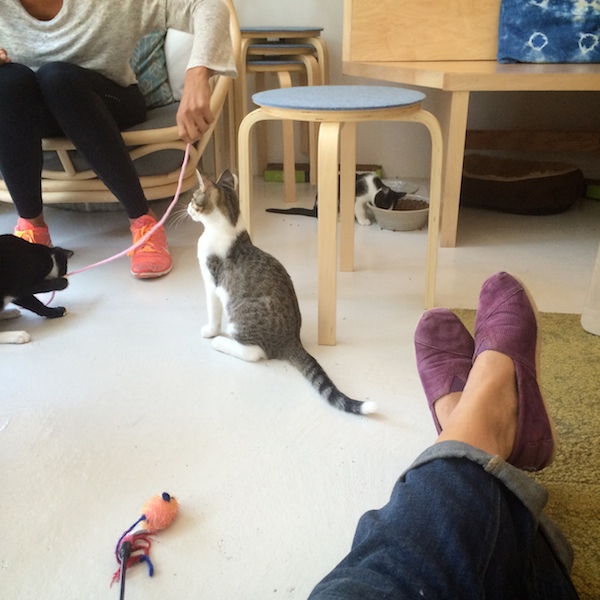 This one cat didn't open her eyes at ALL until I put another cat next to her and she proceeded to clean her brother.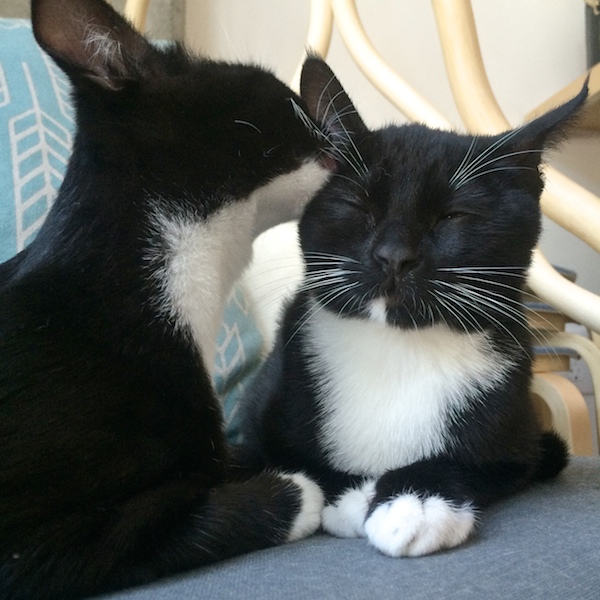 I wanted to take her home because I could tell she was a clean freak… like me…
The cool part is that all of the cats are up for adoption (they have information on their site!).
They've adopted 24 cats since June 2015!
There was a couple who came in because they fell in love with a cat's picture online and they wanted to meet the cat in person before they adopted him. Modern day romance!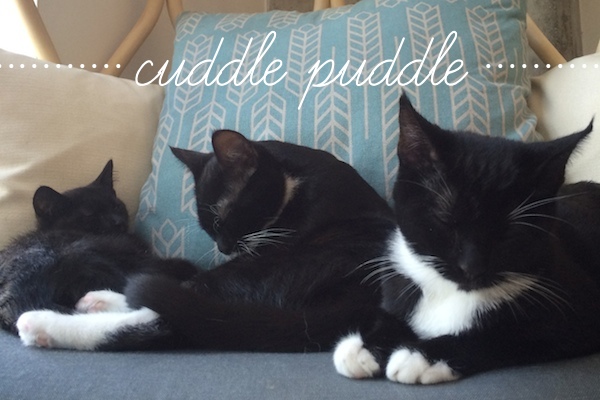 This one almost came home with me…..I loved her markings. She was a little shy though.
And that's the cool thing—You can spend time and get to know a cat and see if they're a right fit for you & your family. This cat would probably hide the second she saw Cooper. He's much too loud & fast for a cat like her.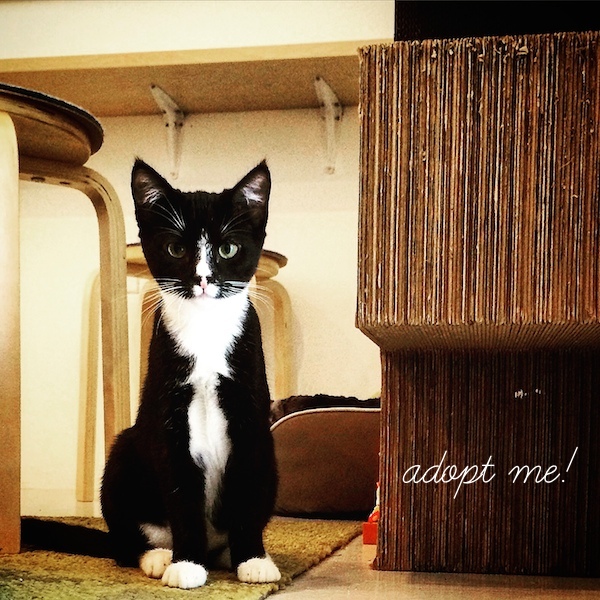 Here's the thing…. I had no idea how much I love being around cats until I was around SO MANY OF THEM.  It's SO DANG therapeutic and FUN.  We have one cat at home (Pinot) and I've been wanting another cat so bad, so this definitely didn't help. I'm going to have to bring Casey with me next time so he'll get kitten fever too.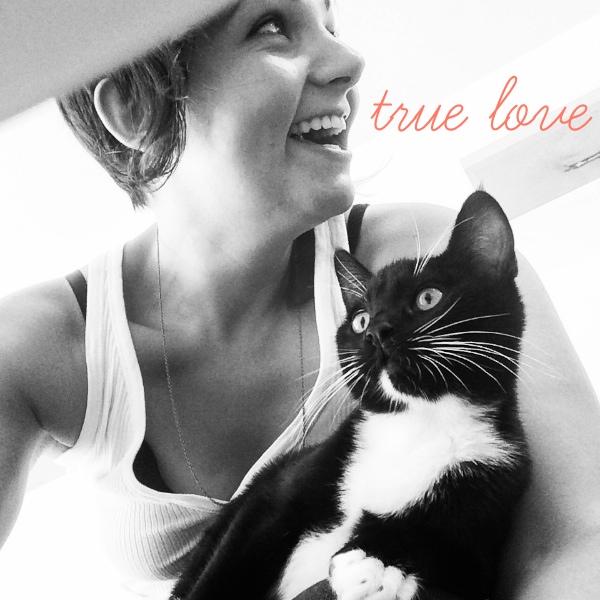 We'll definitely be back!

Hayes Valley
96 Gough St (at Page St.)
San Francisco, CA  94102
If you're traveling to San Francisco, check out this place and a whole list of my recommendations here!