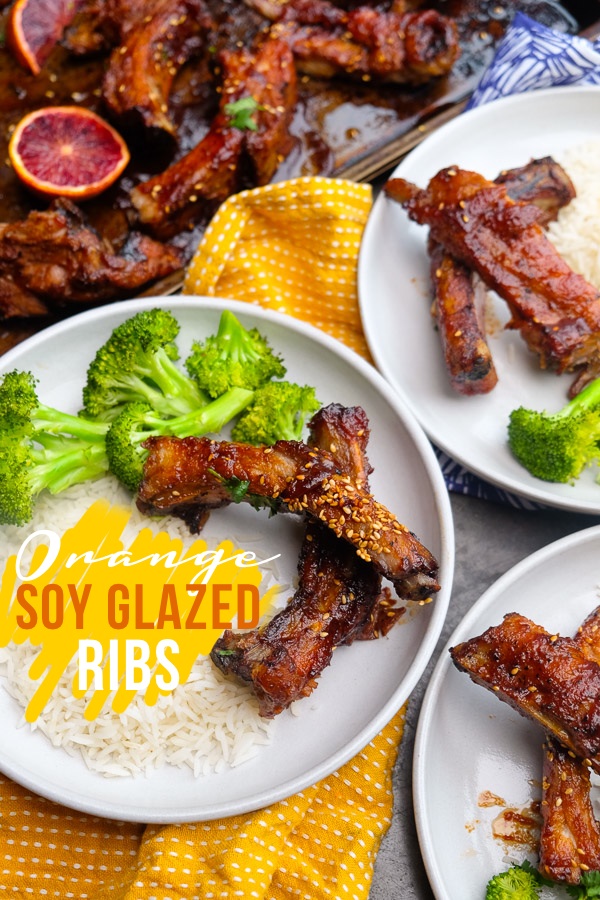 I'm always trying to take flavor combinations my child likes and apply them to other things. Like, my little man loves orange chicken and he also loves ribs. So, let's turn ribs into an orange chicken hybrid with this Orange Soy Glazed Rib recipe. Seems like it will work, right?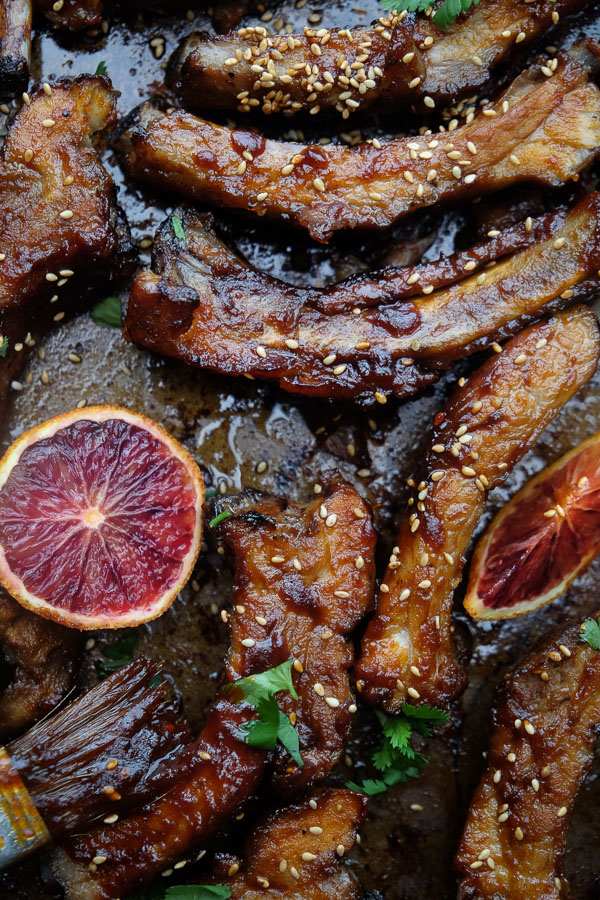 Instead of starting from the ground up and making our own BBQ sauce, we enhance our favorite BBQ sauce with orange zest, fresh orange juice & soy sauce.  Sesame seed addition to the end because we're fancy.
In retrospect, I should have left a few pieces without sesame seeds, because the boy did not approve.
He loved it all except for the sesame seeds.
Life's not fair, man. Sometimes you just have to eat them.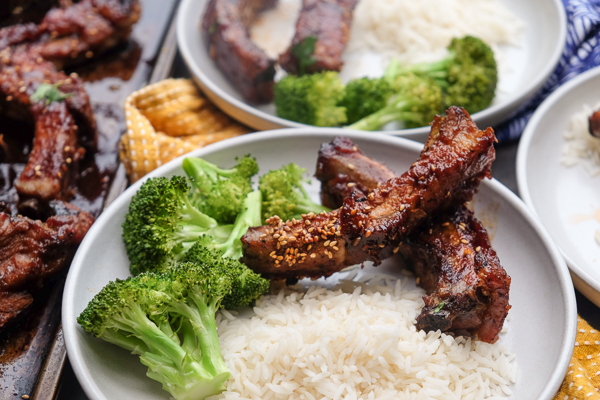 To be totally honest, I really just made these ribs because I CANNOT WAIT FOR WARMER WEATHER AND TO START GRILLING SEASON. There… I said it.  I mean, I am glad we're getting rain (we need it!), but I am kinda getting excited for the leisurely outdoor dinners coming up soon.
For now, I will turn on my oven broiler and pretend my feet are freezing  and eat these while wrapped up in my fluffy robe.  Anyways- make these! It's a new/flavorful spin on an old favorite. Discerning husband & picky child approved.
Let's gather our ingredients: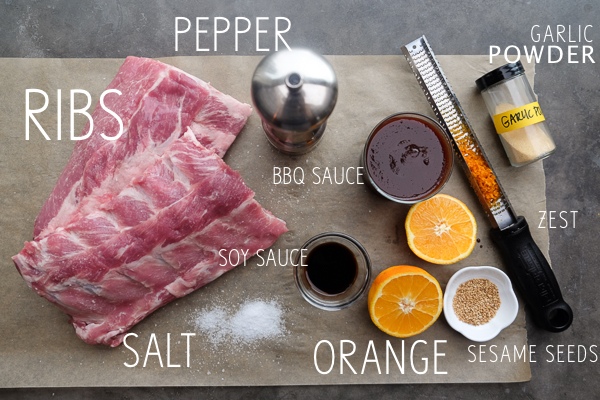 Cut slab in half. Season both sides liberally with salt, pepper & garlic powder.
Bbq sauce, zest, orange juice & soy go into a saucepan. We heat. We set aside.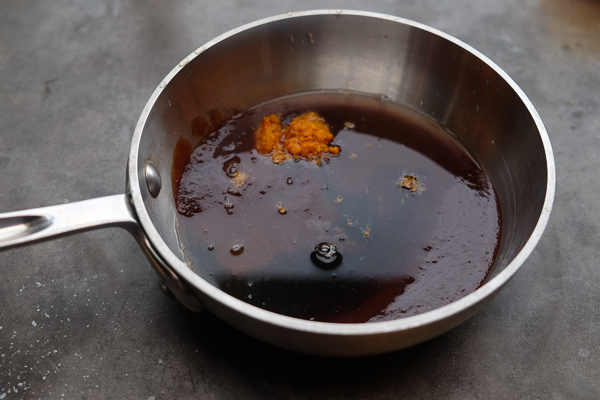 You need about 2 hours of oven time for this. So if you're coming home from work around 4:30, you can have ribs by 6:40ish. 2 hours to slow cook and then about 8-10 minutes broiling time.
Alternately you can reheat them the next day in the broiler. Just add a little more time.
You want to stack your ribs. Then flip them every half hour or so. Basically what's happening is that any fat that is coming off the ribs drips down to the other rack. We're basting ribs with ribs.
In the end the meat is tender and when we broil it with the bbq sauce, it gets caramelized and crispy.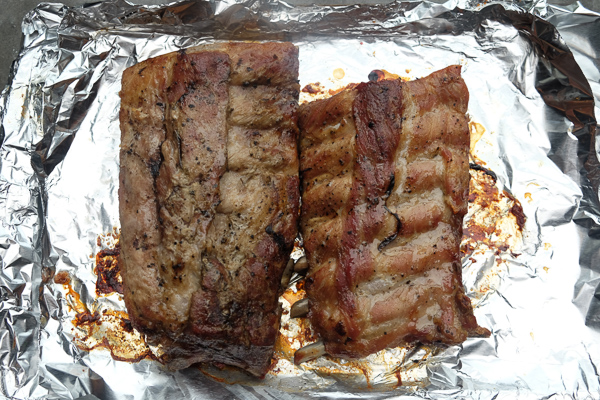 Sauced.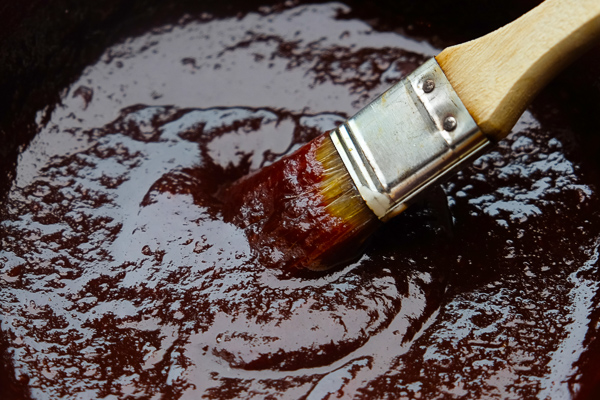 I like to cut up all the ribs before I broil them/serve them.
It makes it easier on everyone involved.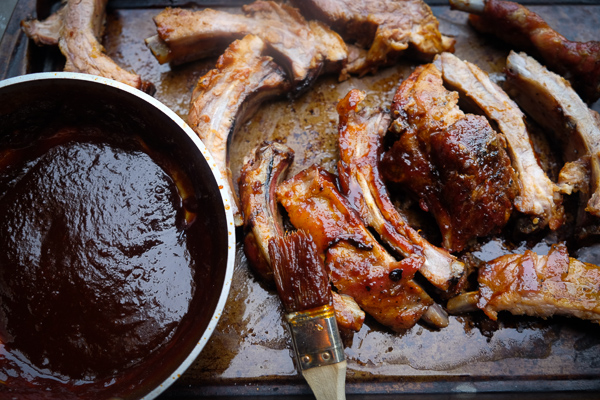 BROILED.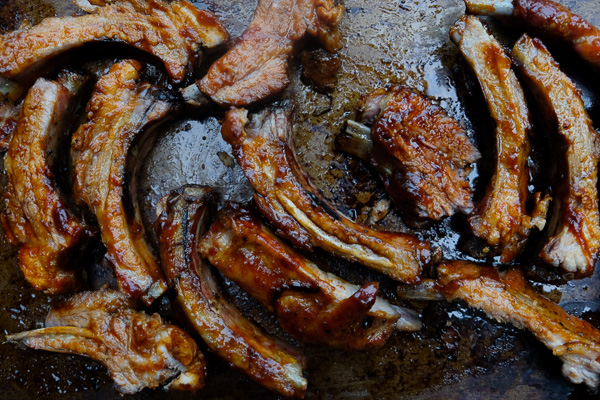 We baste another side. Broil.
Sesame seed addition.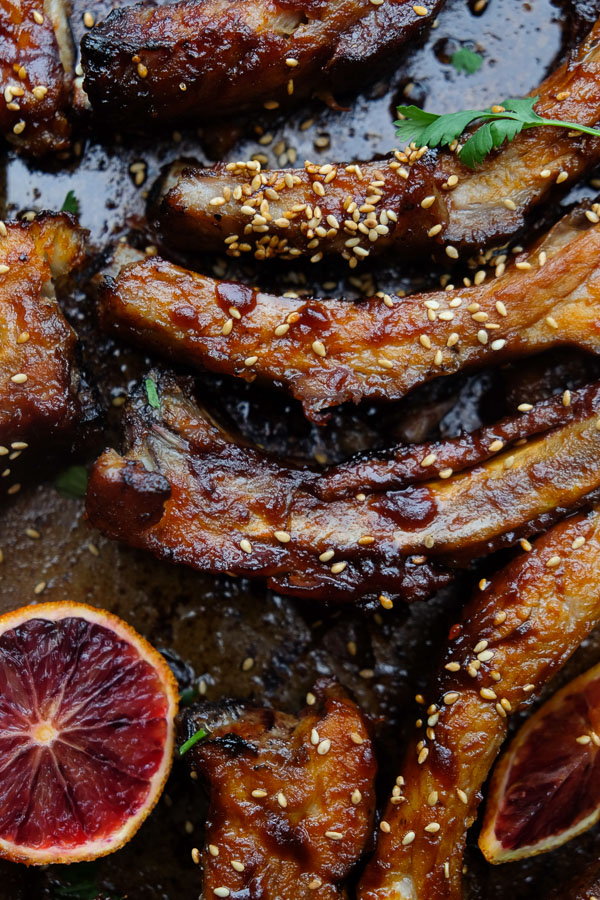 I served these with rice & roasted broccoli.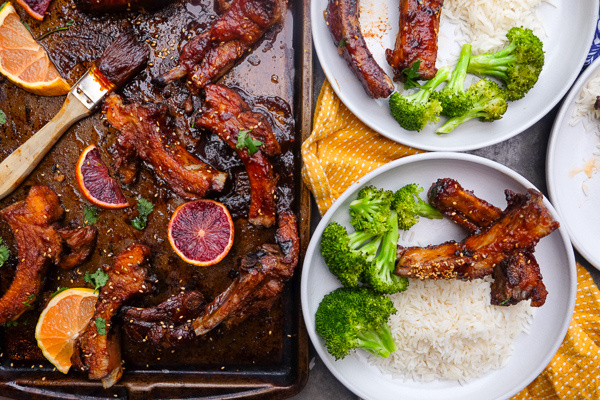 Dinner is served and we barely had to do anything.
Thanks for reading Shutterbean!  If you'd like check out my everyday life, follow me on Instagram and be sure keep in touch via Facebook, Twitter,  Bloglovin,  Pinterest, or subscribe via email to get new posts delivered to your inbox.
Orange Soy Glazed Ribs

serves 3-4

2  1/2 lbs. baby back pork ribs
salt & pepper
1 teaspoon garlic powder
1 cup bbq sauce
juice of 1/2 orange
1 tablespoon orange zest
2 tablespoons soy sauce
1 tablespoon toasted sesame seeds, for serving

Preheat oven to 325 degrees F.

Cut each rack of ribs in half along the bone so they can be easily stacked. Lay them out on a baking sheet lined with parchment paper or aluminum foil.  Liberally season both sides with salt, pepper and garlic powder.  Stack ribs on top of each other on baking sheet and place in the oven for 2 hours, shifting the bottom layer of ribs to the top every 30 minutes until they are tender and almost falling off the bone.

Meanwhile, heat BBQ sauce, orange juice, zest, and soy sauce in a small saucepan over medium heat. Simmer over the stove until mixture starts to bubble. Season to taste. If you like a sweeter sauce, add honey. Remove from heat and set aside.

Let ribs cool for 5 minutes and then cut the ribs into individual pieces. Place ribs back on the baking sheet and baste all sides with orange soy BBQ sauce.

Turn oven to BROIL and place the ribs on a rack in the middle of the oven. Broil 4-5 minutes per side, or until the oven creates a nice char on the meat. Flip the ribs over, baste and repeat with the other side. Pull ribs out of the oven, sprinkle toasted sesame seeds on top and serve warm.