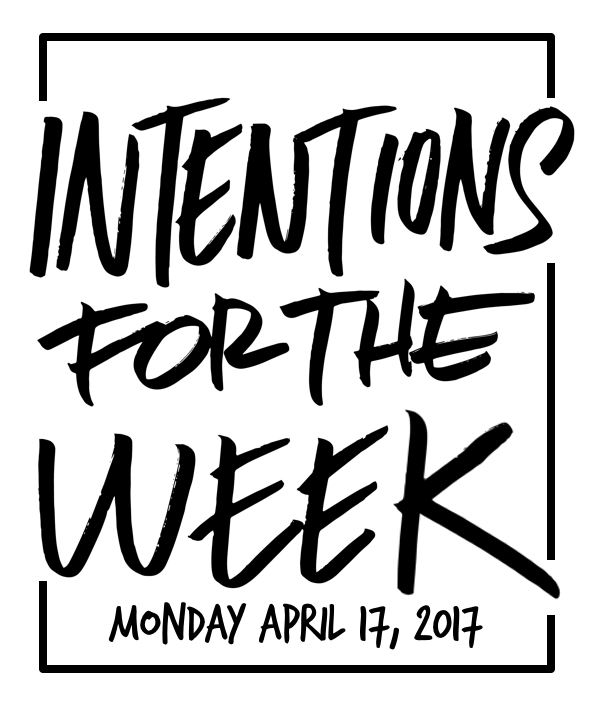 Hey! Happy Monday! We're on break from school this week, so my schedule is going to be a bit thrown off. I'll have Cooper with me at home and I am traveling later this week, so maybe some of these restrictions will help me be better at organizing my time? We'll see!
Last week's intentions:
take a hike (def need some headspace!)
yoga x 2

(definitely feel off because I didn't go)

finish S-town
finish up tax stuff
straighten up bedroom closet
call insurance co. for the 6th time re: overbilling
catch up on social media work

(I need an assistant)

figure out the menu for this weekend
dye Easter eggs
put together Easter basket
Etsy shop- keep working on it

(working on prints so there's that)

mail birthday package to Camden

(ugh not done yet!)

library visit – return books/pick up new ones

(didn't have time)

mail letters to readers
return GAP order

(it's in my car…)(IT WILL BE DONE I PROMISE)

drink more water 
eat healthier

(hahahaa. OOPS)

finish laundry
catch up on blog work
shoot/post recipe this week
delete photos from my phone (lagged on this)
water plants
continue working on the 100 days project/ post
This Week's Intentions:
hang out with family
ask my parents as many questions as possible
write in journal/continue the #100daysmusiclyrics project
post penne recipe
unpack car from road trip
LAUNDRY
water plants
research plants for the front yard
finish vision board
grocery shopping
deal with RX/health insurance (UGGGH)
return library books
figure out what to do with old clothes
catch up on writing letters
post items on etsy/think of better name
get caught up on social media
make some good food for boys to eat while I'm gone
work on two recipes
exercise/go for a long walk or 2
pack for Nashville trip (going to visit Joy!)
find white denim jacket
straighten up house
deep clean kitchen
DRINK MORE WATER
What about you?? What are your intentions for this week?
Type them out, let's see!