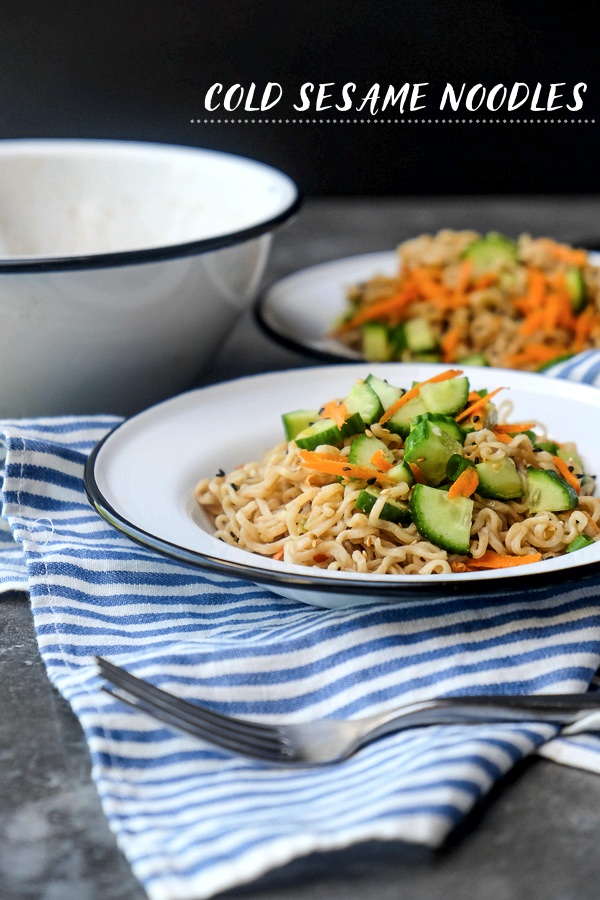 Can't you picture Nigella Lawson eating Cold Sesame Noodles out of the fridge late at night on her television show? Remember Nigella's show? She is probably one of the reasons I got into the food world in the first place. I binged watched her before we even had a DVR. That means I watched Nigella marathons… commercials & all.  Nigella always drew me in because I loved watching her cook and eat with reckless abandon. A total pioneer for us domestic goddesses. Yeah I just typed domestic goddess. Settle into it. I'm closer to 40 now. Why did I type that?!!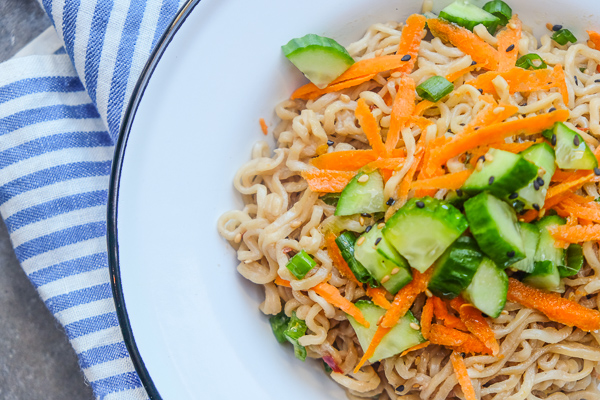 I made this dish. I stood in the kitchen eating several forks full out of the bowls you see here. One bite turned into several and I think you know the kind of bites I'm talking about. The one where you're "just checking the balance."  Or the one bite with a little more cucumber and then the next with more carrots.  The bite where you drizzle a little sriracha on top.  The one where you take leftover grilled shrimp from the fridge to see how that goes. The bite that's your last bite…the perfect bite…the one you wish didn't ever have to end.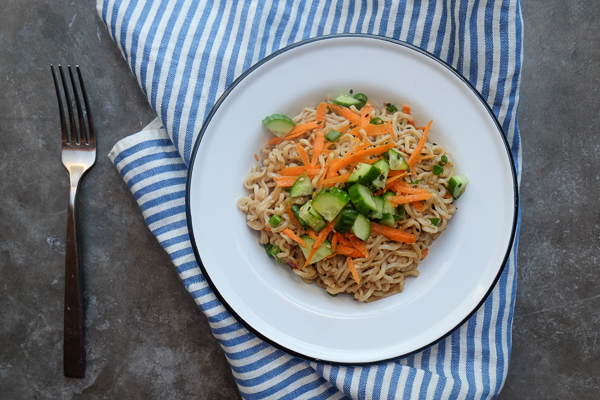 This is one of those dishes that makes you so happy to see in the fridge…waiting for you after a long day at work. Although standing in front of the fridge in a silky robe while eating these noodles dish is entirely optional, I fully encourage you to give it a try.
Let's gather our ingredients.
I went all the way to store to buy scallions and then realized I had no spaghetti when I got home.
RAMEN IT IS.
If you want to use spaghetti, the recipe calls for 3/4 lb.
Here I used three top ramen packages (WITHOUT the flavor packets).
Do you eat uncooked ramen? I freaking love it. Reminds me of my childhood.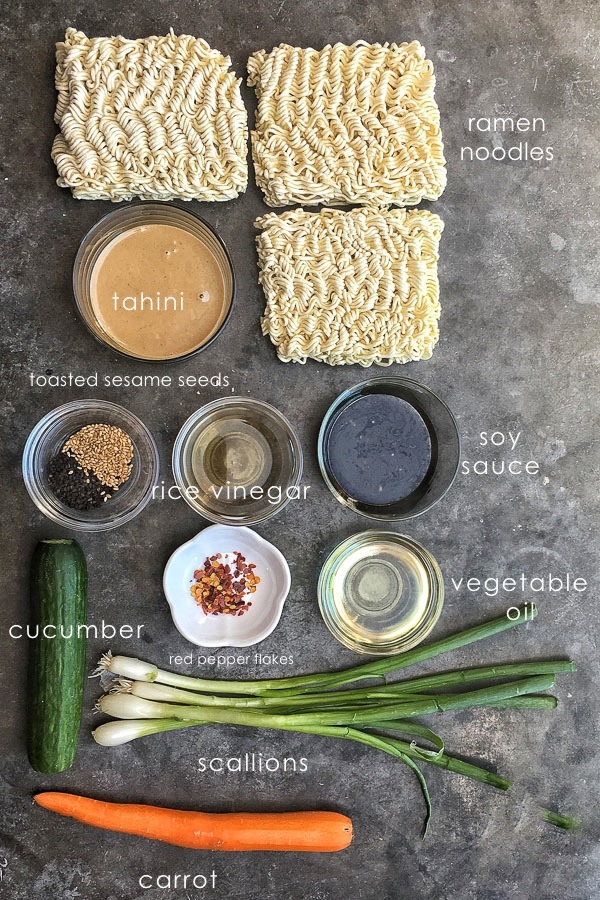 Red pepper flakes get heated up in oil. We're just doing a quick infusion situation.
It will bring the spice out of the red pepper flakes and into the oil!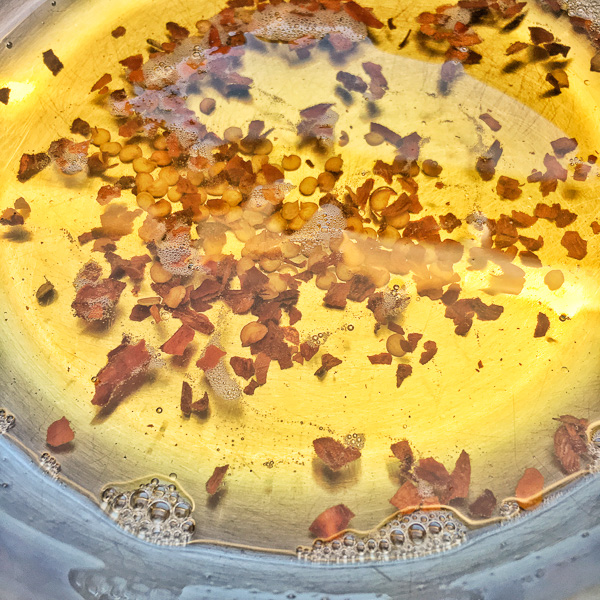 Tahini, rice vinegar, scallions, and soy sauce. If you don't have tahini, peanut butter would be cool.
You could totally add garlic or ginger or even sriracha! But this all just works out fine.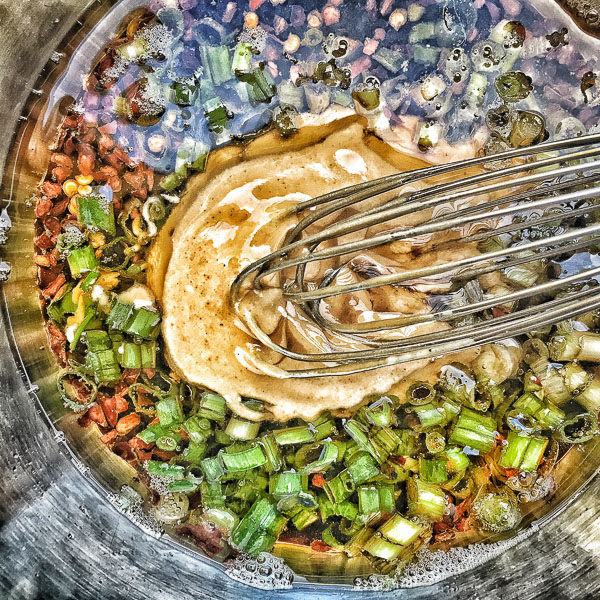 Carrots are shredded, cucumber is diced. Ramen has been cooked. You just cook like you're making soup but you drain the noodles in cold water.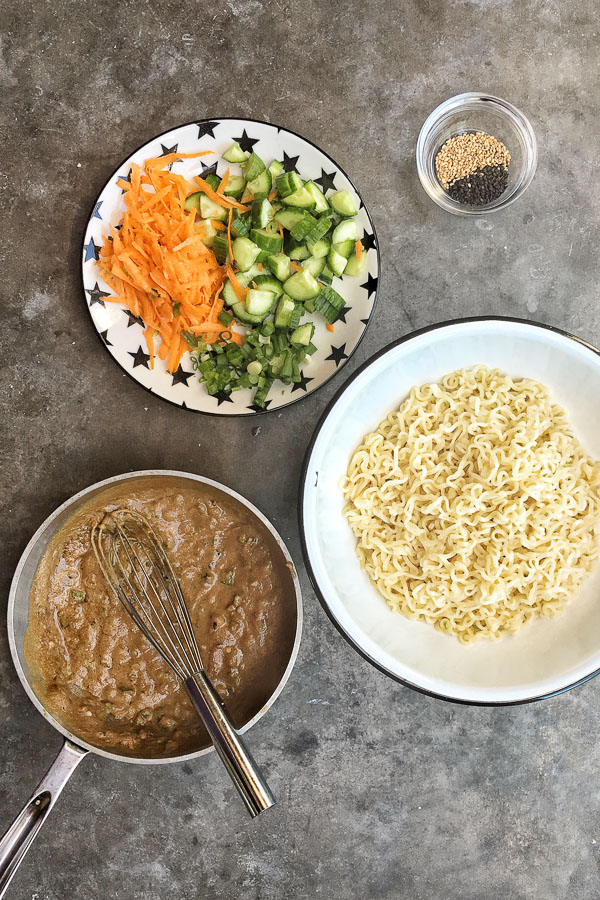 STIR IT ALLLLLLLLL together. You mix in a little water to loosen it up.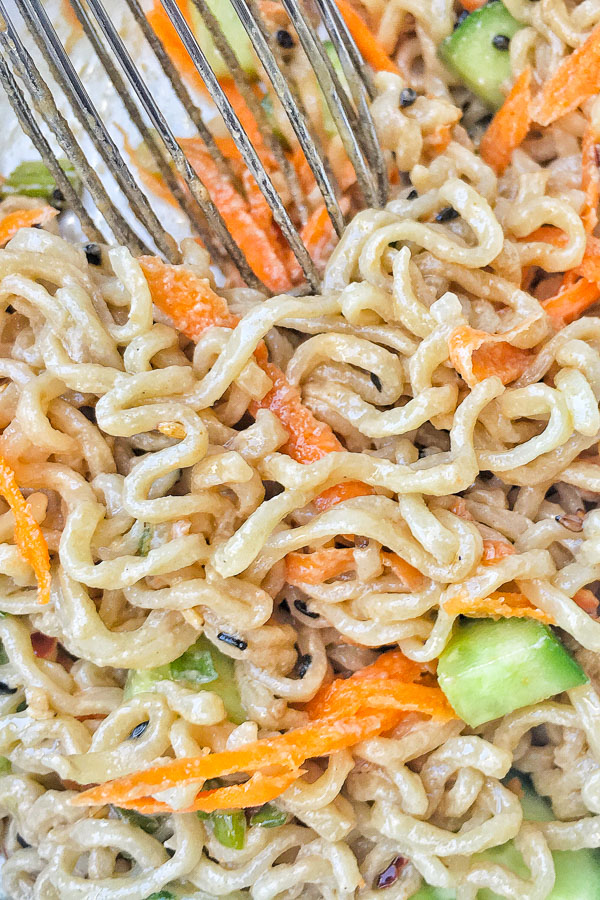 Serve up in plates. Drizzle with a little sesame seed oil.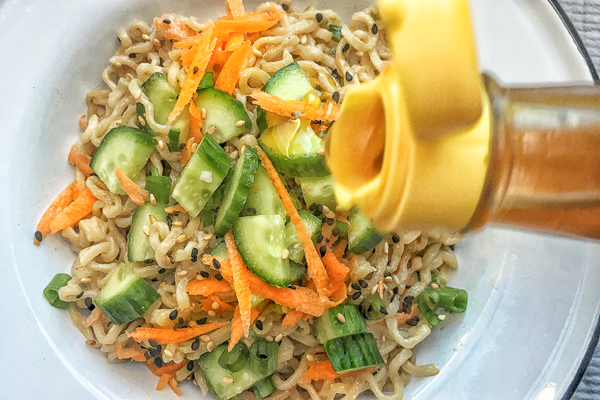 Peanuts would be a great addition too..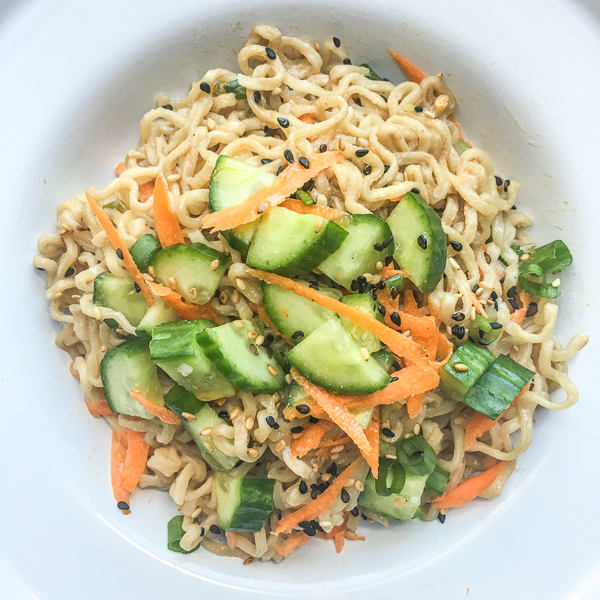 I would bring this on a picnic. Fill up a mason jar and dig in.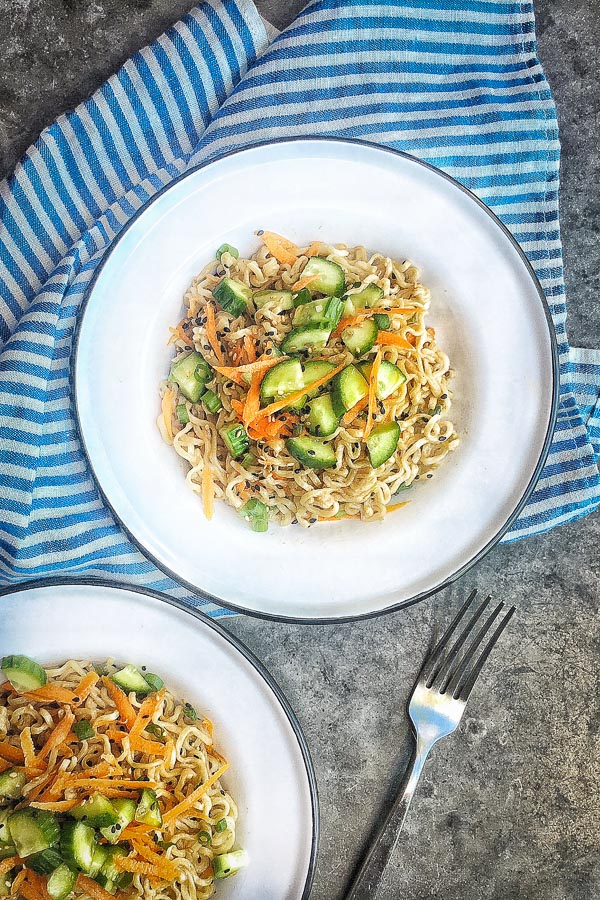 If I was a new mom, I'd probably love some of this in my fridge.
So if you have a new mom in your life, get on that.
Totally versatile….so much so that it will probably be something that shows up in my weekly meal prep.
Cold Sesame Noodles

serves 4

recipe adapted from Real Simple Magazine

3 packages ramen noodles (without flavor packets)
1 teaspoon crushed red pepper flakes
1/4 cup vegetable oil
4 scallions, chopped, plus more for serving
1/4 cup tahini (peanut butter can be substituted)
3 tablespoons rice vinegar
3 tablespoons soy sauce
kosher salt
1 persian cucumber, diced
1 carrot, shredded
toasted sesame seeds, for serving
toasted sesame seed oil, for serving

Cook the ramen according to package directions; drain and rinse under cold water.

Cook the red pepper flakes in the oil in a small sauce pan over medium heat until sizzling, 2 to 3 minutes. Remove from heat and stir in scallions, tahini, vinegar, soy sauce and 3 tablespoons water. Season with 1/2 teaspoon salt. Toss with pasta in a large serving bowl. Serve topped with cucumber, carrot,  sesame seeds, sliced scallions and a drizzle of toasted sesame oil.