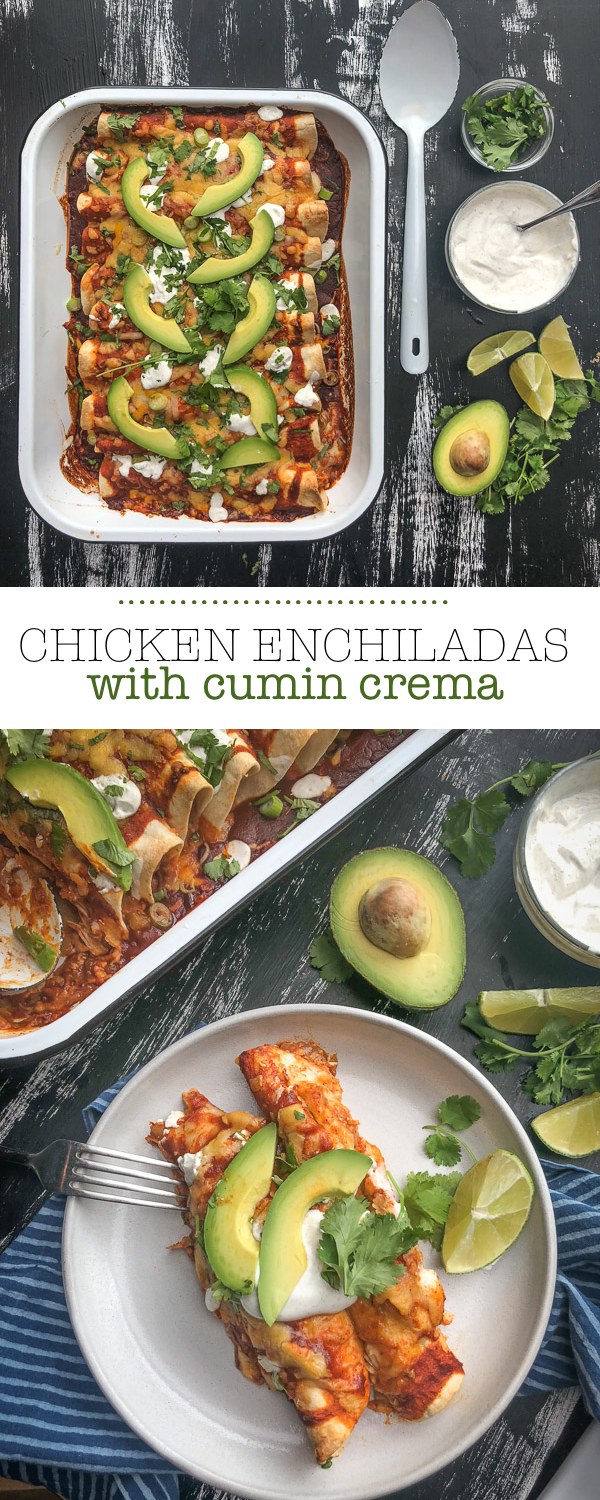 I'm always on the lookout for a way to shake up our weeknight meal game.
You already know this. That's probably why you're here!
It's time for me to start introducing enchiladas to the mix because they are:
a great way to use leftovers
pretty inexpensive
a quick weeknight dinner
totally freezable
meal prep worthy
freaking delicious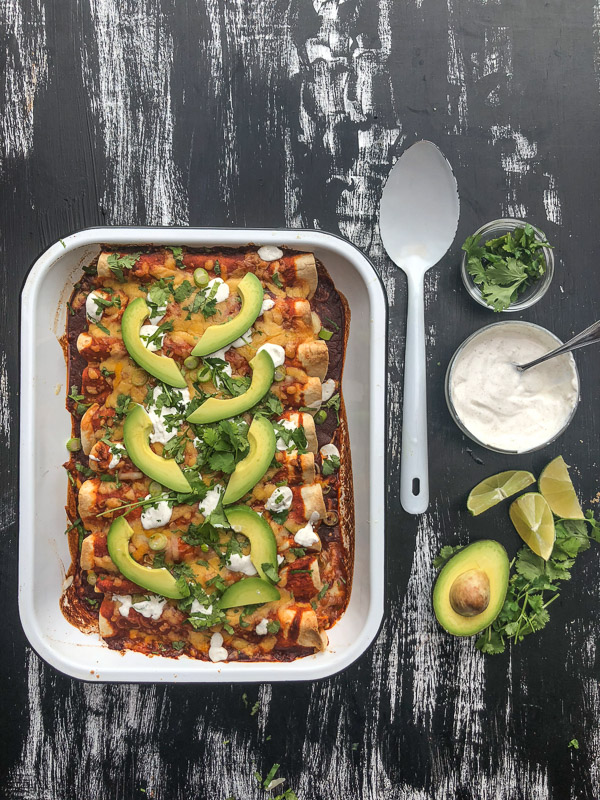 This Chicken Enchiladas with Cumin Crema recipe comes from my dear friend Gaby's new cookbook— What's Gaby Cooking Everyday California Food!! Preorder yours today!!!!  There are so many great recipes in this book I didn't even know where to start.  I love her mix of healthy & indulgent meals. All of the recipes are approachable, beautifully shot (great job Matt & Adam!!!) and packed with so much flavor. Gaby does California like no one else. She makes me proud to live here with all of our fresh produce and healthy food options. Yay, friend! Proud of YOU and your hustling!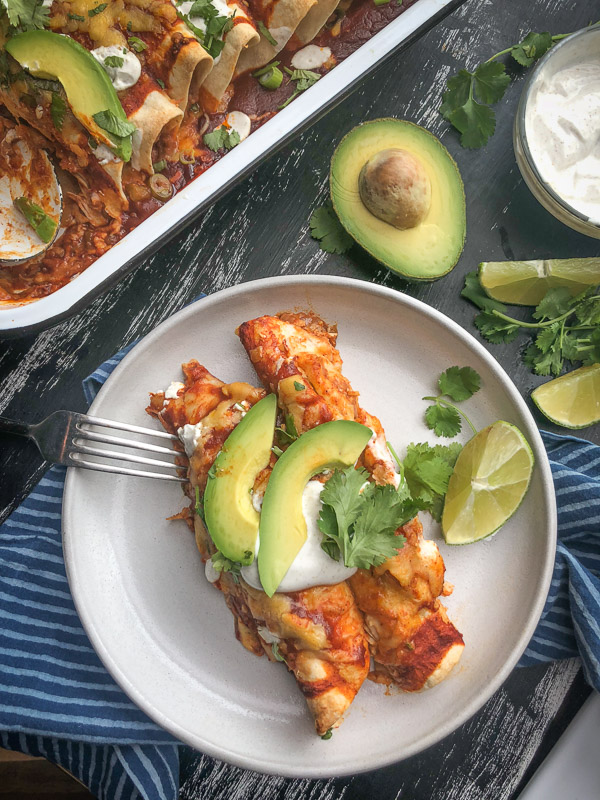 Let's discuss these beauties. The flour tortillas give the enchiladas a soft texture.  It's almost a hybrid of a burrito and enchilada…or a wet burrito! Something I used to enjoy when I was up in Oregon for college.
I LOVE IT. We'll be having these for lunch all week. I'm definitely excited about that.
Thank you, Gaby!
Let's gather our ingredients.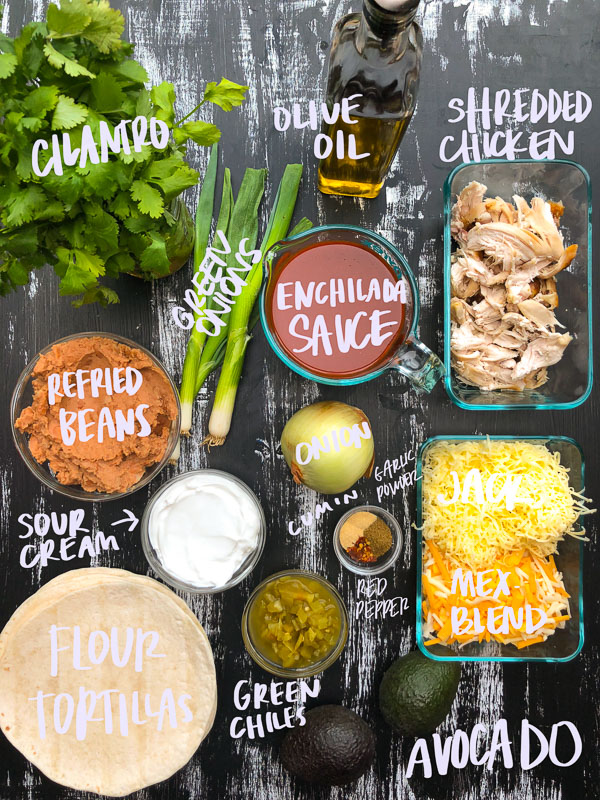 Onions are chopped.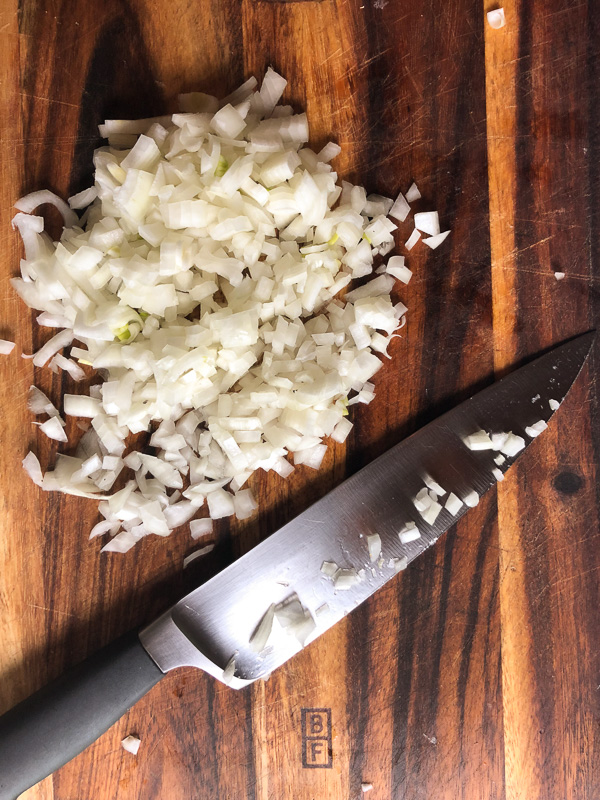 Then they get sautéed.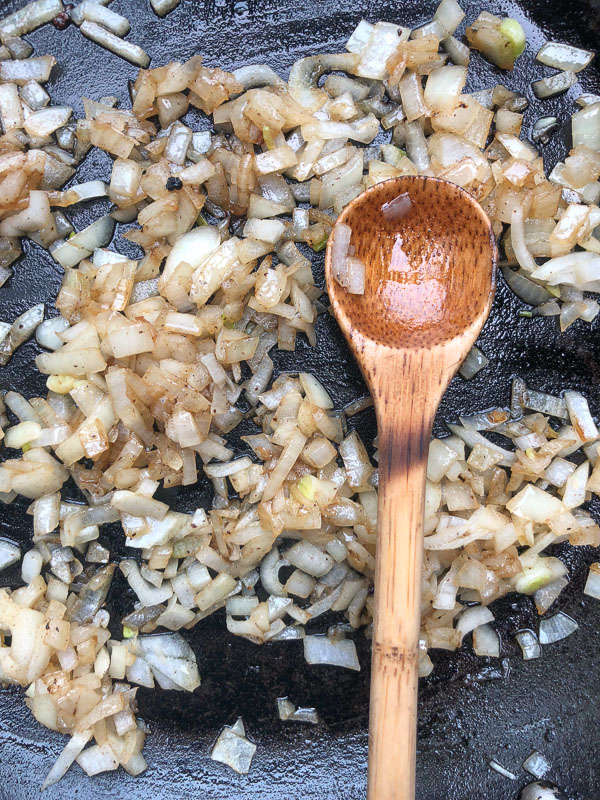 Followed by spices and chiles.
Hello, chicken & enchilada sauce.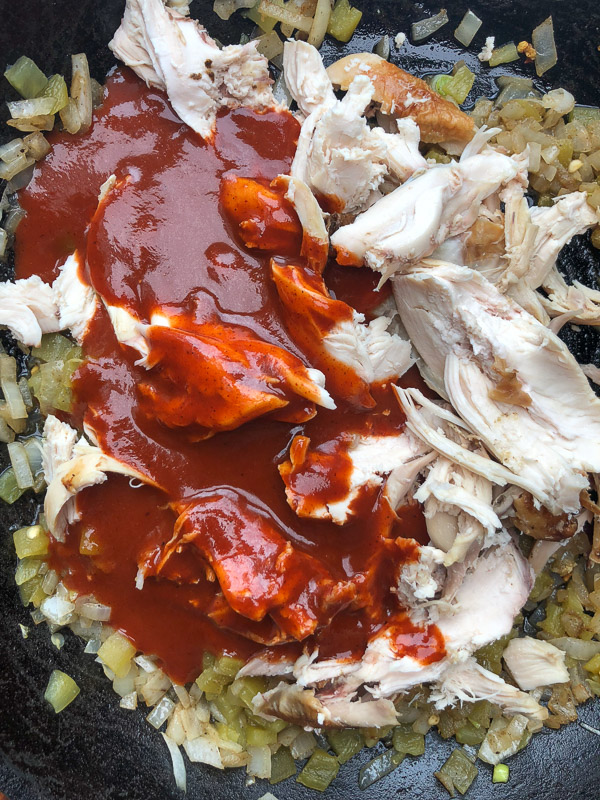 I put a little sauce on the bottom because why not??
I love a good assembly line.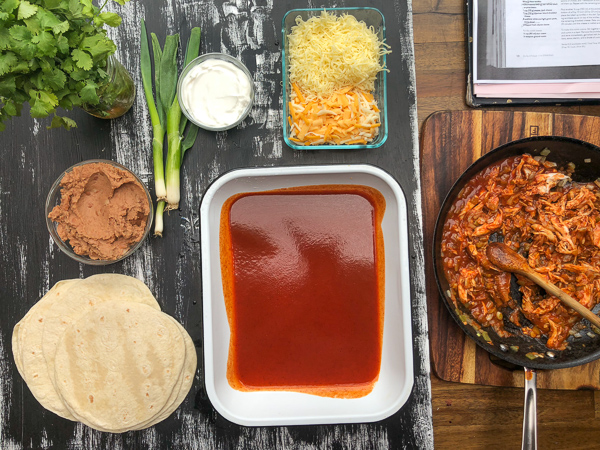 Roll them up!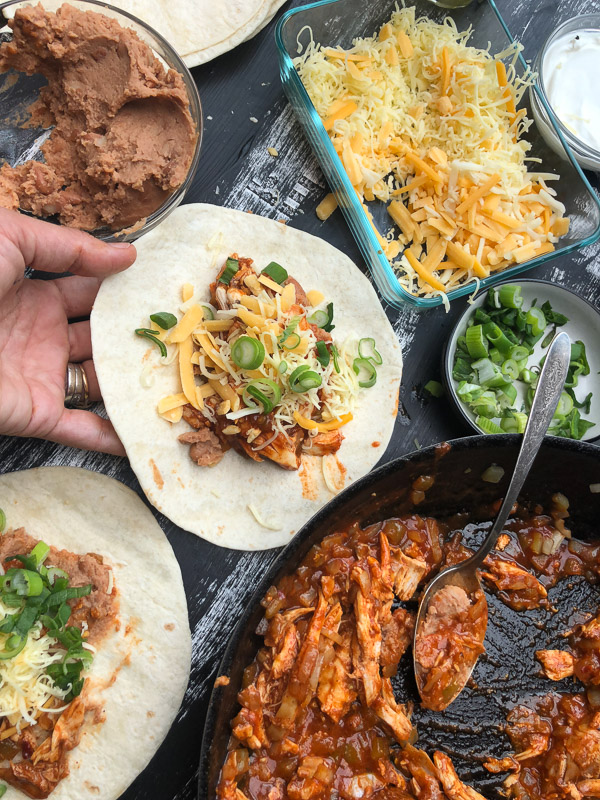 Place in pan. Top with sauce!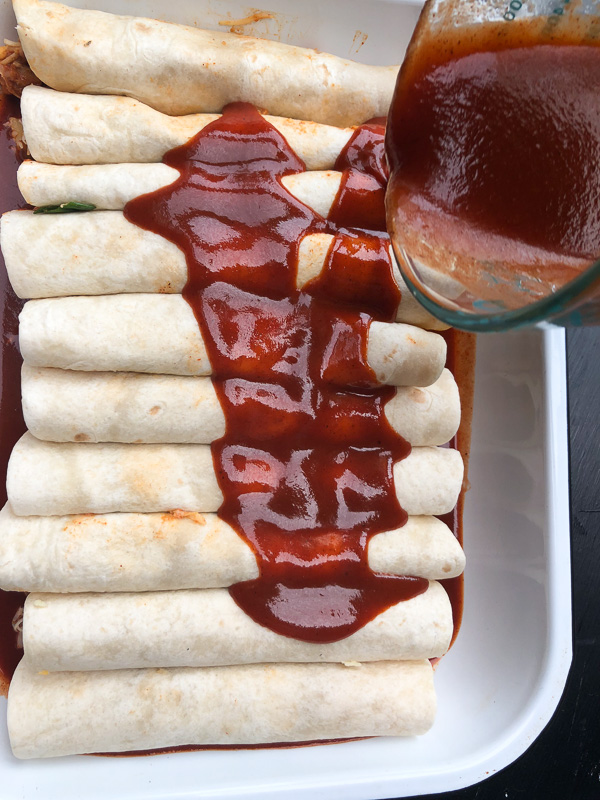 Yes.
I like mine saucy.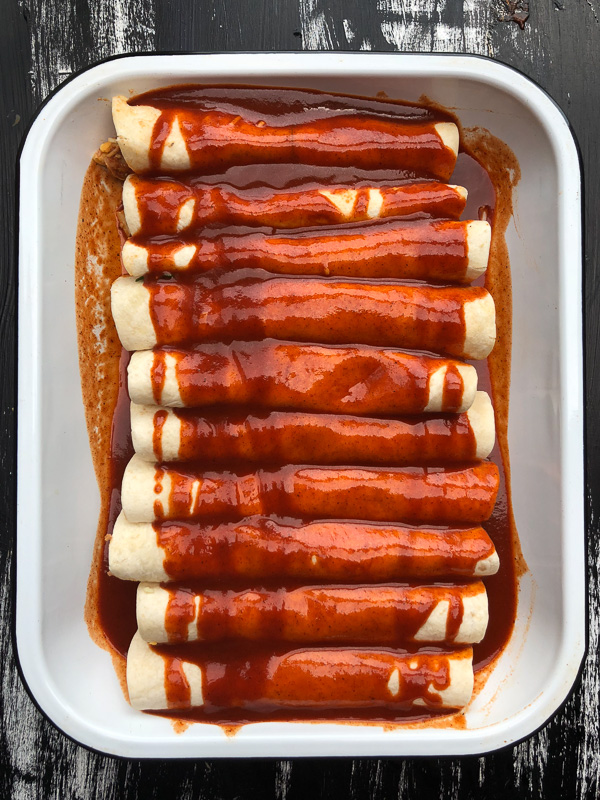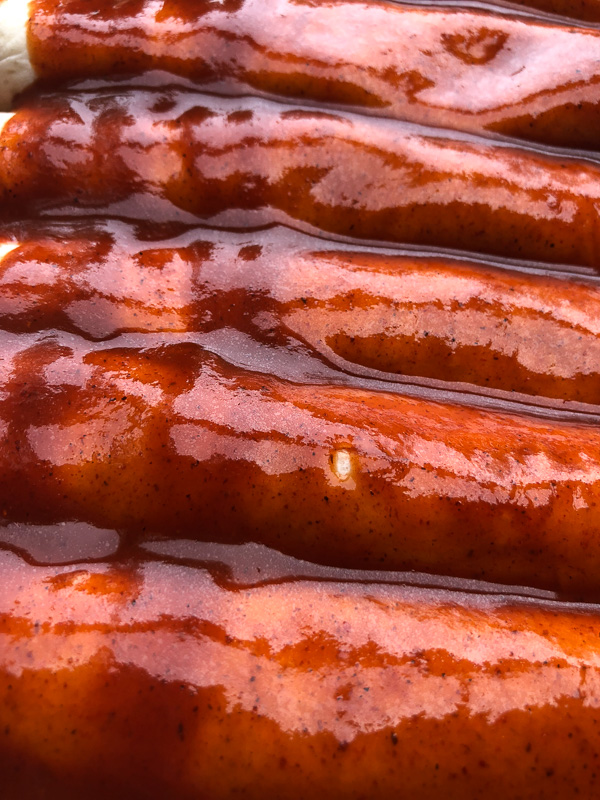 Uh huh.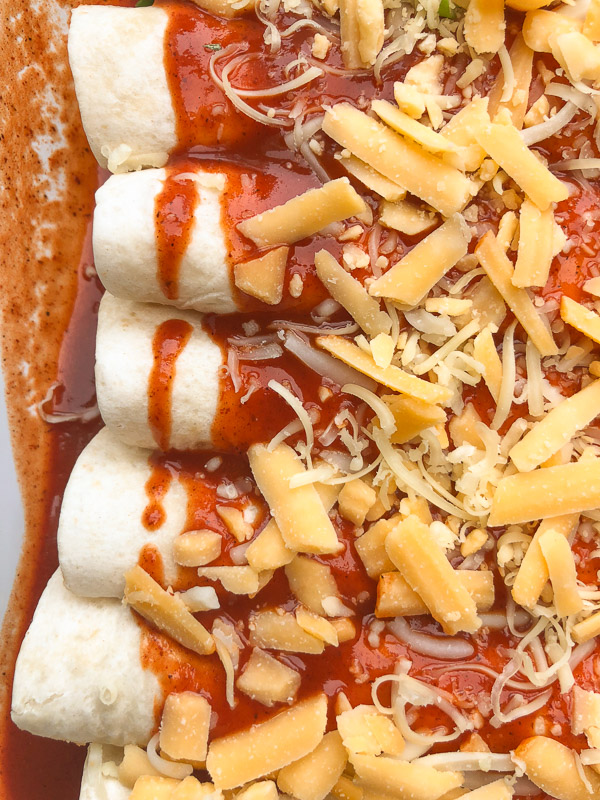 It's been baked.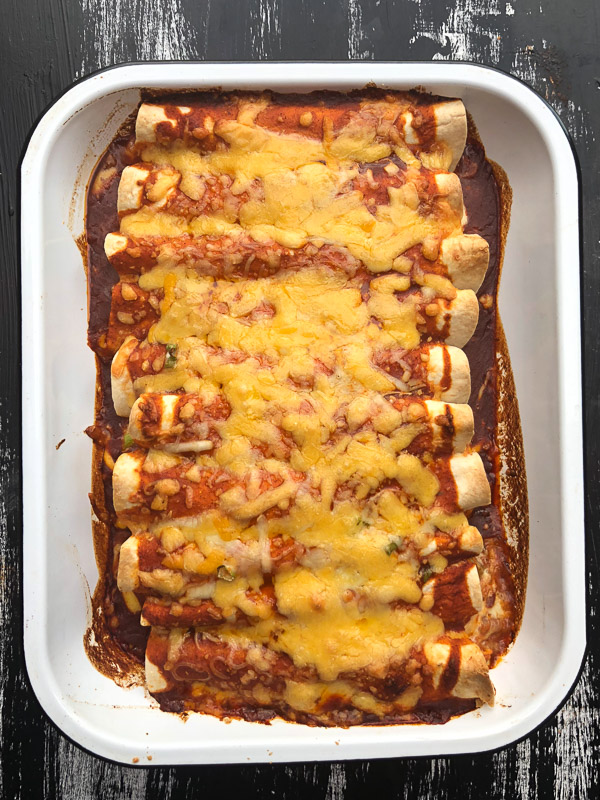 Time to make the cumin crema!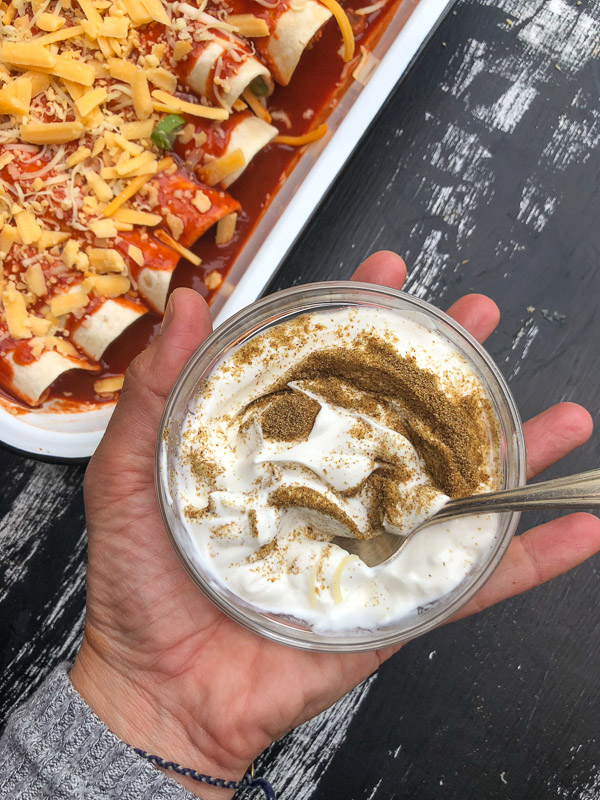 It's been topped!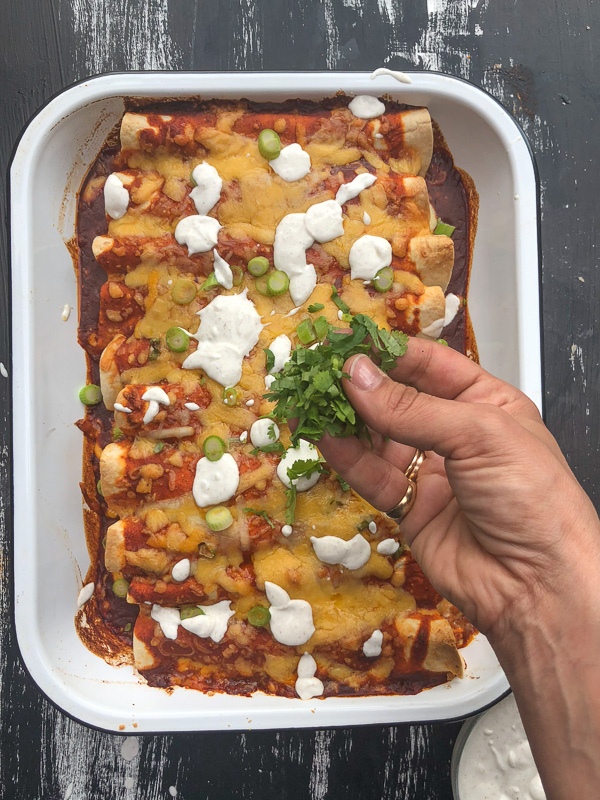 ALL THE THINGS.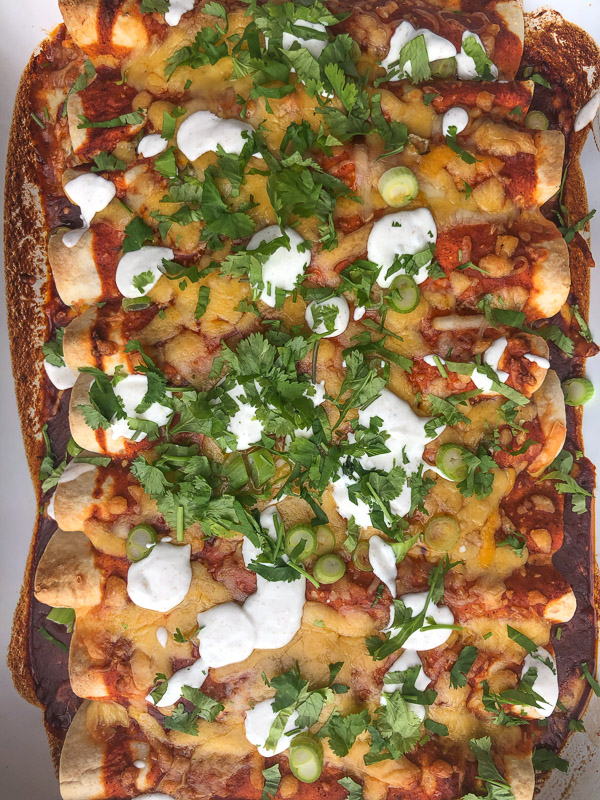 OH BUT WAIT. Let's add avocado on top!
This is a Gaby recipe! You know how much she loves avocados.
See her first cookbook: Absolutely Avocados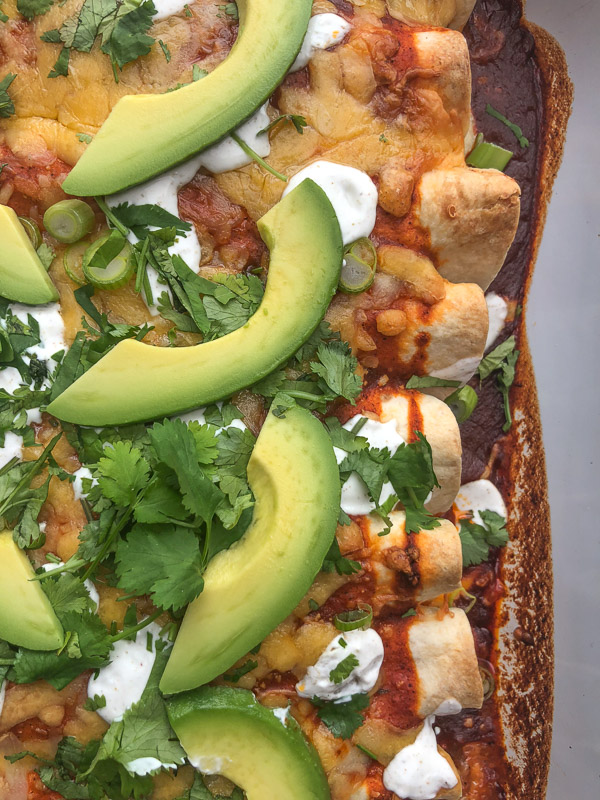 Weeknight dinner SOLVED.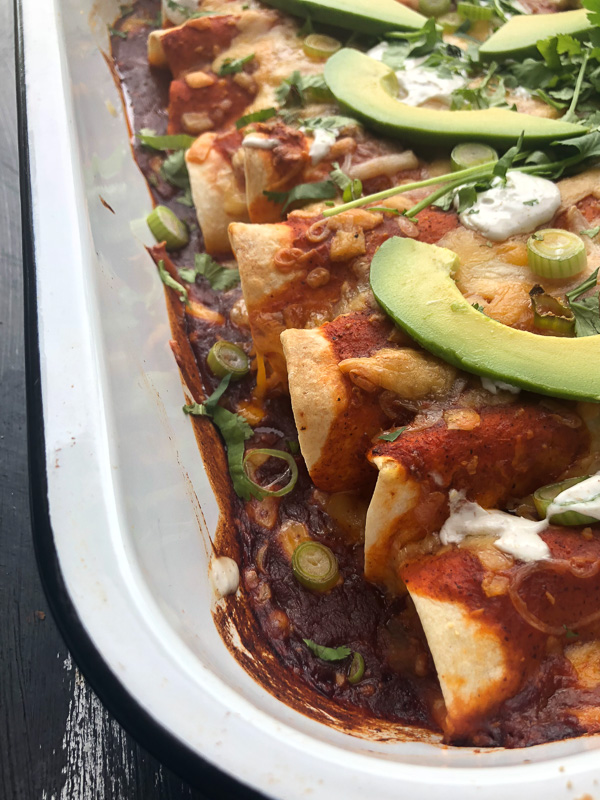 Chicken Enchiladas with Cumin Crema

serves 4-5

recipe from What's Gaby Cooking Everyday California Food

2 tablespoons olive oil
1 yellow onion, diced
1 (4oz. can) diced green chiles
½ teaspoon ground cumin
½ teaspoon garlic powder
½ teaspoon red pepper flakes
kosher salt
1 ½ cups shredded rotisserie chicken
1 (15oz. can) store-bought enchilada sauce
10 large flour tortillas
1 (15oz.can) refried black beans
1 cup pepper Jack cheese
1 cup Mexican-blend shredded cheese
8 scallions, white and light green parts, thinly sliced
chopped fresh cilantro leaves
sliced avocados, for serving

for the cumin crema:

1/4 cup sour cream
1/2 teaspoon ground cumin

To make the enchiladas:

Preheat oven to 350F

In a large skillet over mdium high heat, cook the onion in oil  for 7 minutes, until softened. Stir in the diced green chiles, cumin, garlic powder, and red pepper flakes. Seasons with salt. Stir in the shredded chicken and 1/2 cup of the enchilada sauce. Remove from the heat.

To assemble the enchiladas, set up an assembly line including tortillas, enchilada sauce, beans, chicken mixture, both of the cheese mixed together and scallions. Lay out a tortilla on a flat surface and spoon 1 tablespoon of the refried beans in a line down the center of the tortilla. Add equal amounts of the shredded chicken mixture, 2 tablespoons of cheese and 1 tablespoon of the scallions, and roll them up. Repeat with the remaining tortillas and fillings.

Pour another 1/2 cup of the enchilada sauce in the bottom of a 9 by 13-inch baking dish and place the rolled-up tortillas in the dish. Spread the remaining enchilada sauce on top of the tortillas and sprinkle the remaining shredded cheese on top. Bake uncovered for 20-25 minutes until the cheese is melted and bubbly.

To make the cumin crema:

Stir together the sour cream and cumin in a bowl. Remove the enchiladas from the oven and serve immediately, garnished with the remaining scallions, some cilantro, avocado and a drizzle of the cumin crema.