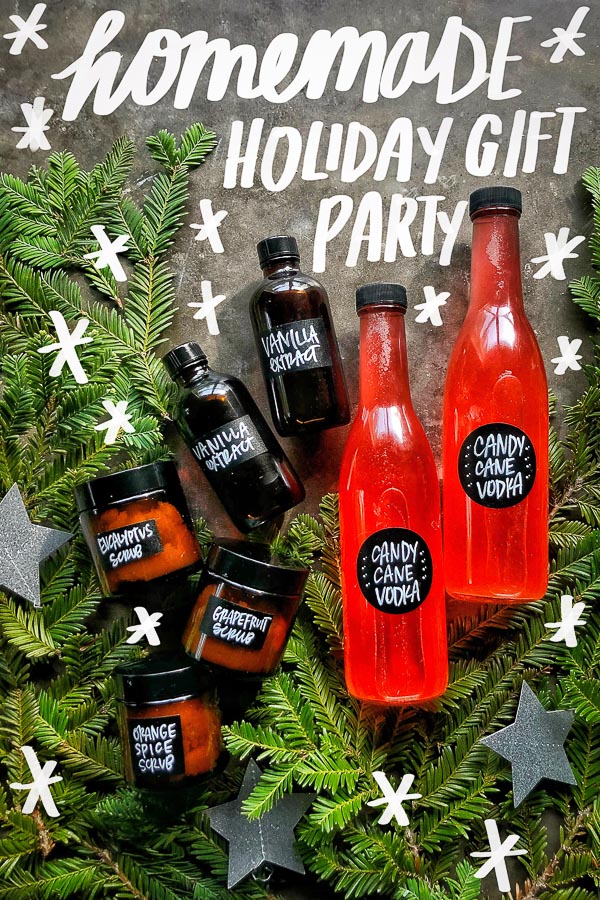 Last year, my friend Sonia and I put together the idea of a Homemade Holiday Gift Party as one of the auction items at Cooper's school.  Earlier this month I hosted the party at my house with the help of Nugget Markets. Let me show you what was involved in hosting the party!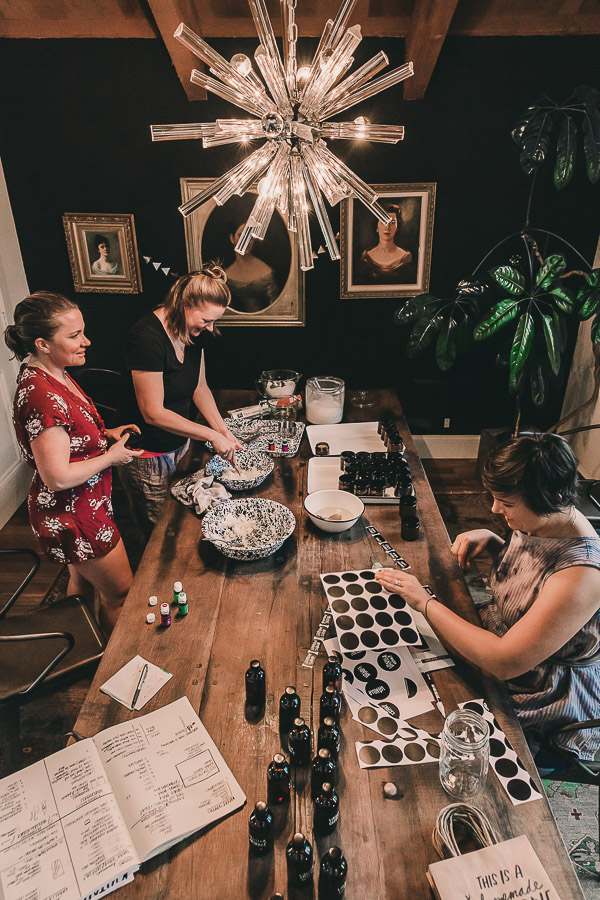 It all started with a flyer! This is what I made for our auction party so people would sign up.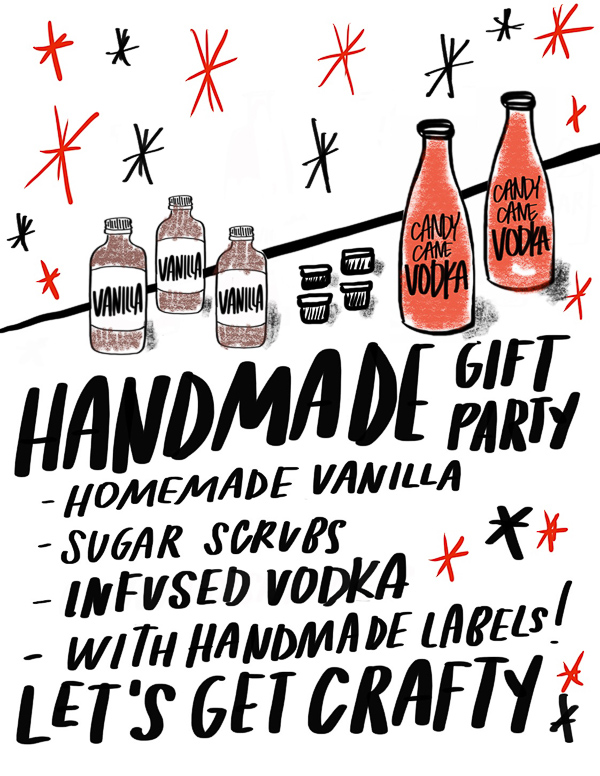 Questions to ask yourself before planning a party:
How many people can we accommodate?
What items should we make?
How long does it take to make said items?
Do items need time to set/cure?
What instruments/tools do you need for the party?
How many items will everyone leave with?
What will they take their items home with?
What will be on the grocery list?
Food/drink?
What does my space need to welcome guests?
If you're working with a friend, you can easily divide and conquer!
I chose the following three items for us to make since I've had experience making them in the past:
MAKE LISTS and be realistic with your time. I had hoped to make some homemade dishtowels during the party but realized we would have to factor in extra time (we didn't have!) for them to dry.
Perhaps we can make dishtowels at next year's party?
If you're not familiar with Nugget Markets and you live in the Bay Area, YOU MUST GO!  Don't pass up an experience to see a family owned and operated company dedicated to a beautifully rich shopping experience. They're all so nice inside! 
These are all the items I picked up there for our party: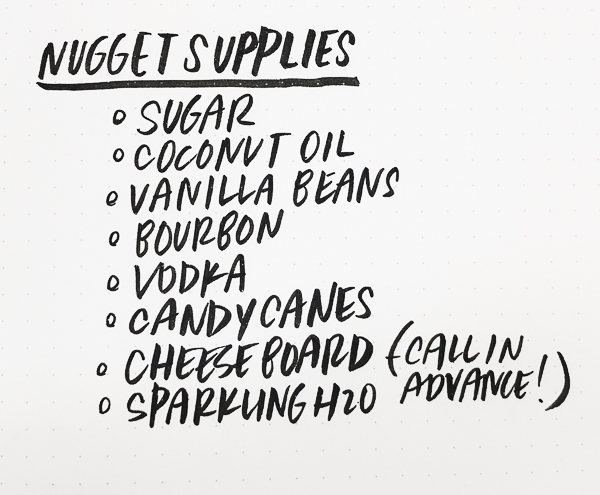 Before everyone arrived, I took the ingredients I bought for the party and set it all out in my dining room.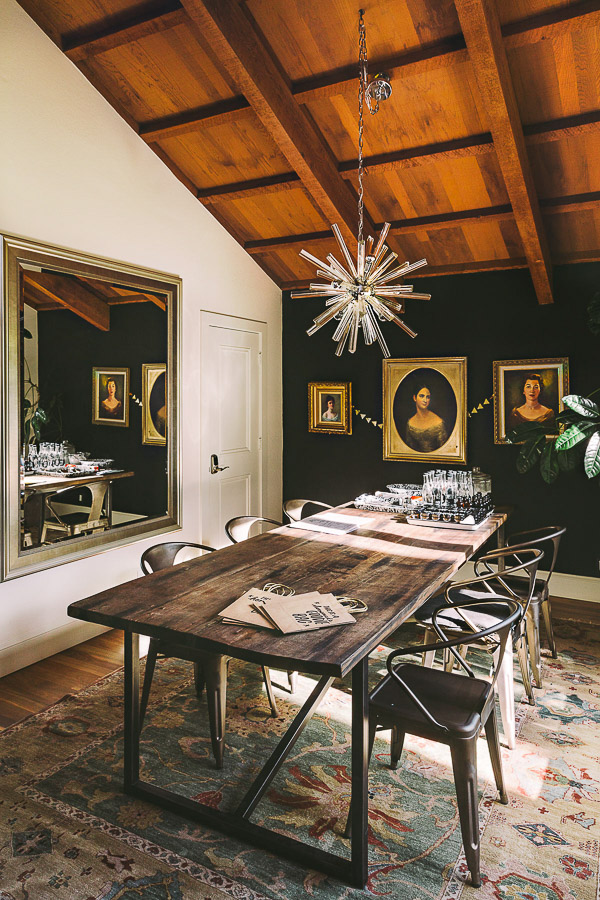 People need a way to carry their homemade gifts away, so I decorated simple brown bags with one of my favorite pens for them to use.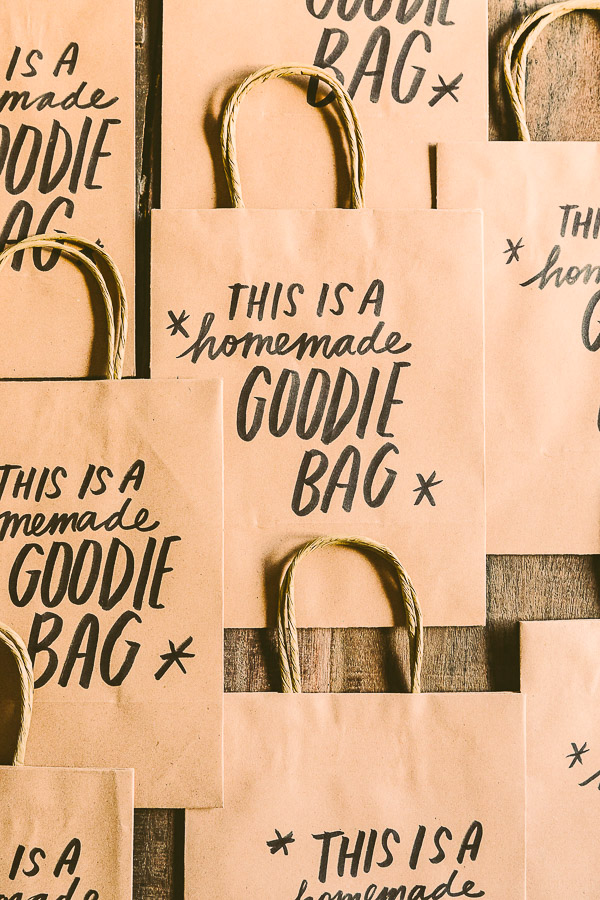 To save extra steps, I added all of the vodka to the bottles before guests arrived.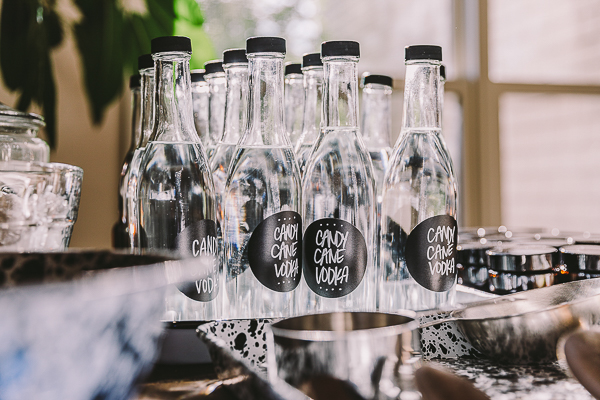 Bourbon went into the vanilla extract bottles.
Since there were many to label, I did that in advance too!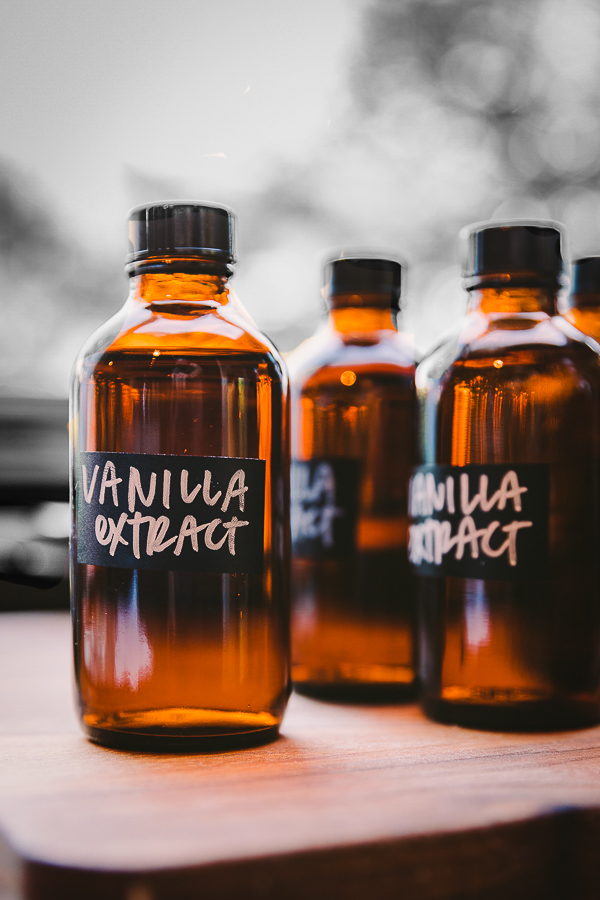 The energy for the party went into procuring the ingredients for the gifts and setting up, so I was so happy that I could rely on  Nugget Markets to make a nice cheese board for us.
This is their "California Favorites" board.  Isn't it BEAUTIFUL?!!!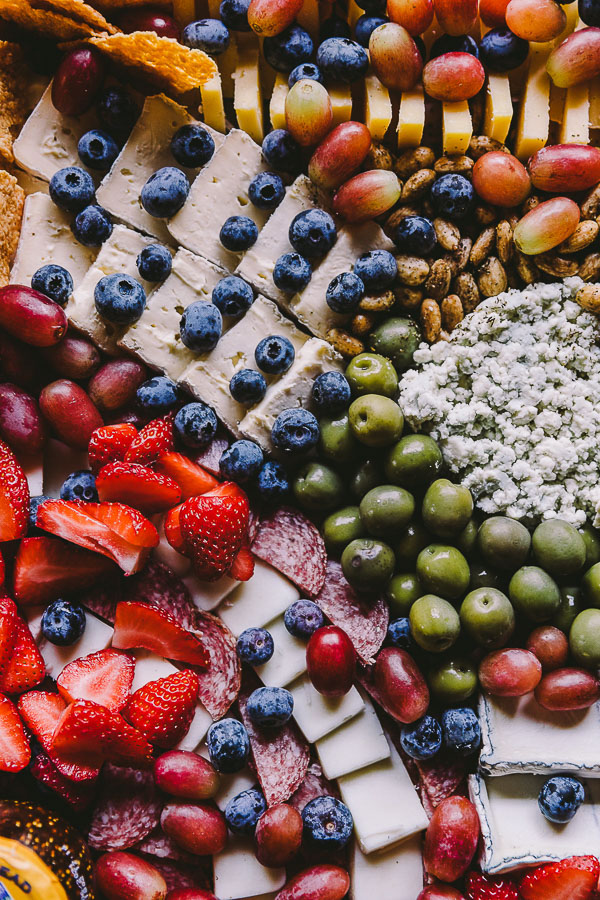 I loved that it included a variety of fruit and the board it comes in can be reused for future parties.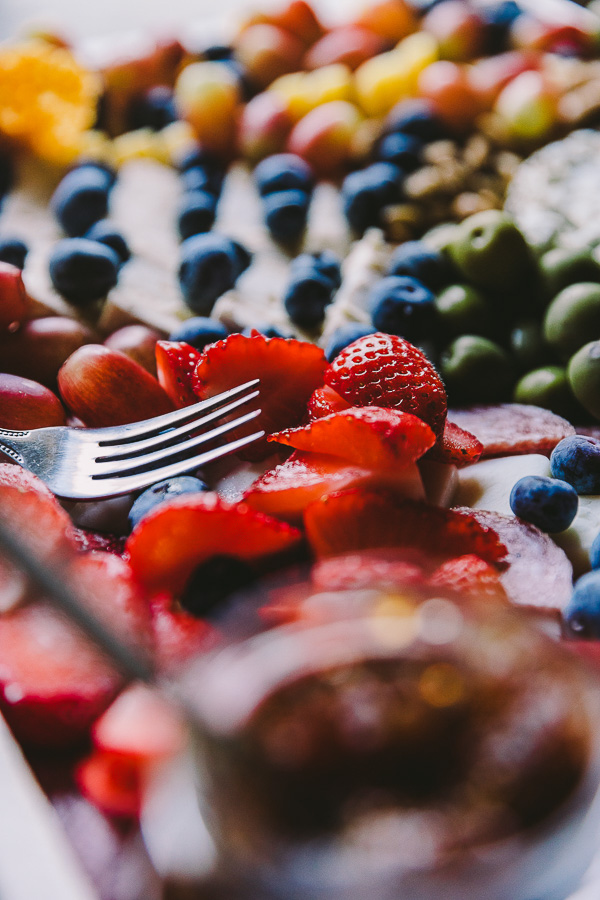 They included a list of everything on our cheese board so we had a reference.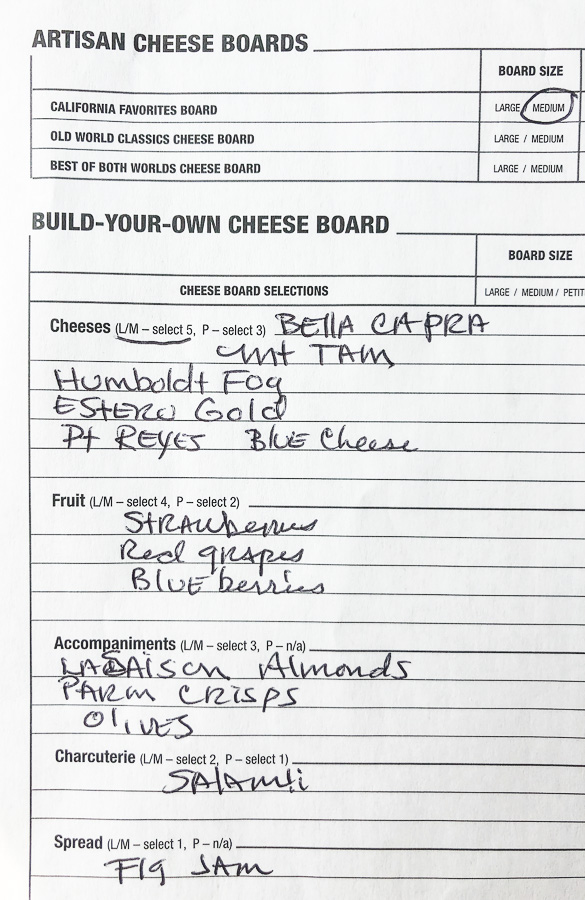 Cute cocktail napkins courtesy of my Mom. Thanks, MOM!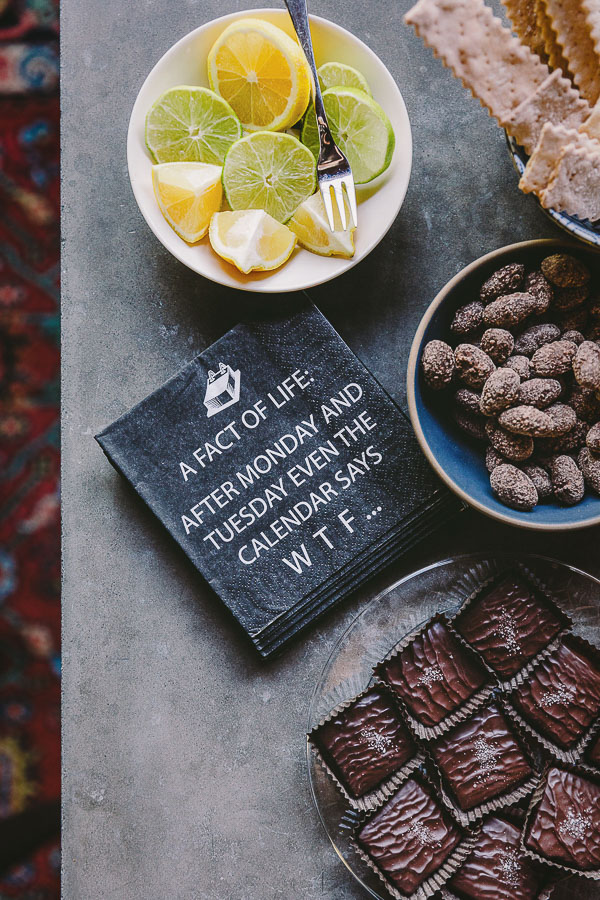 Since there were 7 of us total, we split up into pairs to make the 3 different recipes.
I went through each station and gave a demonstration of how to make each item, and let each pair continue the process.
Team vanilla split the vanilla bean pods for the vanilla extract.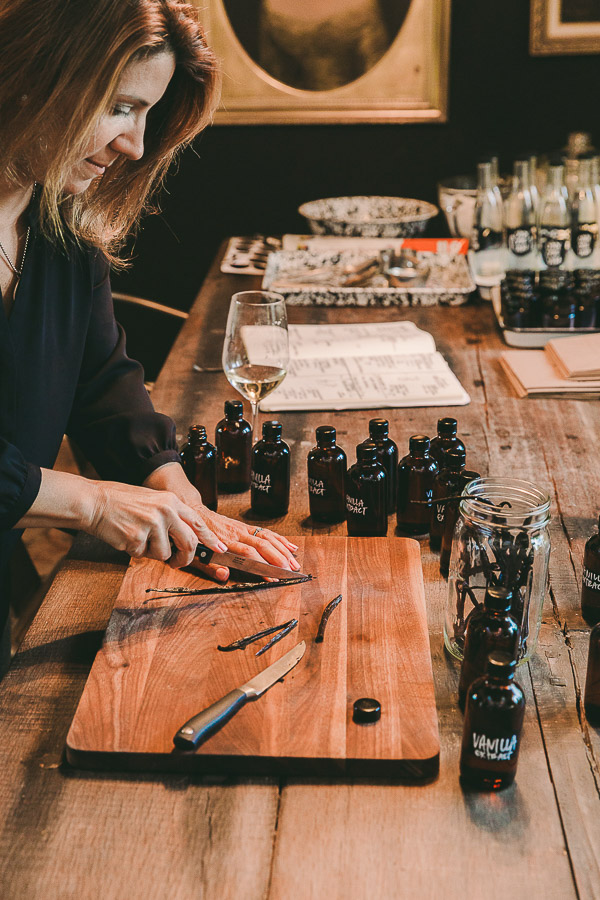 I wanted everyone to leave with their own bottles of vanilla instead of doing a big batch and bottling after it infused, we made the infusions directly in the vanilla extract bottles I bought.  I had Stephanie and Amy scrape about 1 ½ vanilla bean pods into each bottle that I had prefilled with bourbon. All of the scraped pods were inserted into the bottle. Bottles were sealed with instructions to wait at least 8 weeks before use.  Guests can strain out the solids if they desire!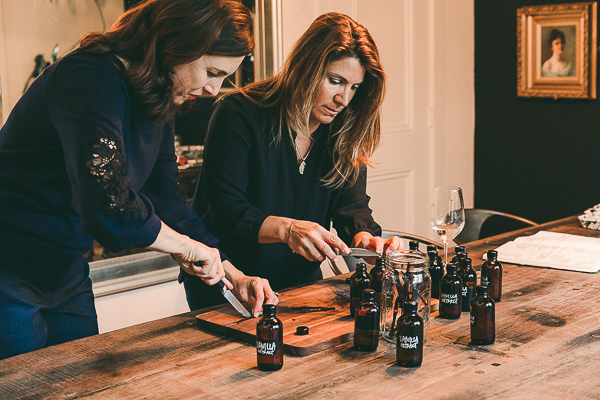 What a lineup!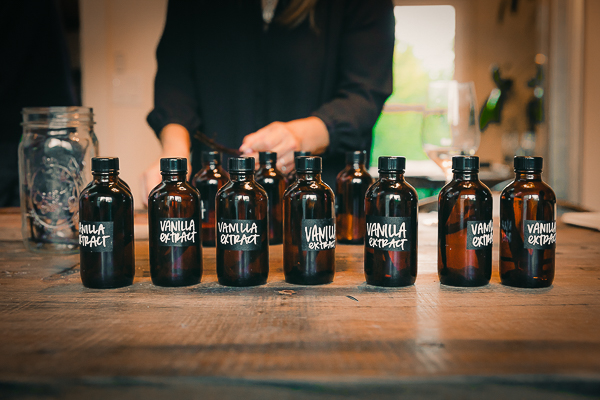 Team Candy Cane Vodka started with blitzing the candy canes in a food processor.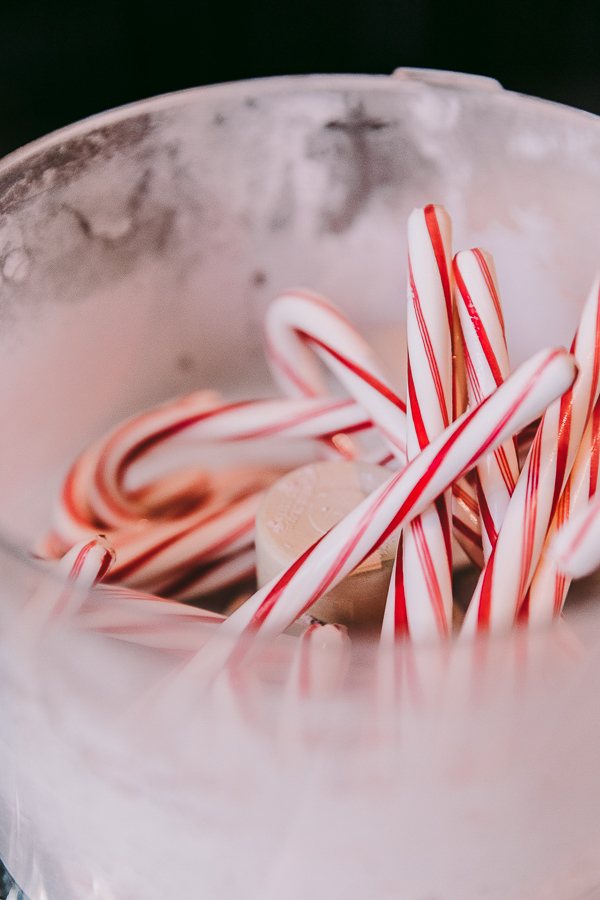 It gets REALLY LOUD. Consider yourself warned, or do this step before the guests arrive!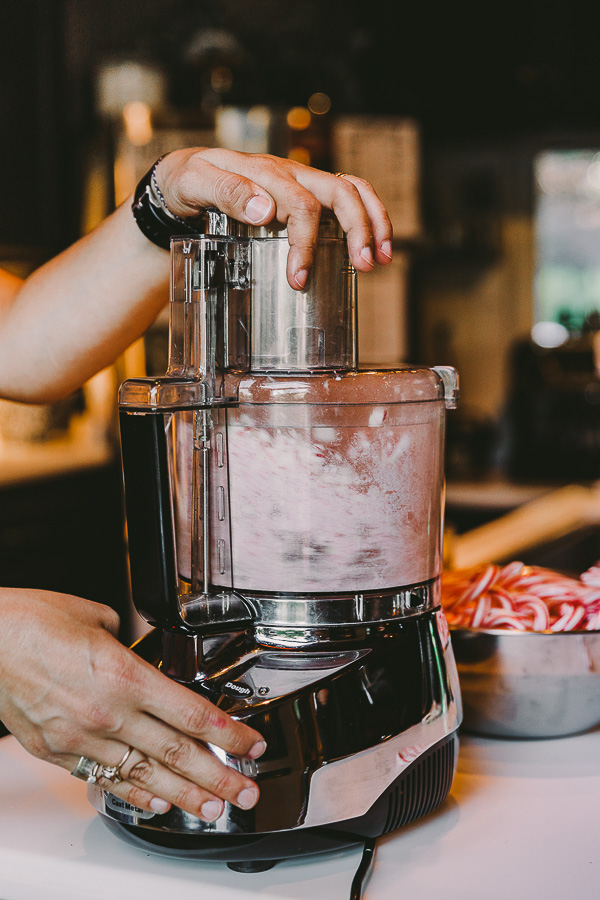 Lisa and Sonia put about 1/3 cup of the ground candy cane bits into each bottle.
After about 1-2 days, the candy cane bits dissolve completely, producing a brilliant red hue!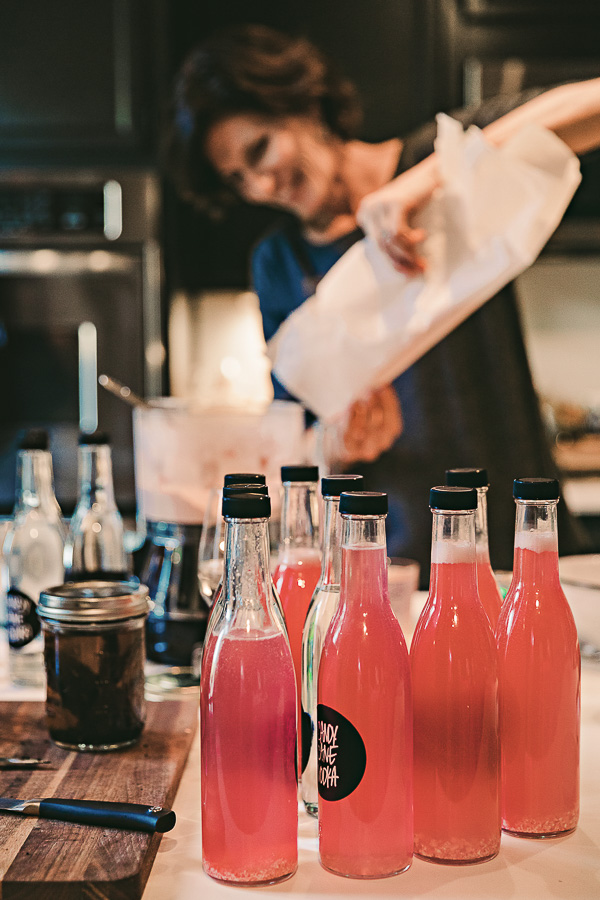 Team Body Scrub!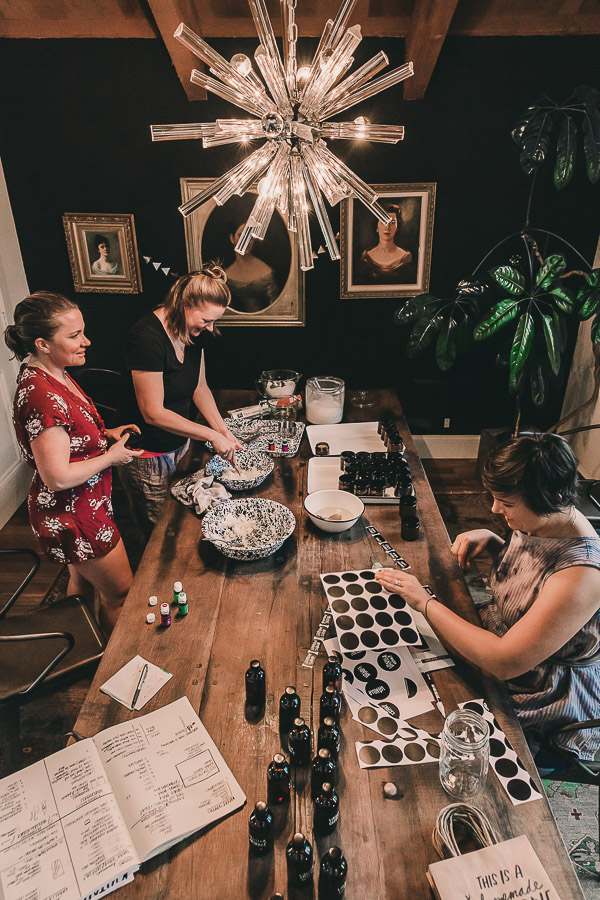 First, we made the base for the scrub.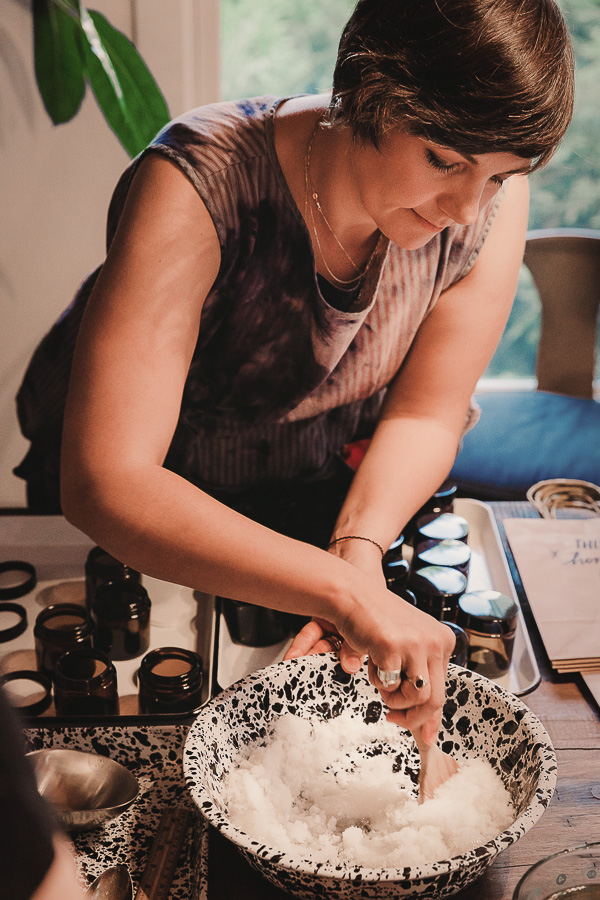 My friend Faye is an essential oil guru, so I put her and my friend Heather in charge of making flavor profiles for the scrubs.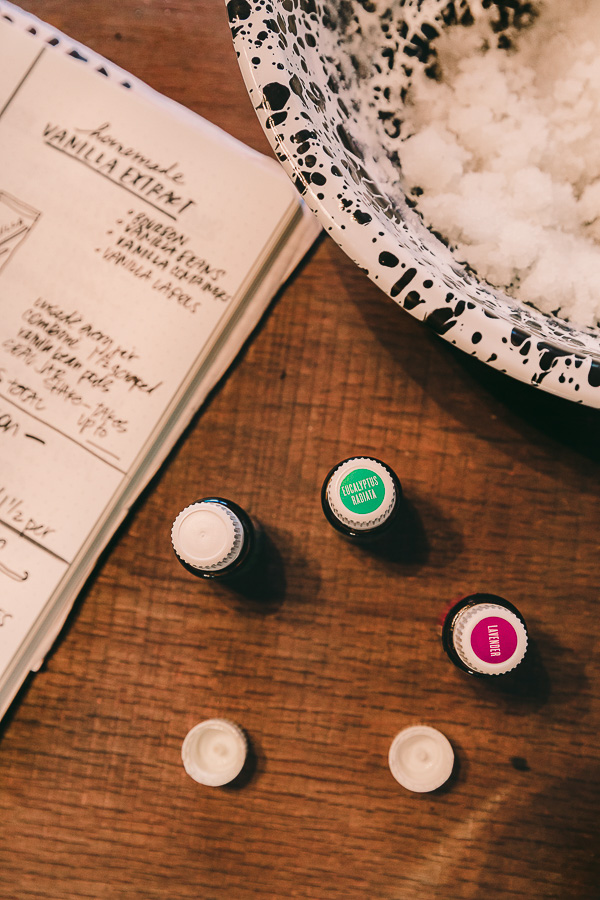 We all had a good time sniffing!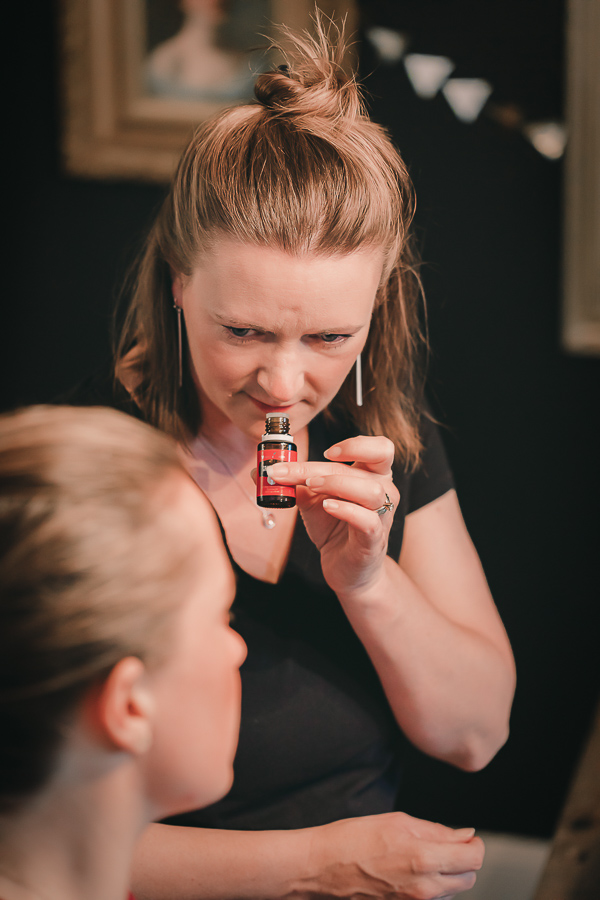 While they worked on three different scrub blends…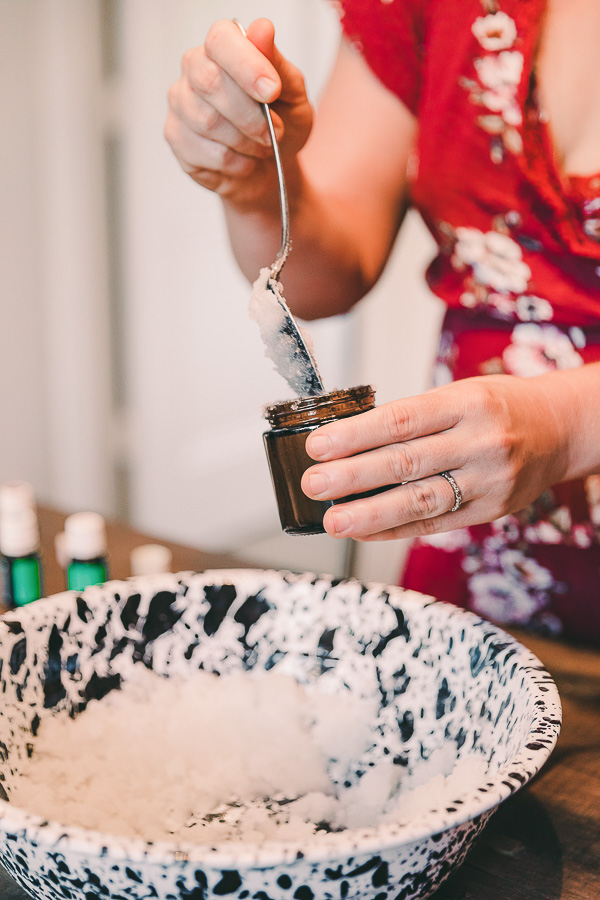 I was on label duty!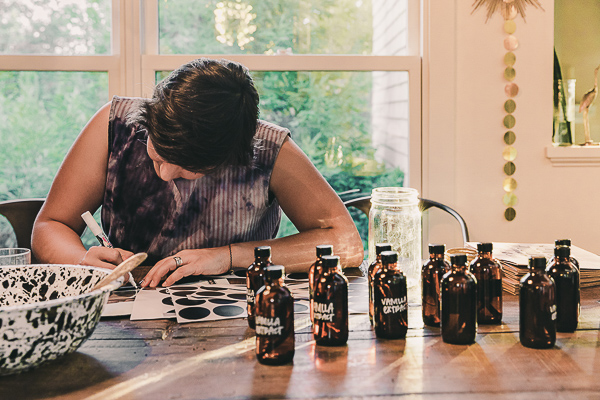 I love the contrast of white on black labels!
Our flavors:  grapefruit, eucalyptus and orange spice.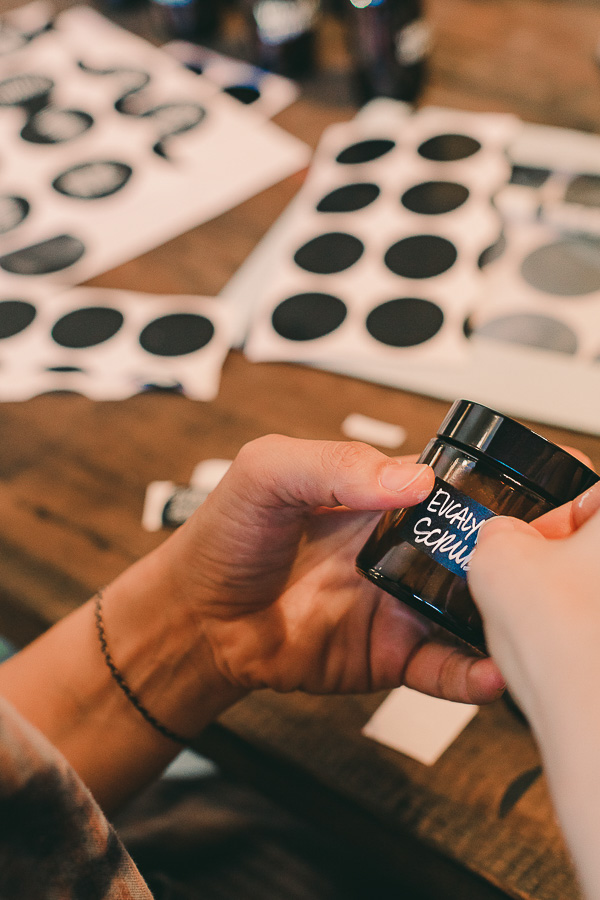 WE ALL MADE SO MUCH TOGETHER!!!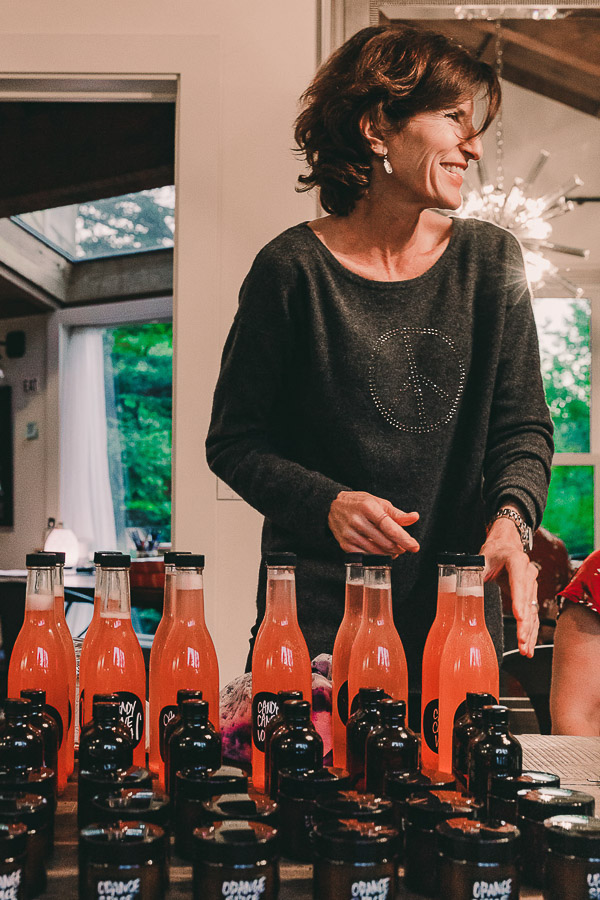 The time went by so fast.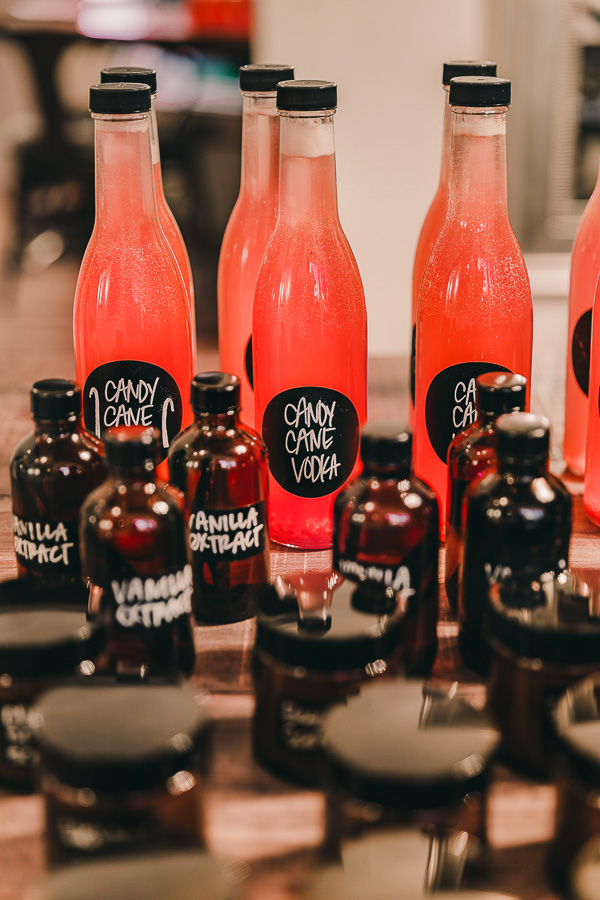 Everyone left with their own homemade goodie bag!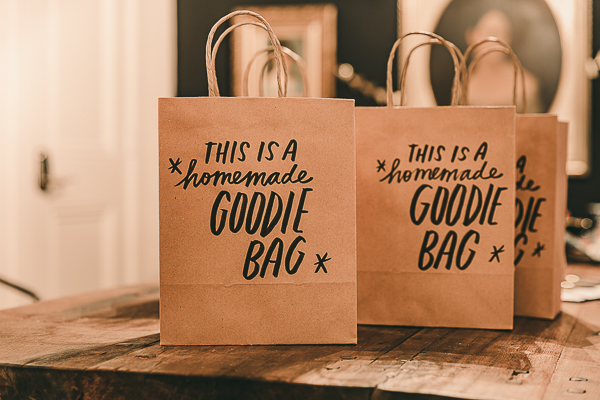 Each one had the following gifts in it: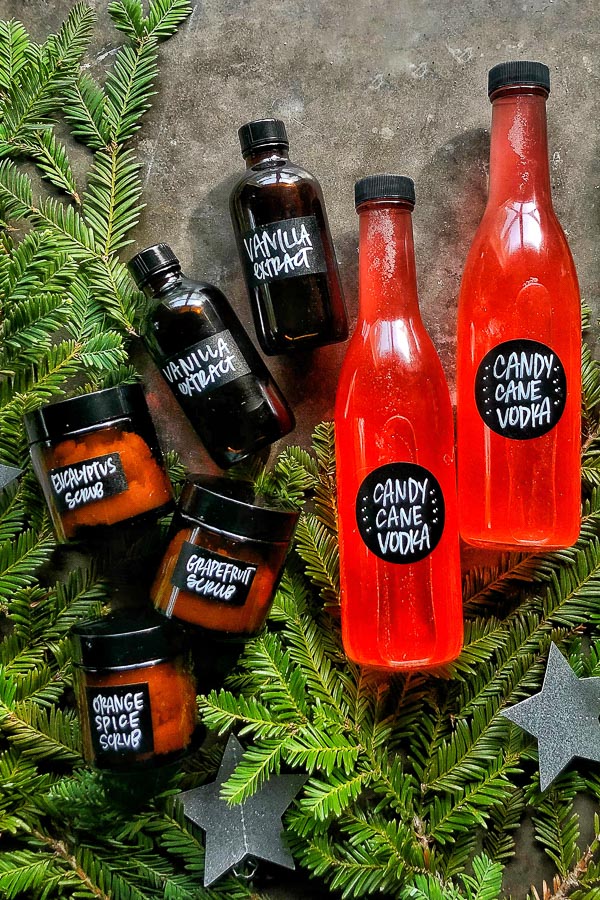 It feels good to enter the holiday season with a few gifts to gift! I hope this inspires you to host your own party and make things with friends.  Team up and host a party with a friend. It's amazing what you can do in a short amount of time when you have help!
RESOURCE LIST:
Homemade Gifts:
Supplies for the Party:
photography by my friend Todd Wagner
A special thanks to Nugget Markets for helping bring our Homemade Holiday Gift Party together by sponsoring this post.