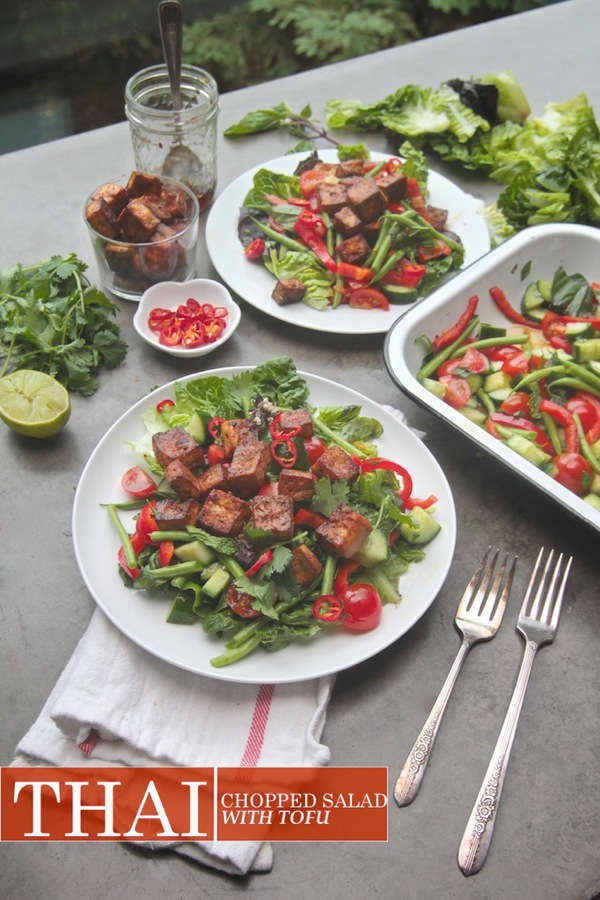 New post! Thai Chopped Salad with Tofu
Sometimes I forget about tofu. I don't really mean t. It's just that I've gone through periods of not liking it. One bad dish and I'm out. I forget that a good dish can put it back in my grocery staple column.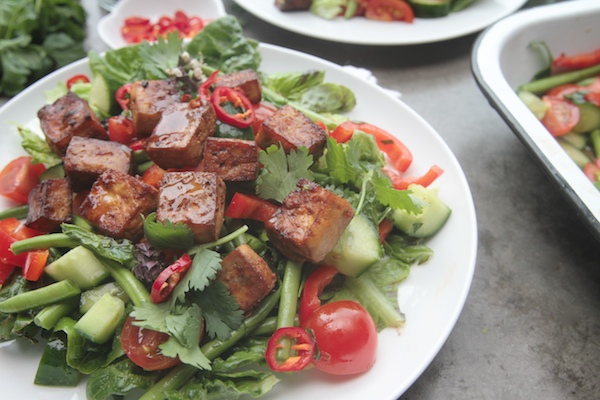 I am currently in a period of liking tofu and I owe it all to this recipe from Vibrant Food: Celebrating the Ingredients, Recipes, and Colors of Each Season. My friend Kimberley of The Year in Food has created a gorgeous cookbook that I'm super excited to have in my cookbook arsenal. The photography is stunning and I want to make almost every single recipe. (Excellent job, Kimberley!)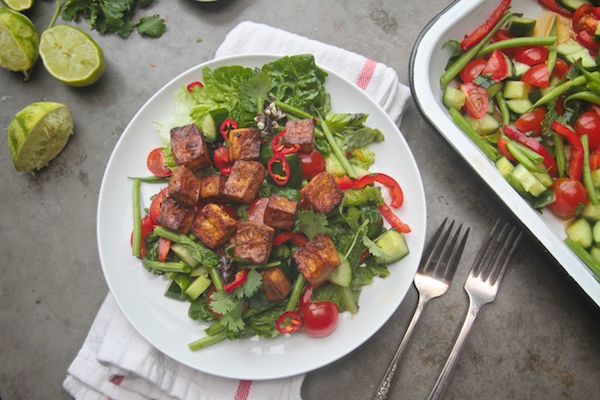 It was the crispy tofu and the lime dressing that seduced me into trying this recipe. Besides all of the wonderful ingredients within the salad (look at all that green & red!), the the tofu and the dressing are the real stars. I WANT TO DRINK THE DRESSING; it's that good. If you're looking for a hearty salad with a lot of different textures and flavors, THIS IS IT. Casey was a fan too (and wants beef on the next round). We're filing this one in the weekly rotation.
And we're off!
The first thing we do is drain our tofu. This is the key to crispy tofu.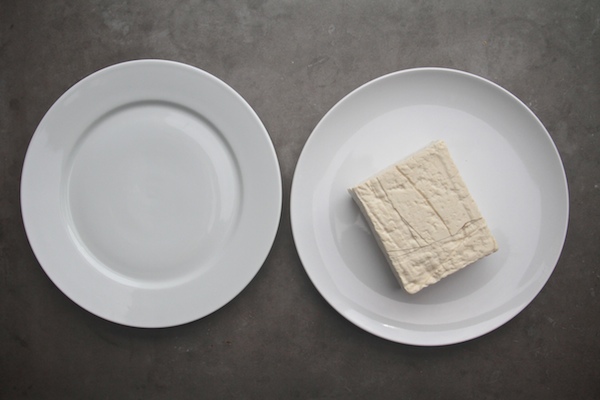 Stack a plate on top. We're going to let the water seep out for 30 minutes.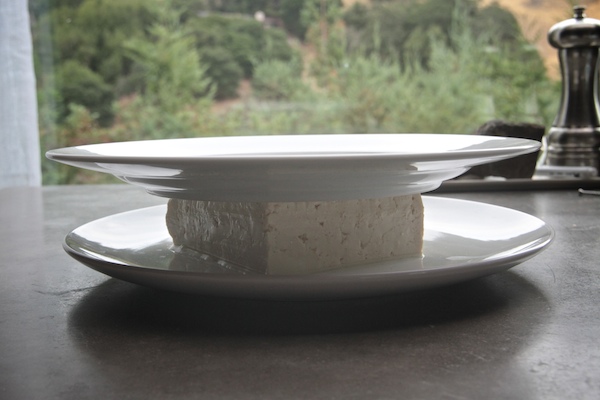 Let's make our marinade!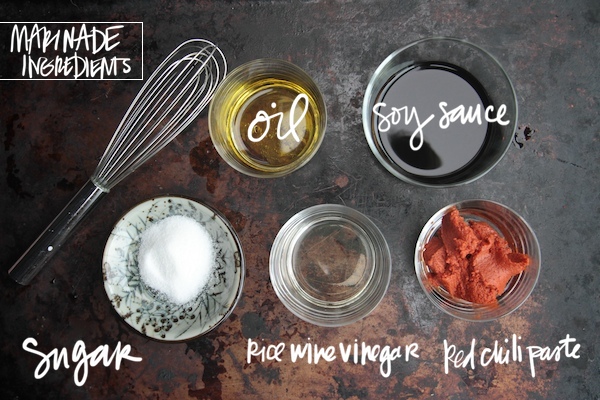 All of the ingredients get stirred up.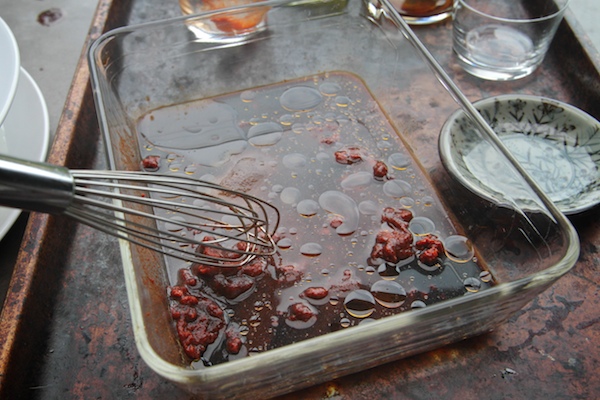 TOFU is ready! Look at all that water that came out.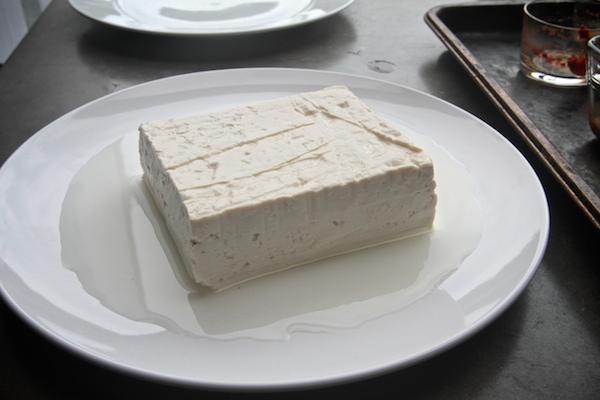 We cube!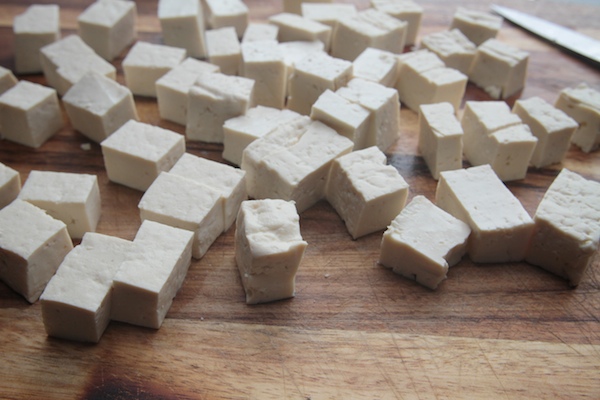 We let it marinate! The tofu soaks it up and daaaaaaang it's good.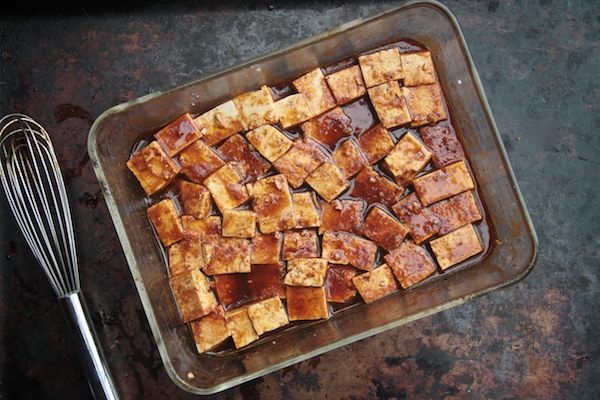 The tofu goes onto an oiled baking sheet and we broil.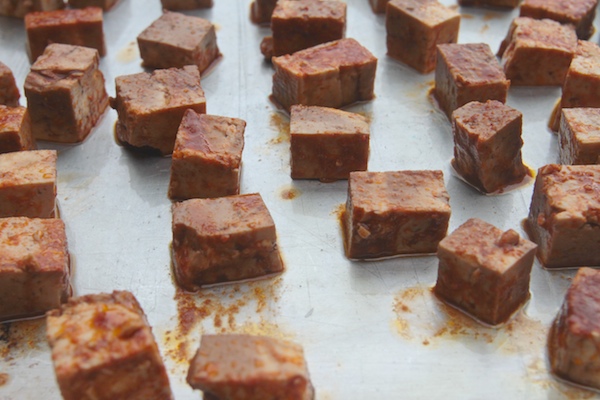 15-18 minutes. Toss every 3 minutes or so. This is what 18 minutes looked like for me.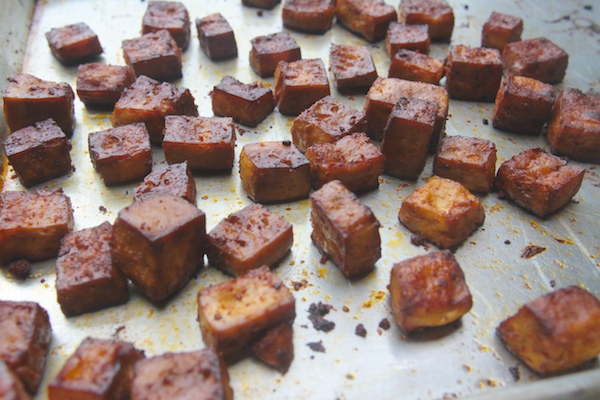 Let's get our salad ready.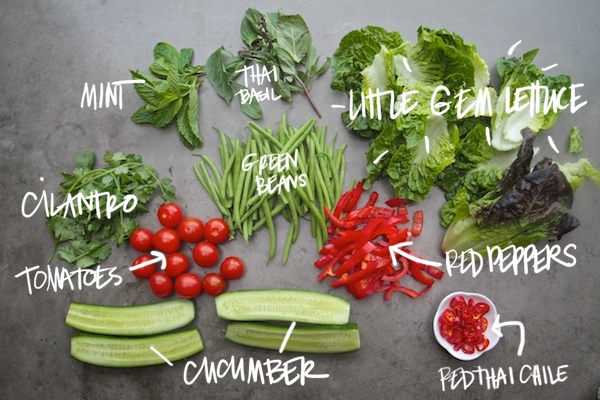 We're gonna need to make our dressing.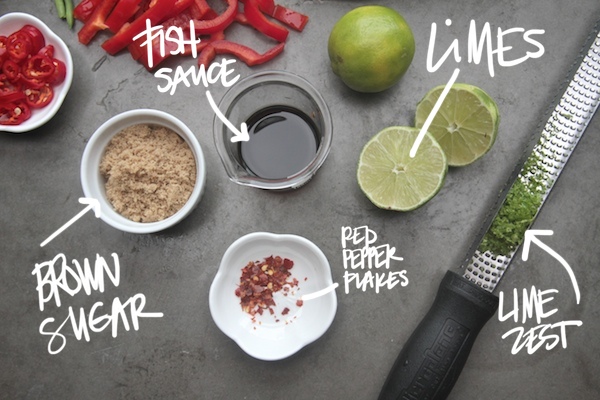 Put it all in a jar.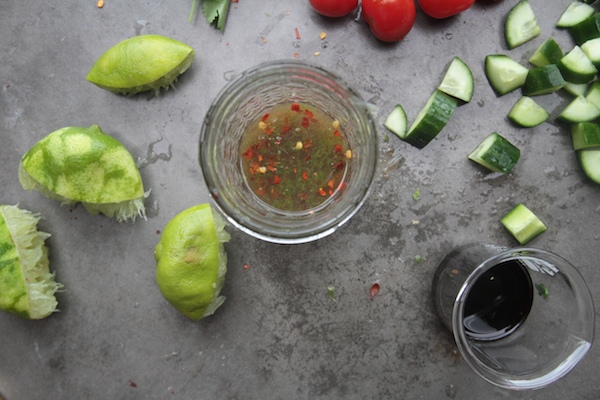 Shake the jar. The brown sugar balances out the lime & fish sauce. The red pepper flakes give it a slight kick.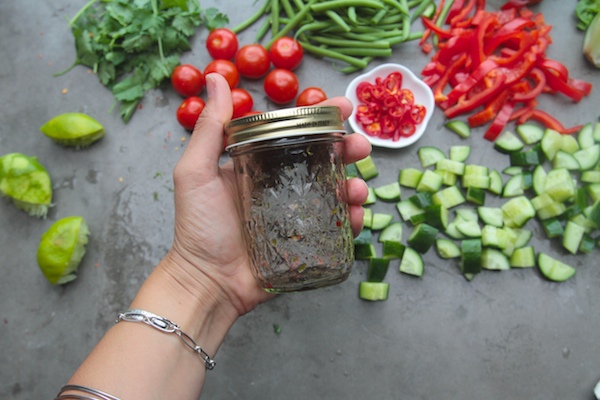 ASSEMBLY TIME.
Pour the dressing over the tomatoes, cucumbers, mint, beans, & Thai basil.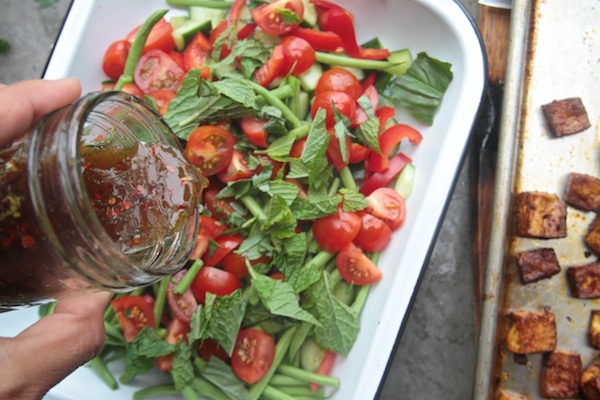 To serve, lay a little bed of lettuce on top of each plate.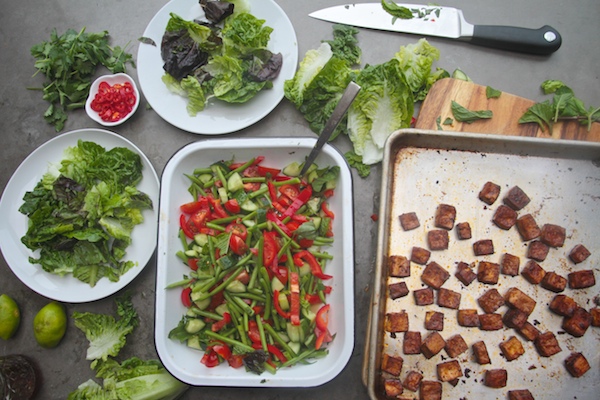 Top with the vegetable mixture. Garnish with tofu, Thai chile, and additional mint & cilantro leaves.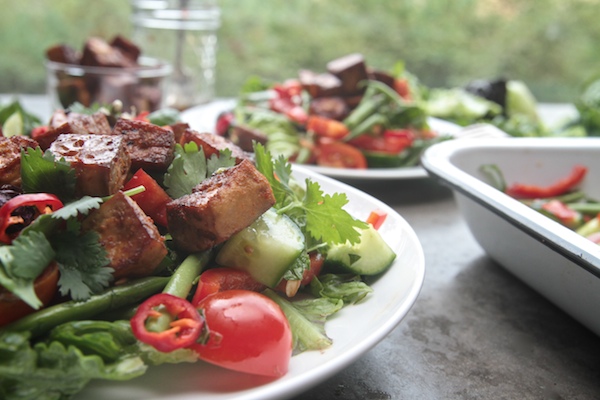 A little drizzle of dressing…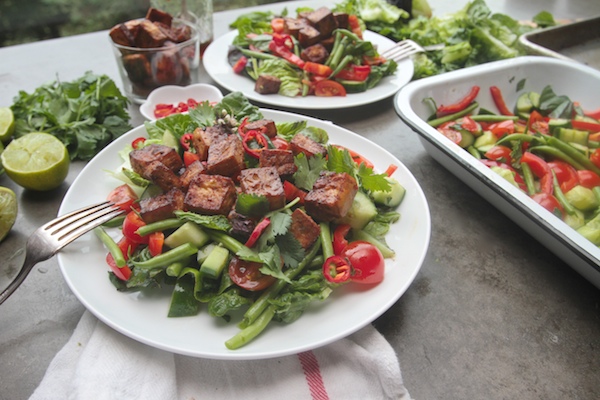 You have just entered FLAVOR TOWN.
Thai Chopped Salad with Tofu

serves 4

recipe adapted from Vibrant Food: Celebrating the Ingredients, Recipes, and Colors of Each Season

for the salad:

1 16 oz. package extra firm tofu, drained
1/4 cup low-sodium soy sauce
2 tablespoons rice wine vinegar
2 tablespoons extra virgin olive oil, plus more for broiling
2 tablespoons Thai red chili paste
2 teaspoons sugar
2 heaping cups cubed cucumbers
2 cups green beans, chopped in quarters
2 cups halved cherry tomatoes
1/4 cup loosely packed fresh mint leaves, plus more for garnish
1/2 cup chopped fresh Thai Basil leaves, plus more for garnish
2 small heads Little Gem or butter lettuce, rinsed and torn
cilantro leaves for garnish
1 small Thai red chile, seeded and thinly sliced, for garnish

lime dressing:

juice of 2 limes, plus zest of 1 lime
3 tablespoons fish sauce
3 tablespoons brown sugar
1/4 teaspoon red pepper flakes

To prepare the tofu, place the tofu on a plate and weigh it down with another heavy plate on top. Set aside to press for 30 minutes.

Meanwhile, to make the marinade, in a medium bowl, whisk together the soy sauce, rice wine vinegar, olive oil, red chili paste, and sugar until smooth. When the tofu is ready, dry it with a paper towel and cut into 1-inch cubes. Add to the bowl with the marinade and toss gently to coat. Cover, chill and allow to marinate for at least 1 hour, or overnight.

Preheat the broiler. Arrange the tofu in a single layer on a lightly oiled, small baking sheet, discarding the marinade. Broil about 6 inches from the flame for 15 to 18 minutes, turning every 3 minutes or so, until deeply browned. Set aside.

While the tofu broils, make the dressing. Whisk together the lime juice and zest, fish sauce, brown sugar, and red pepper flakes until the brown sugar has dissolved.

To prepare the salad, combine the cucumbers, green beans, tomatoes, mint leaves and thai basil. Toss with about two-thirds of the dressing, serving the remaining dressing on the side or reserving for another use. Serve atop a bead of lettuce, topped with tofu and garnished with fresh cilantro leaves and Thai red chile.