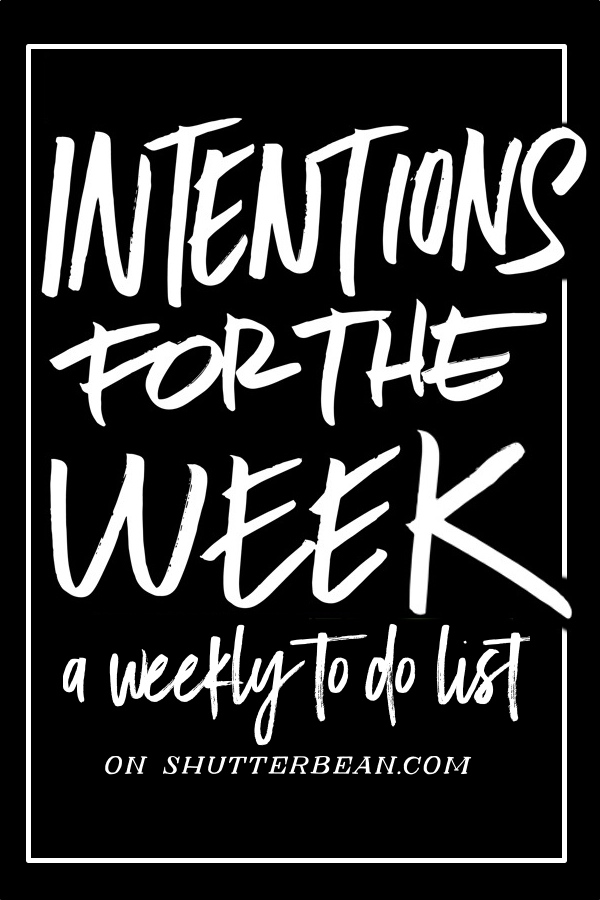 Hello there LAST MONDAY OF JANUARY. I can't believe we're about to hit February soon. Last week was pretty productive! I did a lot of things that WEREN'T on my list like cleaning out my garage!  I also got my car fixed/oil changed. That's something I've been putting off for awhile. I always dread car appointments because I don't know how much time I'll be without my car. Feels good to have that done.
This week I have quite a few things happening. The one thing that I am really excited for is taking a brush lettering class. My mother-in-law gifted me with it for Christmas. It will be a nice way to close out the week of hard work!   Here are my Intentions for the Week!

Intentions for the Week:
laundry
salvation army + target+ library
exercise dance/yoga/walk
finish Currently post for January
meetup with Sonia
get supplies for art class
straighten up pantry
mail packages to camden & erin
try a new recipe
accounting work
free up space on phone
post pictures from Wilbur Hot Springs
drink more water (this is helping)
Last Week's Intentions:
finish laundry
bring in car for service
oil change on car
return library books
edit photos/upload/invoice
add new zine to The Handwriting Club (take photos/post)
get outside and go for a walk
YOGA

(did Dance instead!)

make more dinners at home
work on a new recipe
post pictures from the weekend
figure out when I'm going to do a workshop & where
get supplies for brush lettering class
keep up the healthy eating habits
finish Intentions for the Year post (you can see it here!)
free up space on my phone
find time to be creative
get haircut (YAAAAAAY!)
figure out party for school auction/meet with sonia
Mantra for the Week:
What's on your agenda this week? Get your Intentions for the Week out on paper, it helps!