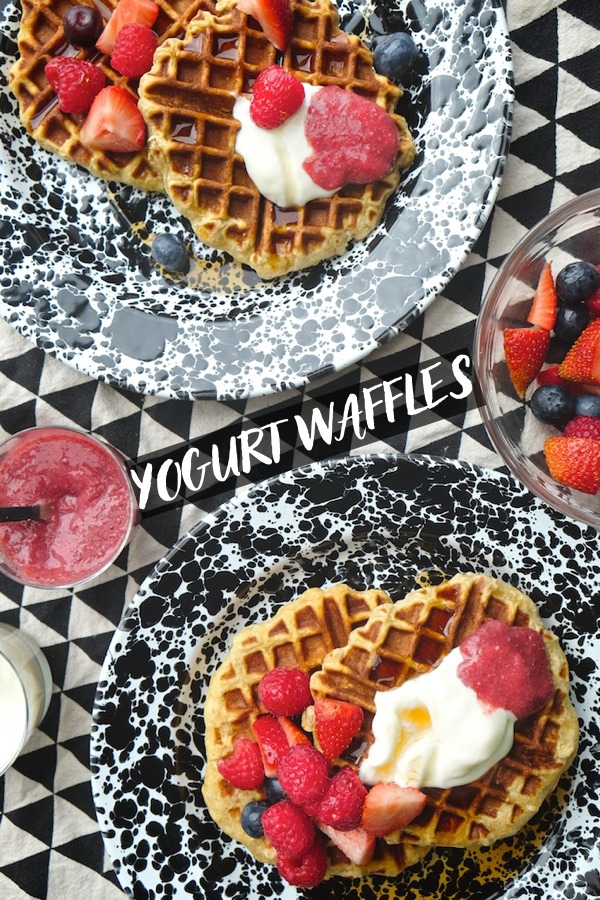 Now that we have our strawberry chia jam, let's put it on some waffles! How about Yogurt Waffles? That's what I did last weekend.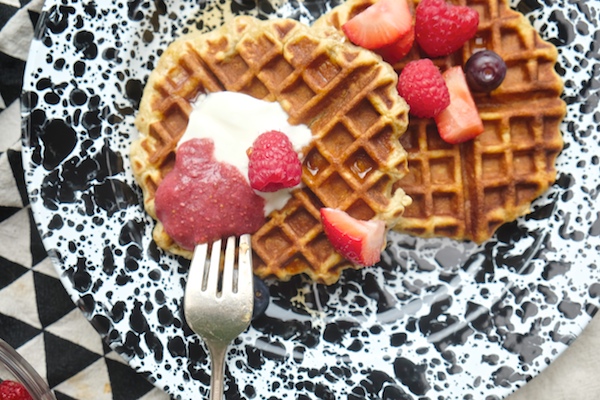 I really really really miss Everyday Food (the cute little Martha Stewart magazine!) I still have every single issue on my cookbook shelf and wonder what the recipes would look like now in the year 2015. I refer to them from time to time when I need a little inspiration or find myself in a food rut (I found these yogurt waffles from April 2010 to make last weekend!). I loved that they were season driven so they always served as great reminders of what you should be eating this time of year.
But let's be real. Waffles all year round…allll the time…. but now with berry additions!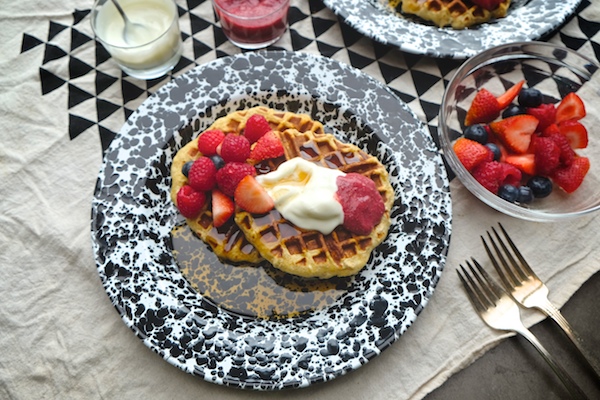 Cooper and I loved these waffles. I loved the addition of oats because every now and then you get a nice crunch. I liked the brown sugar because there's a little bit of sweetness in the waffle…meaning you need a little less maple syrup. Cooper was in it for the carb + maple syrup component– as per usual. The ingredients are basic enough so that I'll be able to make these over and over again. Let's make the toppings seasonal!
And we're off!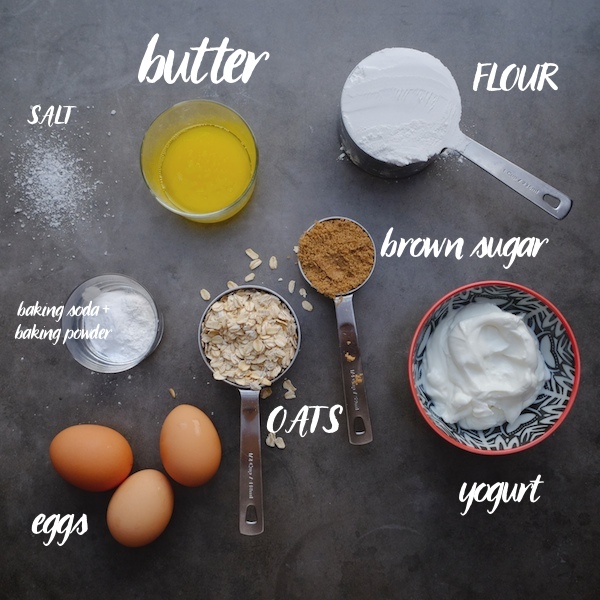 Dry + Wet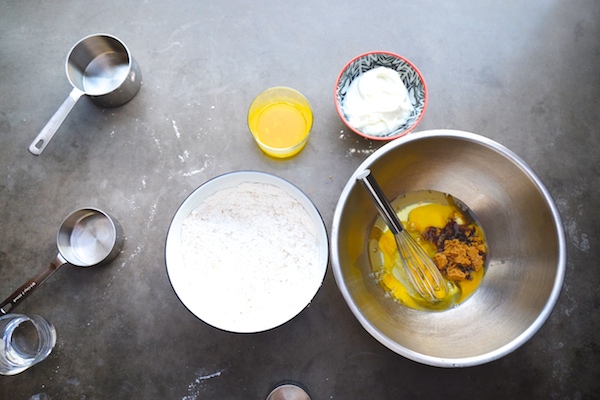 MIX WET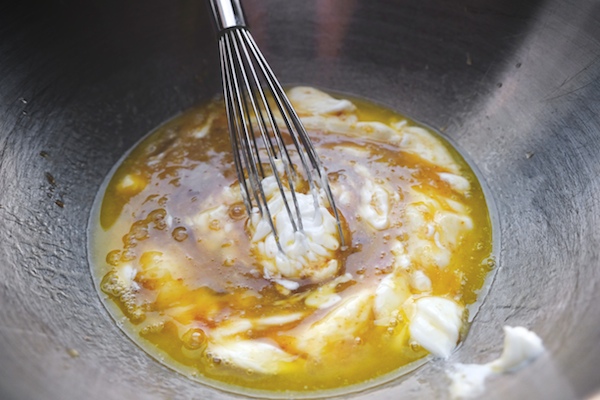 DRY MET WET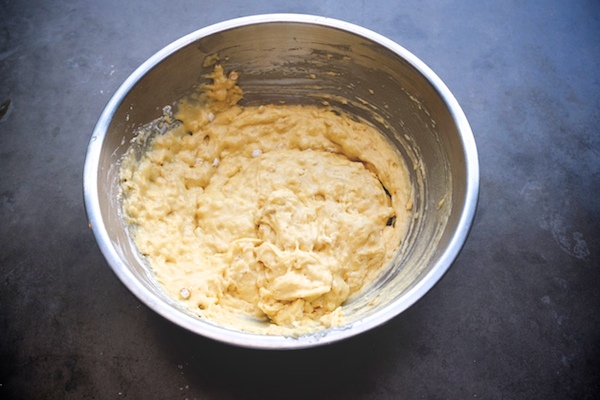 Waffle iron ready!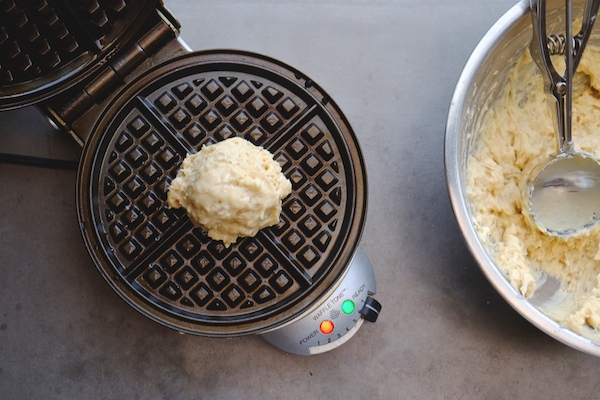 Bam!
Six beauties.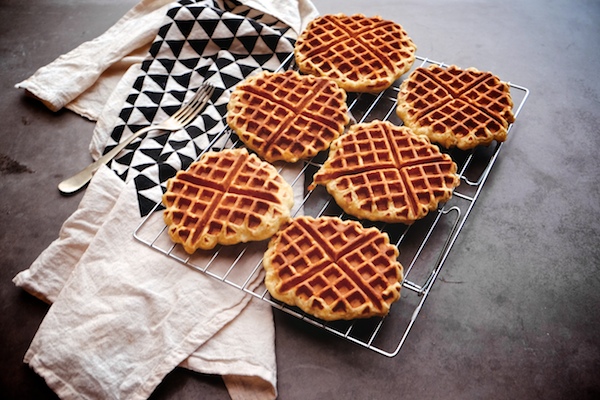 Berry good.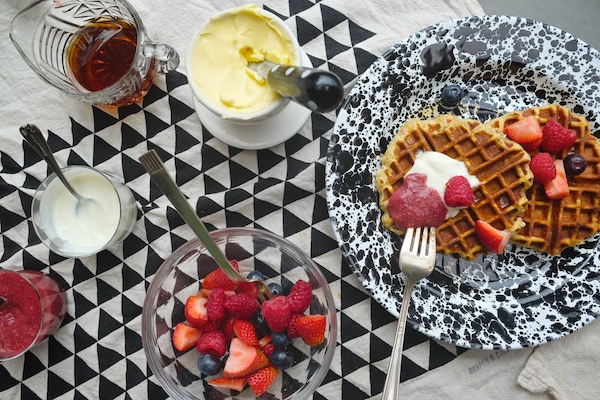 Your weekend plans should include these: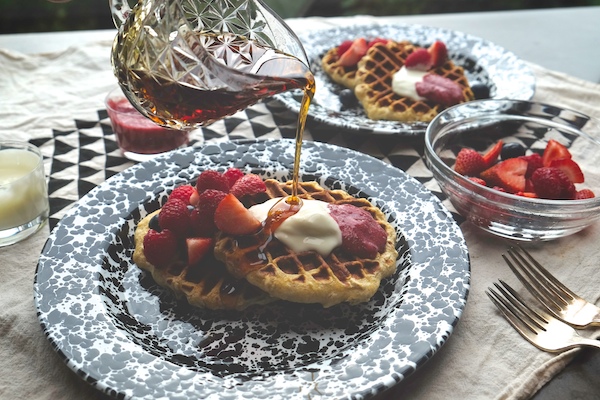 For more waffle recipes, try:
Yogurt Waffles

makes 6 waffles

recipe adapted from Everyday Food

1 cup all-purpose flour
1/2 cup rolled (not quick-cooking)
3/4 teaspoon coarse salt
2 teaspoons baking powder
1 teaspoon baking soda
1/4 cup packed light brown sugar
3 tablespoons melted salted butter, plus more for iron
3 large eggs
1 1/2 cups plain, low-fat yogurt (plus more for serving)
mixed berries, for serving
maple syrup, for serving

In a large bowl, whisk together flours, oats, salt, baking powder and baking soda. In another bowl, whisk together brown sugar, butter, eggs, and yogurt until smooth. Stir egg mixture into flour mixture into flour mixture and mix well to combine. Let batter sit 15 minutes.

Heat waffle iron according to manufacturer's instructions; brush with melted butter. Pour 1/2 cup batter onto iron and close; cook until waffle is golden brown and crisp, about 3 minutes. Transfer to a wire rack set on a baking sheet and place in a low temperature oven to keep warm. Repeat with remaining batter. Serve with additional yogurt, berries and maple syrup.