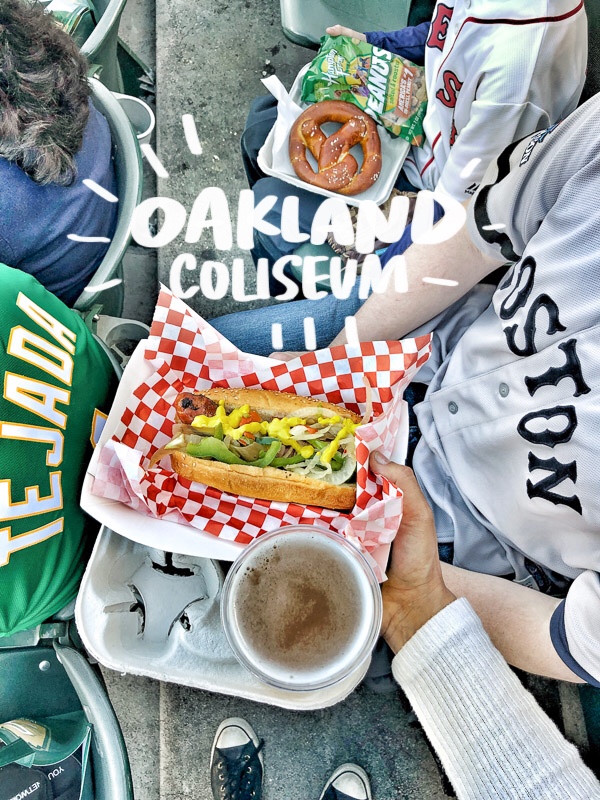 We're Red Sox fans in my household (in case you didn't notice!). So, whenever they play the A's in Oakland we make sure to attend a game or two. It's a treat to be able to see them locally and now that they've upgraded the Oakland Coliseum it's even better!
We went last Friday and had an awesome time. Let me show you: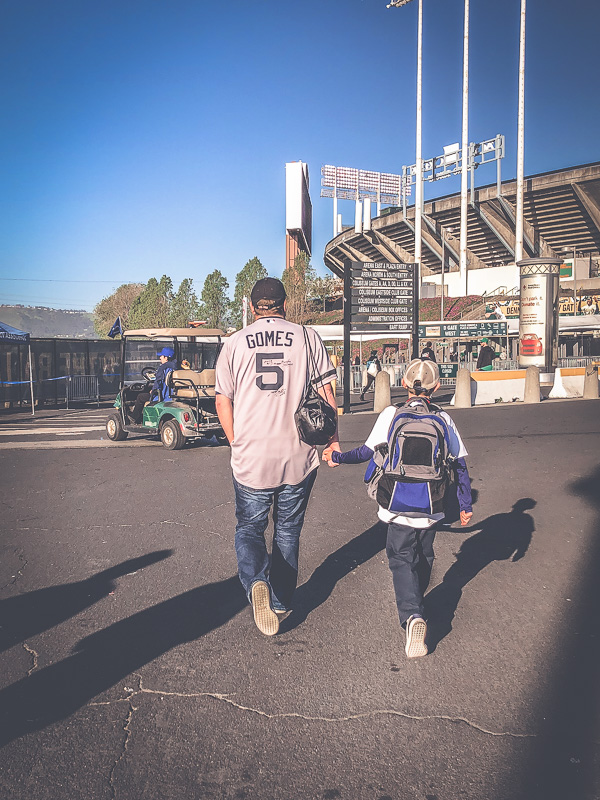 When you enter the stadium, you immediately hit Championship Plaza (est. 2017) where you'll find all kinds of food trucks.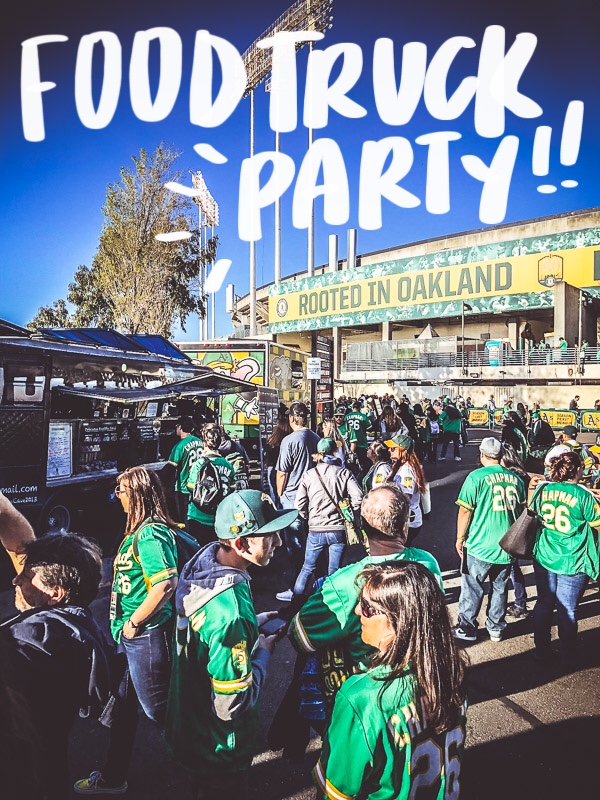 Having food options in addition to stadium food is fantastic. Not only are there so many gourmet food options, it meant there were fewer lines inside!  I left our seats to get some food/and walk around and I never had to wait that long for food. I LOVED IT.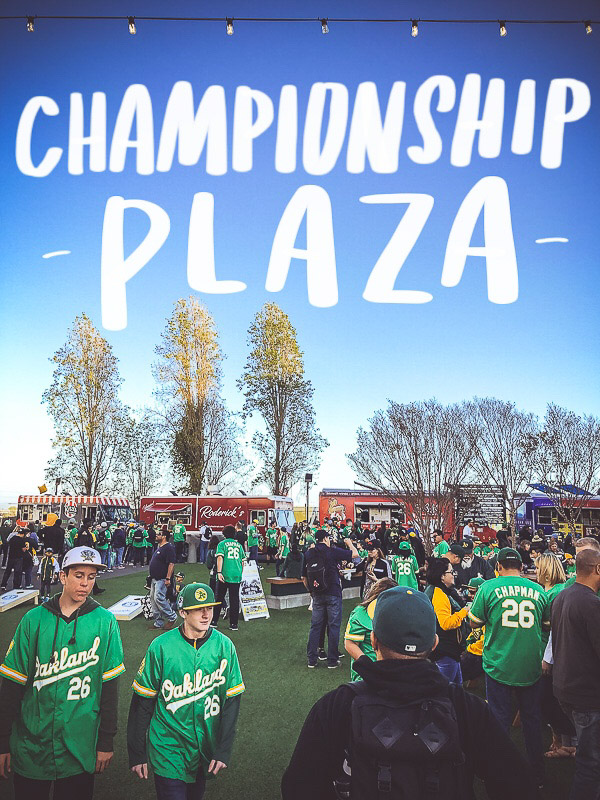 Definitely kid friendly! They've got games for the whole family to play with some picnic tables too.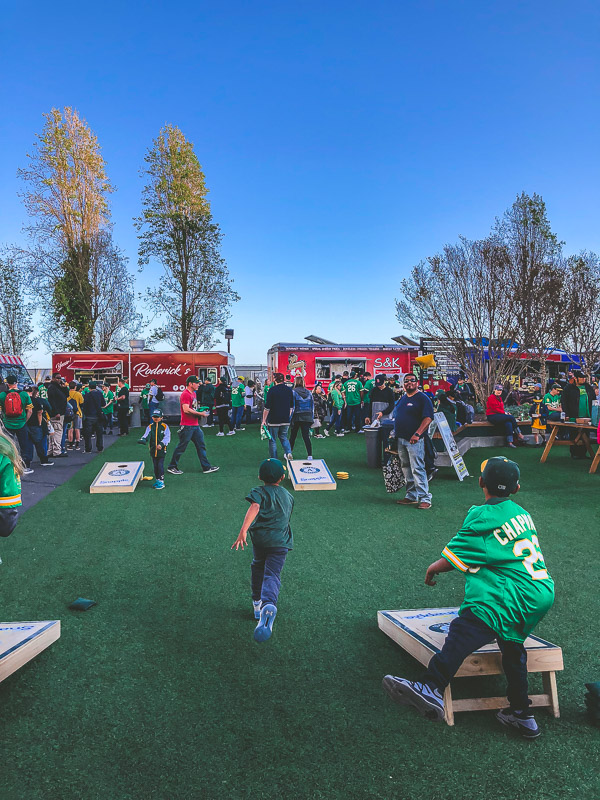 Every Friday during the season, the ballpark celebrates "Green Fridays."  The team wears their new kelly green jerseys. On the day we went, they handed out Chapman jerseys to the fans so the crowd was brilliant green by the end of the night.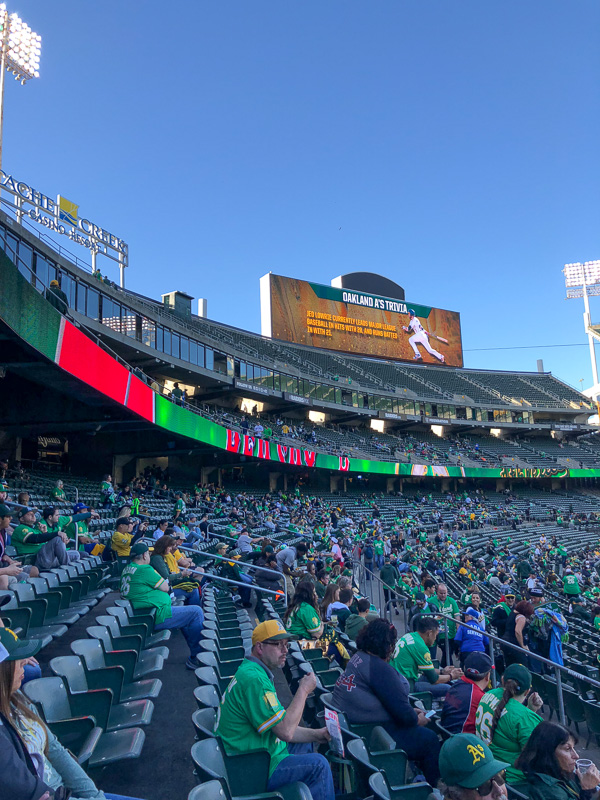 We had a view of the third base. Us Red Sox fans stuck out like a sore thumb 🙂
Sorry, I'm too busy focused on my HOT LINK.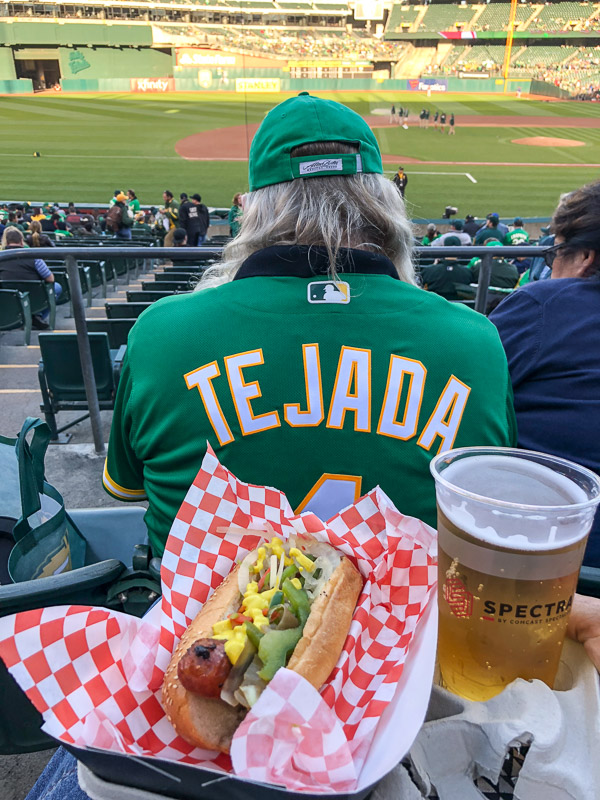 YESSSSS.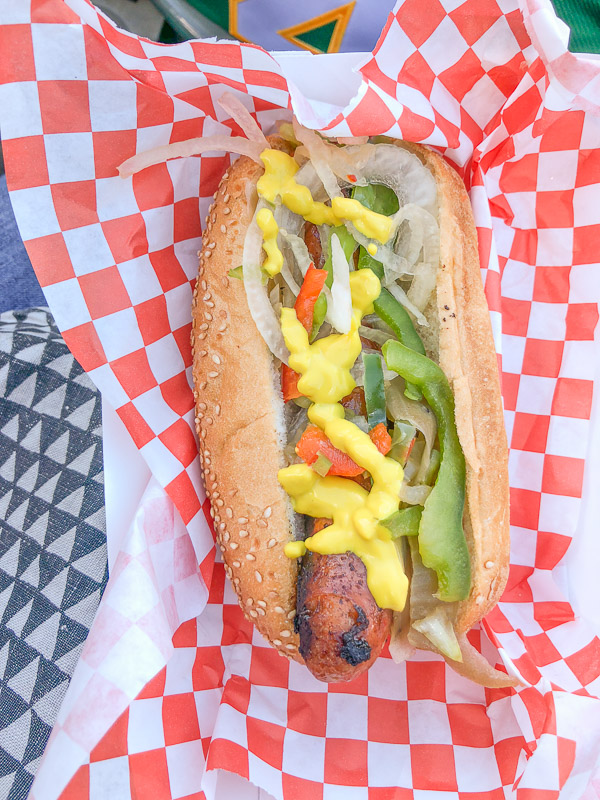 Something new to the ballpark this year- THE TREEHOUSE!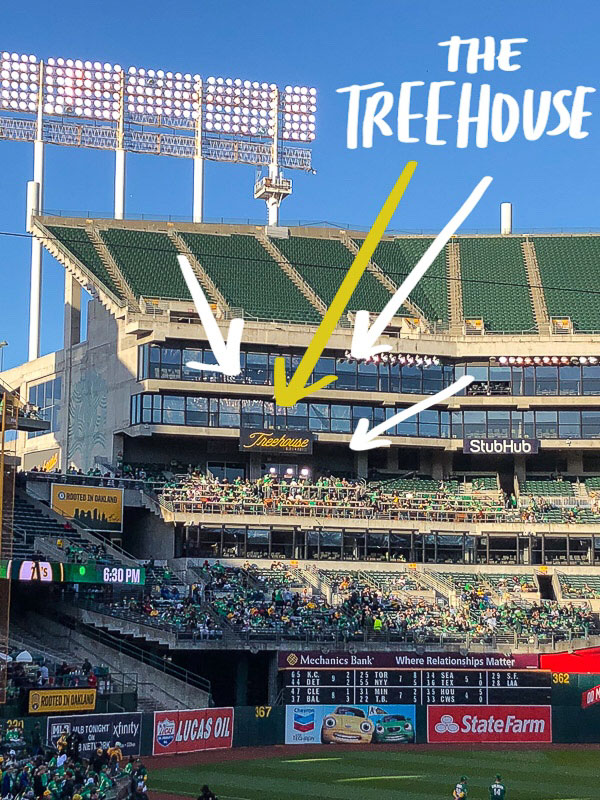 Located in left field, you'll find the Treehouse. This area includes outdoor and indoor bars. They've got foosball tables inside and beautiful redwood deck outside.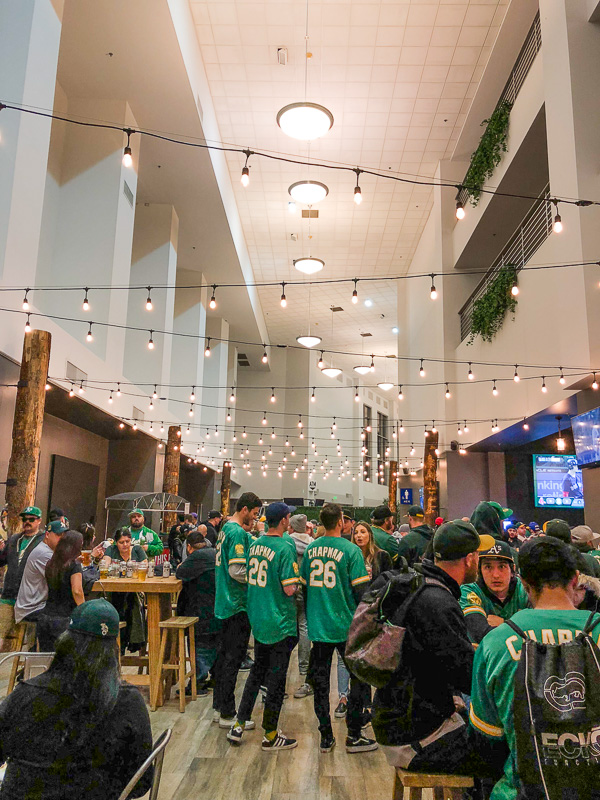 It's a beautiful space for a ballpark!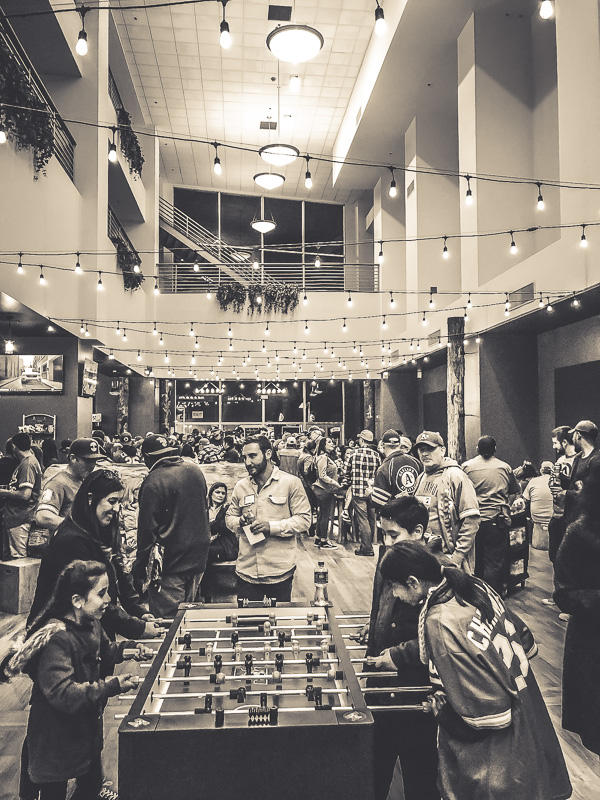 Here's the entrance.
You read that right….THEY SERVE FRIED CRICKETS. WHOA.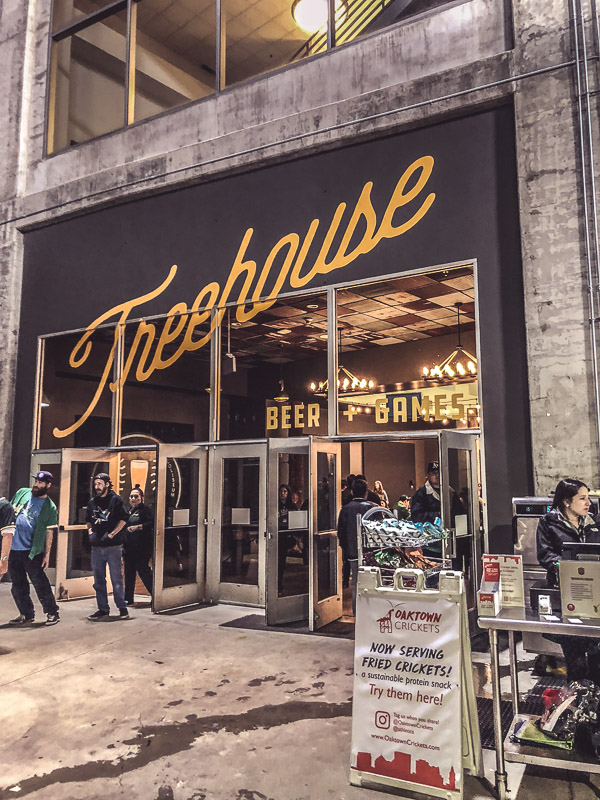 The view from the Treehouse is pretty nice.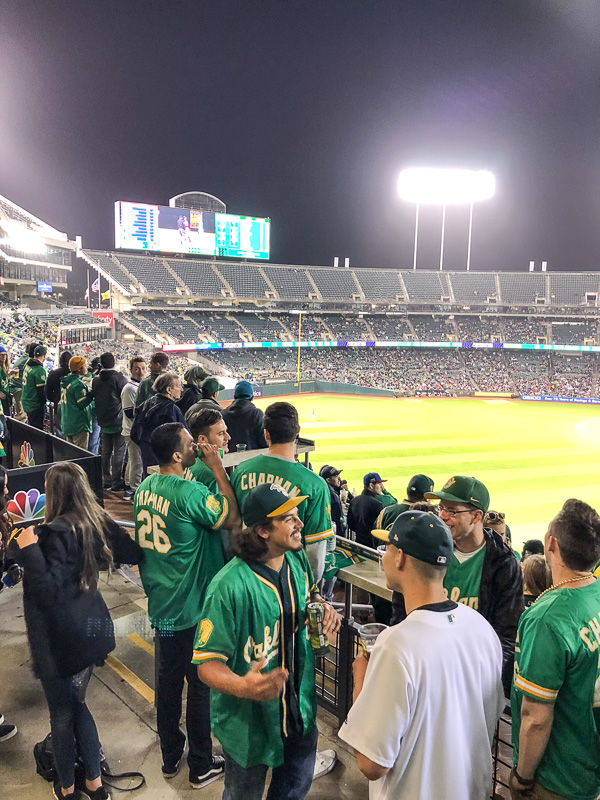 On Fridays, they have a DJ!!!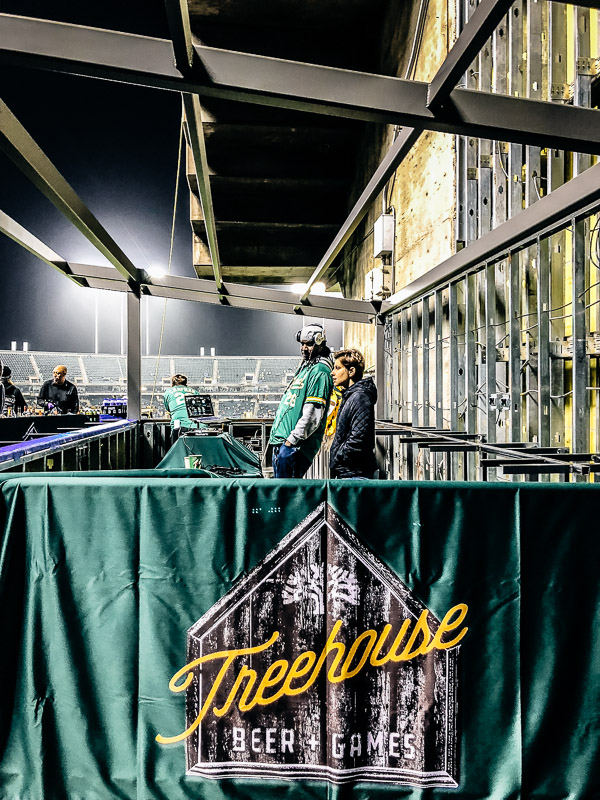 I think one of the highlights of the game was watching a dance battle from up at the Treehouse on the jumbotron. The battle was between a Red Sox fan vs. an A's fan. The A's fan made the Bay Area proud.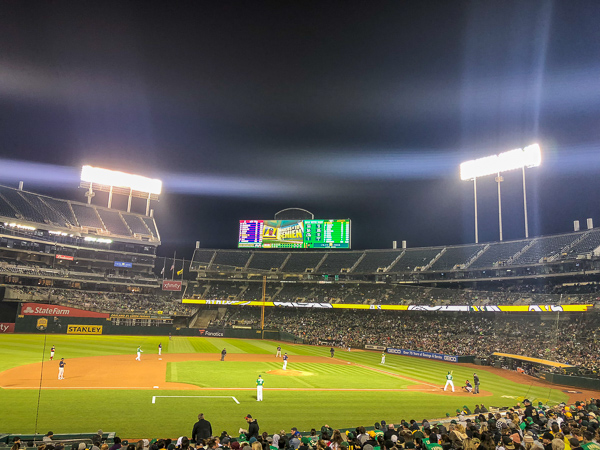 Oh look! It's Eck!
They sure make the viewing experience fun for everyone.
Sometimes I got so distracted watching the concession guys that I lost track of the game.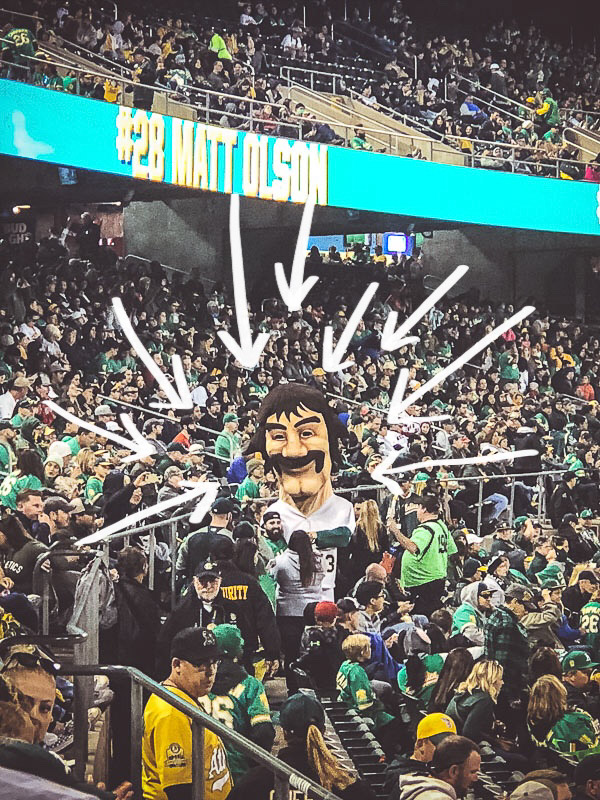 Next time I'm getting a corn dog and maybe a churro. Yeah… Definitely a churro.
If you're in town looking for a good time, you should go!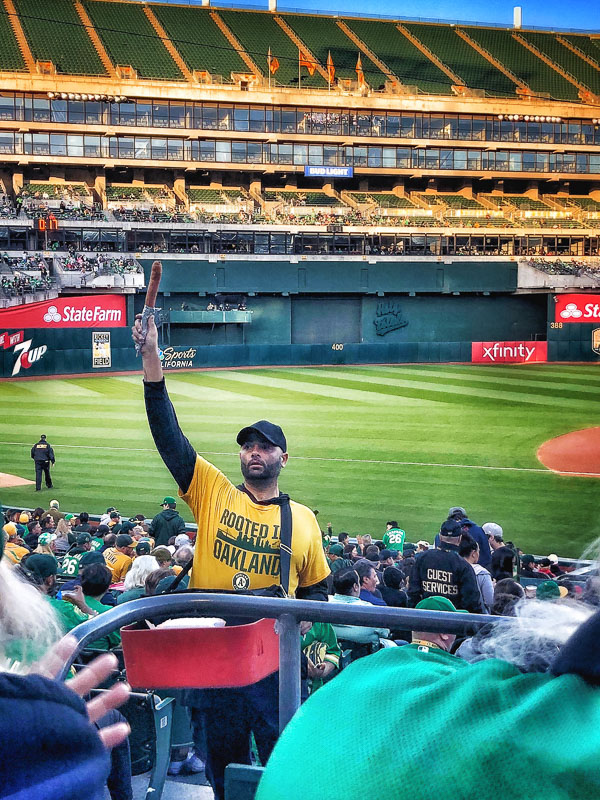 The food choices in the stadium are worth the trip. I mean…they even have an empanada stand!!!  If you're a researcher like me, you'll want to check out all the food trucks that are there for your visit.
If you haven't guessed by now, I'm always in it for the food.
A big THANK YOU to the Oakland A's for sponsoring this post and our baseball adventure. We had quite a blast! As always, all opinions are my own.