We can cross something off my 31 comes before 32 list!
#19. Cook something with my husband.
You might remember that Casey gifted me a "couples" cooking class this Valentine's Day. On Friday we went to the Date Night: Parisian Bistro class at our local Sur La Table. It was great!!!  Casey learned a few major cooking basics and I got to learn how to make awesome french fries and perfect profiteroles (BTW those two items are on my 31 comes before 32 list). Watch out– I hope to bust those out soon!
The Parisian Bistro Menu Included:
Mussels Meuniere
Seared Hanger Steak with Red Wine Reduction and Watercress
Frites (from scratch!!)
Profiteroles Vanilla Ice Cream and Chocolate Sauce
When we first arrived, they gave us a nice little snack of brie, grapes & crostini so we wouldn't get too hungry.
Good call…cuz I totally was. There were about 3 other couples working with us and the class ran from 6:30-9:30pm.
We gathered around the kitchen and looked at the ingredients for the evening.
Everything to the right is for the mussels.

Ahh there's the hanger steak! Such a wonderful cut of meat you can only get from a butcher.
Right next to it, you'll see the ingredients for the red wine reduction sauce.
It had mushrooms & thyme in it. I'm drooling as I type this. It was amazing.
First we chopped shallots & garlic for the wine reduction sauce. I was really proud of Casey; he did a great job.
And then we learned how to properly cut potatoes for french fries.
Here's Casey cutting up a potato. I learned this technique in my knife skills class. 😉
We all put our cut potatoes into a bowl of water. Then we drained them….
And dried off the potatoes by putting them in a heated oven. The moisture effects the crisp!
Then we fried them for a few minutes & set them aside. You'd better believe I tried one.
We cranked the heat back up and fried them again! This is how you get really GREAT fries.
One of our classmates cooked the steak while the wine reduction was reducing in the back.
Casey and I were in charge of the mussels. Here's Casey pouring in the white wine.
LOOK AT THOSE MUSSELS!!  YUP! We did that!
There's really no excuse for me not to make mussels at home now!
We also made profiteroles. Here's the chef showing us how to make the pâte à choux.
He put 2 cups of water in instead of 1 and blamed the metric system. I giggled. Totally.
You can see him in the bottom right hand corner putting the flour in the pot. It was interesting to see how he improvised in this situation. Good notes to have since I'm going to be teaching my own cooking class soon!
And here he is teaching us how to use a pastry bag. We all got to practice our technique.
I felt like Martha. Except…Martha would have beat the yolks in by hand- NOT with a mixer.
They set the table for us to eat our dinner…. All that bread is for mussel broth dunking.
Notice how there are no wine glasses? Sigh…. That would have been awesome. Totally awesome.
And here we are digging into our mussels. They were excellent! The perfect balance of shallots, lemon & wine.
This is the point where I wish I had asked for seconds, but with a room full of strangers I felt weird.
After we polished off the mussels, we learned how to cut the hanger steak….
And then we plated it….
Added some watercress….
And then poured the wine reduction sauce on top of our steak.
Casey was excited to learn that putting butter in the reduction at the end made the sauce shiny. That's how they do it!
And of course…the FRIES. My favorite part! I wasn't shy this time- I asked for seconds 🙂
Here's our dinner! Everything tasted SOOOO good. Did I mention there was NO WINE??!! Outrage!
After we finished our dinner, we got right to profiteroles!
We cut each one in half & filled them with a scoop of ice cream & topped it with the chocolate sauce we made. We then sprinkled a few toasted/slivered almonds on top!
If I wasn't around a bunch of strangers, I would have unbuttoned my jeans! Oy.
Here we are in our aprons!
WE COOKED TOGETHER!! I never thought it was possible!!!!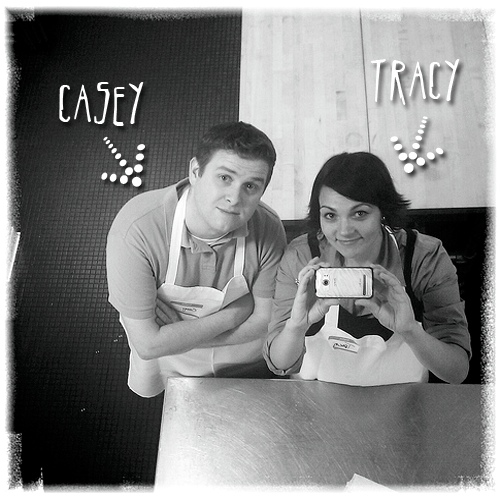 I totally expect Casey to pick up some cooking duties around here. You hear that, honey??