Remember when we had to do those Science Fair projects that required foam-core board, photos and colored construction paper? I'll never forget those! It stresses me out to think of all of the times our printer stopped working the night before my project was due. My brothers totally sabotaged one of my experiments when I was in 7th grade and I still haven't forgotten about it. I'll spare you the drama.
If I was to do a Science Fair project as a grownup, I'd enter with this Homemade Amaretto.
Imagine this: my foam-core board is a very dark gray (of course it is!) and all the fancy lettering is white with yellow construction paper. It's totally eye-catching (I always put more work into what my project looked like than the actual project. Figures, right?). There could be a few silver stars pasted on for extra appeal. Who knows!
On the left-hand side you'll find this:

And then I show the judges a step by step pictorial of my project:
(this is the part where I try to sound official)
I gathered all of my ingredients together. Vodka, vanilla & almond extract, sugar, brown sugar & water.
I put the brown sugar and white sugar into a bowl with water and heated it until the sugar dissolved.
I cooled the sugar solution at room temperature and then poured it into the vodka.
I measured out the vanilla extract and the almond extract into a small bowl.
I then poured the almond/vanilla extracts into the vodka/sugar solution.
Then I poured the mixed solution into a jar.
I took a few tastes and then proceeded to strain the solution through 2 coffee filters to make it less opaque.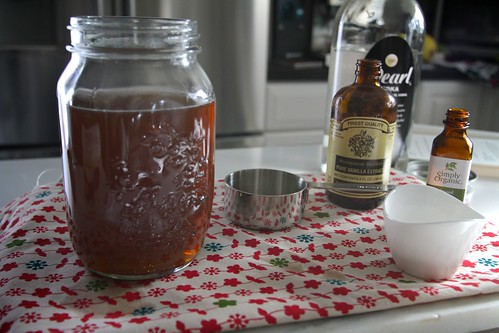 After straining the solution, I was left with this jarred specimen.
In the middle of the board is small square of yellow construction paper where I describe the taste of Amaretto:
In another yellow square I list the potential uses for Amaretto:
add it to coffee or hot chocolate
mix it in cola
serve it on the rocks with a squeeze of lemon
soak ladyfingers in it for Tiramisu
drink it straight from the bottle
make a hot toddy with it and add whipped cream
stir into whipped cream!
gifts for the holidays
And then on the right hand side of my foam-core board I post the final results:

In my head I get at LEAST second place. The ribbon is blue with silver lettering.

Homemade Amaretto

Makes 3 cups
(recipe slightly adapted from Allrecipes)
1 cup water
1 cup sugar
1/2 cup brown sugar
2 cups vodka
2 tablespoons almond extract
2 teaspoons vanilla extract
Combine water and sugars in a saucepan over medium heat. Heat until the mixture is boiling, and all of the sugar is dissolved. Remove the pan from the heat and let the mixture cool for 30 minutes.
Stir vodka, almond extract and vanilla extract into the mixture. Strain through a coffee filter for a clearer Amaretto and store in a sealed bottle. The Amaretto should last for a long while.
(You can drink the Amaretto immediately, but you'll find it gets better with age)