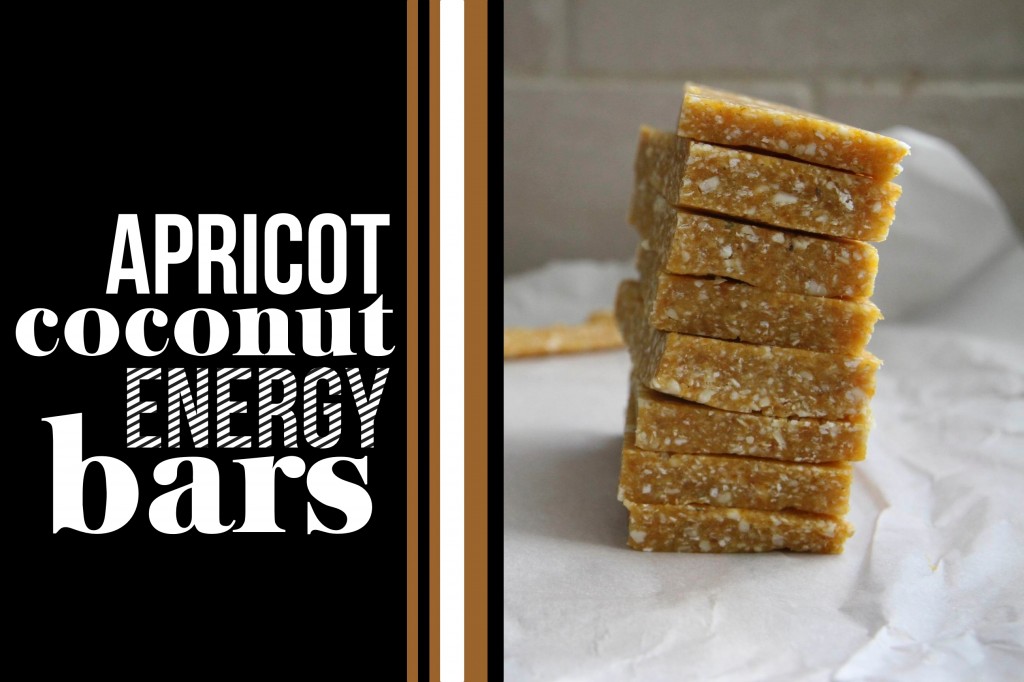 APRICOT COCONUT ENERGY BARS:

Tangy, sweet, crunchy, chewy, delicious, healthy, raw, nutty, vegan, scrumptious, simple, homemade.
All you need is a few pantry items, a food processor and a bit of freezer time and you've got yourself a week's worth of healthy snacks.
Who needs to buy expensive energy bars when you can make your own?
Sorry energy bar companies, I totally sold you out.
And we're off!
Ingredient gathering time!
Go melt your coconut oil. I put mine in the microwave (sans lid) and zap for 30 seconds.
Nut chopping!
Set nuts aside. I like chunks of nuts in my bars.
Throw the dried apricots in the processor!
After a few minutes you have this.
Oats, coconut, hemp seeds, agave syrup, ginger & salt! RUN THE PROCESSOR!
Add in the melted coconut oil while it's running.
Test out your "dough"
Add in the cashews and pulse to combine.
Dump the dough on your parchment lined baking pan.
Press it in. Use the bottom of a measuring cup to help! Now pop it in the freezer.
Cut up your bars. Eat the imperfect sides…
Stack them up. It's kinda fun.
Put them in a little container for safe keeping.
Now you're never far from a healthy snack!
Apricot Coconut Energy Bars

makes 8
(a Shutterbean original)
1/2 cup cashews
1 cup dried apricots
1 cup shredded coconut
1/3 cup rolled oats
2 tablespoons agave syrup
2 tablespoons coconut oil, melted
3 tablespoons hemp seeds
1/2 teaspoon ground ginger
1/4 teaspoon kosher salt
Line a 8 inch baking pan with parchment paper, set aside. Place cashews in a food processor and process until nuts are evenly chopped, set aside. Put dried apricots in the food processor and process for 3-4 minutes to finely chop. Add coconut, oats, agave syrup, coconut oil, hemp seeds, ginger and salt. Process until mixture comes together. Add the chopped cashews and pulse until well combined.
Put the apricot coconut mixture in the parchment lined baking pan and firmly press into pan. Cover the bars and place in a freezer for one hour. Unmold bars, trim ends and cut into even rectangles. Bars will last up to one month if stored in an air tight container in the fridge.