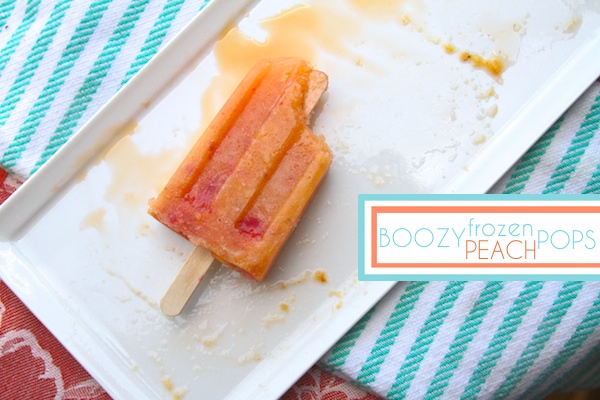 SUMMER BUCKET LIST ITEM # 1
Make Boozy Ice Pops
STATUS: DONE
If you don't know what I'm talking about, you should listen to the Joy the Baker Podcast! Joy & I talked about our summer bucket list for 2012 a few weeks ago. To fill you in, this summer  I want to paint my toes a super girly color (I'm totally a dark gothy nail polish kinda girl), have a BBQ, make/eat s'mores and make boozy ice pops. There may or may not be an impromptu laundromat dance in that bucket… I've got work to do!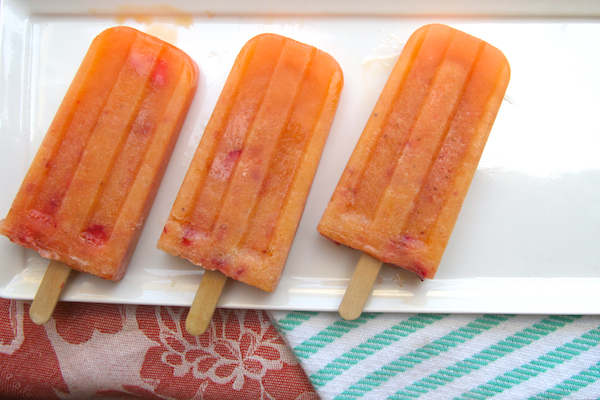 There are a few things to note about putting booze in ice pops. It's ALLLL about the ratio. In my internet research, I found that you need 2 cups juice to 2 oz. of alcohol. If you mess with that ratio, you're bound to get a frozen pop that doesn't freeze. Boozy slushies do sound kinda good though… You also have to freeze them for at least 12 hours. Booze just takes longer to freeze!
This peachy orange strawberry flavor combo was fantastic. It's refreshing, sweet and full of good fruits. You don't really taste a ton of booze (I think it's the Cointreau that masks it a bit) but there is something a little "adult" about it. You'll see.
If you're looking for a more Boozy Susan experience, serve your frozen peach pops with ANOTHER cocktail. Dip it in there!  You could also take the sticks out and blend up the pops with more booze in a blender. Consider this recipe a  gateway drug to more boozy frozen pops this summer.
We've got your number, SUMMER!
And we're off!
Ingredient gathering. I've noticed that I cannot, for the life of me, write a lower case r.
Why can't I do that?! Oh well.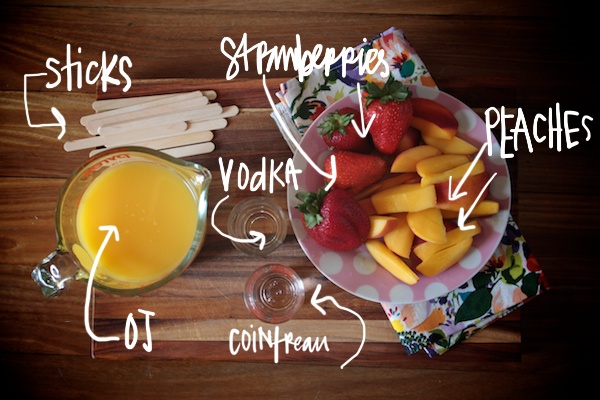 Blend it all together! In a blender!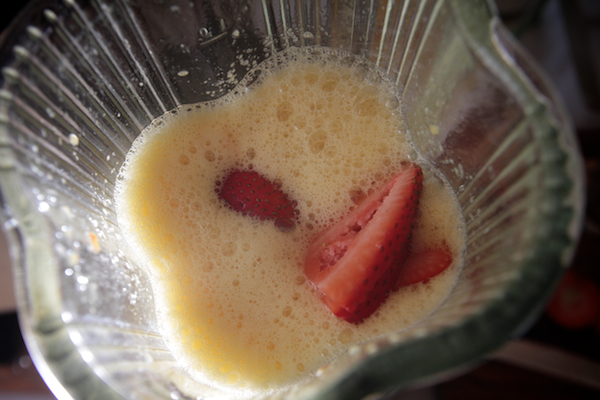 Skim off the frothy top!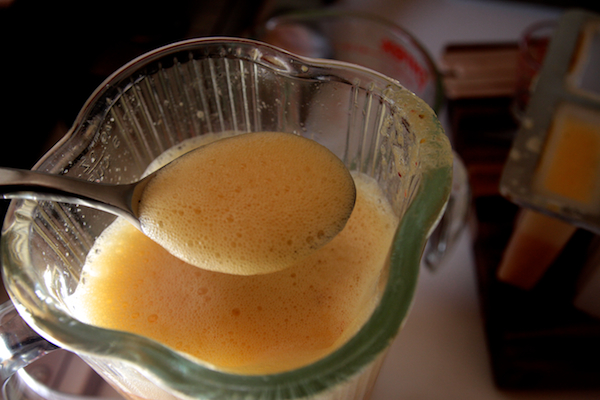 Put the blended mixture in your molds.
I used this one. I'm totally in love with this ice pop maker!
Now it's time to add in some chopped strawberries.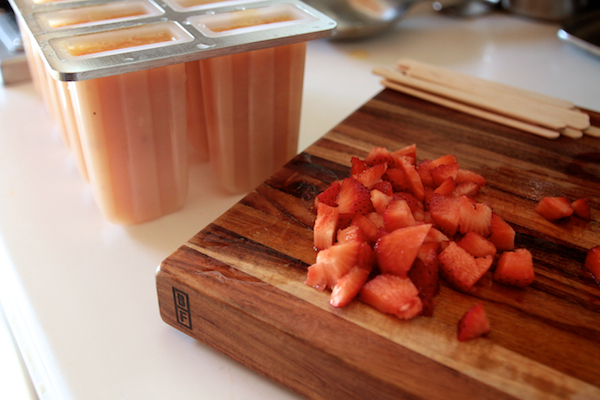 Put it in the freezer. Let it chill for about an hour.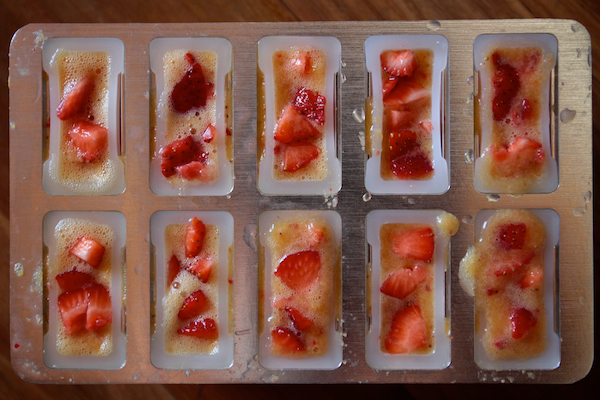 Then add in your sticks!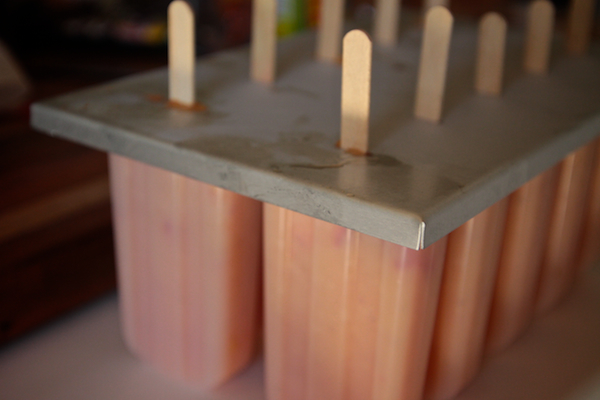 After about 12 hours, GO IN FOR THE ATTACK.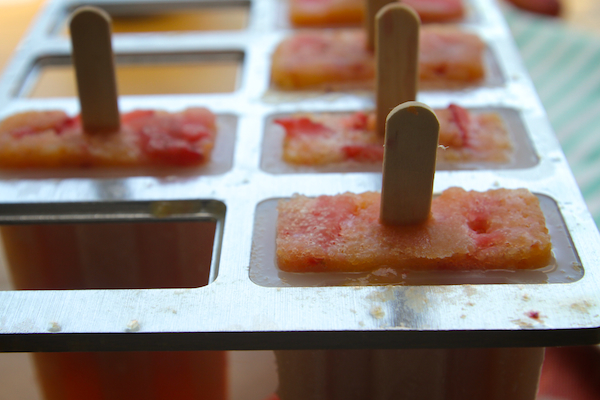 You'll love these boozy frozen peach pops.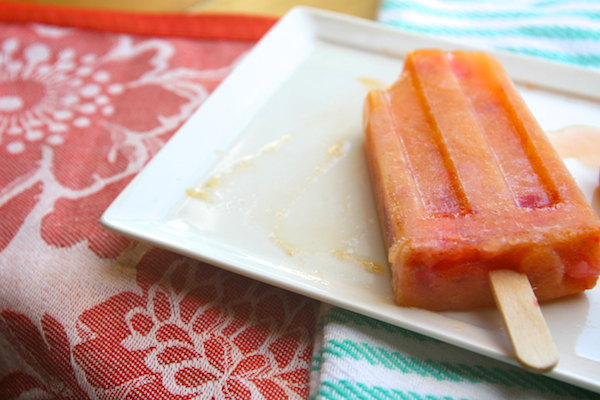 I'm sure of it. Put them in a plastic freezer bag.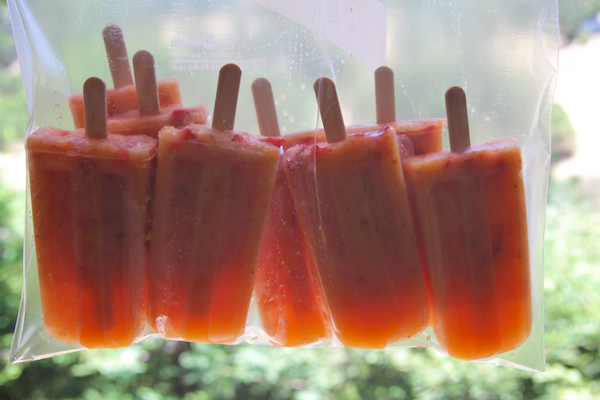 Hand them out to your friends at parties or hoard them for yourself.
BUCKET!
Boozy Frozen Peach Pops

makes 10

2 yellow peaches, sliced
8 medium strawberries, hulled & sliced
2 cups orange juice
1 oz. vodka
1 oz. Cointreau

In a blender, blend orange juice, peaches, 4 strawberries, vodka & Cointreau until well blended. Skim the froth off with a spoon and discard. Fill the ice pop molds with the mixture about 3/4 full, chopped remaining 4 strawberries and place on the top of each mold.

Place molds in the freezer for about an hour and then put the ice pop sticks in the mold. Freeze for 12 hours before serving.