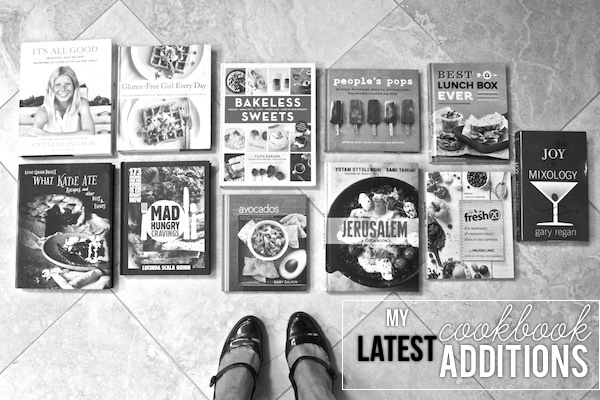 I've been on a cookbook collecting BINGE. I think Casey gets scared when he sees another book-sized package at our front door. I loooooove good cookbooks. What can I say?  If you're looking for new additions to your cookbook library or you're wanting to get a Cancer (you're late!), Leo or Virgo a cookbook as a gift this summer, might I suggest….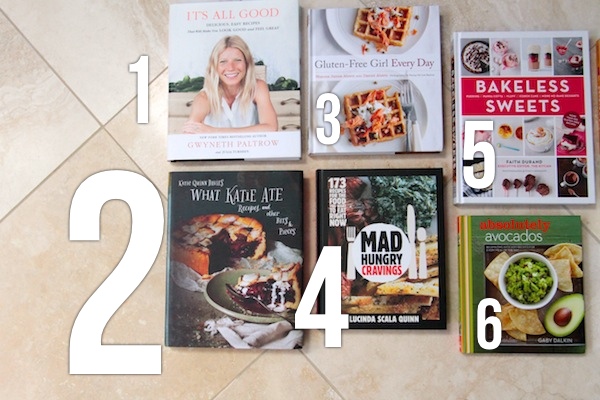 1. It's All Good: Delicious, Easy Recipes That Will Make You Look Good & Feel Great, by Gwyneth Paltrow
I might get a little flack for this one and that's totally OK. Gwyneth stirs up a lot of controversy! But… I was really curious about this book. If you have been here long enough, you'll know that I like to balance my foods out. Carbs/sweets and then healthy sometimes vegan recipes.  I want to try a ton of the recipes in this book because they all seem like really good RESET button recipes. Foods that will make me feel better and kickstart healthier eating after serious indulgence. The only thing is…I don't like mayo and a lot of recipes require vegenaise. No can do. But! There are tons of other recipes I'm down with.
I can't wait to make: Watermelon & Mint Aqua Fresca, Berry Coconut Sherbet, Mexican Tomato Rice, Charred Corn with Sage, Middle Eastern Turkey Burgers, Thai Style Chicken Burgers, Quinoa with Mushrooms & Arugula, Pumpkin Pie Shake, & Carrots with Black Sesame & Ginger.
2. What Katie Ate: Recipes and Other Bits and Pieces, by Katie Quinn Davies
I've been a fan of What Katie Ate forever! I think that everything she does is fantastic. Her photography & styling blows my mind. I checked this book out at the library, went through it and then immediately put it in my Amazon cart. I knew it had to be mine. My only regret? Not buying it the second it came out. Better late than never, I say!
 I can't wait to make: Buttermilk Crepes with Citrus Compote, Parmesan Cookies with Roasted Tomato & Pesto, Honey Baked Peaches, Blood Orange & Rosemary Cake, Potato Garlic Gratin & Sticky Chicken with Sesame and Chile. 
3. Gluten-Free Girl Every Day, by Shauna James Ahern & Daniel Ahern
I love this book and the people who created it.  It's all REAL food and you don't have to be gluten-free to enjoy it.  I'm so stoked to see so many recipes that include cashew cream as a substitute for dairy. Shauna appeals to my hippie sensibilities with this one! I just love that, her writing and HER.
I can't wait to make:  Popcorn with Herbes de Provence, Broccoli Soup with Dukkah Yogurt, Italian Fried Rice with Artichoke Hearts & Mozzarella, Vermicelli Rice Noodles with Sunflower-Sesame Sauce, Millet Fritters with Feta, Spinach & Golden Raisins, Zucchini Noodles with Spinach Pesto, Chicken Enchilada Casserole, and Lemon Curd with Coconut Milk Whipped Cream and Fresh Berries.
4. Mad Hungry Cravings , by Lucinda Scala Quinn
It's no secret that I'm totally obsessed with Lucinda Scala Quinn.  Remember that time I interviewed her? Oh boy. I've made so many recipes from  Mad Hungry: Feeding Men and Boys   so of course I bought this book immediately.  I've already made/posted the Milk & Cookies Smoothie and the Banh Mi recipe. Both were hits!  This cookbook is FILLED with all of the foods I crave/want to make.
I can't wait to make: Blueberry Buttermilk Pancakes, Loaded Potato Skins, Eggplant Parmesan Stacks, Cucumber Mint Gun & Tonic, Lamb Burgers, Philly Cheesesteaks, Classic Tomato Soup & Apple Maple French Toast. 
5.  Bakeless Sweets: Pudding, Panna Cotta, Fluffs, Icebox Cakes, and More No-Bake Desserts, by Faith Durand
This book is GORGEOUS. If you're looking to make desserts without the use of your oven this summer, this is the book to have. There are quite a few custard  & pudding recipes with several ways to adapt!  Also. HELLO ICEBOX CAKES! Panna Cotta too!
I can't wait to make: Malted Milk Pudding, Salted Caramel Risotto, Root Beer & Cream Soda Terrine, Lemon Cream Icebox Cake, S'mores Pudding Cake, Double Coconut Cream Pudding, & No Bake Meyer Lemon Bars. 
6.  Absolutely Avocados, by Gaby Dalkin
I love avocados but you already know that.  That's why Gaby and I became instant friends. That and she's pretty awesome. I seriously want to make EVERYTHING in this book. If you're an avocado lover, then I'm pretty sure you'll bookmark at least 3/4 of the book!  I love that there's a brief Avocado 101 in the beginning. I really didn't know all the varieties/differences between all of the avocados.  It's fascinating! The first recipe I made — Goat Cheese Guacamole was a hit!
I can't wait to make: Spicy Sesame Guacamole, Avocado Lime Vinaigrette, Avocado Bruschetta with Balsamic Drizzle, Avocado Cheesesteak, Bacon Avocado Corn Salad, Avocado-Broccoli Slaw, Grilled Shrimp & Avocado Pasta, Fried Avocado Tacos, Avocado Chocolate Chip Cookies & Avocado Brownies.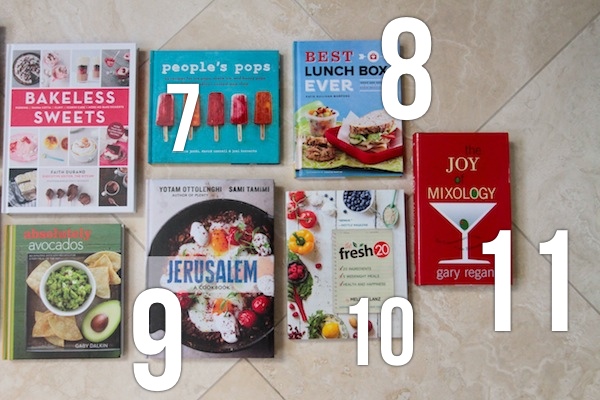 7. People's Pops: 55 Recipes for Ice Pops, Shave Ice, and Boozy Pops from Brooklyn's Coolest Pop Shop
For someone who loves Boozy Ice Pops (Peach, Pina Colada, Pimm's Cup ) I hopped right to buying this book this summer. What I love about this cookbook is that they divide the recipes by seasons. Their selection is crazy good!  They also have a few shaved ice recipes too.  I have some of their pops in the freezer and I can't wait to share them with you this week!
I can't wait to make: Rhubarb Elderflower, Sour Cherry & Almond, Nectarine Basil, Honeydew & Ginger, Cantaloupe Campari, Apple & Salted Caramel, Pumpkin Pie w/ Whipped Cream, Peach & Prosecco Shave Ice. 
8. Best Lunch Box Ever: Ideas and Recipes for School Lunches Kids Will Love, by Katie Sullivan Morford
It can be a challenge figuring out what to make Cooper for lunch. I've been graced with a very picky eater. Oof!  My friend Katie wrote this amazing book all about  jazzing up children's lunches. There are so many great staples and good reminders of different foods that children love. I'm digging myself out of a lunch box rut with this one. The school year is just around the corner. Arm yourself!
I can't wait to make: Chickpea Panini, Italian Picnic Sandwiches, Sesame Noodles, Hippie Dippie Bagel Sandwiches,  Coconut Granola Bark, Pumped Up Party Mix, Sour Cherry Oatmeal Bars, Chocolate Pudding, Deconstructed Caprese, Peanut Butter Pinwheels and Chocolate Chip Pretzel Cookies.
9. Jerusalem: A Cookbook, by Yotam Ottolenghi
Oh man. This cookbook is everything. I love it just as much as I loved The Heart of the Artichoke by David Tanis. I can open both of those books and be transported into another world.  I love that. When I got this book, I immediately made Spinach Salad with Dates & Almonds. If you don't have a copy, I highly recommend getting one! It's one of those books where half way through I thought "WHOA. Umm. I've basically marked every single recipe to try." This is how I want to eat always.
I can't wait to make: Fried Cauliflower with Tahini, Tomato Sourdough Soup, Fattoush Salad, Chicken with Caramelized Onion & Cardamom Rice, Turkey Zucchini Burgers, Swiss Chard Fritters, Red Pepper & Bake Egg Galettes, and Tahini Cookies. 
10. The Fresh 20: 20-Ingredient Meal Plans for Health and Happiness 5 Nights a Week, by Melissa Lanz

My friends Melissa & Trent came out with this gorgeous cookbook. For those of you (ahem ME) who struggle to be creative in the kitchen during the week, this cookbook is a winner. Grocery lists are provided and there are schedules of when and how to do things ahead of time so when you come home, half of your dinner is already made. LOVE THAT. I feel like if you're wanting to tackle meal planning, this will help greatly! Big bonus that they're healthy/ kid-friendly recipes. I've made the Honey Lime Drumsticks. They were great!
I can't wait to make: Greek Style Lamb Tacos, Parmesan Chicken Nuggets, Guacamole Tostadas, Spring Roll in a Bowl, Polenta Pan Pizza, Grilled Chile Rellanos, Salmon Salad Pitas, Pumpkin Shepherd's Pie, Maple Soy Salmon and Cucumber Carpaccio.
11. The Joy of Mixology: The Consummate Guide to the Bartender's Craft by Gary Regan
I spent a night on Amazon researching cocktail books and landed on this highly rated book. What I love about it is that there's science behind the cocktails. For example, if you're looking to layer drinks to make a cool effect, he gives the density of each alcohol so you now how to layer!  Barware is broken down, garnishes are discussed, jello shots are tackled, and cocktails are separated by family so you can remember what kind of drink they are. With over 350 cocktail recipes & history of cocktails/bartending, this book is the ultimate cocktail book!
I can't wait to make: Bay Breeze, Bolero Cocktail, Income Tax Cocktail, Kentucky Longshot, Pacific Rim Martini, Zombie No. 1 and Frozen Banana Daiquiri.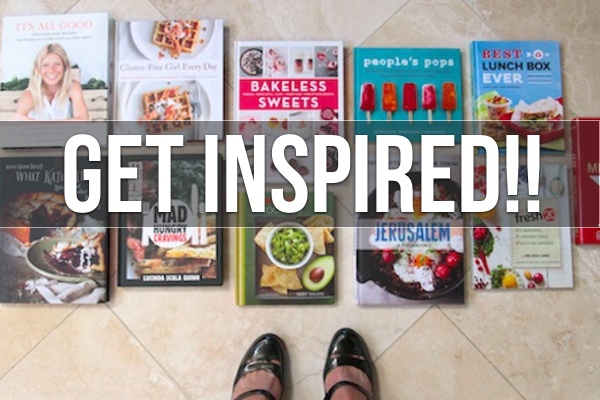 There you have it. I hope you find some good inspiration in these books. I know I have!
Are there any new cookbooks you're loving lately? Leave a comment!