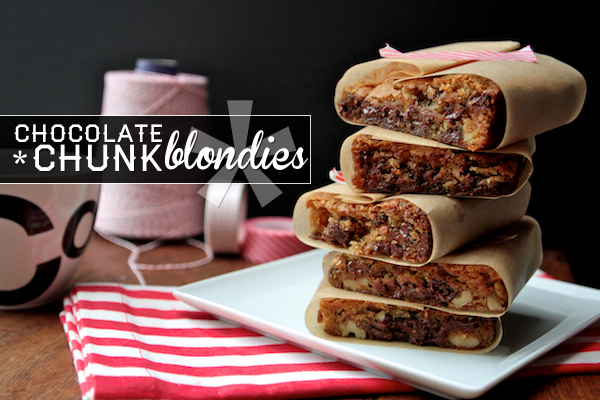 Can I be really really REALLY honest with you? When I do Christmas shopping for other people I slyly throw in a few *little* presents for myself. I KNOW!! I KNOW!! It feels equally wrong as it feels right. Let me also say that holiday baking is no different. I usually make what I'm craving and I hope/pray people will like what I've made. I do have some good cravings…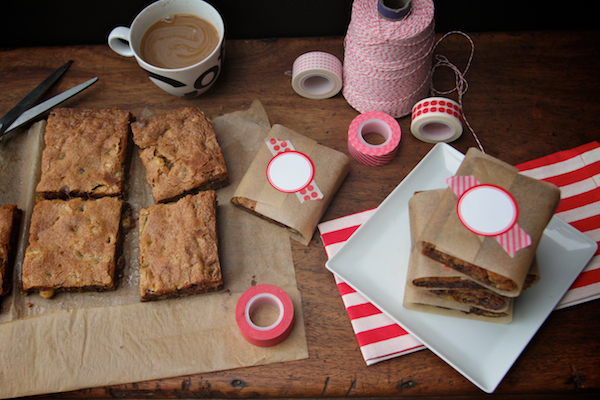 I had really dense/chewy chocolate chip cookies in my mind the other day so I turned my craving into a gift for friends. That's not so bad, right? I totally shared!
Remember how I gave you cookbook ideas for gifting? Let's add another one to the list!
Barefoot Contessa Foolproof: Recipes You Can Trust is Ina Garten's latest cookbook. It definitely belongs on my cookbooks to gift this Christmas. My copy has a sticky on almost every single page for the recipes I want to make. GOOD SIGN. Totally. Like major good sign.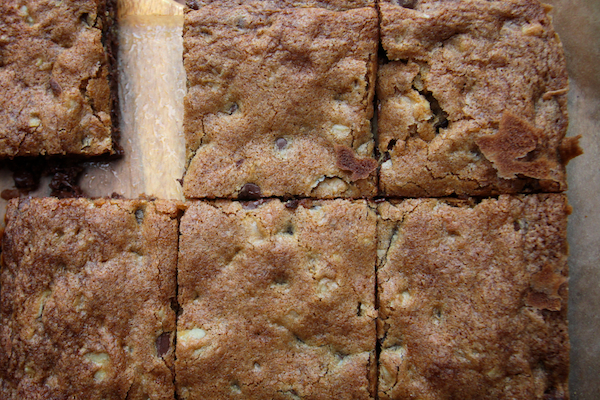 Ina's Chocolate Chunk Blondies are unreal. They're buttery, dense, chewy, slightly salty, studded with melted chocolate and enhanced by walnuts. Casey and I LOVED the walnuts. I might be guilty of only giving half of this batch away. It was those dang walnuts! I plan on making  at least three more batches this Christmas. Don't look at me like that!
And we're off!
Ingredients. How easy is that? (channeling Ina)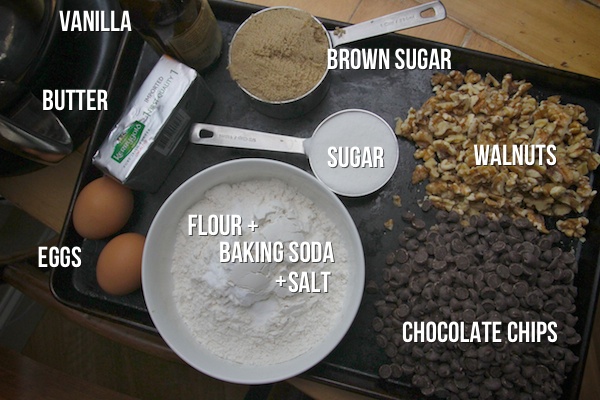 Cream the butter with the sugars.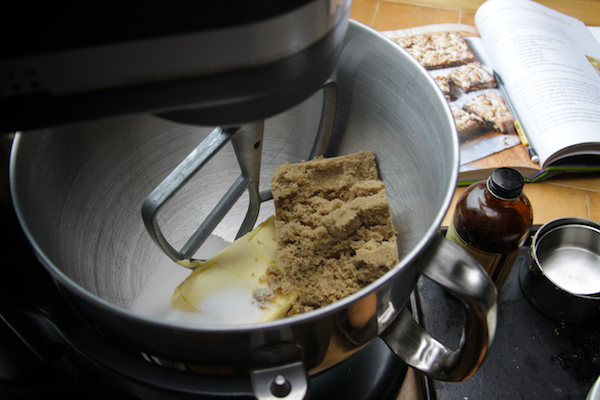 Add in the eggs one at a time. Mix and add in the vanilla.
I normally don't like the concept of food porn…but this egg shot? Yeah…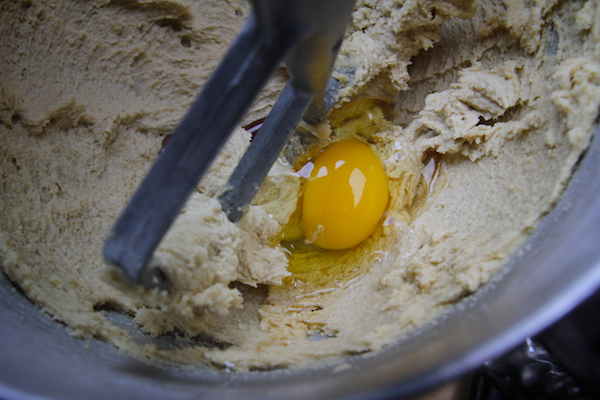 Whisk the flour with the baking soda & salt.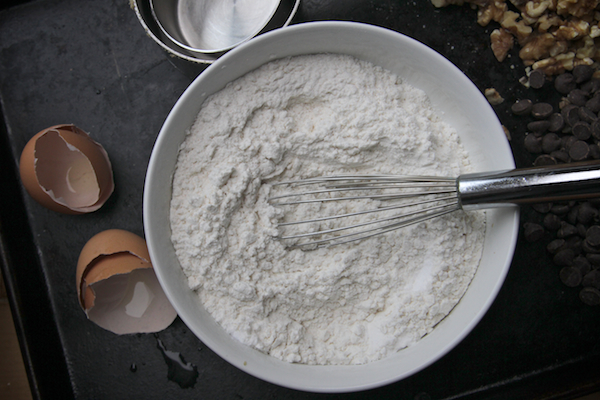 Dry meets wet.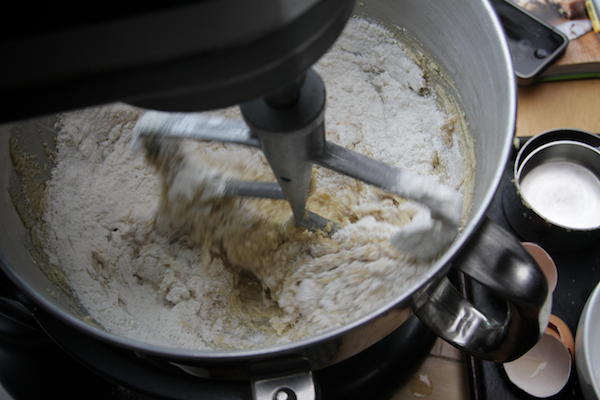 Fold in the walnuts.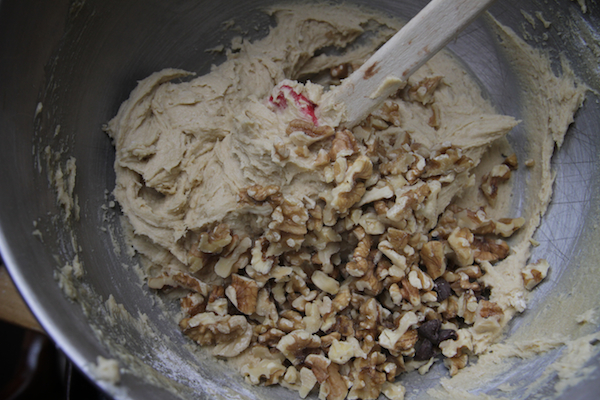 Fold in the chocolate chips. Ina uses chocolate chunks in her original recipe. I didn't have any on hand!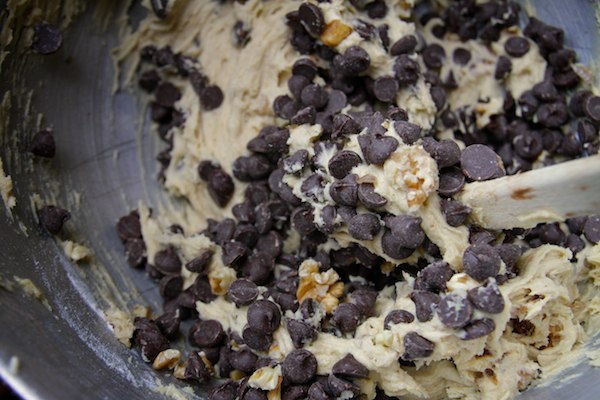 Spread the batter in a prepared baking pan.
Recipe says to grease & flour the pan. I sprayed with cooking spray & put a layer of parchment down so I could easily pick up the bars when they were cooled.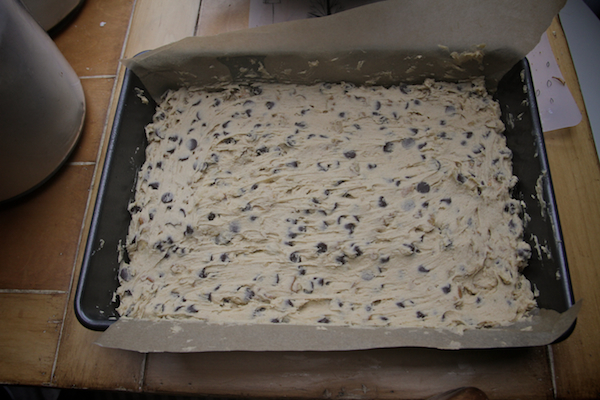 BAKE. DONE. Irresistible!  You should totally eat one warm….with ice cream on top.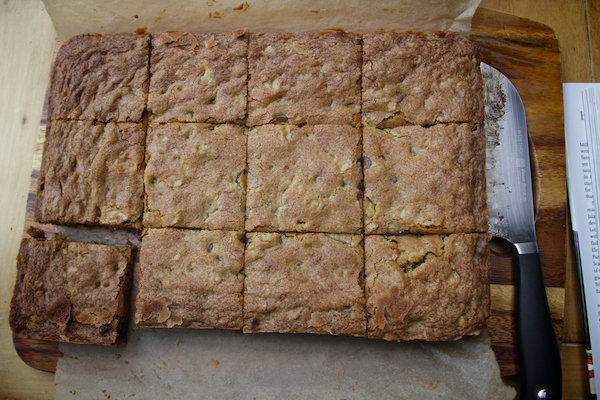 Have mercy. Look at those walnuts poking out!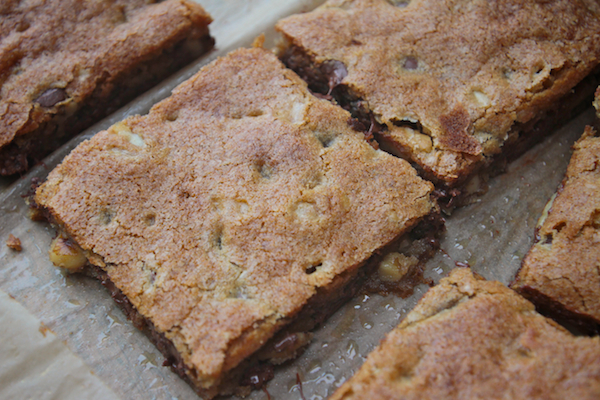 I got my wrap on! I folded parchment around and sealed the seams with washi tape.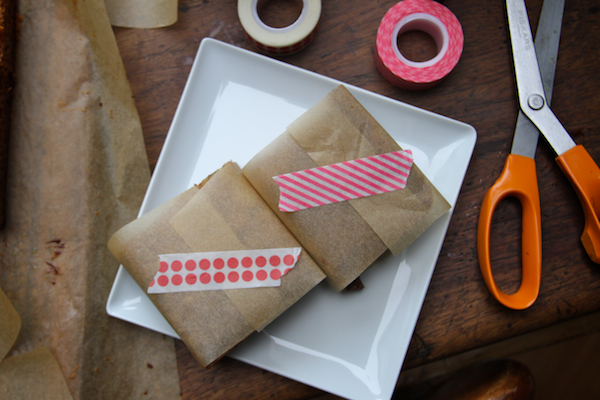 Then I put a label on top to personalize it. They're from Martha!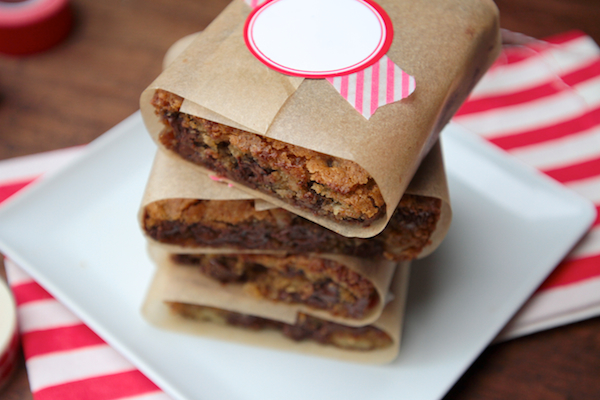 Look at that stack!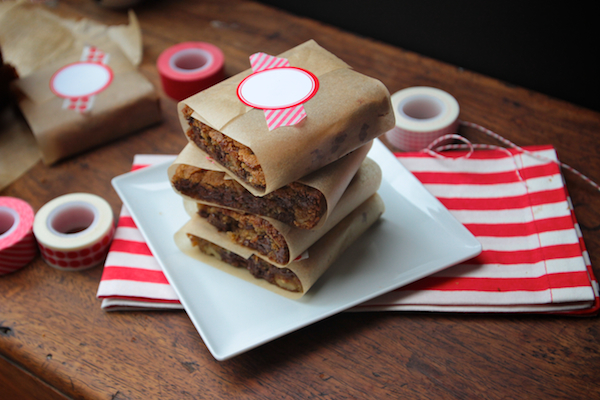 I'm thinking of doing a batch with smoked almonds in the mix. What do you think about that??

Chocolate Chunk Blondies

makes 12 bars

recipe slightly adapted Barefoot Contessa Foolproof: Recipes You Can Trust

1/2 pound (2 sticks) unsalted butter, at room temperature
1 cup light brown sugar, lightly packed
1/2 cup granulated sugar
2 teaspoons pure vanilla extract
2 extra-large eggs, at room temperature
2 cups all-purpose flour
1 teaspoon baking soda
1 teaspoon kosher salt
1 1/2 cups chopped walnuts
12 oz. semi-sweet chocolate chips

Preheat the oven to 350 degrees. Grease and flour an 8 x 12 x 2 inch baking pan.

In the bowl of an electric mixer fitted with the paddle attachment, cream the butter, brown sugar, and granulated sugar on high speed for 3 minutes, until light and fluffy. With the mixer on low, add the vanilla, then the eggs, one at a time, and mix well, scraping down the bowl. In a small bowl, sift together the flour, baking soda and salt and with the mixer still on low, slowly add flour mixture to the butter mixture. Fold the walnuts and chocolate chips in with a rubber spatula.

Spread the batter into the prepared pan and smooth the top. Bake for 30 minutes exactly. Don't overbake! A toothpick may not come out clean. Cool completely in the pan and cut into bars.