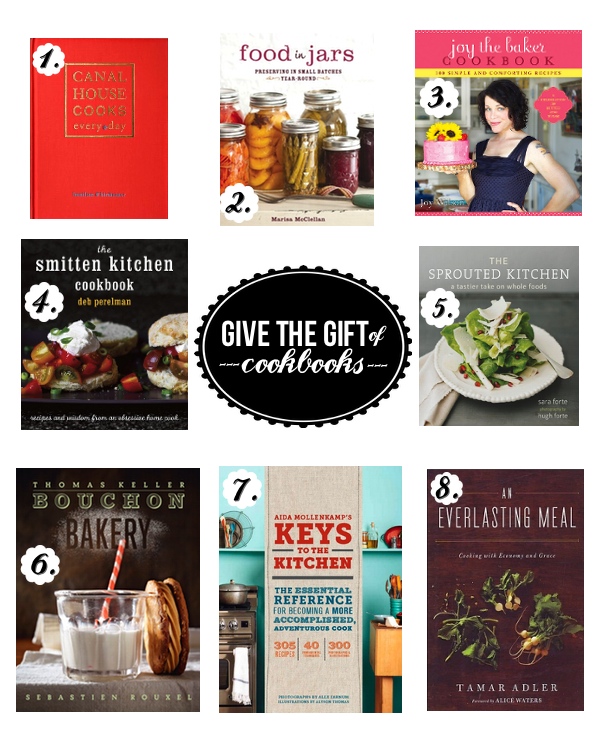 I have a few friends & family members who love cookbooks. This is probably why I keep them around 😉 These are the cookbooks I'll be gifting this year. They inspire & dazzle and they're guaranteed to earn me good points with the recipient. I just know this.
1.   Canal House Cooks Every Day   I really can't get enough of this book. This Apple Galette was the first of MANY recipes that will grace my blog. If you're buying this for someone isn't aware of the awesomeness of the Canal House ladies, this is a brilliant introduction.
2.  Food in Jars  For the friend/family member who wants to can & preserve stuff. You should get them a bunch of jars while you're at it and some cute labels. People who can can NEVER have enough supplies. Trust.
3.   The Joy The Baker Cookbook   For your baker friend who is also your best friend. This cookbook has a crazy amount of recipes I'd like to tackle thanks to my best friend. Guaranteed hit! Also…HILARIOUS writing. Totes amaze.
4.  The Smitten Kitchen Cookbook  Just do it. I mean…if you haven't already you SHOULD. What are you waiting for?
5.  The Sprouted Kitchen  For that person who enjoys healthy/beautiful looking & tasting food, buy this one. Then get them to cook for you.
6. Bouchon Bakery Cookbook   If you feel like enabling somebody's serious sweet tooth, this is the cookbook to try.
7.  Aida Mollenkamp's Keys to the Kitchen  For someone in your life who loves food and wants to learn MORE about it, this book is a masterpiece! If they're into beautiful photos & graphic design, that's an added bonus!
8. An Everlasting Meal  For that person in your life who appreciates good writing & loves reading recipes in cookbooks, get this! It has definitely changed my approach to food in our household.
HAPPY SHOPPING! Tomorrow I'm sharing my first of many edible gifts this December.  Stay tuned!