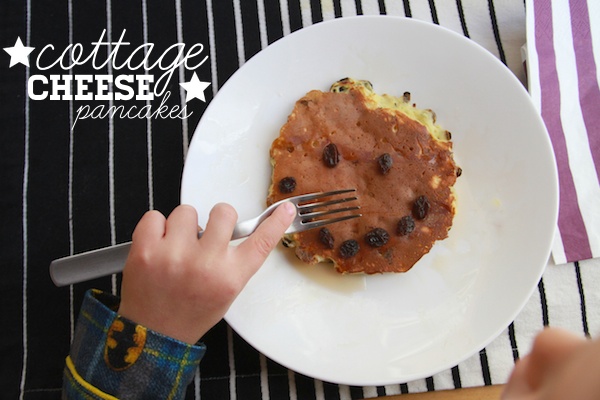 As a mom of a picky eater, it's an amazing feeling when I try a new recipe and my kid not only eats it, but asks for seconds.
These three pancakes, although not super pretty, were demolished in less than three minutes by Cooper.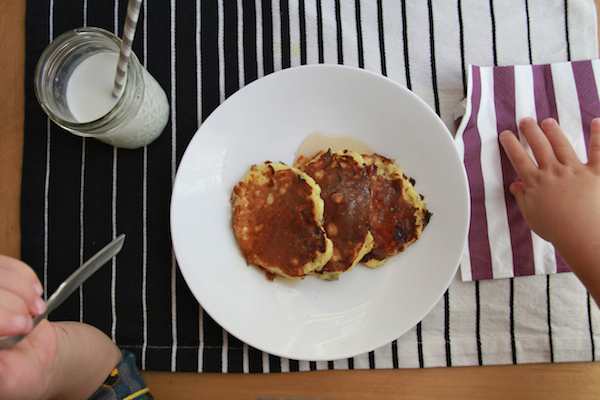 That pancake at the top with the raisin face? Gone in like 2.5 seconds.
If he devours these pancakes this fast at almost 4 years old,  I'm in for it when he hits his teenage years.
We might have to buy a cow! Yup. I'm already planning ahead.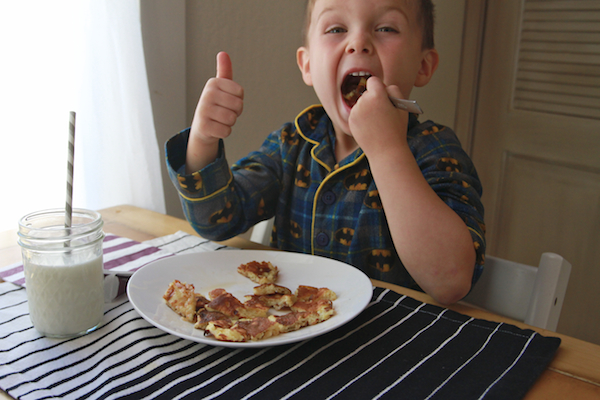 A little bit about this recipe. It comes from my friend Catherine's new book, The Weelicious Cookbook. Have you been to the Weelicious website? It's a gold mine for busy moms & families. When Cooper was almost 2, I remember searching online for kid-friendly recipes and found a jackpot of photos of Catherine's son Kenya's school lunches. Ever since then, I was hooked. Fast forward a few years and I actually met/had dinner with Catherine and we instantly hit it off. This woman is INCREDIBLE.  Not only is she a culinary inspiration, she's a hard working mom with a passion for food & family. She just oozes positivity and I love that in a person. Go ahead, watch one of her videos and you'll see what I mean.
The Weelicious Cookbook is filled with so many great recipes for the whole family.  If you're in a food rut with feeding your family (I know I am!), it will be your savior. Recipes like Mexican Lasagna, Bacon & Cheese Waffles, Chicken Taquitos, Chicken Satay Burgers & Baked Zucchini Coins have left me excited to cook new things for my little family.
I feel renewed and refreshed! It's a nice reminder that food can be fun and interactive.
Thank heavens for that.
And we're off!
Ingredient gathering. There's not much involved.
Don't you love that on a Saturday morning when you haven't even finished your first cup of coffee?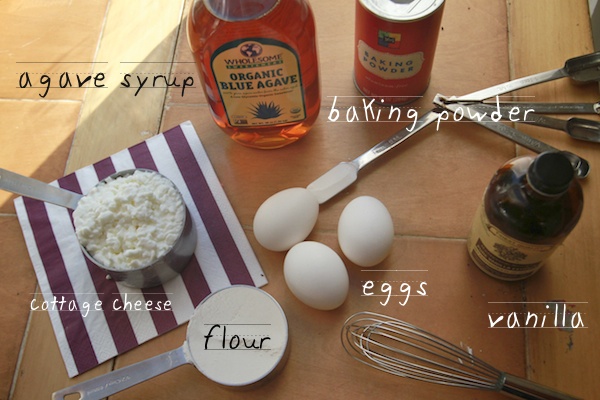 Cooper was curious about the cottage cheese. He didn't want to try it on its own.
I didn't actually like cottage cheese until I was like 25. Casey introduced it to me with wheat germ & honey.
That's how I like to eat it.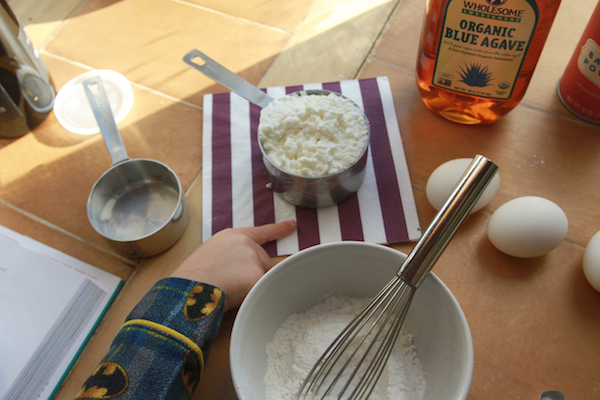 Flour, baking powder & salt go into a bowl. Whisk it up to prevent clumps.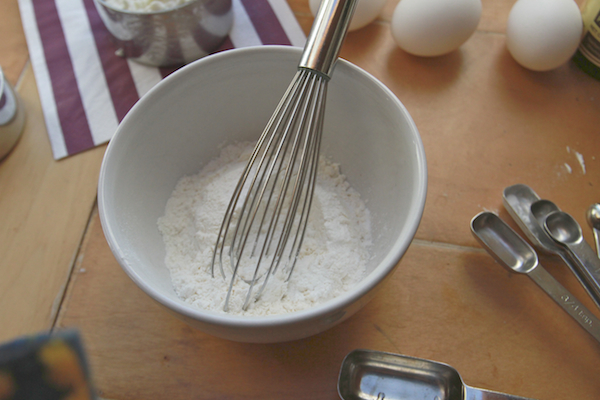 All the wet stuff goes into a bowl.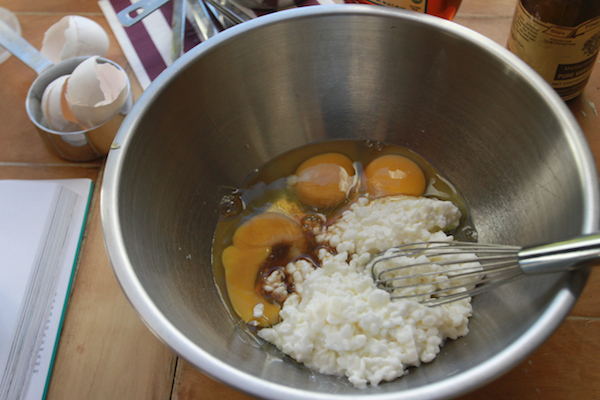 And we have a batter. I had larger curd cottage cheese. I bet small curd would be great too.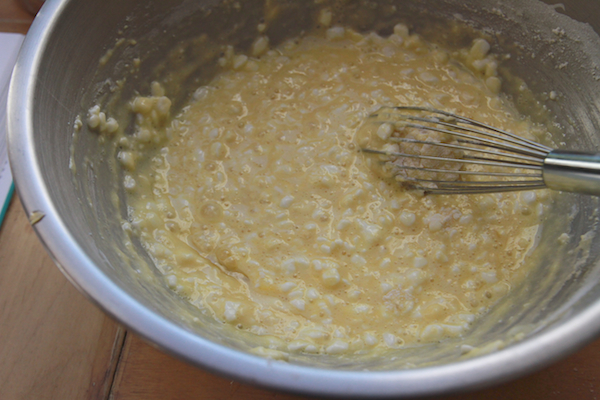 Put the batter on a hot griddle. Drink your coffee. Set the table. Flip. Pancakes are done.
Look at this face. Who is excited for pancakes? COOPER!
Who is about to nag me for a straw? Cooper!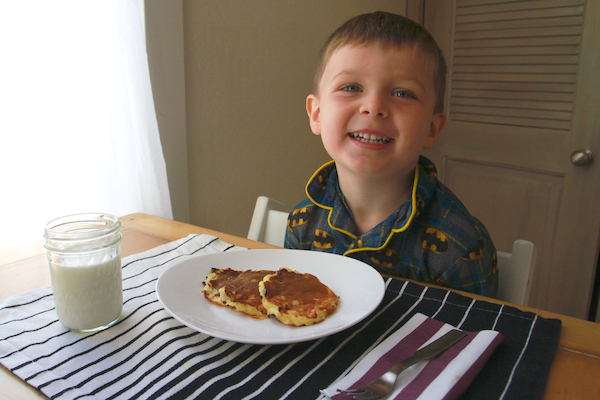 His fingers have to poke something the second I put food in front of his face.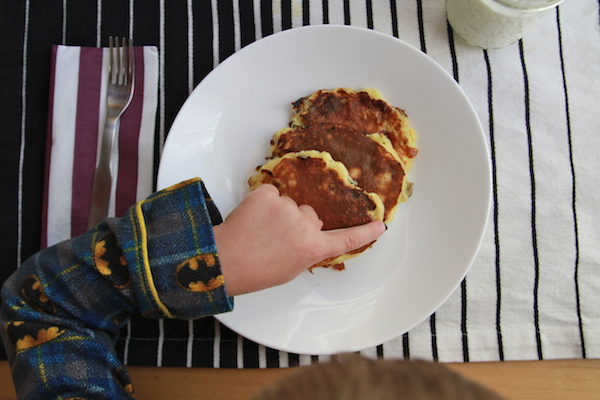 Hmmm. I think I might need to cut these.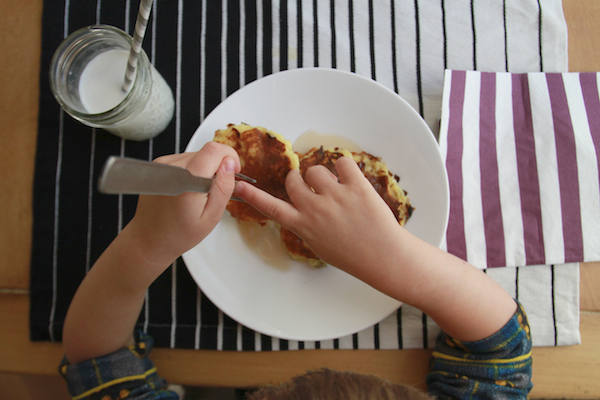 He insists that he can cut them himself! Sheesh.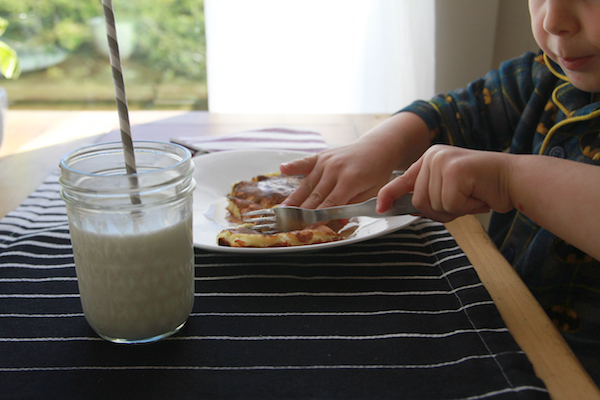 "How many pancakes do I have now, Mama? Furteen!"
(that's how he says 13)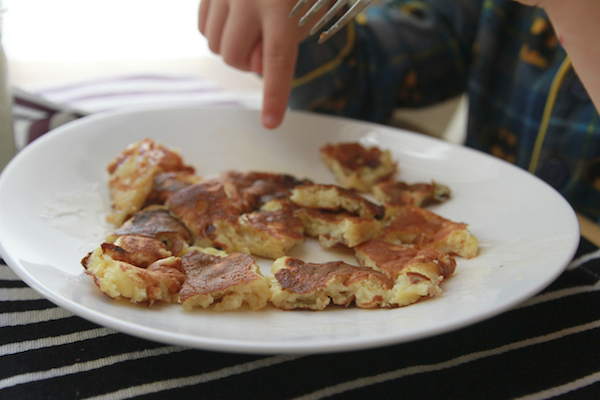 "Can I have more please?? I want the next pancake to be shaped like a rocket ship!"
Uhhh. Ok?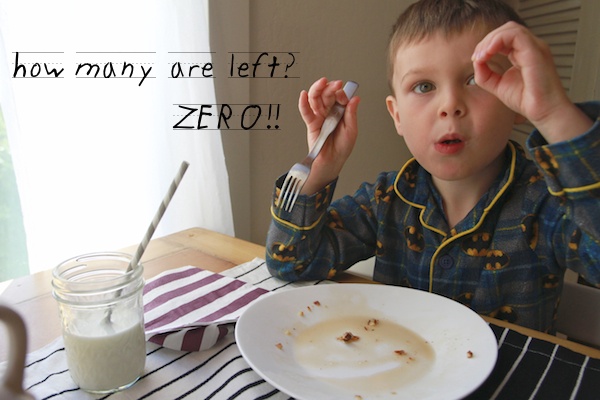 These pancakes are light & fluffy. They're a little crepe-like and kinda resemble a dutch baby pancake.
As you can see, they were a real hit! In total, Cooper ate 4 1/2. That's pretty amazing.
I would love for you to get your hands on The Weelicious Cookbook because I think you'll really love it.
If you'd like a chance to win one, leave a comment below telling me what your favorite childhood meal was.
Let's get nostalgic!
I always loved my mom's macaroni & cheese and her meatloaf was out-of-this-world fantastic.
I'll pick a winner, at random on Wednesday September 26.
Cottage Cheese Pancakes

makes 18-20 small pancakes

(recipe from The Weelicious Cookbook )

3 eggs
1 cup cottage cheese
1 teaspoon vanilla extract
2 tablespoons honey or agave syrup
1/2 cup all purpose flour
1 teaspoon baking powder
1/4 teaspoon salt
butter, oil or oil spray

Place the first 4 ingredients in a bowl and whisk.

In a separate bowl whisk the dry ingredients.

Pour the dry mixture into the wet mixture and stir until just combined.

Heat a large sauté pan or griddle over medium heat, lightly coat with oil or butter and pour about 1 tbsp of the mixture onto the griddle for each pancake.

Cook for 2 minutes on each side or until pancakes are set and golden.