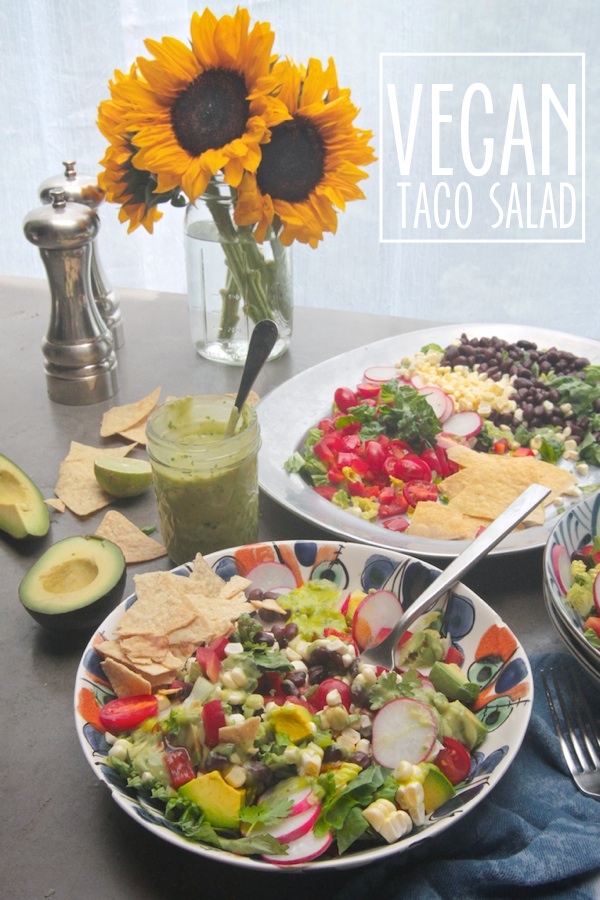 If I was asked, "If you had to pick one cuisine to eat for the rest of your life, what would it be?" my answer would be most likely be Mexican. A lot of people think this decision would consist of nothing but tacos, cheesy quesadillas, nachos and burritos (wouldn't that be the life??!).  But, wait. There's so much more to that. You totally forgot about taco salads!
When I was in high school, I developed an unhealthy obsession with Chevy's and I cried the day I found out the nutritional content of my beloved Taco Salad. I mean…the fried flour tortilla shell holding the greasy ground beef covered in melted cheese with a healthy serving of Ranch dressing and extra sour cream should have fooled no one. There were some wilted lettuce shreds and some tomatoes thrown in to justify its salad label. I'd get the dressing on the side, but really… WHO WAS I KIDDING?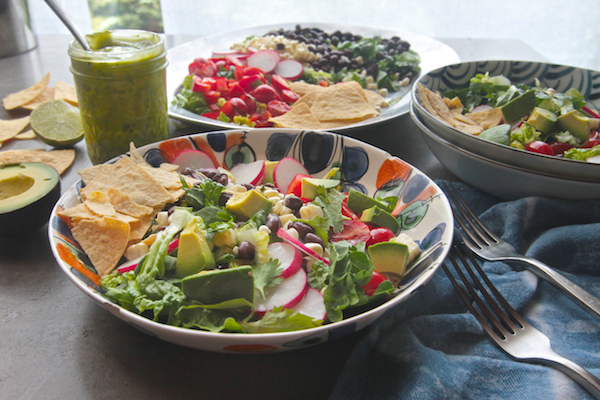 In my attempt to lighten up my favorite Taco Salad, I created this little ditty.  It's absolutely perfect for summer (hello fresh corn, red pepper, tomatoes, avocados & radishes!).  The salad dressing isn't a Mexican Ranch that's loaded with mayo. Nope! It's a base of creamy avocado mixed with lime and cilantro and it comes together in a breeze with a quick blitz in my Vitamix blender. You'll find the dressing is the perfect way to marry crisp lettuce, protein packed black beans, juicy tomatoes, green onions, avocado chunks, sweet corn and crunchy tortilla chips.  This taco salad is so packed with flavor that I feel 100% confident in my decision to choose Mexican over every other cuisine. It also proves that you can do a dairy-free Mexican salad and not skimp on taste. My summer will be FILLED with these Taco Salads, thank you very much.
And we're off!
We're going to make our dressing first!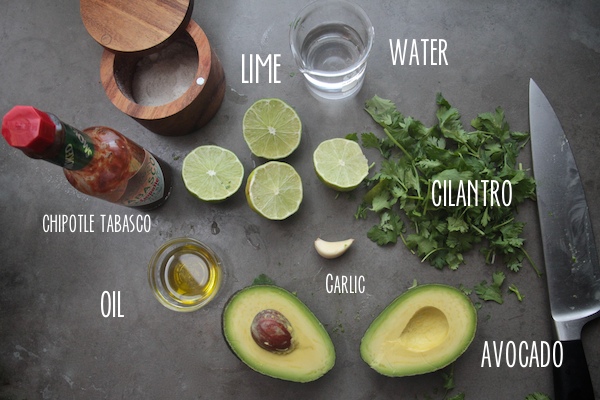 We add everything to the Vitamix blender.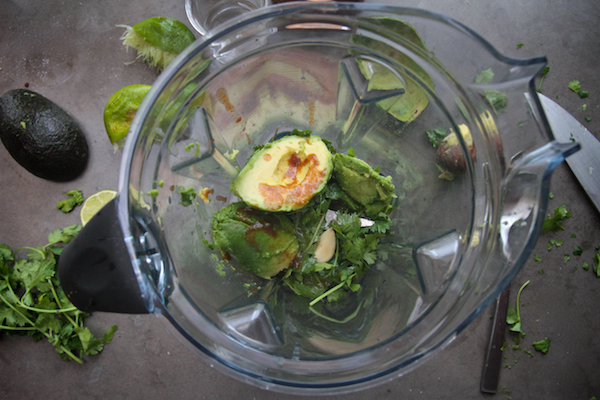 A few little seconds and we have our creamy dressing! Season to taste. I added a little more Chipotle Tabasco (my favorite flavor!) to my dressing.  It adds the smokiness we're looking for. We also want it to be a thinner consistency so it will mix in with the salad well.  Add enough water/lime/hot sauce to taste.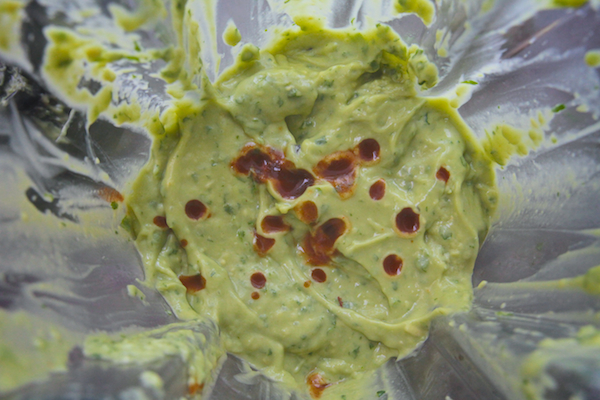 Transfer to a jar.  It's like really thin/tangy guacamole.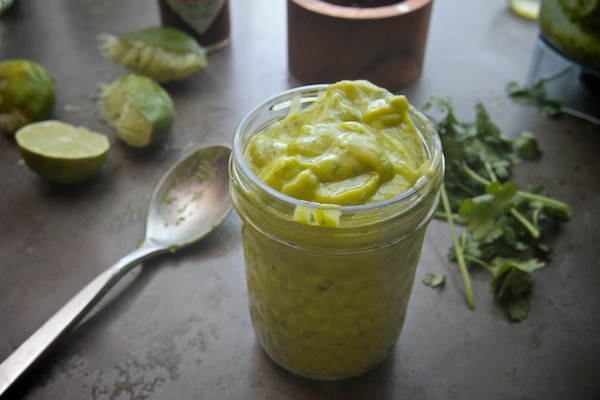 Let's get our ingredients together for the salad!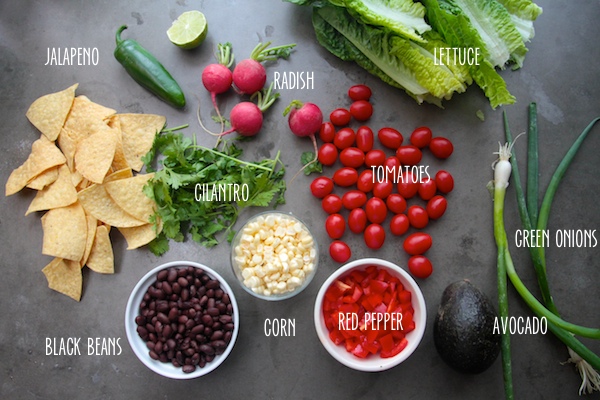 Cut up the tomatoes, slice the radishes, chop up the green onions, cilantro & lettuce.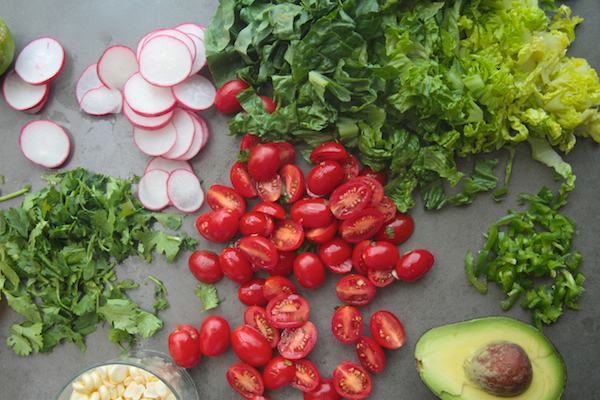 Dressing is invited to this salad fiesta.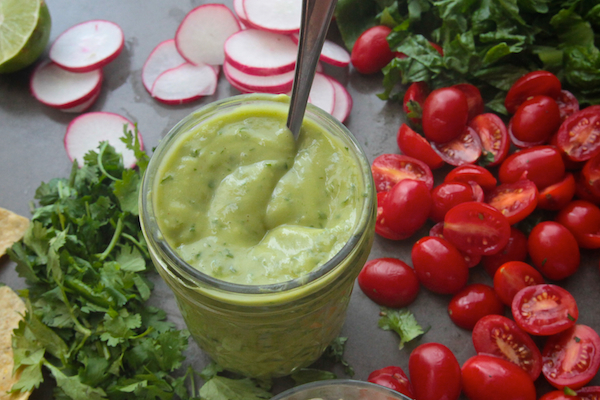 We go fancy and create a visual stunner with the salad or we could just toss it all in a bowl.
Wouldn't you be the talk of the town if you brought this plate to a party? I think so…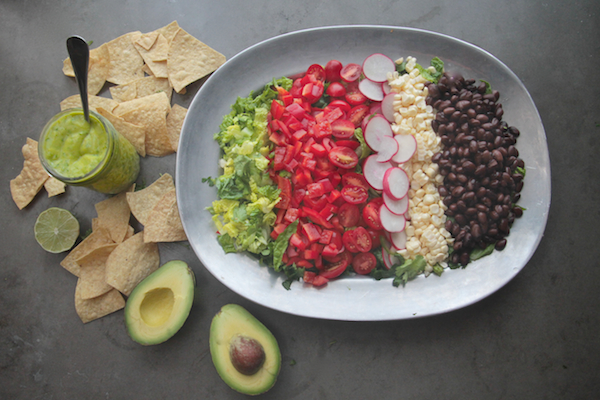 Salads are placed in bowls. Avocados are added to the mix. We don't want to mash them up.
Solid chunks! Dressing is drizzled on. Give it a good toss and we're ready to go.
If you love cilantro (I do, I do!) add more to the top. Hot sauce as well.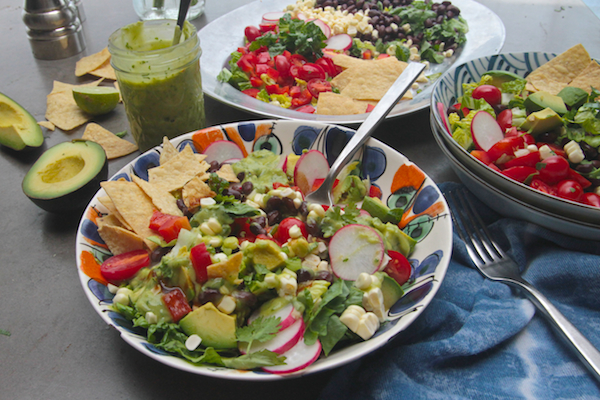 My husband was like WHERE'S THE CHEESE?? So I added a little bit to his bowl with some salsa.
Salsa is a great addition if you have some!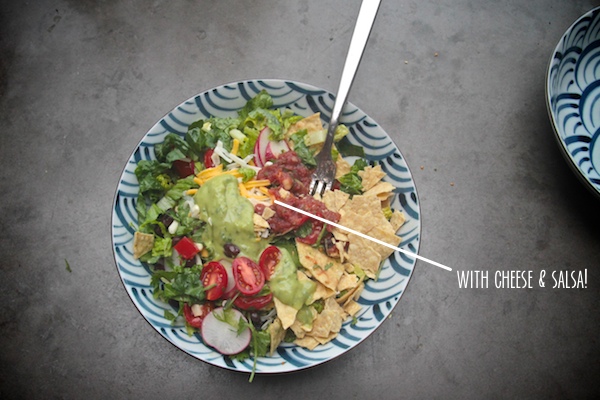 How do you say summer in Spanish??  Verano!

Vegan Taco Salad

serves 4

to make the dressing

1 large avocado, pitted with flesh scooped from skin
1/2 cup loosely packed cilantro (optional)
1/3 cup water
4 tablespoons lime juice
1 tablespoon olive oil
½ teaspoon salt
1 clove garlic
8-10 dashes Chipotle Tabasco

Combine all ingredients together and blend until mixture is smooth and creamy. Add additional water, lime, and or hot sauce to taste. Transfer mixture to a jar and keep chilled until use.

to make the salad

1 head Romaine lettuce, roughly chopped
1 ear corn, shucked & cut from the cob
1  1/2 cups canned black beans drained & rinsed
½ red bell pepper, diced
2 cups sugar plum tomatoes, chopped in half
2 green onions chopped (both white and green parts)
1 jalapeño, thinly diced (seeds removed)
4 radishes thinly sliced
1 avocado, pitted and cut into chunks
3-4 handfuls tortilla chips, for serving
¼ cup cilantro, roughly chopped, for serving

Toss lettuce, corn, black beans, red pepper, tomatoes, green onions, jalapeño, and radishes with enough avocado dressing to fully coat the mixture.  Fold in chopped avocado and divide salad between 4 large bowls. Serve with a handful of tortilla chips in each bowl and top with additional chopped cilantro for garnish.