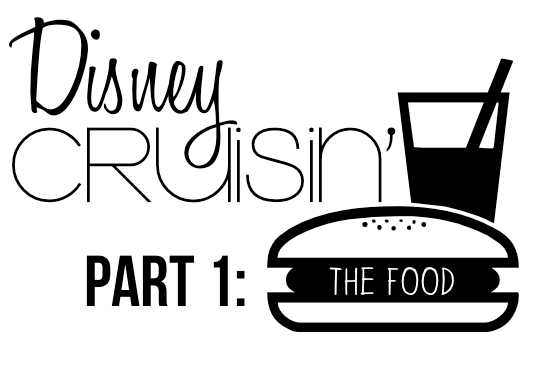 The day after Christmas we went on a Disney Mexican Riviera Cruise for 7 days with Casey's family (22 of us total!).  My in-laws decided to take EVERYONE on the cruise. I never imagined that I would go on a Disney cruise! (thank you thank you Linda & Phil!). It was a blast!
Rather than inundate you with TONS of photos, I'm going to break it up into a few parts. Today I'll be showing you the FOOD!
Can I tell you that I was a little scared about the food situation on the boat? I read reviews online that the food wasn't that great. Someone said that it was like eating at Sizzler for a week. While I do like their cheesy toast, I have my standards!  I feared I would miss my kitchen terribly. I kinda did but overall there were some great options.
Here's how it works.
BREAKFAST = Buffet or sit down meal
LUNCH = Buffet, sit down meal, or "Fast Food" options upstairs near the pools.
(the sit down meals are at specific times so if you're having a busy morning/afternoon, it's not always easy to get a sit down meal)
DINNER = Every night you have dinner at your allocated time. At 5:45pm our whole family (all 22 of us) went down together to our assigned restaurant (it changed every night) and had dinner until 8. The next batch of people were to come in at 8:15pm. We had the same waitstaff each night but in a different restaurant. It was an adventure!  These meals are optional by the way. If you don't feel like doing dinner at a restaurant, you can head up to a buffet or get something poolside.
Every night I ordered a salad with my dinner.
I should mention that the food is all inclusive. You just have to pay for fancy beverages & alcohol.
There's a coffee/soda fountain bar up on the top deck that's open 24/7 too. That fountain soda station is KID central.
They have some pretty good vegetarian options on the boat; I was pleasantly surprised.
I ordered a turkey dinner one night. This meal was meh. That was probably the only time I felt that.
I did have a really good chicken dish on another night. The presentation was always really nice.
A nice little vegetarian stacker! Pumpkin, mozzarella & zucchini with a red pepper drizzle.
When we had to eat at the buffet restaurants for lunch, I made sure to load my plate up with FIBER.
Breakfast BUFFET time!
I have a hard time keeping focused when there are too many food options.
Cooper had Pops for the first time on our cruise. It was love at first site.
This is a sit down breakfast. It's basically all the buffet foods (with a few additions) served to you by a waiter.
That hash brown was TO DIE for and the eggs? I didn't finish them. I missed my eggs!
One of the great parts of the Disney Cruise is their special reservations only restaurant called Palo.
I think they charge about $20 a person to eat at the restaurant. What a steal!
It's Italian food and the quality is the best on the ship. When we ate there, we felt like we were eating at a good Californian restaurant.
We booked a brunch at Palo on one of the first days of our cruise and were a little disappointed to see that it was a buffet.
But it's only buffet during brunch!
Here's a sampling of antipasti:
We were able to order some additions and the Gorgonzola Grape pizza was a hit!
I forgot to mention that whenever we went to this restaurant, we were able to drop Cooper off at the camp so he could be taken care of. The counselors texted us on our ship phones in case something happened.
They had a great dessert bar too and some of the best coffee on the ship. Here's my loot:
We ate at the restaurant two more times. This is our date night. Just us two.
Casey had a really tasty grilled shrimp dish with pesto & asparagus.
I got an arugula salad. I was ECSTATIC to see arugula on the menu!!!!!
I had the most scrumptious lamb for dinner. Top notch, really!
The service was impeccable because the waitstaff is comprised of 9 of the top servers on the boat.
At this point I was paged by the staff at the Camp saying that Cooper peed his pants!
He did not! It was a different Cooper. MISSION ABORT.
We had our New Years Eve dinner at Palo again. All of the adults were there and we were served in a special room!
There's that arugula salad again. I was obsessed.
The nice part about cruising is that you can order ANYTHING. Two appetizers, a salad and an entree? Sure!
Wanna try ALL OF THE DESSERTS? No problem!
I got a buttery/herbed steamed fish in parchment dish.
And of course I saved room for the chocolate souffle!
Let's talk about the kids food.
I'm glad I brought some additional snacks for Cooper because he didn't eat well. I think he might have been the only person to lose weight on the ship. It wasn't for lack of variety; he was with his cousins every night in a different restaurant and I think he suffered a little bit from sensory overload. Because we didn't have some of his staples from home (sliced red peppers, freezer burritos, his favorite yogurt, cucumbers cut into spears, kale chips, sliced apples & pears with NO peels) it was hard to get him to eat everything on his plate. Cooper is a little particular about what he puts in his mouth so a lot of the food looked a little foreign to him.
Our waiter Boris convinced him to eat chocolate (was it that hard?!) on the second night we were there.
Also the chocolate dipped Mickey ice creams were phenom! We used it as a bribing tool 🙂
They also had soft pretzels shaped like Mickey Mouse! We got those by the pool.
And look how they serve ketchup for fries:
One of the myths about cruises is that you ALWAYS GAIN WEIGHT. I didn't!
I made sure to:

take the stairs instead of the elevators (it was an INSANE workout!)
order healthier options at meals (they have markers next to the vegetarian and light foods on the menu)
limit my desserts (although it was hard!)
But! Being on a cruise boat for 7 days made me miss:
kale
granola
avocados
nuts
fried eggs
almond butter
seeded bread
vanilla soy milk
burritos
Thai food
So overall, the food wasn't that bad.