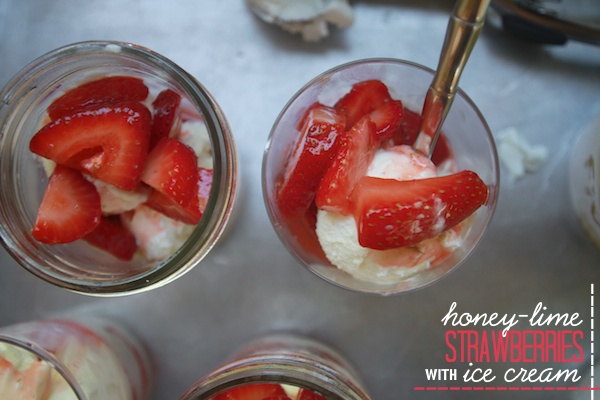 I'm writing this on a hot Sunday afternoon in Calistoga. We're enjoying a sunny day with all of Casey's family and I'm hiding out in a small dark room typing this.
Womp womp.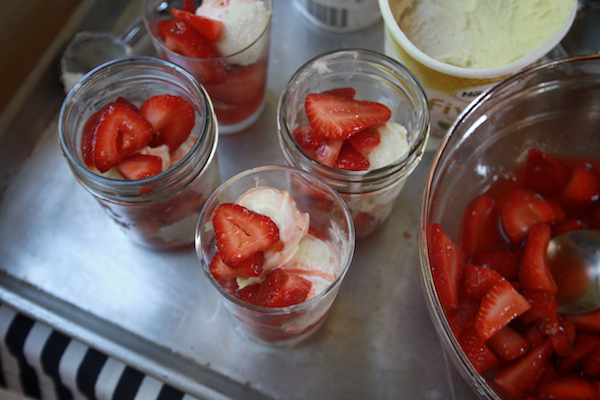 Of course the internet connection is slooooooooooooooow like molasses.  And as I sit here waiting for this page to load, I keep thinking about expectations. I expect to get on a computer and have it magically work. I expect lightning fast internet speed just as much as I expect to dive into a bowl of strawberries and ice cream and know exactly what it will taste like.
But…things don't always meet your expectations. Sometimes the lack of internet is just a higher power telling you that you should be spending time with your family (I'm almost done, honey!!). And sometimes strawberries and ice cream get shaken up and remind you how a few simple ingredients can elevate something basic into something amazing.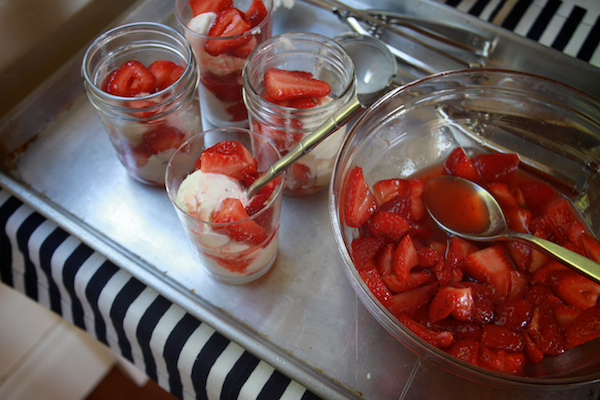 You can expect to be pleasantly surprised by this recipe. The honey and lime add a tangy sweet kick to the strawberries. The cardamom provides a nice subtle spice, while the lemon & vanilla ice cream duo wake up your taste buds.
Now if you're looking for me, you can expect to find me poolside with a gin cocktail & magazine in my hand.
And we're off!
Strawberries, lime, honey & cardamom. Boom.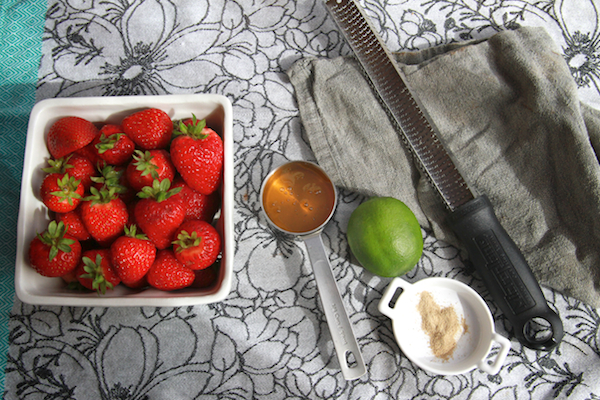 Zest that lime!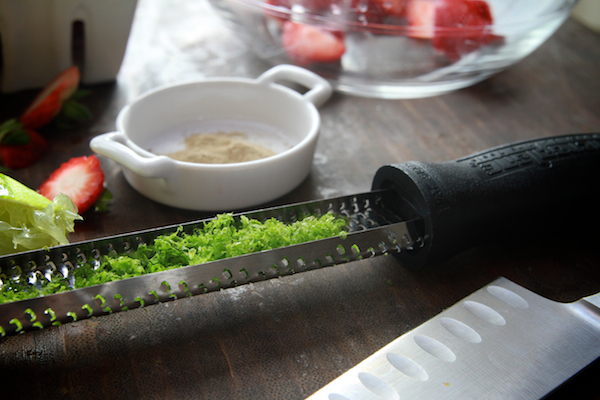 Put the honey in a pan. Add the lime juice and heat it up. Boil it and then take it off the flame.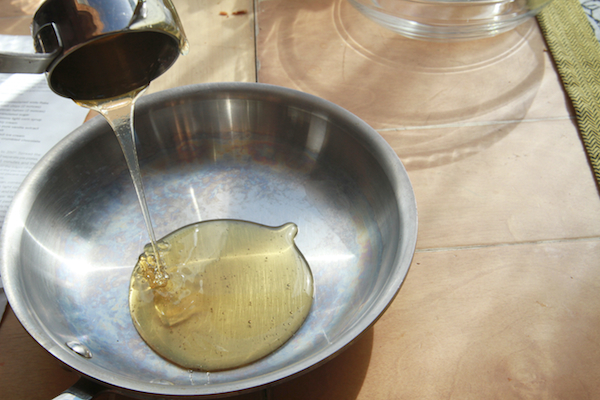 While that's going on you can cut up the strawberries.
This is how I listen to the Joy the Baker podcast! On a Thursday morning while working on something in the kitchen.
There's usually coffee involved.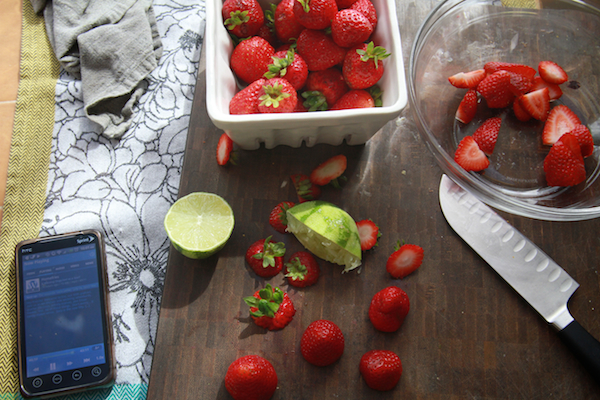 Now put the lime zest & cardamom in the honey lime mixture.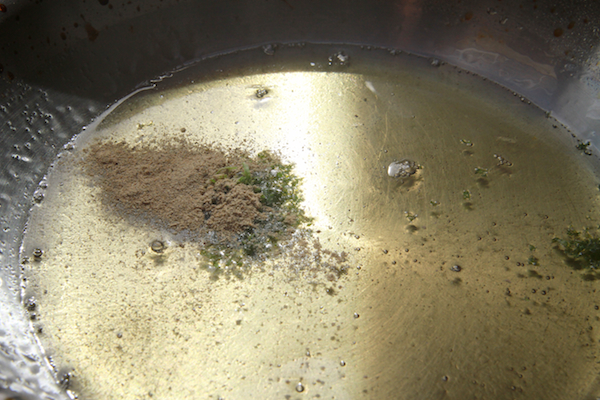 Pour the mixture over the strawberries. Stir it up and let it sit.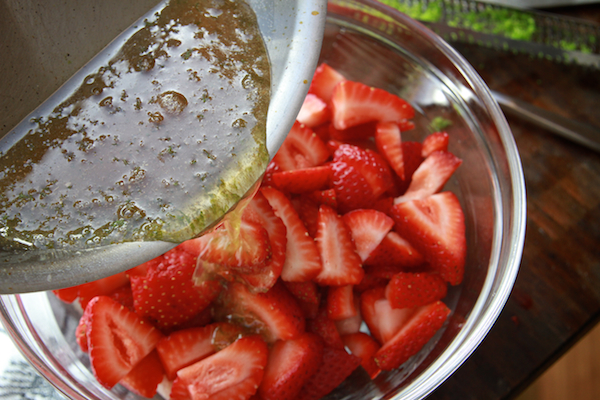 A few minutes before you serve the strawberries, pull out your ice cream. Get your scoop on.
This lemon ice cream is soooooooooooo good. I just discovered it. Yum.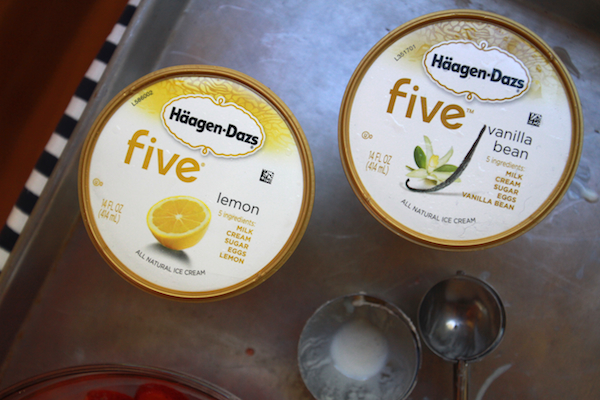 Look at those strawberries. They're super juicy!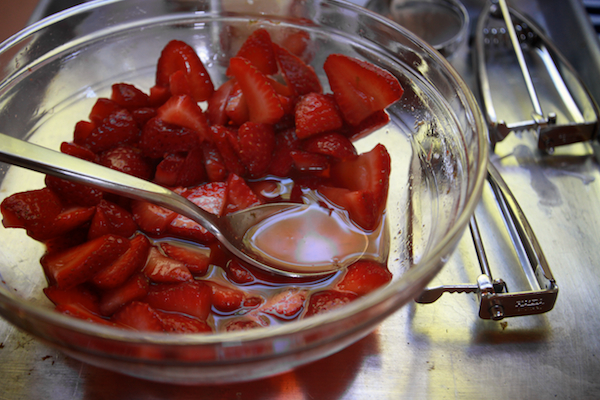 One scoop of lemon ice cream. One scoop of vanilla. Top with a few spoonfuls of strawberries. YEAH!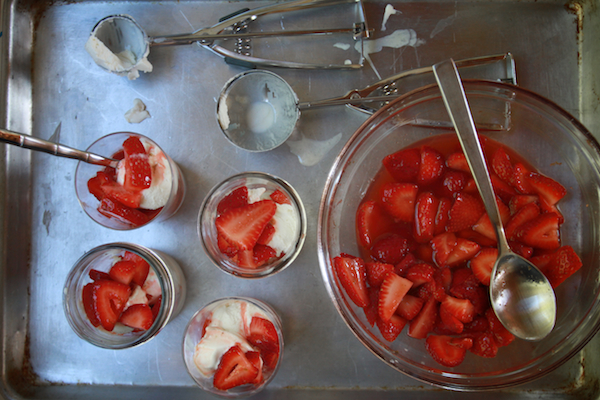 Expectations exceeded!
Honey Lime Strawberries with Ice Cream

serves 6

recipe adapted from Food & Wine

2 pounds strawberries, hulled and thinly sliced
1/4 cup honey
2 tablespoons freshly squeezed lime juice
1/2 teaspoon finely grated lime zest, plus more for garnish
1/4 teaspoon ground cardamom
1 pint each vanilla & lemon ice cream

Put the strawberries in a large heatproof bowl. In a small saucepan, combine 1/4 cup plus 2 tablespoons of the honey with the lime juice and bring to a boil. Stir in the 1/2 teaspoon of lime zest and the cardamom. Pour the syrup over the strawberries, stirring to coat. Let stand, stirring once or twice, until the berries are juicy and slightly softened, 25 to 30 minutes.

Scoop the lemon & vanilla ice cream into glasses and top with the strawberries and their juices. Garnish with lime zest. Serve right away.