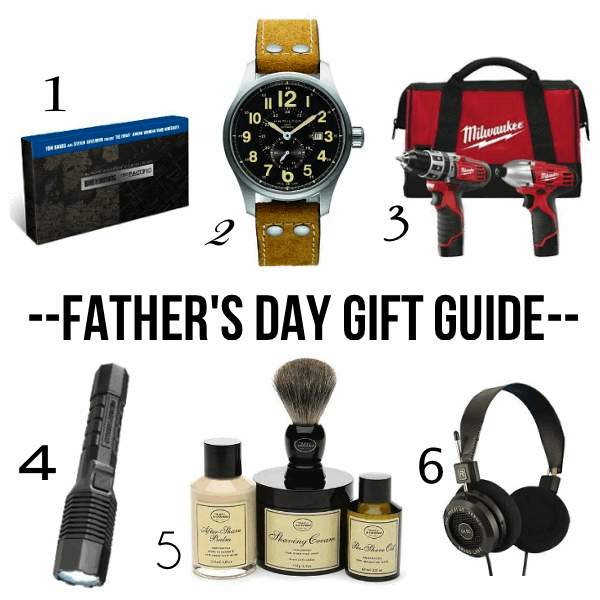 Last Christmas I had Casey do a Man's gift guide. It was pretty popular so I asked him to do another one for Father's Day. I know he has #5, #3& #6 already…Maybe I'll surprise him with something else…If you're last minute shopping, here are 6 cool items you could easily have overnighted from Amazon. Take it away, Casey!
1. Band of Brothers / The Pacific (Special Edition Gift Set) The Twilight Saga would not be a good gift. Let him know you are thinking of him when you buy two epic mini series from HBO in one box set. Band of Brothers and The Pacific are loved by men, but surprise, ladies enjoy the shows as well.
2. Hamilton Men's H70655733 Khaki Officer GMT Watch Last gift guide for Men included a Hamilton Dress watch, the Khaki officer has a more casual yet classic look that will not go out of style. This has a 44m face so if he has tiny girly wrists, skip this watch and buy the man some weights instead.
3.Milwaukee 2497-22 M12 12-Volt Cordless Lithium-Ion 2-Tool Combo Kit Hammer Drill and Impact Driver If it's been a few years since he's bought a cordless drill, he's probably still using the old NiCd battery technology. The M12 Lithion Ion technology is compact, light weight and powerful. In addition to this Drill and Impact Driver, there are dozens of other tools and accessories that are compatible, including a heated jacket for him to wear that uses the same rechargeable battery! This kit includes a hammer drill, impact driver (awesome) charger, 2 batteries and carrying case. Lots of power in a small package, using these tools is so much easier without the big bulky battery pack strapped to the handle.
4. Pelican 7060 Rechargeable Tactical LED Flashlight  Good enough for the LAPD, good enough for dad. This tactical flashlight is this century's MagLight. Every man needs one and it will last a lifetime. Don't let the compact size fool you, it is crazy bright with good battery life. The only downside is the compact size means it's not an ideal weapon for beating bad guys over the head.
5.The Art of Shaving –  The 4 Elements of the Perfect Shave Full Size Kit – Unscented Watch the videos on the website and you too will want to join the brotherhood of the perfect shave. There's just something cool about the ritual of shaving now. Start with your pre-shave oil which provides lubrication for the razor, lather up using the badger hair brush, go to work using a standard Gillette razor and finish off with the soothing after-shave balm. Inexpensive starter kits or full size kits available.
6.Grado Prestige Series SR80i Stereo Headphones Could you picture him rocking a big set of Beats by DrDre headphones like all the neighborhood thugs? Didn't think so. He's a man of substance who only wants the very finest in audiophile grade sound. Discover nuances in familiar recordings that you never heard before with the amazing clarity and detail these provide. The retro appearance is a hallmark of Grado Labs. There's a reason why everyone I've let listen to these has gone and bought a pair or two for themselves, you just don't find this quality at this price from anyone else.