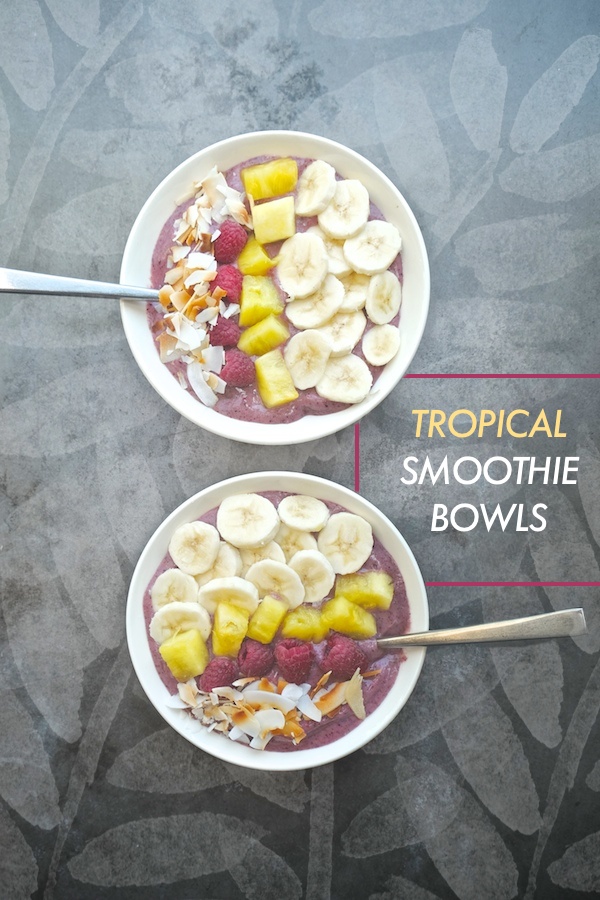 I fell out of love with smoothies awhile ago. I didn't really mean too….it's just that I prefer to eat food rather than drink it. But then Tropical Smoothie Bowls entered the picture.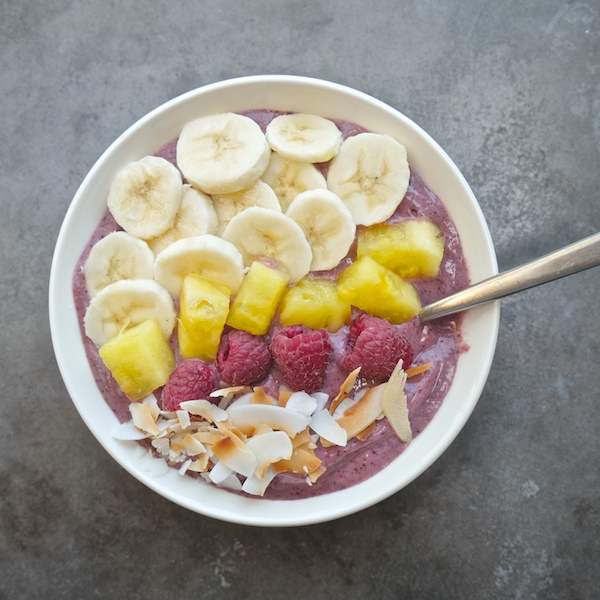 But recently….I fell in love HARD with smoothie bowls because it's a smoothie IN A BOWL.
It's a thicker smoothie— one you eat with a spoon. No straw necessary.
Just a spoon and TOPPINGS.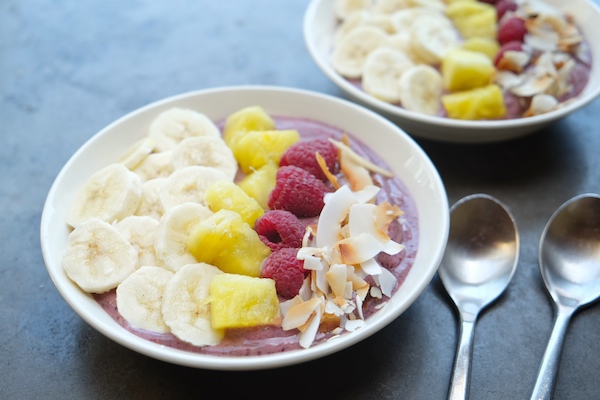 And it's allllll about the toppings. Because it's almost like having a bowl frozen yogurt with fruit!
I made this here tropical smoothie bowl in partnership with ALOHA. I'm so excited to be working with them as I LOVE their green powders & superfood chocolate bars. For this recipe I mixed frozen bananas with frozen berries, coconut cream, pineapples and fortified the smoothie with a packet of Aloha's Daily Good Greens Powder. For toppings, I added fresh bananas, pineapple, raspberries and toasted coconut for some extra crunch. Talk about healthy!
I think it's safe to say that I made this recipe for two and ended up eating both servings. Sorry, Cooper! Obviously, I didn't want the smoothie bowl goodness to end.
And we're off! Toppings AND Smoothie ingredients!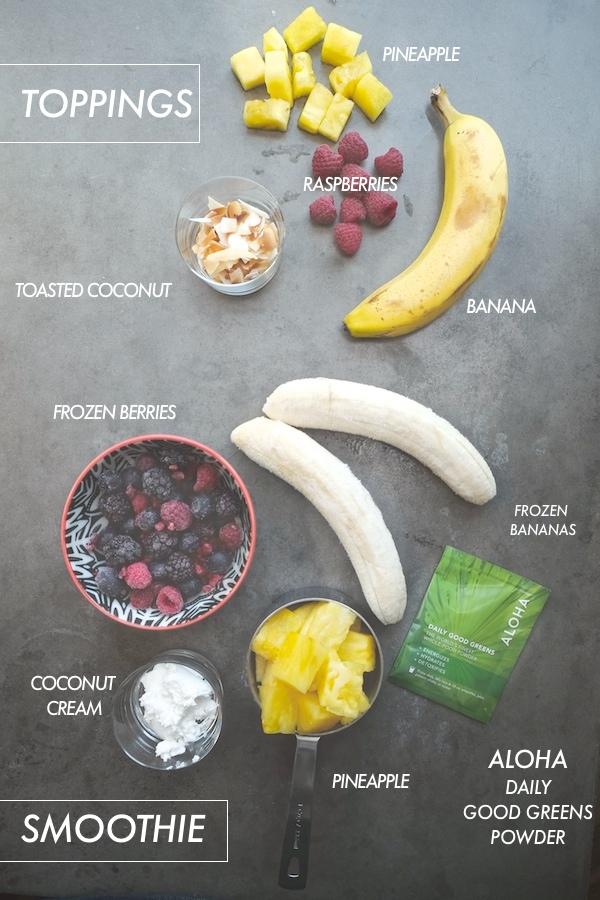 We're going to blend! My Vitamix does a bang up job with smoothie bowls since they don't have a ton of liquid in them.
That motor is something else!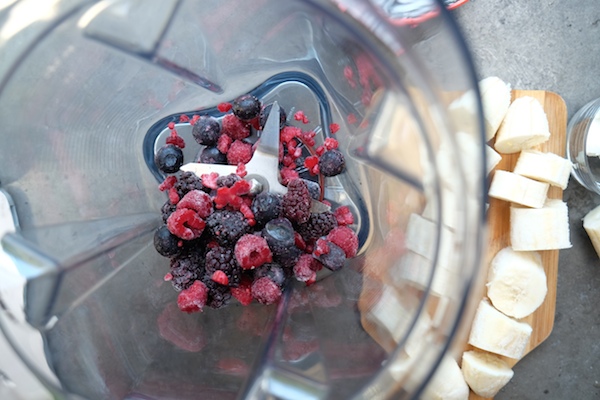 Pineapple and coconut cream go on top of the berries. The coconut cream comes from Trader Joe's.
Alternately, you could use Whipped Coconut Cream for this recipe.
Btw- this recipe is vegan!!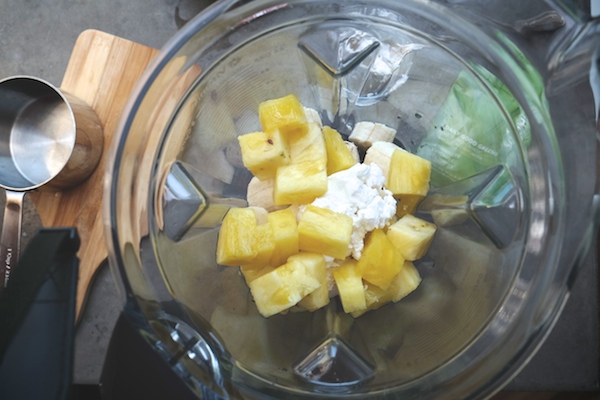 We blend. Aloha, thick smoothie! See what I did there?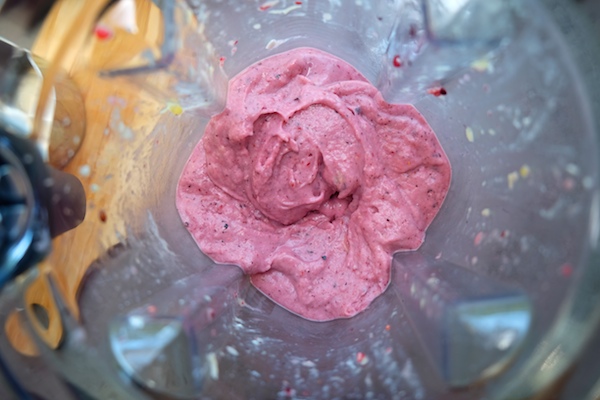 We take our Aloha Daily Good Greens Powder (I love that they come in pouches because I always get powder all over the place. Plus! I keep a few in my purse. They're great on the go/while traveling. I mix them with OJ when I'm on the run).
And we add the powder!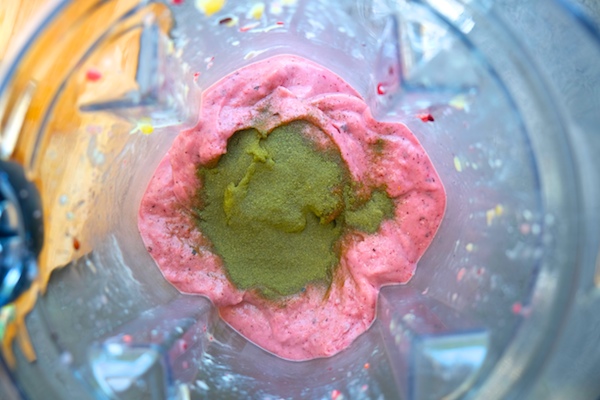 It turns the pink smoothie into a beautiful shade of purple.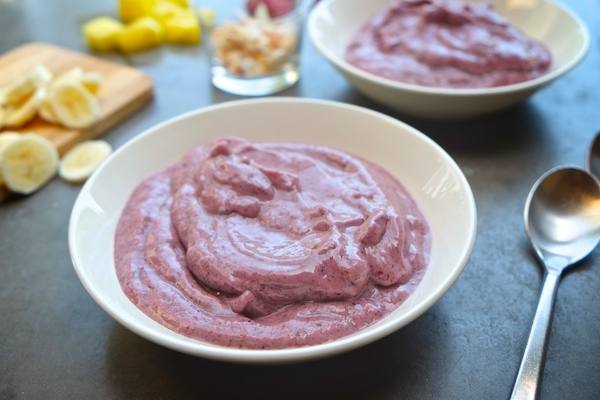 Let's get our toppings together.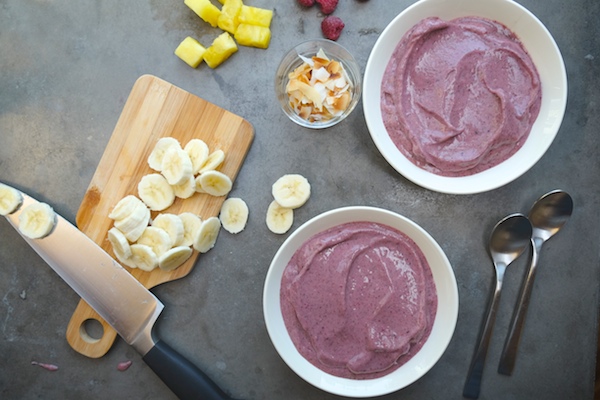 It's ALLLLLLL about lining things up. Smoothie bowls please me for this very reason.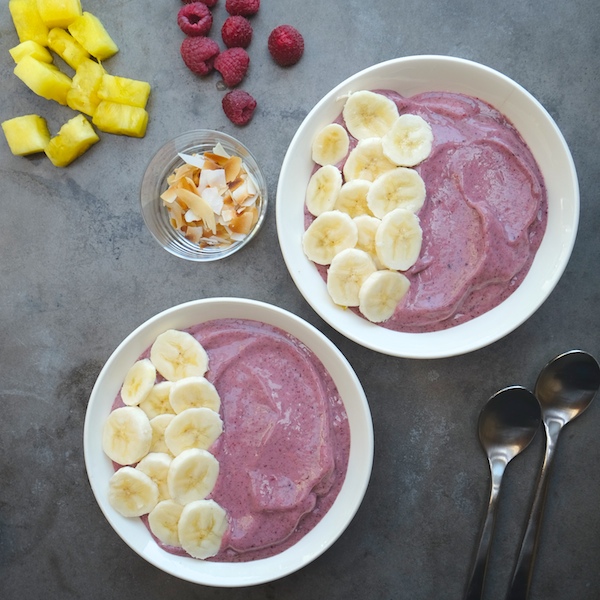 Pineapple and raspberries.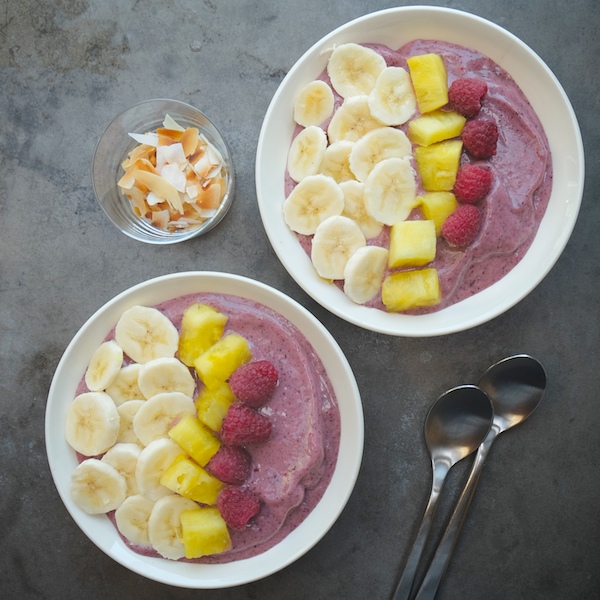 Toasted coconut!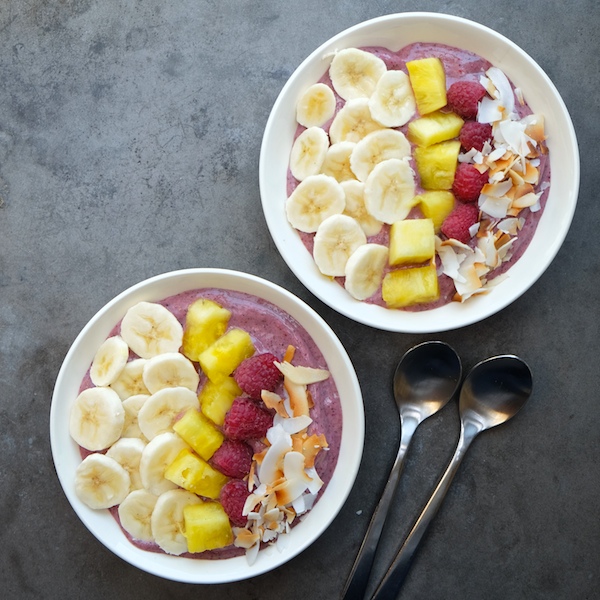 One for you, one for me….or in reality…two for me!
This post was produced in partnership with Aloha. As always, all opinions are my own.
Tropical Smoothie Bowls

makes 2

for the smoothie bowls

1 cup frozen mixed berries
1 cup chopped pineapple
2 frozen bananas, chopped
2 tablespoons coconut cream
1 packet Aloha Daily Greens

for the toppings:

1 banana, thinly sliced
1/2 cup chopped pineapple
1/2 cup raspberries
4 tablespoons toasted coconut

To make the smoothie bowls, combine frozen berries, chopped pineapple, frozen bananas, and coconut cream in a blender and process until mixture is smooth. Empty the packet of Aloha Daily Good Greens into the smoothie and process until well combined.

Divide the smoothie mixture between two bowls. Top each bowl with half the banana, pineapple, raspberries and toasted coconut. Serve immediately.