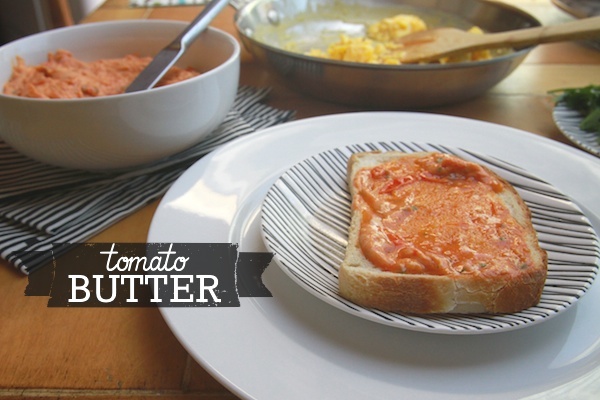 We already discussed what to do if you have a surplus of basil from you garden (Basil Infused Oil!). But what about tomatoes?? When we grew tomatoes at our old house, most of them never made it into the house because I had a habit of eating them directly off the vine. Oooops. If I was lucky, some made it into salads like this one and a delicious goat cheese pasta dish like this one.
And then there was tomato butter…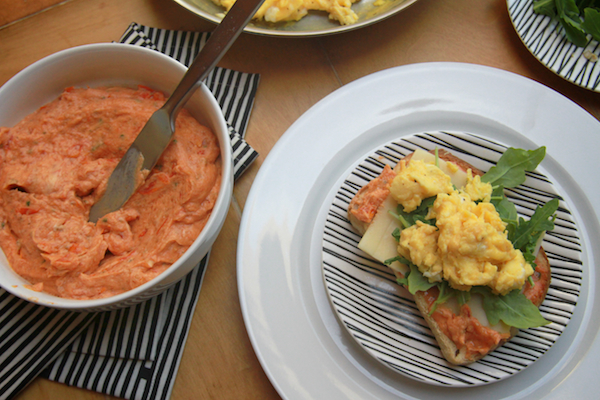 It's sweet from the tomatoes and super buttery from….the butter!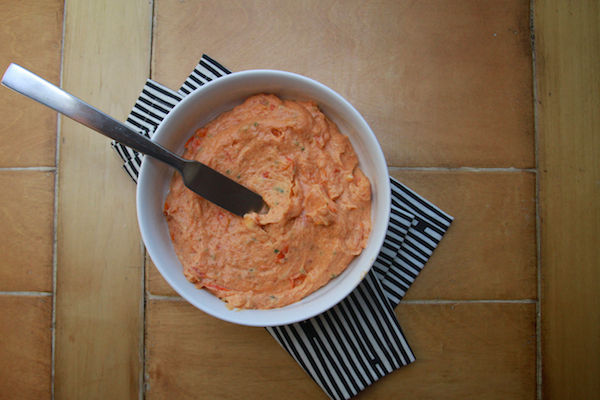 It's delicious on toasted bread and grilled fish/shrimp, and  I imagine it would be amazing stirred into a pot of fresh pasta.
It's basically an excuse to smear a whole lot of butter onto something. It's full of tomatoes!
And we're off!
Three ingredients.
Tomato, butter & basil. Use good butter! My butter is totally dented.  In real life I drop things… A LOT.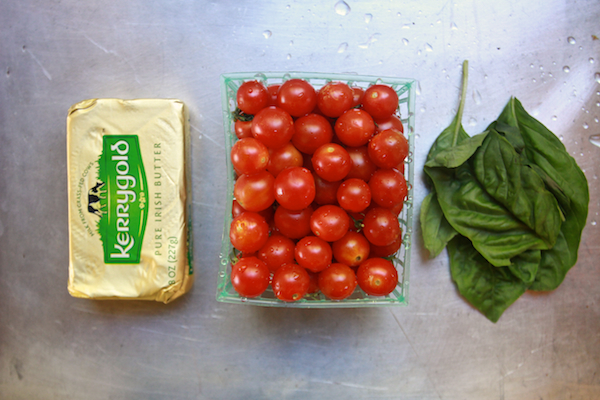 Tomatoes go onto a baking sheet.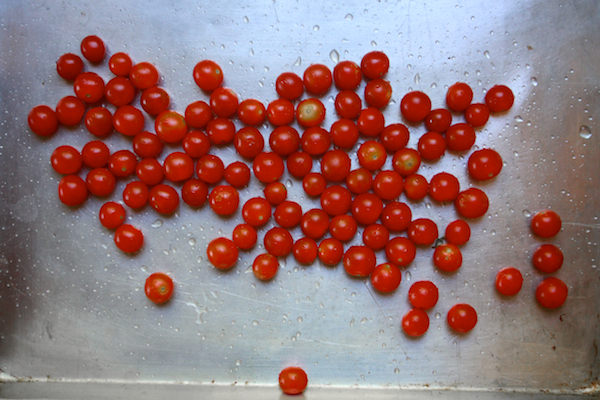 They get broiled under the broiler.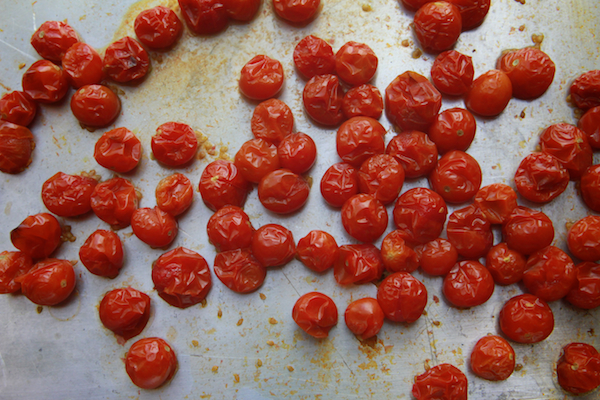 See the juice that comes out of those blistered skins? Righteous!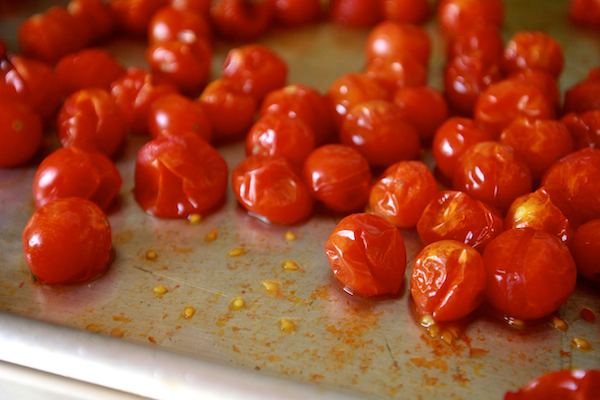 Now we bring the tomatoes over to food processor land. They get whirred up.
Add a little basil while you're at it.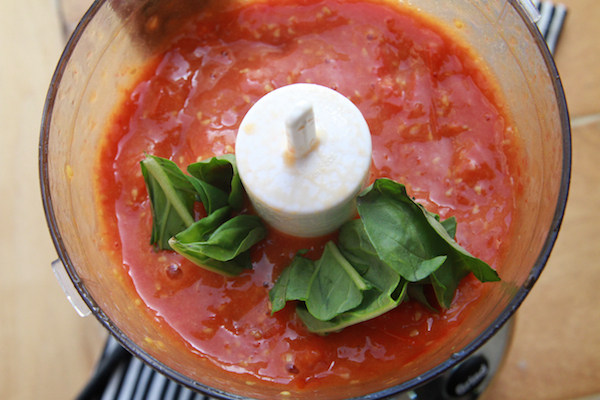 Tomato Basil puree meets butter.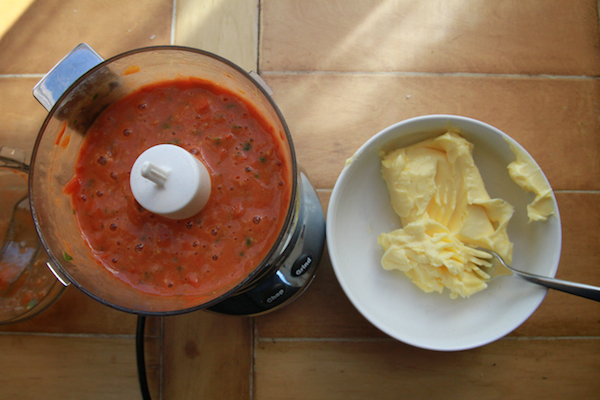 And look! We have tomato butter in real life!
I smeared it on sourdough toast, placed cheddar on top with arugula & scrambled eggs.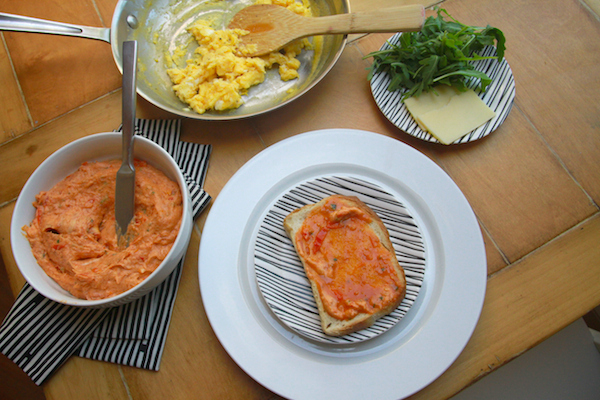 My open faced sandwich got SOOOO fancy pants.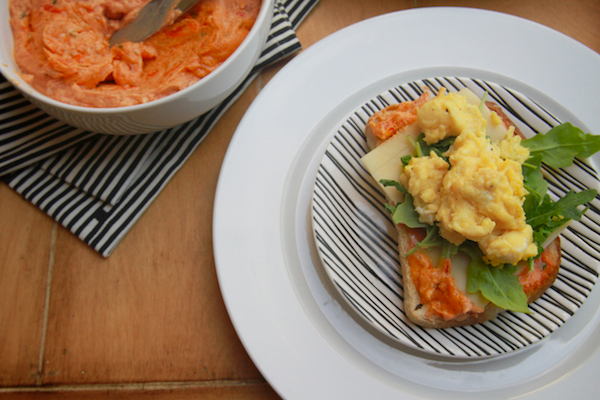 Just the way I like it.

Tomato Butter

makes about 2 1/2 cups
recipe adapted from Bon Appetit

1 pint (about 2 cups) cherry tomatoes
2 sticks salted butter, at room temperature
4-5 fresh basil leaves

Place tomatoes on a baking sheet and place under the broiler for 8-10 minutes until tomato skins slightly brown and start releasing their juice. Let tomatoes cool and then place in a mini food processor. Pulse until well chopped. Add the basil and continue pulsing until tomatoes are finely chopped. In a large bowl, mix the tomato/basil puree with the butter.