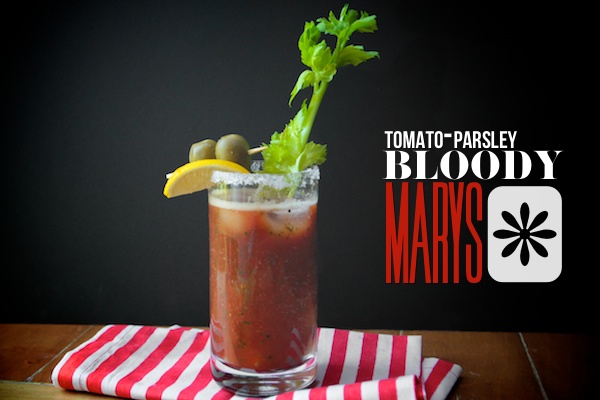 Before we all had kids, Casey and I used to go bowling regularly with his sister & her husband on lazy weekend afternoons.  What do I remember most from those times besides being able to sleep in super late? The killer Bloody Marys we used to inhale. The bowling alley we frequented had a CRAZY deal on $2 Bloody Marys during happy hour and we took welllllllll advantage of that.  To say it improved our bowling game is an understatement.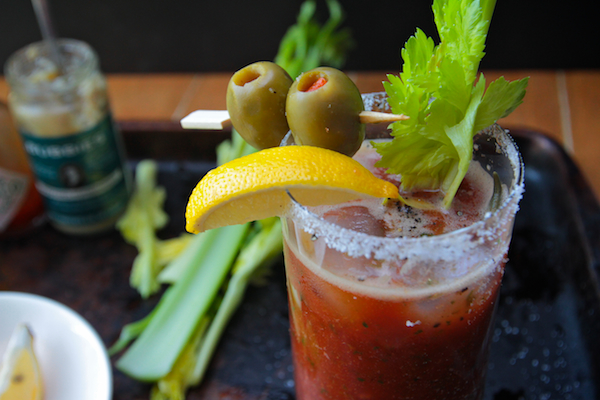 There was something about those bowling alley Bloody Marys  that sealed my love for Bloody Marys. Must have been the horseradish… I also love Worcestershire & tons of pepper in my Bloody Mary. I can't get enough! The celery is a fun addition too.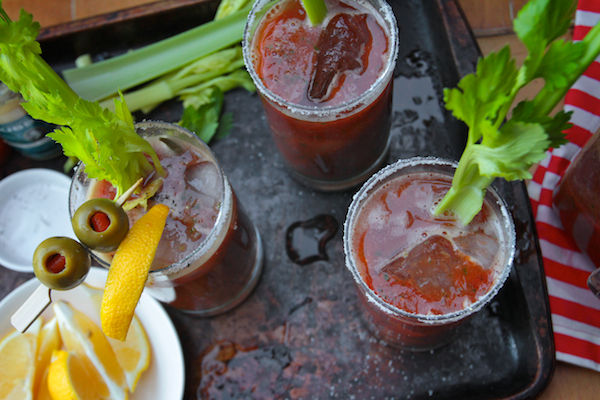 Here's my first attempt at making Bloody Marys. It's ridiculously easy. I don't think I'll ever rely on Bloody Mary mix again! You best believe this will be on the menu for brunches yet to come. I know what we're drinking the morning after I host Christmas at my house…
And we're off!
First we must make our base. It consists of three good things: Tomato Juice, Parsley & Celery!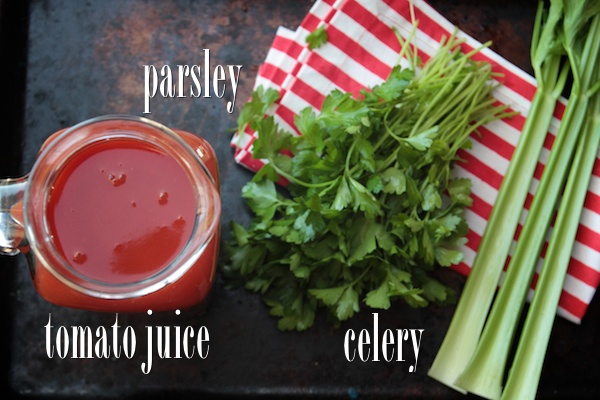 We chop up the greens before we blend up the juice.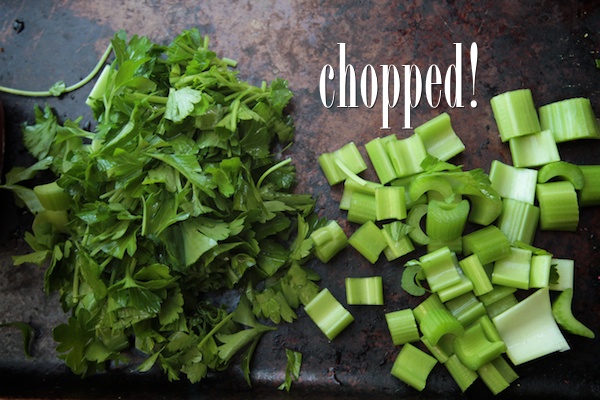 Chop!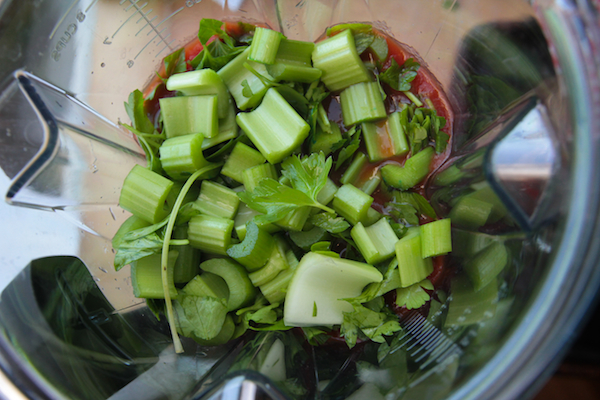 BLEND!  Now we let the mixture sit for at least an hour in the fridge. Flavors gotta develop, yo!
You can easily do this the night before. Just make sure you stir it well before using.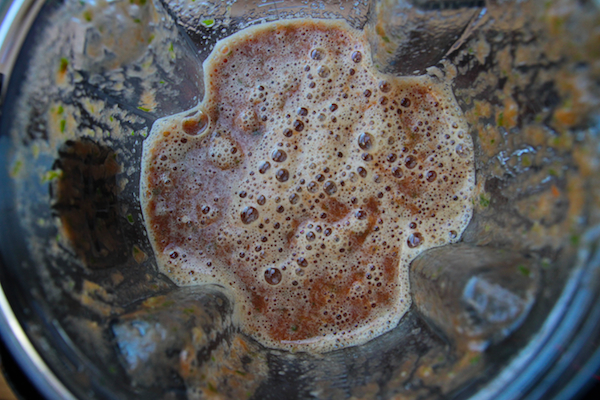 Now the fun BEGINS!!!! I pickled some green beans a few months ago a la my Giardiniera. Pickled veggies in Bloody Marys are where it's at!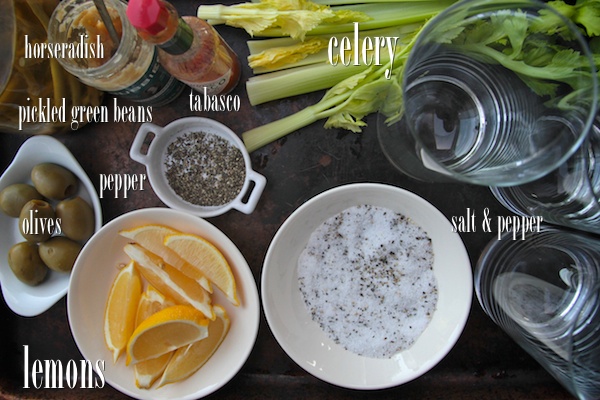 Once the tomato base has chilled, now it's time to spice it up!
Add horseradish up in. The more the merrier, I say! Add in lemon juice next.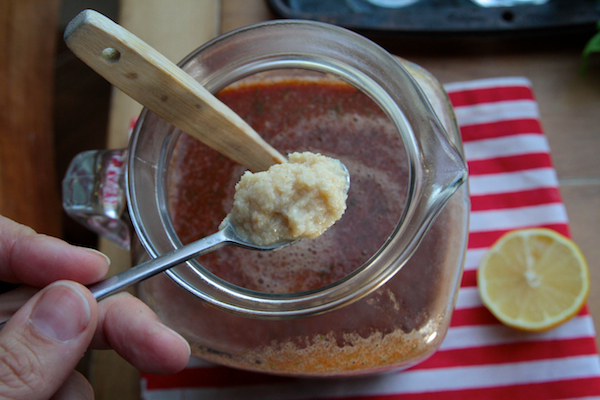 Tabasco, as you do. I added Worcestershire to ours too. It doesn't taste the same without it!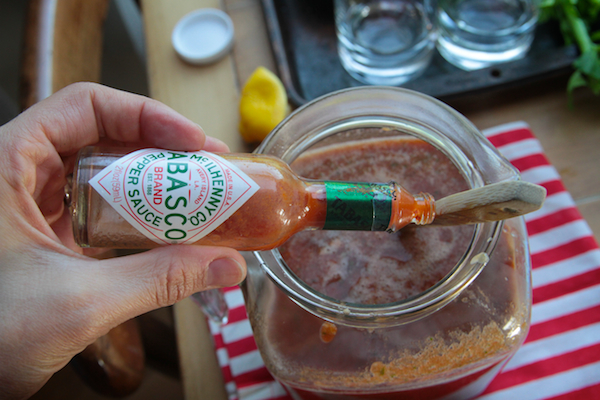 We're gonna get fancy and rim the glasses with a salt & pepper mixture! FANCY PANTS.
Take a lemon and rub it around the glass edge.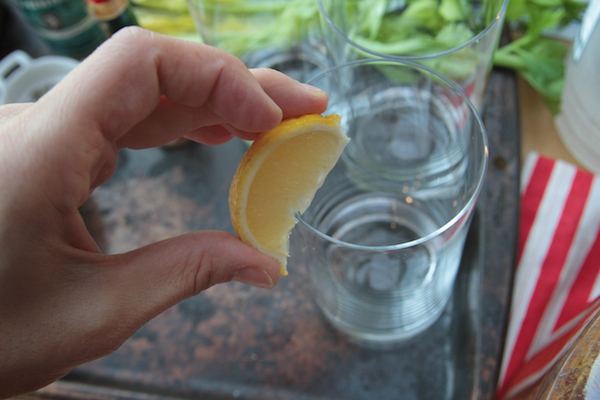 Dip it in the salt & pepper mixture.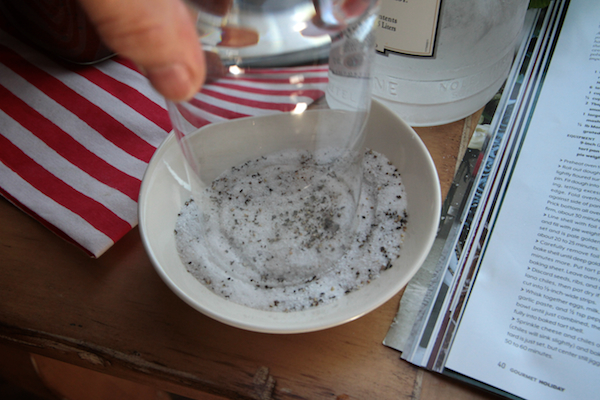 Done did. How pretty is that? I told you it was fancy.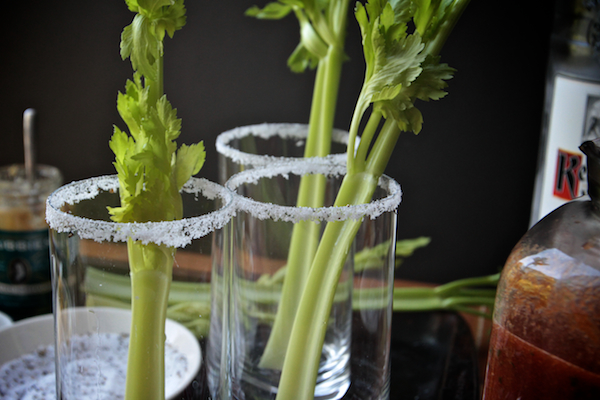 Now we're ready to start the spirit component. VODKA!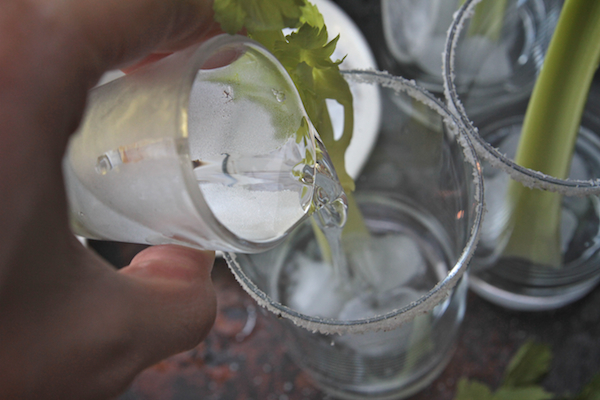 Tomato Parsley Juice!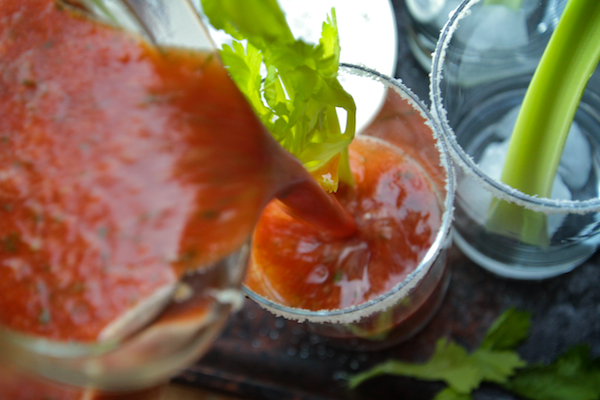 Add all of your fixins on top.
This recipe serves three people twice.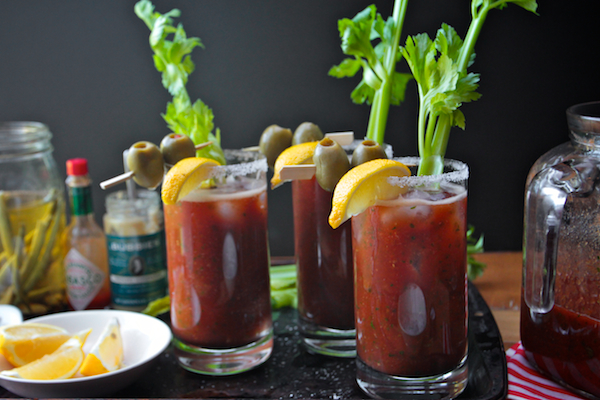 One of us might have been over-served….

Tomato-Parsley Bloody Marys

makes 6 drinks

recipe adapted from Gourmet Magazine

1 quart bottled tomato juice
3 celery ribs, coarsely chopped
1 cup very coarsely chopped flat-leaf parsley sprigs (from 1 large bunch)
2 1/2 to 3 tablespoons bottled horseradish
2 teaspoons Tabasco
4-5 dashes Worcestershire sauce
2 teaspoons fresh lemon juice
lemon wedges for rims of glasses
2 tablespoons fine sea salt
1 teaspoon ground pepper
12 ounces (1 1/2 cups) ice-cold vodka

garnish:

celery stalks
pickled green beans
olives
lemon wedges

Puree tomato juice with celery and parsley in a blender or food processor until smooth. Transfer to a bowl and chill at least 1 hour. Stir in horseradish, Tabasco, Worcestershire, and lemon juice.

Mix remaining sea salt and 1 teaspoon finely ground fresh pepper on a small plate. Moisten outside of rim of each glass with lemon wedge, then dip rim in salt and pepper. Fill each glass with ice and 2 oz. vodka, then top with juice. Garnish to your liking.