Continuing my yearly tradition of sharing my Favorite Things Gift Guide (Oprah style!).
Here's a roundup of things that brought a lot of value to my life this year.
Favorite Home Things
Disco ball – I believe every household should have a disco ball. They add so much magic to a home. I love how much ours lights up a room with polka dots every morning.
Bodum Clear Mugs– 2020 is the year where I got REALLY into tea. I like seeing the colors of the tea I make so these mugs help! They hold a lot, which is great cuz I don't want to walk upstairs to refill my tea all the time.
Window Hummingbird Feeder I have become a crazy hummingbird watcher and this thing is amazing. They come right up to the window!
Napkins– I have a lot of napkins and they don't all match so I bought myself this set of napkins this year in a classic B&W checkered pattern and I love them.
Window Birdhouse– This bird feeder is also window mounted and we attracted a lot of larger birds with this one. SO FUN!
Fiskars Garden Tool Set– I got super into gardening this year while we were sheltering in place and this toolset helped me plant all of my plants! I like that they're all black. Pretty/modern!
Amazon Echo Show– We got a new echo this year. This one can do video! I like it because I can look at the home screen and see the news/weather. The price is crazy good!
Color Changing Light Bulbs– I am very sensitive to light and as a photographer, it is SUPER important to me. These lightbulbs are so fun to play with. I can change the colors to the exact shade of white I want and go crazy with doing brilliant colors as well. They really help set a mood.
Hoover Cordless Vacuum– Having a child who walks around eating (ugggh) makes it really tough to keep the floors clean. If I have to vacuum, I usually have to walk up a flight or two of stairs with the vacuum to the place I need to vacuum. This makes it hard for me to motivate to vacuum. I read reviews for this thing and IT IS A GODSEND. At the end of the night, I pull it out of my broom closet and "sweep" up the floor in a couple of minutes. It has helped my sanity this year, for SURE.
Hamilton Beach Air Fryer– One of the most used kitchen gadgets in my kitchen (second is my Instant Pot!
). It helps me put dinner on the table FAST.
Nespresso Frother– I've been a fan of this thing for a while. When I'm having my afternoon tea, I like to froth some oat milk with this. I also use it to make my turmeric latte and a matcha green tea latte too!
Omega Masticating Juicer– I used this juicer more this year. I think it was to balance out all of the days I ate my feelings. It's a great tool if you have any food you need to use up. Turn that sad kale and wrinkly apple into a delicious green juice. I like this one cuz it's great with greens.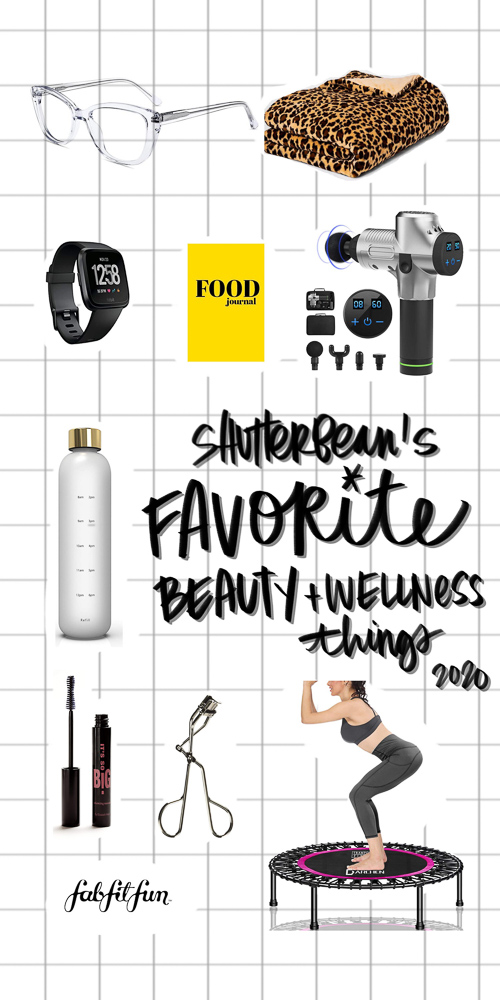 Favorite Health & Beauty Things
Blue Blocking Computer Reading Glasses– I sit at the computer a lot and these cute glasses (that are also readers!) help with eye fatigue. They're cute too. People always ask me where I got them.
Weighted Blanket– I bought this for my bed and sleeping under it is amazing. It definitely makes you feel secure. I always wanted a weighted blanket and I'm glad I got a (cute!) one.
Fitbit Versa Watch
– If it wasn't for the nudge of this thing, I wouldn't keep up with my activity level. This year I've been using this tracker to track my sleep. It's been an interesting journey to get more sleep during COVID times. I LOOOOOOVE data and this thing keeps me happy with all the information it provides.
Food Journal– I just completed my third food journal this year. I think that will be my 8th one so far. I designed this food journal to track my food, water, activity, mood every day. I sell them from my Etsy shop and will be doing it again in December if you wanna join me! I've learned so much about myself and my eating habits through this tool.
Handheld Percussion Massager– THIS THING IS INCREDIBLE. If you can't get a massage, you can get one with this thing. It gets deep into the tissues and you can vary the speed and pressure. Amazing on calves and shoulders.
Time Marker Water Bottle– this elegant water bottle helps remind me to drink water! I can check-in and see how much water I'm supposed to drink by a certain time.
Smudge-Proof Mascara- I believe Deb tipped me off on this mascara. It does not smudge! You don't get raccoon eyes EVER. I love it and I love how it separates my lashes. So happy!
Eyelash Curler– Since we are wearing masks, my makeup needs have changed. It's all about the eyes. I read rave reviews about this eyelash curler and it works WELL. I have very straight eyelashes and this curls them perfectly. YAY.
Trampoline– I don't know why I didn't get this sooner. Cooper loves it and so do I! He has a lot of energy and he gets a lot out by bouncing. It helps me get extra steps in my day. Instant mood booster too. Thank you to my sister-in-law Allison for introducing me to it!
Fab Fit Fun Subscription– I love when this colorful package of goodies comes to my doorstep every season. It's a really nice way to treat yourself and others. You can sample new products too- which is nice since we are all stuck inside.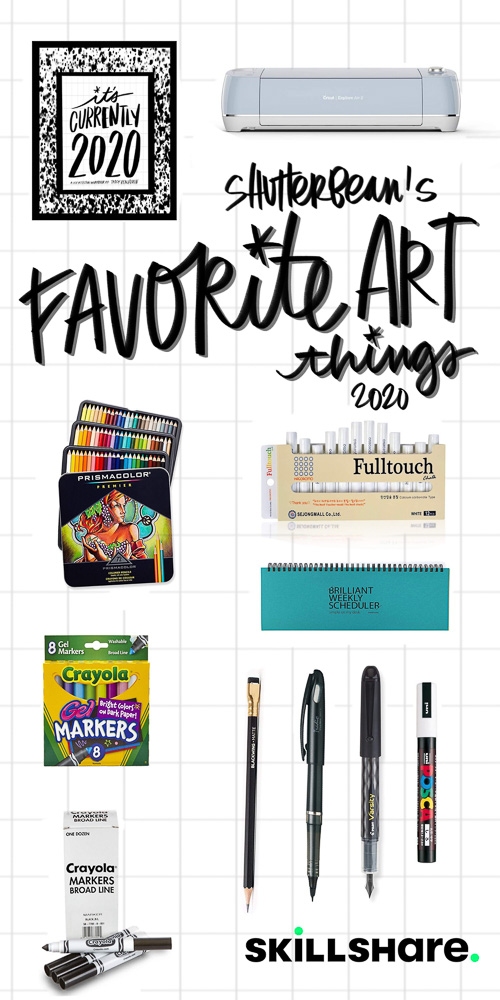 Favorite Art Things
Currently Workbook – this workbook has kept my creativity alive this year and last year. Join me in this creative project next year!
Cricut Explore Air 2– Got this for my birthday and have been enjoying learning how to use it. If you have a crafter in your life, this one is a hit!
Prismacolor Pencils– These are my favorite pencils. They're so pigmented and smooth to use. I used them a lot in my currently workbook. (you can read more about my currently workbook here!)
The Best Chalk– THIS IS THE BEST CHALK. Write like a dream.
Weekly Scheduler Pad– Since this year has been a wash, it's been hard for me to keep up my regular calendar. This little buddy sits on my desk next to my keyboard and I write in it all day long to stay on task.
Crayola Gel Markers– My favorite pens for crossing out things on my TO-DO lists. They're super pigmented and I love them.
Crayola Black Pen– I learned to LOOOOVE this pen. I love writing uppercase letters with it.
Blackwing Pencil– Dreamiest pencil around. Makes a great gift for your art lover.
Tradio Pen– When you find the right edge on this pen, it is incredible!
Pilot Varsity Fountain Pen– I never thought I would love a fountain pen, but this one has my heart.
Uni-Posca White Paint Pen– If you love writing on dark things, this pen is a dream. Super pigmented and doesn't lag.
Skillshare Premium Subscription– This has CHANGED MY LIFE. Gift a subscription for yourself and others!
If you want more ideas check out….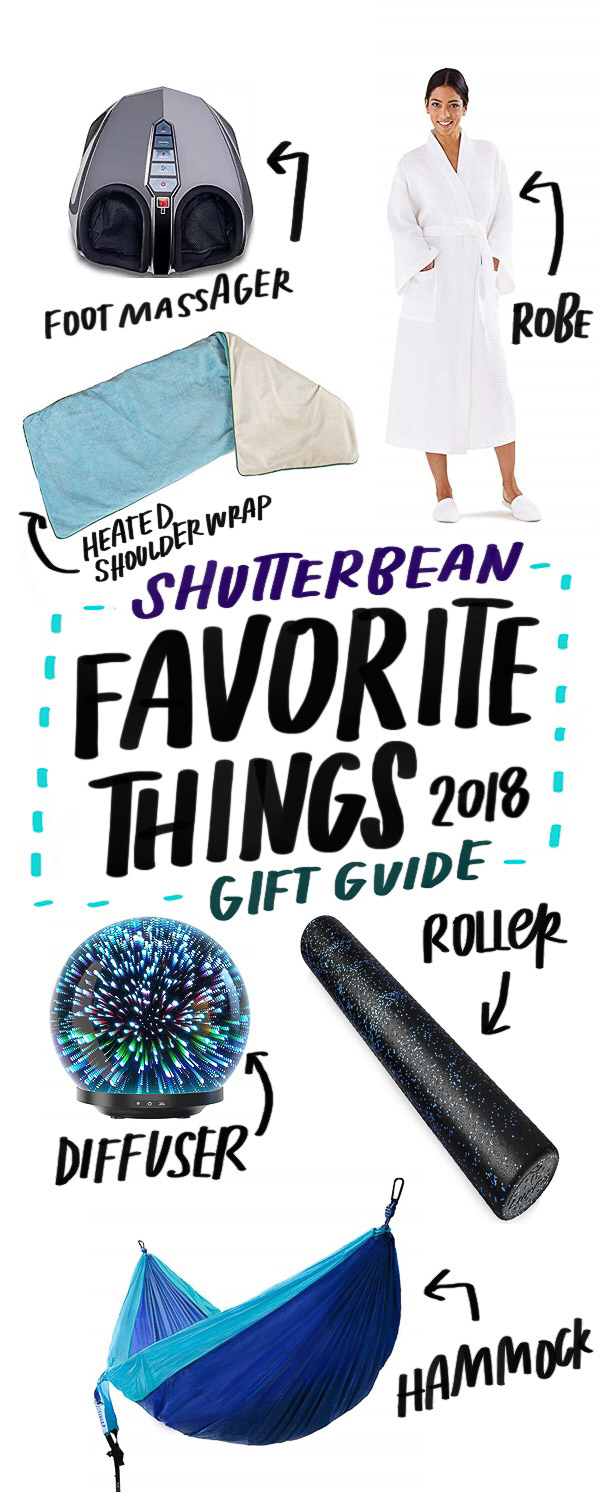 Best wishes for a happy holiday season.