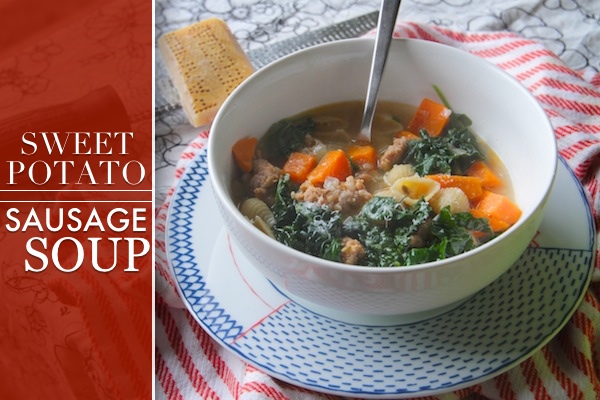 April showers bring May flowers. I have to keep reminding myself of that when it rains all day long. And in between moments of crazy rain and sun peeking through clouds, I want to sit at my kitchen table reading a magazine & eating a bowl of soup. This fantasy includes a hunk of garlic bread, as most fantasies do.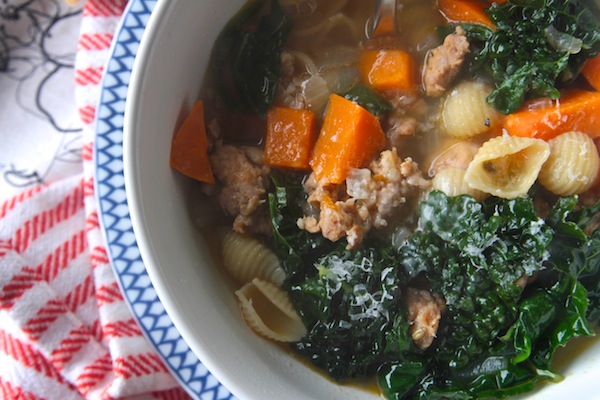 One of my go-to soups is this Sausage Soup I made years ago. I've probably made it as many times as I've seen The Royal Tenenbaums (which is A LOT). When I was flipping through one of my old Everyday Food Magazines (sniff sniff! So sad they shut down) I found this recipe and realized I had all of the ingredients at my disposal.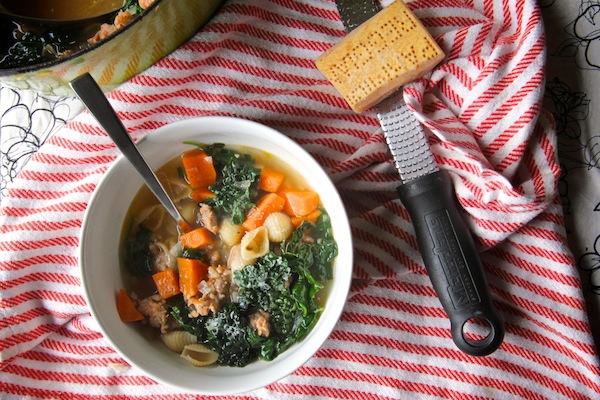 It's like having a bowl of pasta, a bowl of soup, and a salad all in one. Carbs, meat, greens, SUPER FOODS and dairy all in one dish. It might soon replace my old standby. We'll see about that.
And we're off!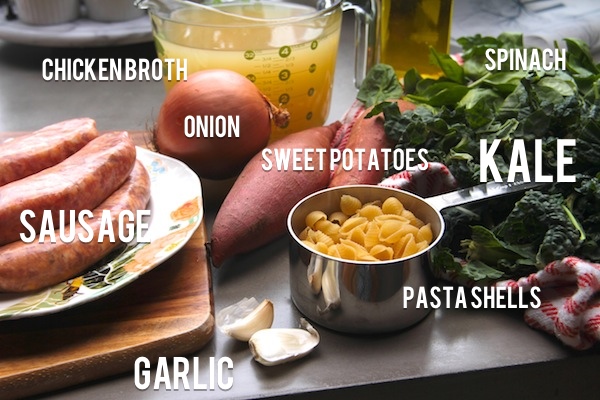 Saute onions & garlic in olive oil.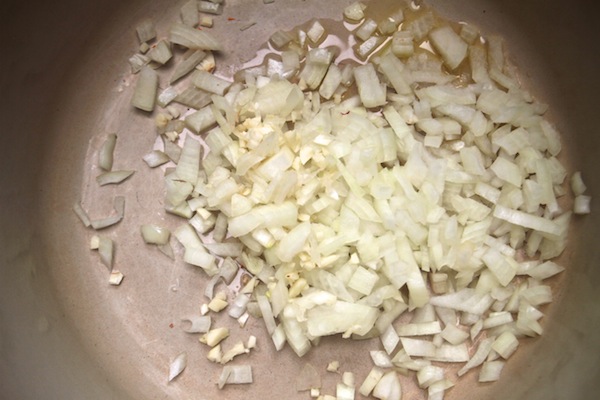 Add in your sausage and cook…breaking up into pieces.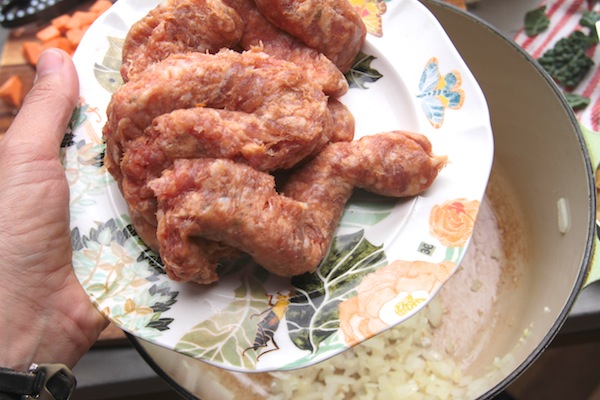 Add in the sweet potatoes & broth.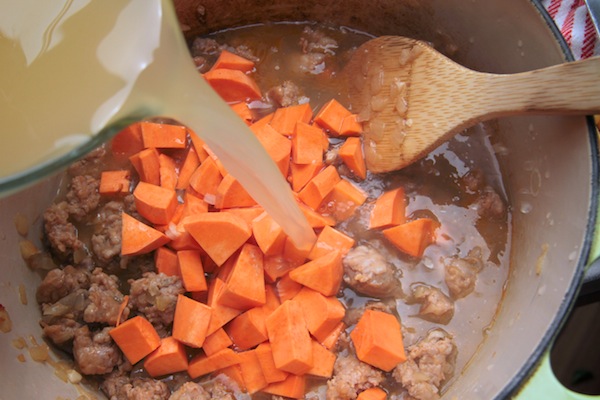 Get it to boiling.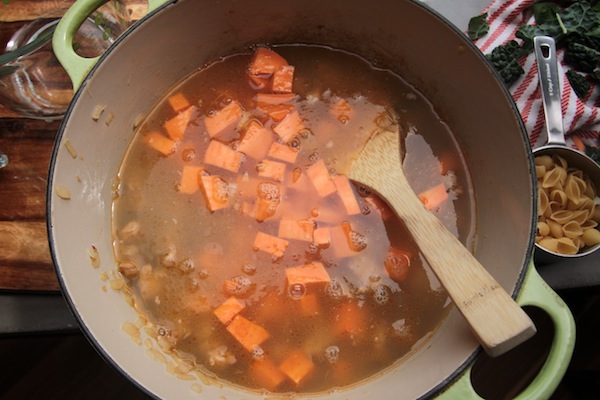 After it's been boiling add the pasta. Cook!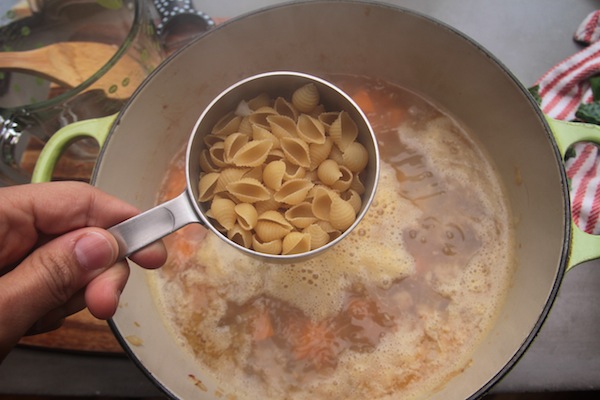 When pasta is almost done, add in your greens.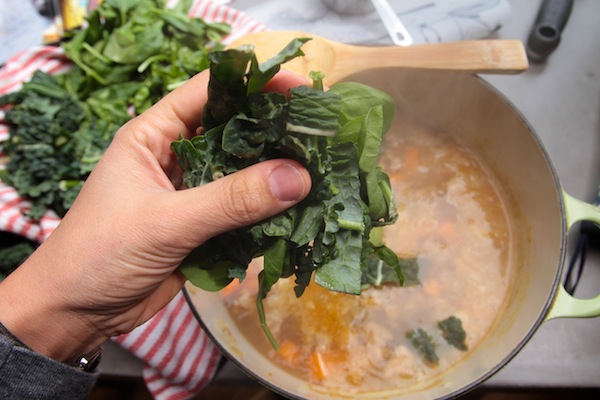 Soup IS ON.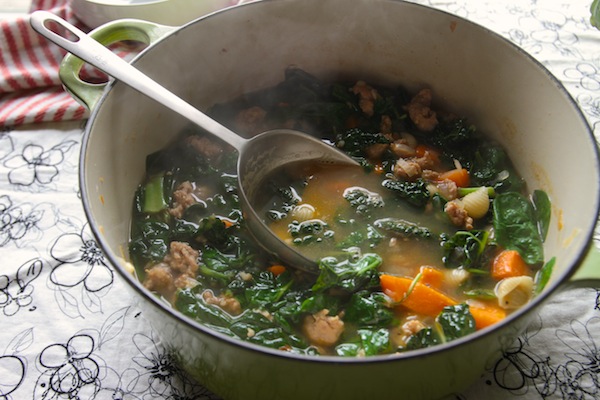 Finish each bowl with freshly grated Parmesan.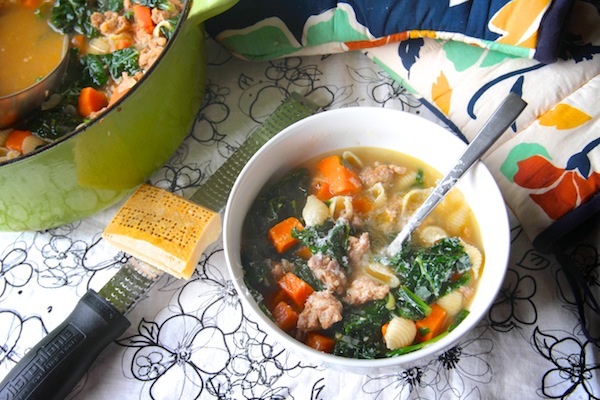 Dunk a piece of bread in there.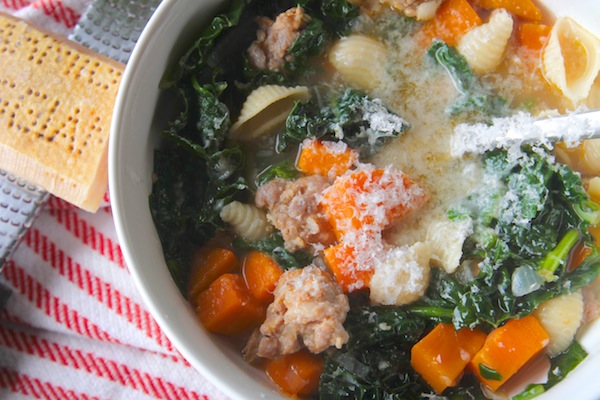 So much good stuff in one bowl.

Sweet Potato & Sausage Soup

serves 6

recipe from Everyday Food Magazine

1 tablespoon olive oil
1 large yellow onion, diced
3 cloves garlic, minced
salt & pepper
1 lb. sweet Italian sausage, casings removed
2 sweet potatoes (1 pound total), peeled & diced medium
4 cups chicken broth
3/4 cup small pasta shells
6 cups chopped mixed greens (I used half spinach half kale)
grated Parmesan for serving

In a large pot, heat oil over medium-high heat. Add onion and garlic and cook until onion is translucent, about 6 minutes; season with salt & pepper. Add sausage and cook, breaking up meat with a wooden spoon until browned, about 5 minutes.

Add sweet potatoes, broth, and 2 cups water and bring to a boil. Add pasta and cool 3 minutes less than package suggests. Reduce to a simmer, add greens and cook until pasta is tender and greens are wilted, about 4 minutes. Serve with Parmesan.