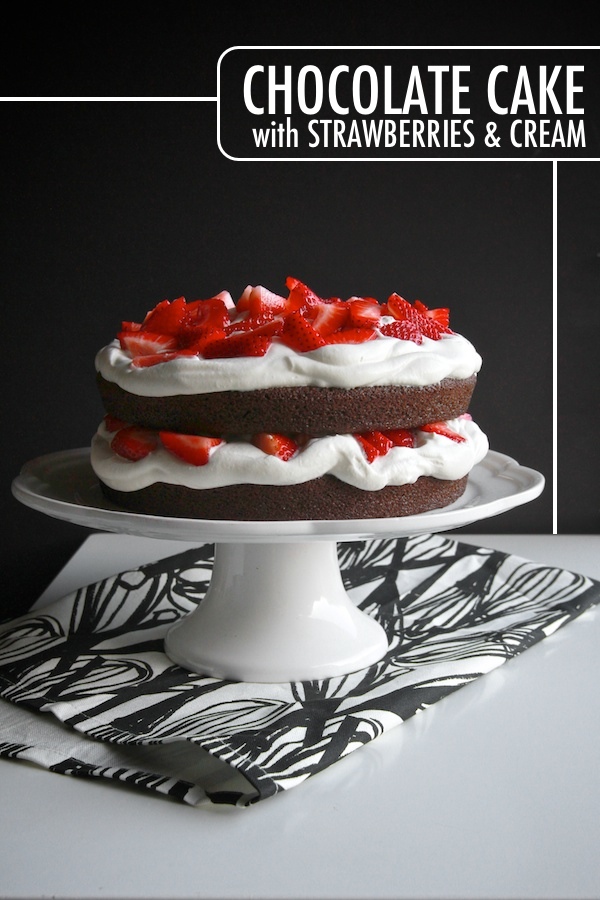 Chocolate Cake with Strawberries & Cream
Last Monday, I drank enough water, took my vitamins, had myself a delicious/healthy breakfast, and made myself a healthy salad for lunch. Things were going well! When I got home and stood in front of the fridge trying to figure out what we'd eat for dinner the leftovers of this cake stared back at me. I accidentally put it on shelf that was at eye level and a little voice in my head said, "DON'T DO IT, TRACY!!!" But then I did. One sliver turned into a gigantic piece. I had cake for dinner while standing in the kitchen because MONDAY.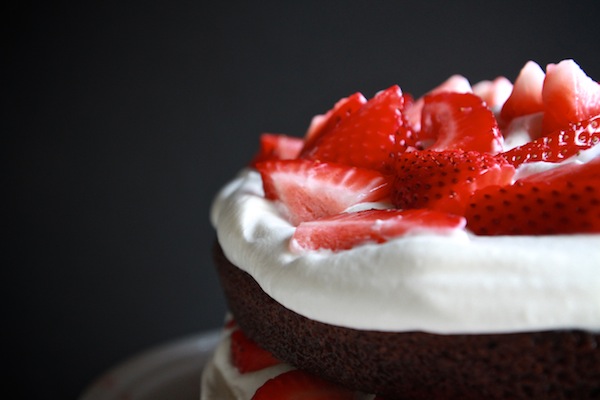 I made this cake for taco dinner night with my parents last weekend. It was so simple that I was able to take pictures of the process while entertaining and getting dinner ready. The ingredients are modest and the cake is actually vegan if you subtract the whipped cream!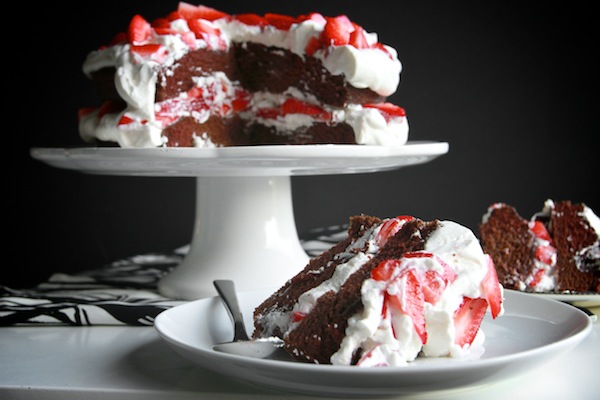 It's a cake that doesn't smack you over the head with chocolate; it's all about the whipped cream and strawberries! This cake is so good, fluffy, and airy that it makes you abandon your intentions of eating "healthy." It might become a staple this Summer when we're entertaining.
And we're off! Simple ingredient tiiiiiime.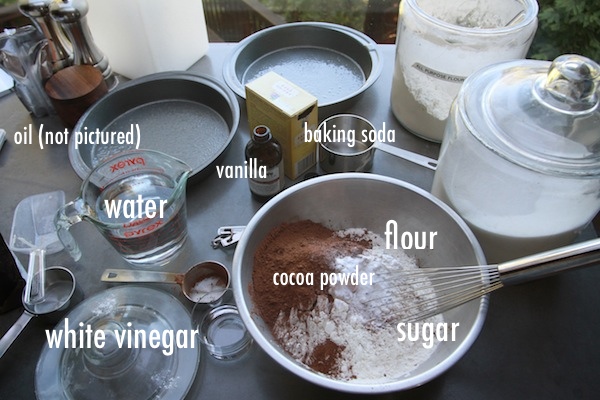 Now we mix in the wet ingredients. You make a well in the center and stir it up.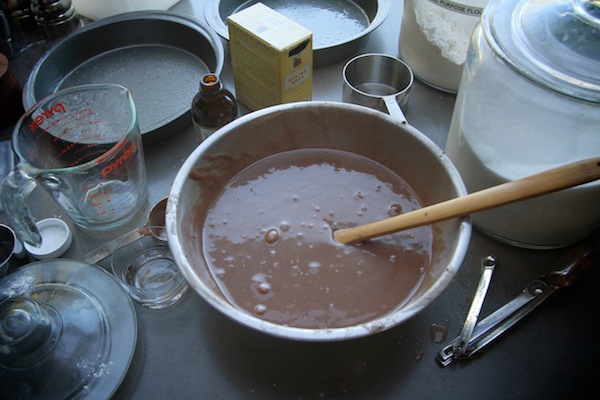 Transfer to prepared cake pans. Prepared means sprayed with cooking spray.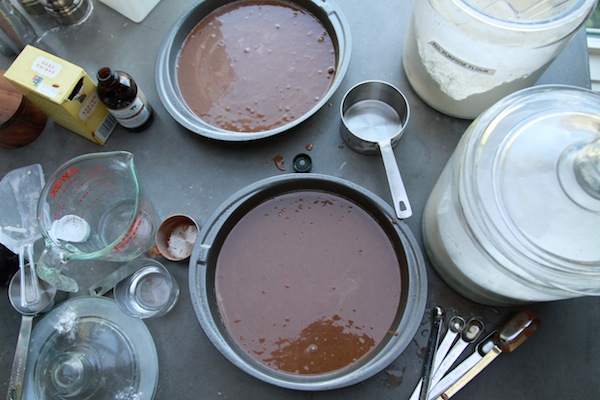 Bake! Now slice up the strawberries. You should add a little balsamic vinegar in them for a little punch.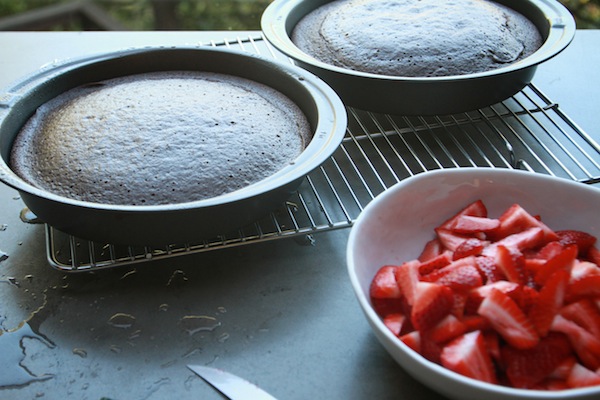 We're getting strawberries here in California. Sorry/not sorry 🙂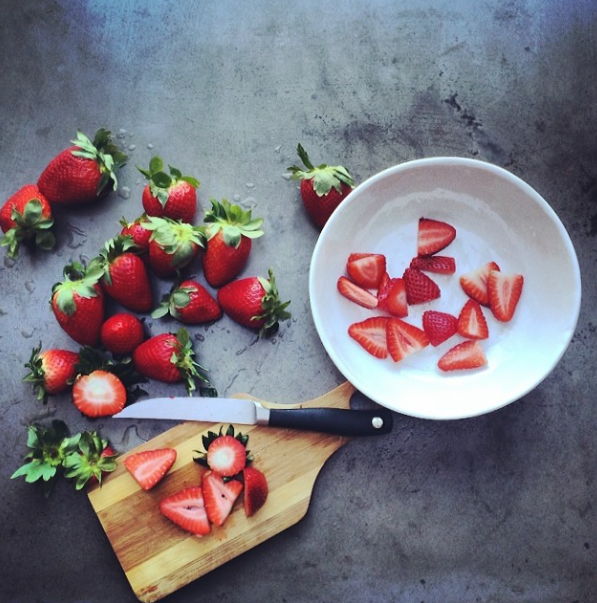 We're gonna trim the "dome" off the bottom cake to make it flat & even. This is so that it doesn't slide.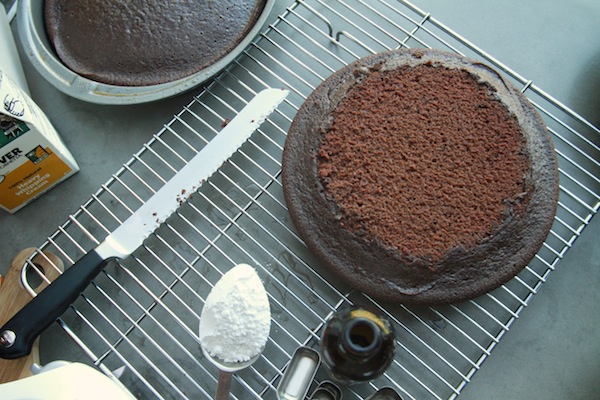 Now we make some whipped cream!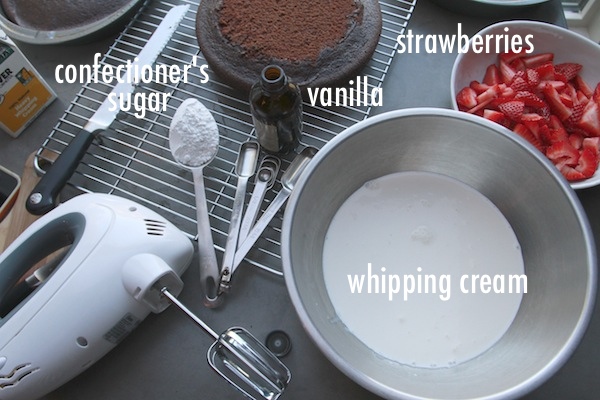 YESSSS.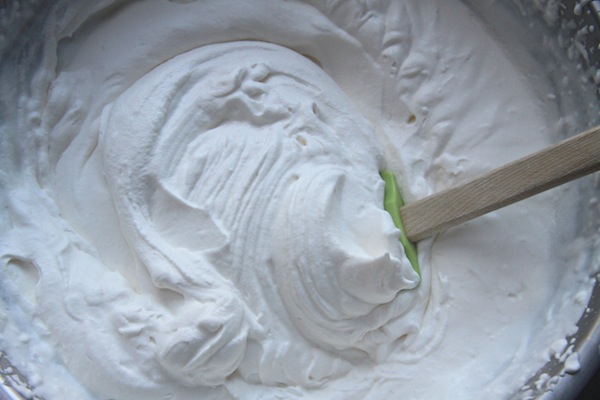 Layer half of the strawberries on top.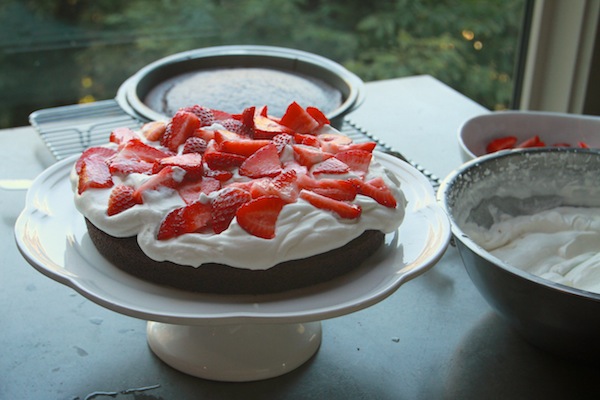 Follow it with the other cake and then spread the rest of the whipped cream on top.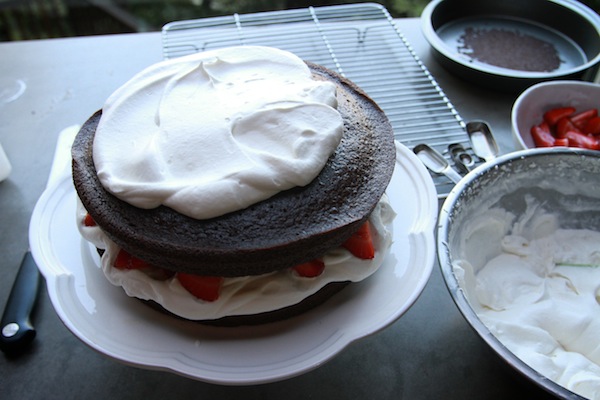 Finish with the rest of the strawberries.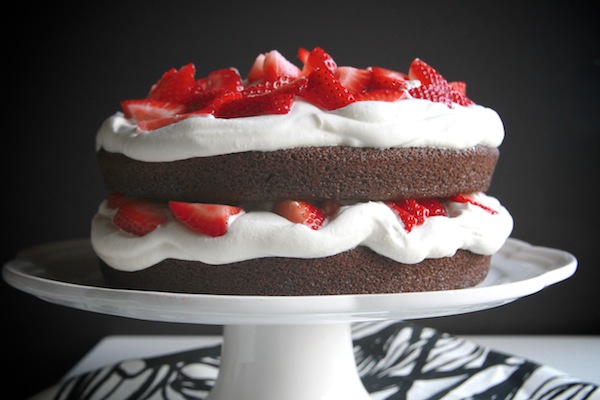 Get in there.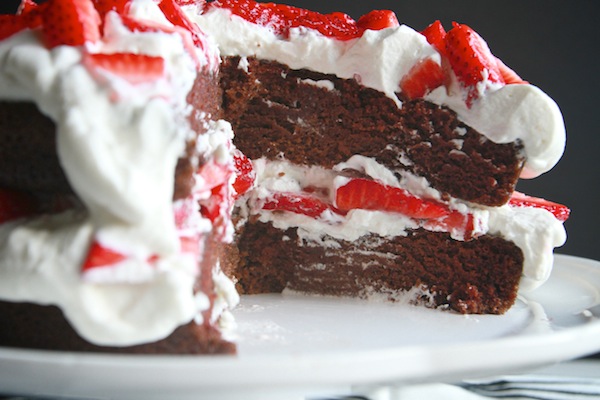 There's beauty in simplicity.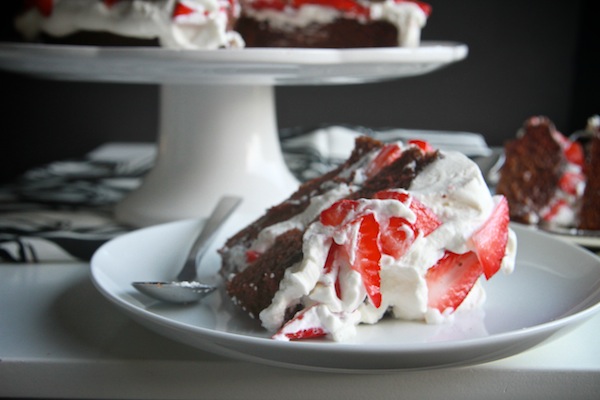 There's beauty in cake.
Chocolate Cake with Strawberries & Cream

serves 8-10

recipe slightly adapted from Mad Hungry Cravings by Lucinda Scala Quinn

for the cake

3 cups all purpose flour
2 cups sugar
1/4 cup plus 2 tablespoons unsweetened cocoa powder
2 teaspoons baking soda
1 teaspoon coarse salt
3/4 cup vegetable oil
2 teaspoons pure vanilla extract
2 tablespoons white vinegar
2 cups cold water

for the filling

3 cups heavy whipping cream (about 1 1/2 pints)
1/4 cup confectioner's sugar
1 teaspoons pure vanilla extract
1 quart strawberries, washed hulled & thinly sliced

Preheat oven to 350F with a rack in the middle position. Whisk together the flour, sugar, cocoa, baking soda and salt in a large bowl. Make a well in the center of the mixture, and add the oil, vanilla, vinegar and cold water. Whisk until well combined.

Divide the batter between two 8 inch cake pans sprayed lightly with cooking spray.

Bake the cakes, side by side for 35-40 minutes, until a toothpick inserted in the center comes out clean. Cool completely in the pans on a wire rack.

Whip the cream to soft peaks in a large bowl. Add the sugar and vanilla and whip again until just stiffened; do not over whip.

Slice the domed top off one cake round to make a flat surface and put it on a serving plate or cake stand. Spread with a thick layer of the whipped cream. Top with a layer of half the strawberries. Top with the other cake round, domed side up, and spread it with another thick layer of whipped cream. Top with remaining strawberries. Slice and serve with any extra whipped cream and berries on the side.