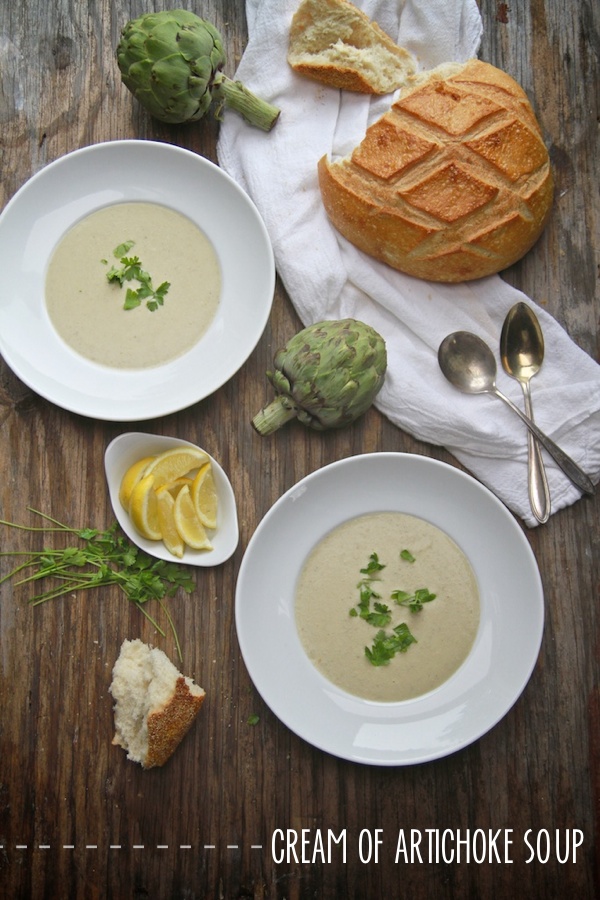 I have a super long list of recipes I want to make but every now and then I get super indecisive and can't make up my mind. When I'm stumped, I simply ask Casey what he's in the mood for. I always know his reply will be something in the hearty/creamy/meaty/warm spectrum. Last week it was:
"Cream of Artichoke Soup. Yeah. Make that."
OK. Decision made. That was easy.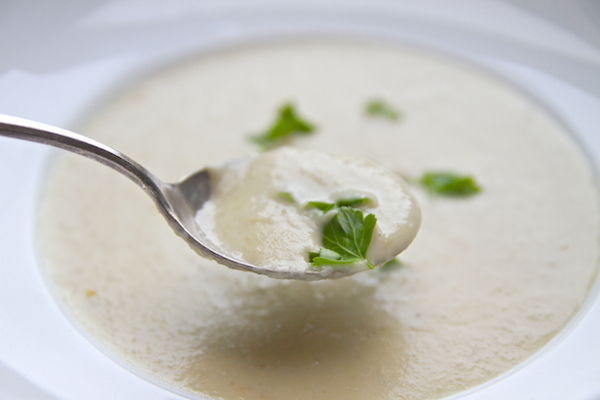 I never had Cream of Artichoke Soup until I went to Duarte's Tavern in Pescadero with Casey and his family. If you haven't been there, GO. It's a real treat. When it's a cold and foggy day, nothing tastes better than their creamy artichoke soup with torn hunks of warm sourdough bread. For Casey, it reminds him of his childhood. It's because it's a bowl of comfort. I totally get that.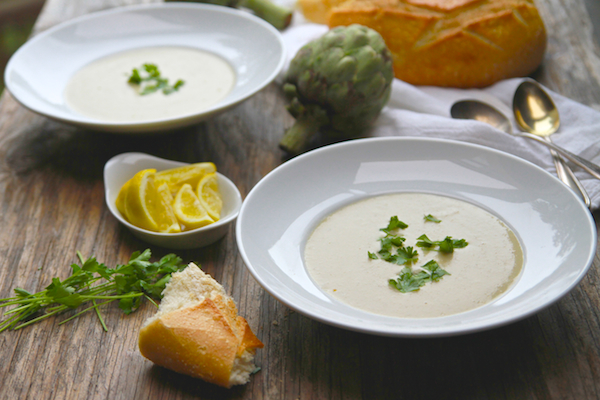 We had this soup last week for dinner. It's perfect for a chilly Spring night.  A night where you feel a little bit of wind and you're not quite ready to go sleeveless. A night when you are partially excited for warm weather but content with being inside, enjoying artichoke season.
And we're off!
The cool part about this recipe is that it can be made year round. We're using frozen artichokes, so be sure to defrost them. Also! It's really easy to make and doesn't require a ton of ingredients. BONUS.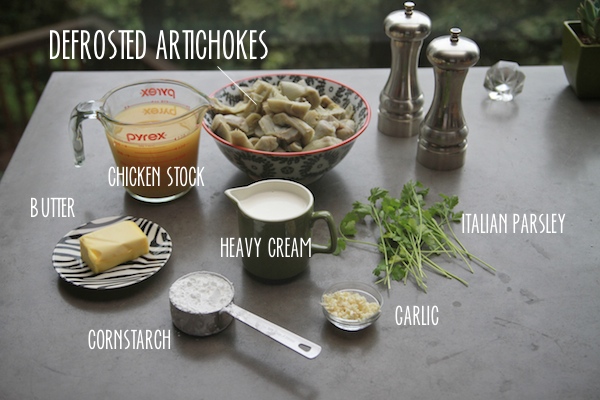 If you have a high speed blender, there's no need to chop the artichokes. Just blend them all with the water.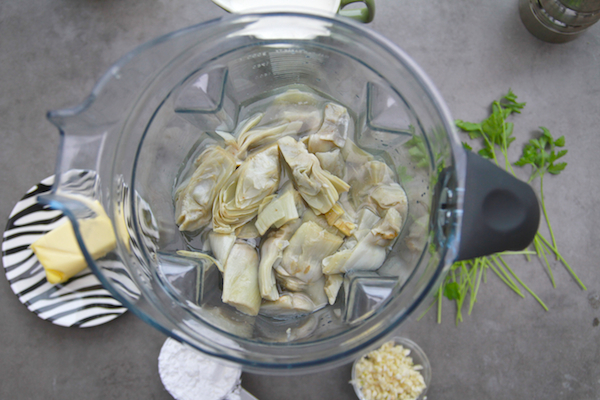 Blended.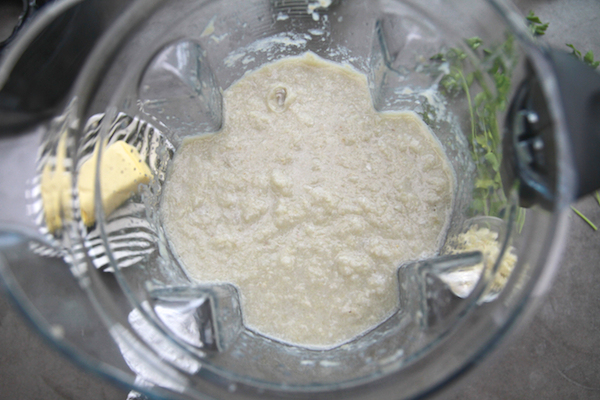 Add the puree into chicken stock, butter and garlic in a soup pot. This gets cooked over the stove for about an hour. Stir occasionally. You don't want the artichoke to stick to the bottom.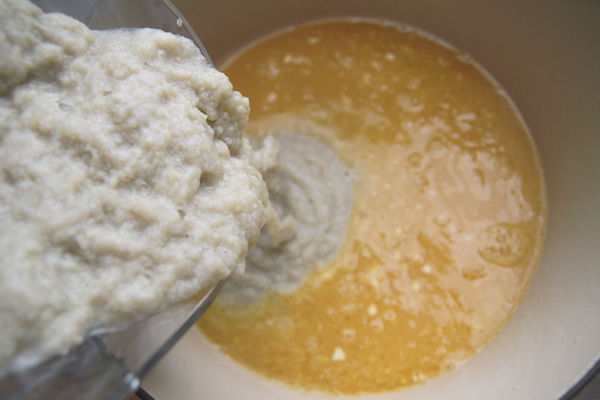 We're getting our thickening agent on! You might think the soup is already thick enough…but we're going to strain it to get rid of any tough artichoke bits. We want a creamy thick soup.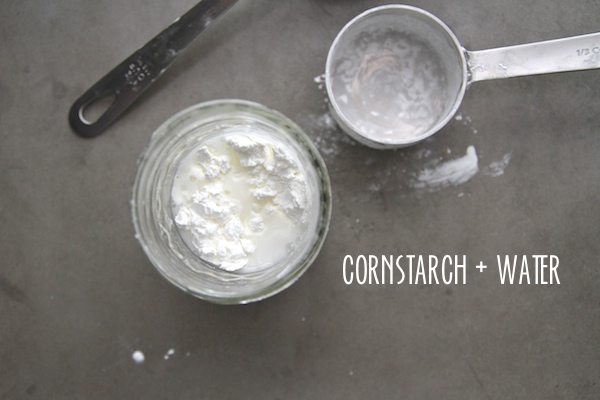 Cornstarch slurry goes in.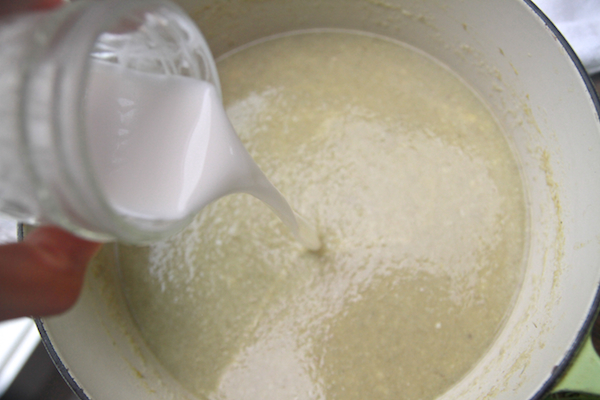 Followed by cream. Cook for another 10 minutes.
We strain and season with salt & pepper.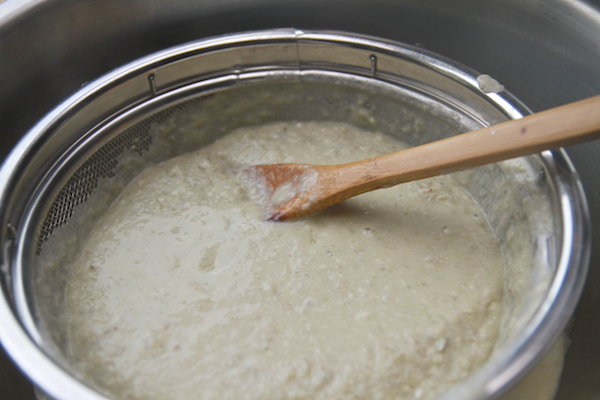 We're done!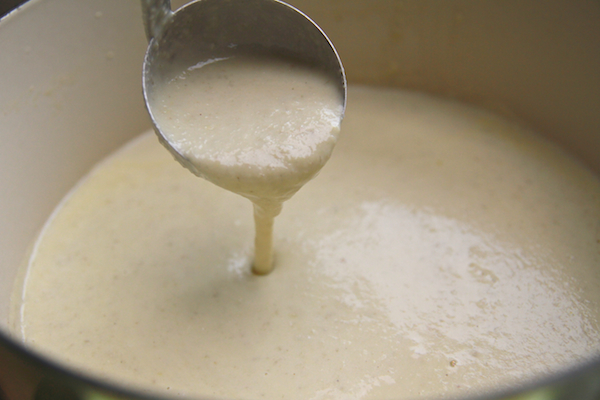 Serve with crusty sourdough bread. MAJOR!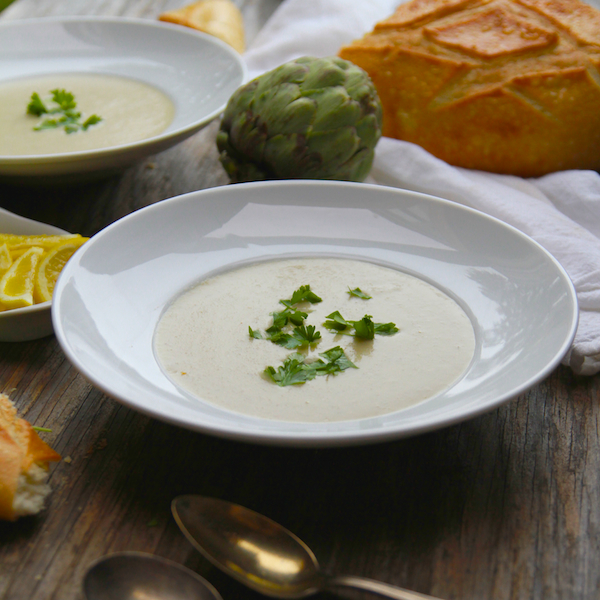 Chopped parsley on top and wedges of lemon on the side.
Cream of Artichoke Soup

serves 6

recipe slightly adapted from Saveur Magazine

2 lbs. frozen artichoke hearts,  thawed and roughly chopped
4 tablespoons unsalted butter
2 cups chicken broth
3 cloves garlic, finely chopped
Kosher salt and freshly ground pepper to taste
1⁄3 cup cornstarch
1 cup heavy cream
1 tbsp. finely chopped parsley
1 lemon, cut into 6 wedges
chopped parsley, for serving
warm sourdough bread, for serving

Working in batches, purée artichoke hearts with 2 cups water in a blender. Transfer puréed artichokes to a 6-qt. pot with the butter, chicken broth, garlic, and salt and pepper. Bring to a boil, reduce heat to medium-low, and simmer stirring occasionally, for 1 hour.

In a small jar or bowl, whisk together cornstarch with 1⁄2 cup cold water. Vigorously whisk cornstarch mixture and heavy cream into soup. Raise heat to medium-high and cook, whisking frequently, until slightly thickened, about 10 minutes. Strain soup through a mesh strainer into a clean pot over low heat; discard solids. Ladle soup into 6 bowls, garnish with parsley, and squeeze a lemon wedge over each. Serve with warm sourdough bread.