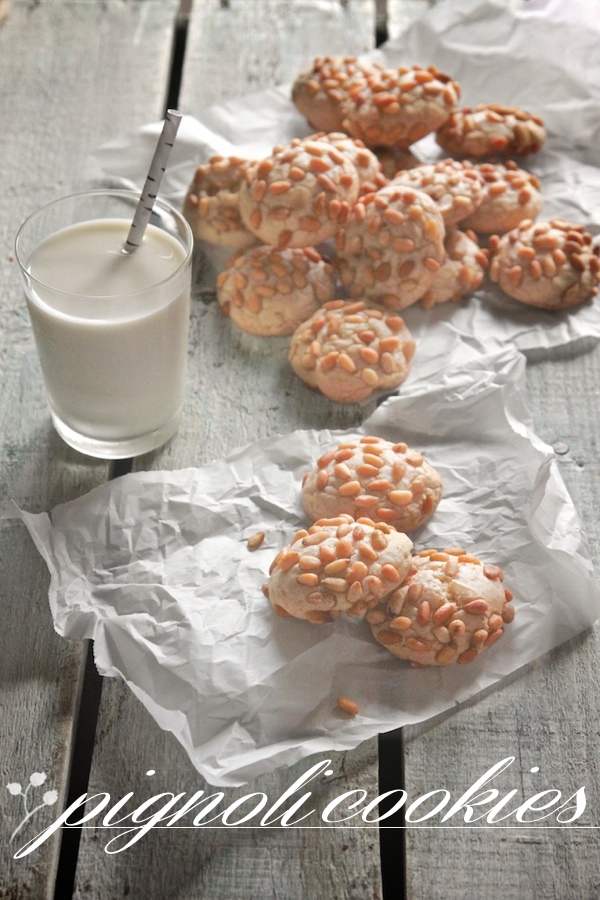 My Dad is one of those people who doesn'torder dessert yet… if YOU order dessert, he will attack your dessert with his spoon. I secretly like to watch this happen, so I make sure to order desserts he would enjoy. His dessert choices resemble mine…he likes banana bread, oatmeal raisin cookies, anything with peanut butter or bananas, coffee cakes and ALL Italian cookies. He goes nuts for biscotti, sfogliatelle and pignoli (pine nut cookies). I think anything that can be dunked into milky coffee is one of his prerequisites.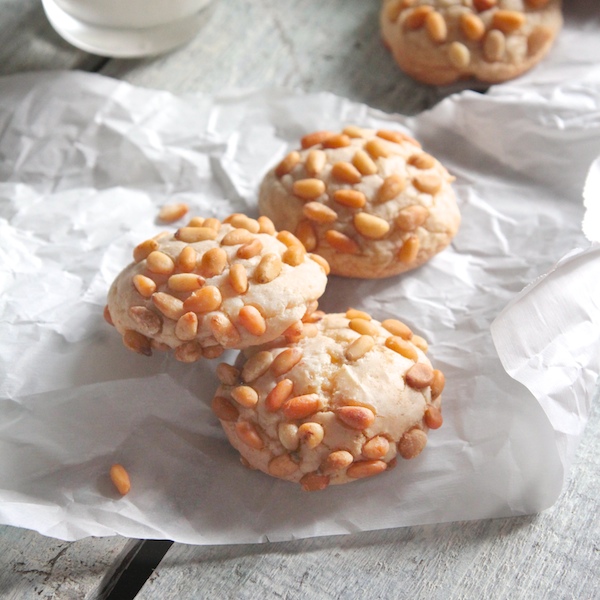 These cookies are an Italian classic. I made them a few years ago (never blogged about them though!) and I found this recipe in Martha Stewart's Cookies cookbook recently. If you've never had pignoli cookies, they have an almond paste base which makes them wonderfully chewy. The pine nuts add a nice little crunch and give then cookies a little bit of depth.  What I love about them is that they're not super sweet. I suppose my Dad would agree. He claims not to like sweets….
If you're looking to put an unexpected cookie in your cookie tray this year, you should make these!  But keep my Dad away from your tray. You'll have none left. My mom is probably nodding her head in agreement right now.
And we're off!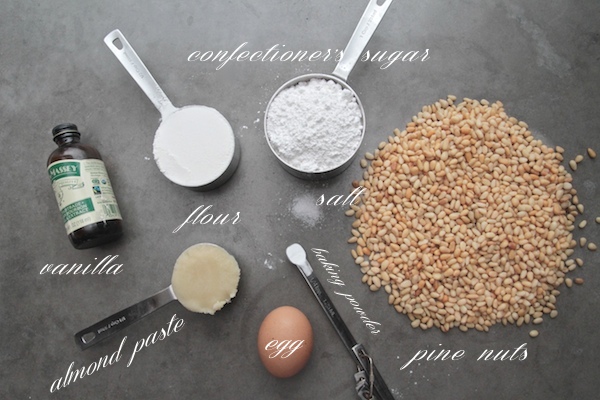 Flour, almond paste, vanilla and 3/4 cup pine nuts go into a  food processor.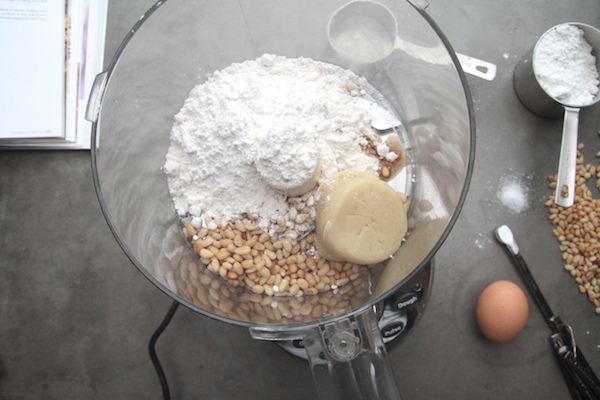 We add the egg and process.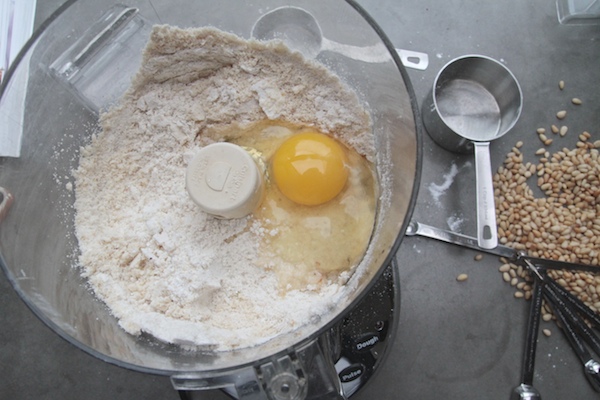 A little mixing and we have dough!
If you find that the dough is really wet and you can't roll it well into a ball, add a little more flour.
I had a JUMBO sized egg and this happened to me….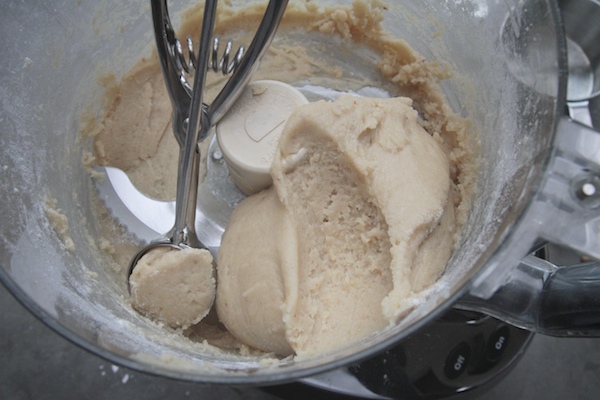 Scoop. Roll.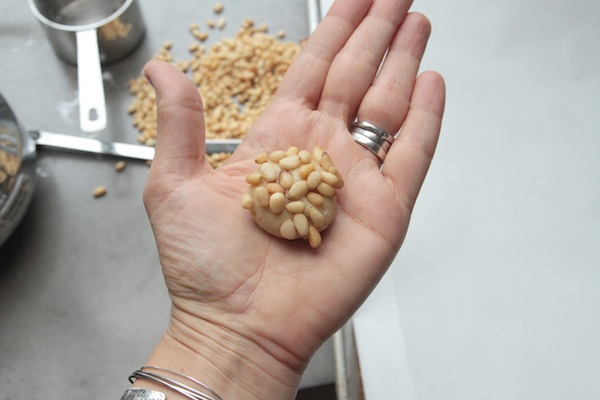 It's fun.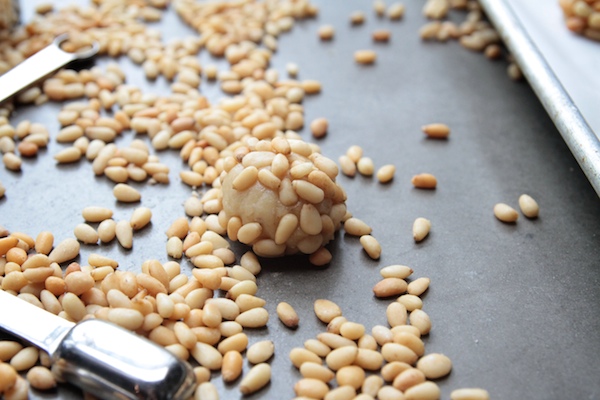 Onto a parchment lined baking sheet.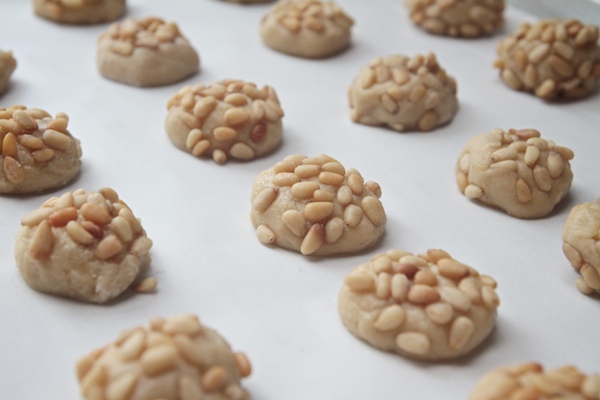 BAKED! Keep an eye on the pine nuts!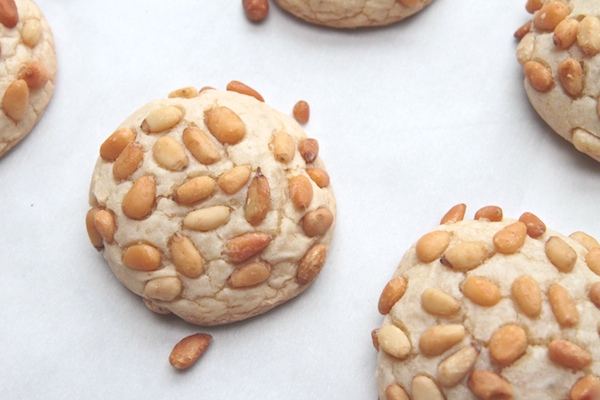 Chewy.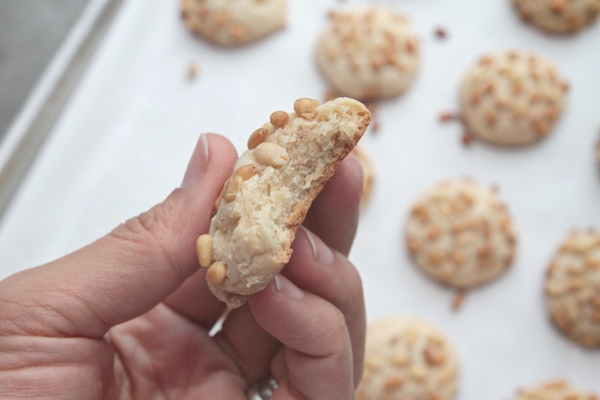 Delicious.
This recipe is apart of the Honestly Yum COOKIE SWAP!  If you click on the images below, you can find some wonderful cookie recipes on the internet!  Don't they all look fantastic??!
Pignoli Cookies

makes about 24

recipe from Martha Stewart's Cookies

2 cups pine nuts
1 cup confectioner's sugar
1/2 cup almond paste
1 teaspoon pure vanilla extract
1 large egg
1/2 cup all-purpose flour
1/4 teaspoon baking powder
1/4 teaspoon coarse salt

Preheat oven to 350F. Process 3/4 cup pine nuts, the confectioner's sugar, almond paste, and vanilla in food processor, until fine crumbs form. Add egg; pulse to combine. Add flour, baking powder, and salt; process until dough just comes together.

Roll dough into 3/4 inch balls. Roll balls in remaining 1 1/4 cups pine nuts, gently pressing to coat. Space 2 inches apart on baking sheets line with parchment paper.

Bake cookies until golden brown, about 20 minutes, rotating sheets halfway through. Let cool completely on sheets on wire racks. Cookies can be stored in an airtight container at room temperature for up to 3 days.