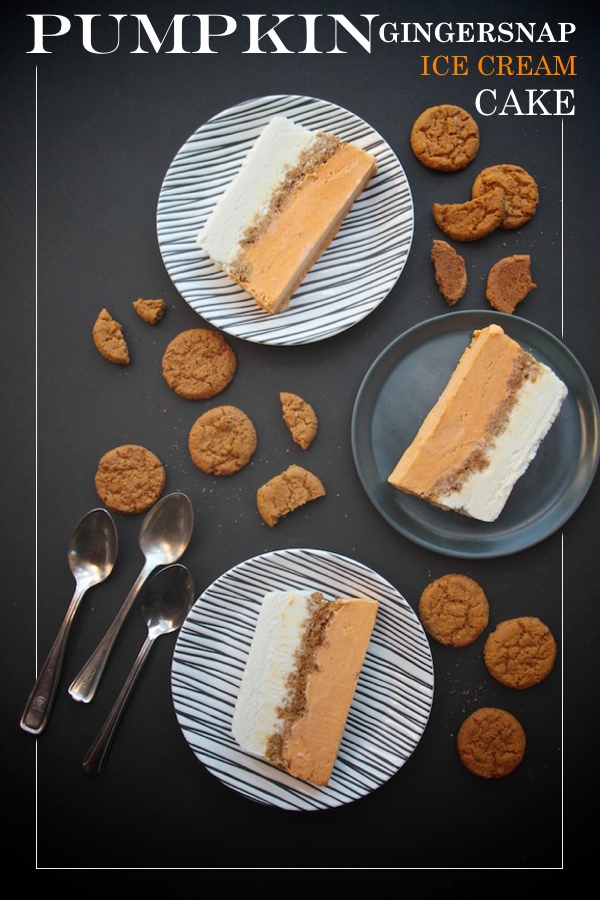 When I was busy making ice cream cakes this Summer, I had grand plans for making a pumpkin one this fall. Read: Pumpkin Gingersnap Ice Cream Cake!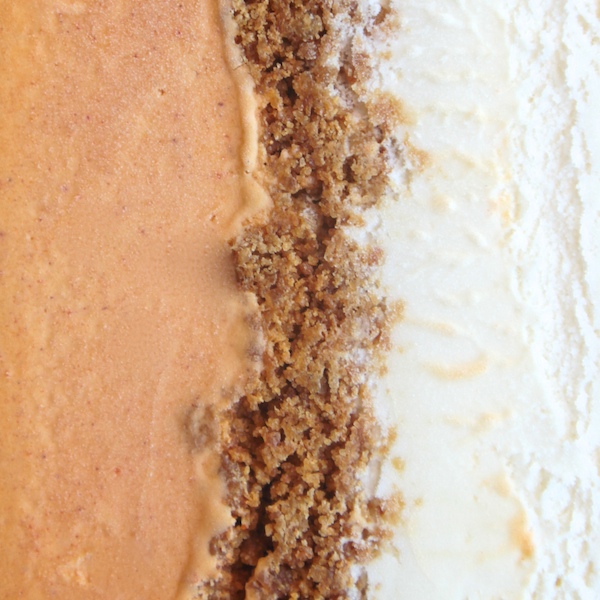 Pumpkin ice cream…gingersnaps crushed and mixed with salted butter….vanilla ice cream….
I'm kind of obsessed with the combination. It's popular around these parts.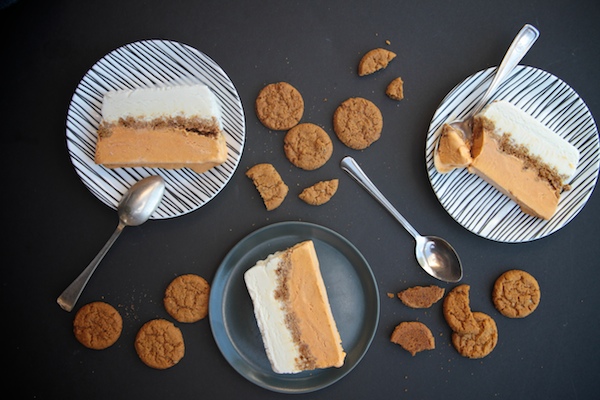 I was busy putting together a wine tasting party this weekend and I forgot to consider a dessert option…and then I remembered I had this lovely thing in my freezer so problem= solved. My kid who refuses to like anything pumpkin asked for seconds. So yeah, this ice cream cake is GOOD. It's that crunchy/chewy gingersnap layer that gets you. Consider yourself warned!
And we're off!
All items came from Trader Joe's just to make my life easier.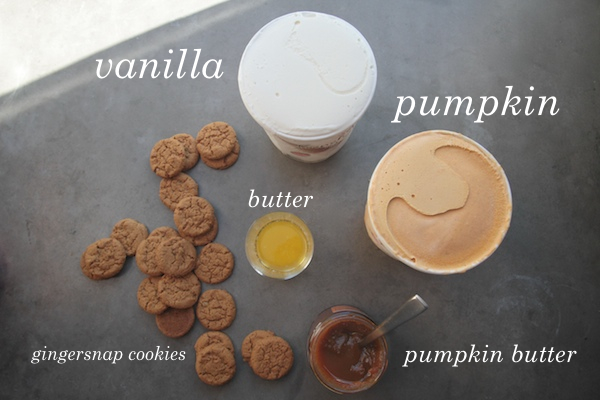 Bash up the cookies.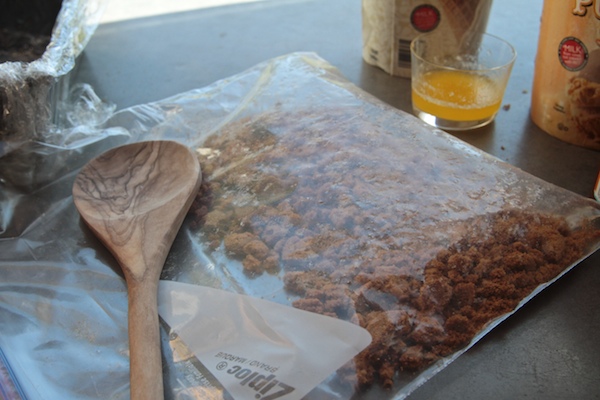 Toss them in a bowl with butter.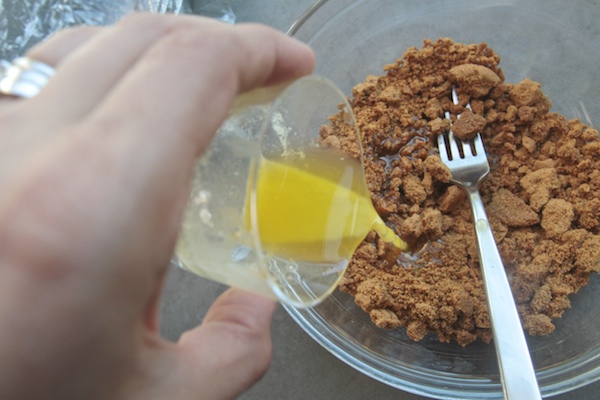 I like the gingersnaps from Trader Joe's because they have bits of candied ginger up in.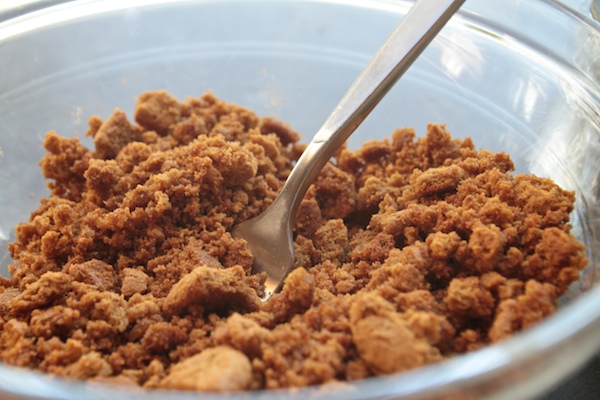 We lay down our first ice cream layer. Spread it out with a spatula.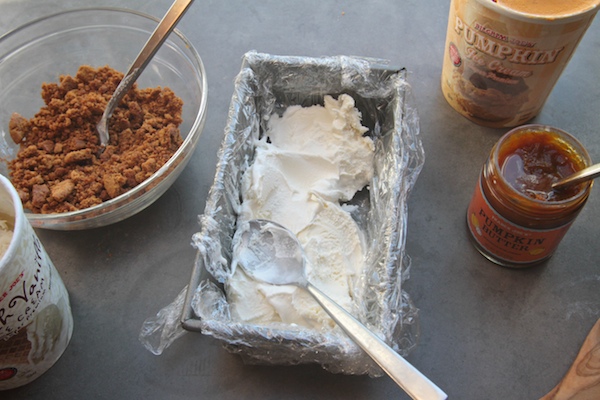 Push the buttered cookie crumbs into the vanilla.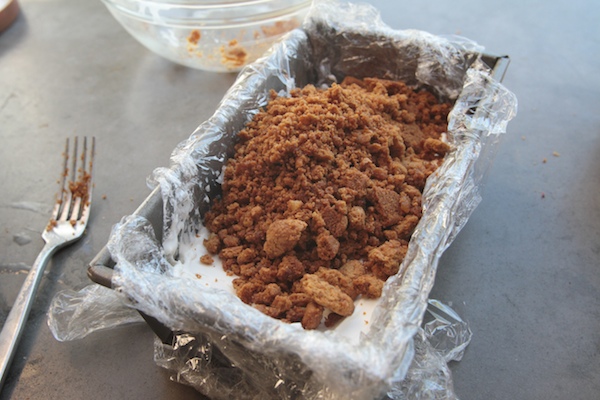 And just to UP the pumpkin game, I swirled in some pumpkin butter in the pumpkin ice cream.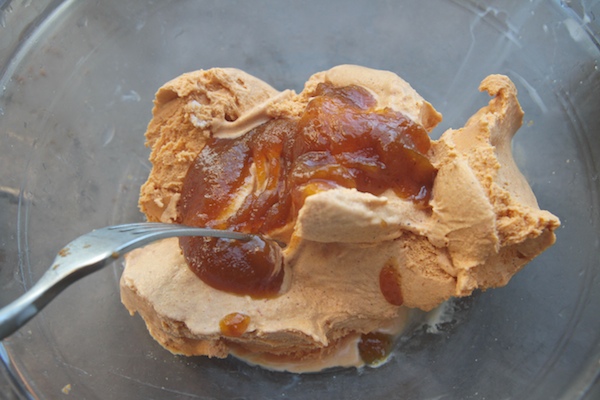 Awwww Yeah.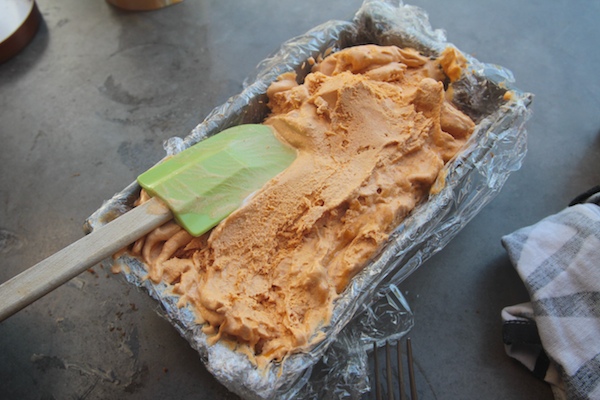 Frozen. Can you believe I haven't seen that movie? I mean.. I have a 6 year old…but he didn't like it very much when he saw it with my parents so we're not a frozen household. We're more a Lego Movie household…but I digress….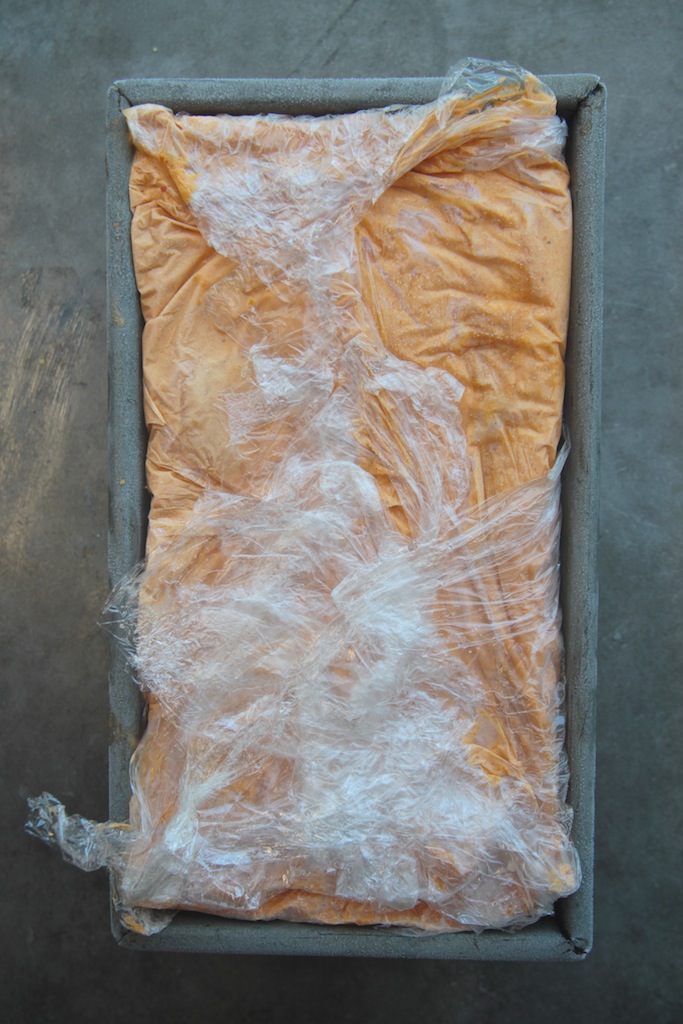 And we're ready to cut. I've said it before and I'll say it again, IT IS SO MUCH FUN to cut into an ice cream cake. It's so nice when people are hovering over you and waiting for a piece with their GIMME GIMME VIBES. If you were to scoop out ice cream it would take forever and it gets super messy. And then there's stress in that and performance anxiety and like JUST WAIT A SECOND. YOU WILL GET SOME. So yeah..this is just a cut cut cut situation and it's so satisfying to get a nice clean slice.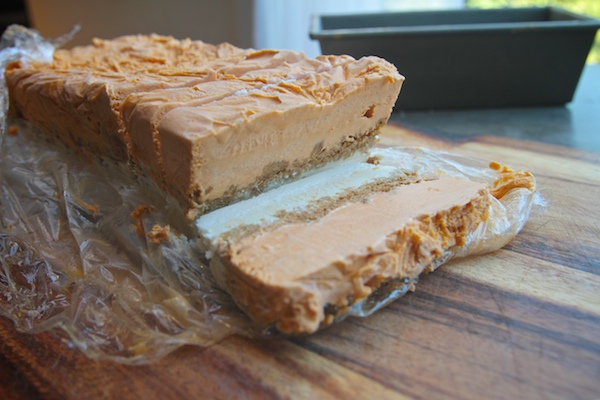 If you don't like the janky edges (from the cling wrap) you can easily cut them off for a smooth side.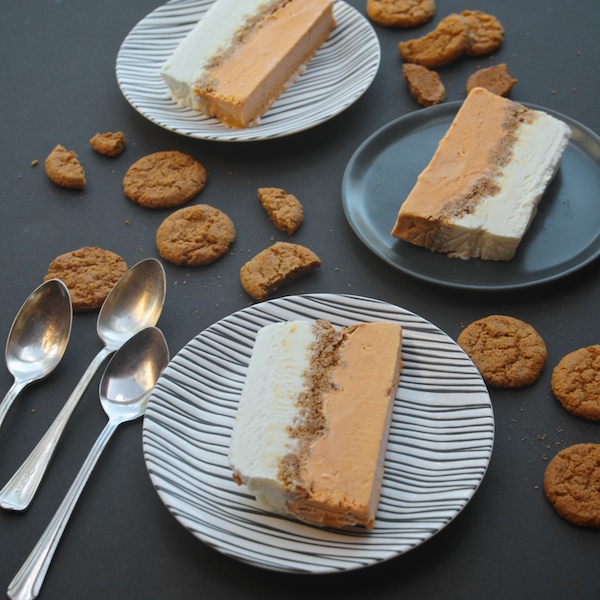 I think you'll love how the salted butter adds a little sweet/savory element to the mixture.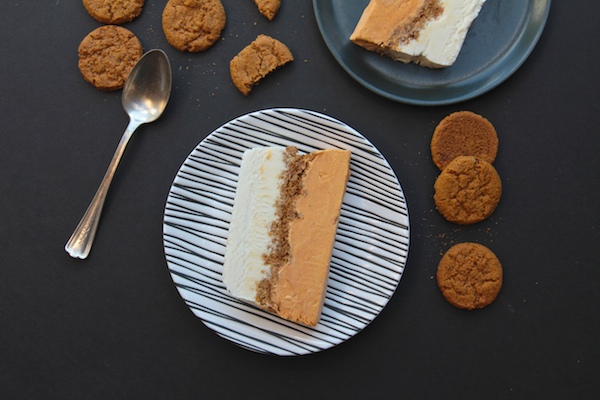 I already have plans for a Christmas ice cream cake. Stay tuned!
Pumpkin Gingersnap Ice Cream Cake

serves 8-10

25 gingersnap cookies, crushed
2 tablespoons salted butter, melted
1 pint vanilla ice cream
1 pint pumpkin ice cream
3 tablespoons pumpkin butter

Mix crushed gingersnap cookies and melted butter in a small bowl until well combined; set aside. Let the vanilla and pumpkin ice cream soften at room temperature for about 15 minutes. You want the ice cream to be spreadable. Layer a sheet of parchment paper on a 9 x 5 inch loaf pan and top parchment with cling wrap. Layer vanilla ice cream (about 4-5 scoops) on the bottom of loaf pan. Spread ice cream into the pan with a spatula making sure to push ice cream to the edges.

Place crumbled gingersnap cookies gently into the vanilla ice cream. Freeze mixture for 15 minutes. Meanwhile place pumpkin ice cream in a medium bowl and swirl in pumpkin butter with a spoon. Wrap loaf pan with cling wrap and give loaf pan a few taps to settle the ice cream into the pan. Freeze for at least 4 hours to make sure the ice cream has hardened. To serve, pull the ice cream cake out of the pan and slice into thin pieces with a sharp knife.