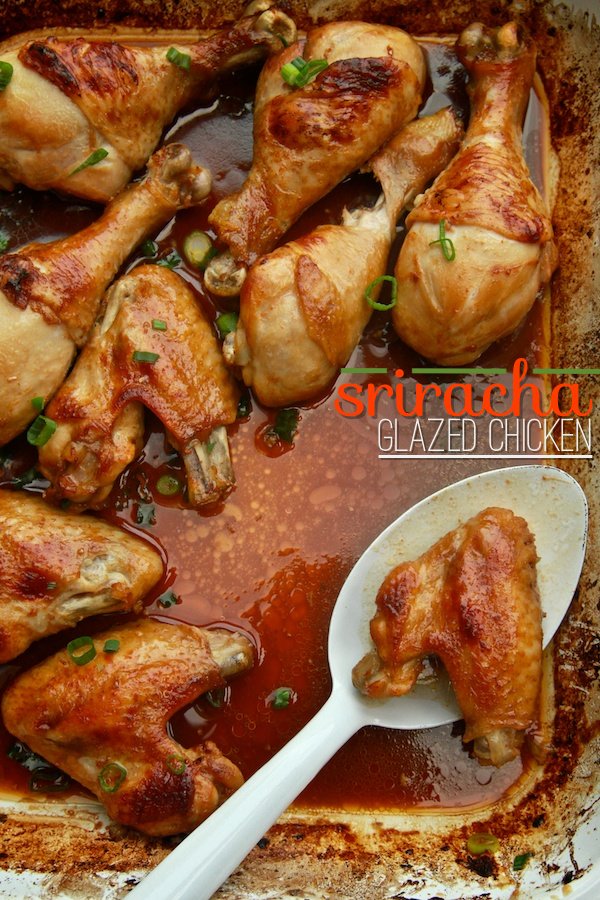 New recipe! Sriracha Glazed Chicken
Food. It's the only way you'll get me to attend a sporting event. Tailgating? Sure, I'll be there as long as someone has some 7 layer dip. I'll even wear a hat if there are brownies. Baseball game? Only if I can have a hot dog with mustard & onions, a bag of peanuts and a chocolate malt. Hockey? I dunno. Never been! What kind of food do they serve? I'll buy us tickets as long as they have churros.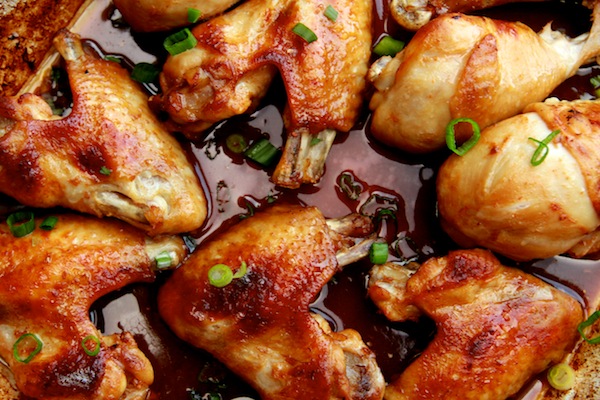 The Super Bowl is this weekend. Oh boy. The Super Bowl is all about FOOD, if you ask me. Well that and commercials and halftime shows that involve Madonna and/or Beyonce. What to bring to a Super Bowl Party??? How about Bacon Cheeseburger Pizza, Homemade Soft Pretzels, Sticky Balsamic Ribs, Sausage Jalapeno Hushpuppies or Pizza Waffles? Or what about these super easy spicy/sweet Sriracha Glazed Chicken wings & drumsticks?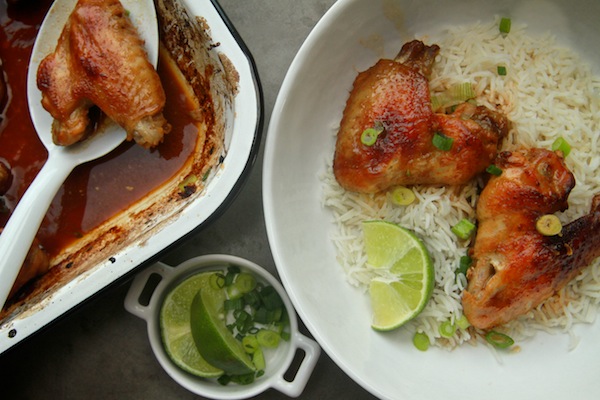 If you're looking for me during the big game, you'll find me hiding in my bedroom reading my kindle. Chances are, I took your big plate of cookies with me. Lemme know when the halftime show is on!
And we're off! This recipe is a SNAP. It's not super spicy so if you're scared, DON'T BE.
You can always add more sriracha after the fact.
Question: How many people are going to send me an article about the Sriracha factory closing down?
The answer is. I stocked up…like…it's even in our Earthquake (knock on wood) kit.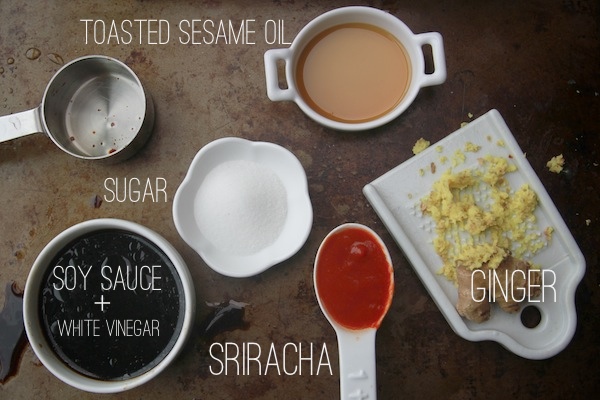 First we make our marinade. Sometimes I think it's funny that there's only a one letter difference between marinade and marinate. These are the things that (don't) keep me up at night.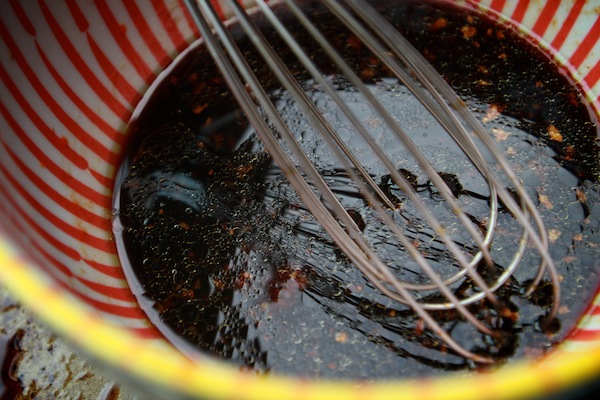 Mix it all together and marinate! We let the wings & drumsticks sit in the sauce for about 30 mins.
Make sure you toss them around as to evenly distribute the marinade.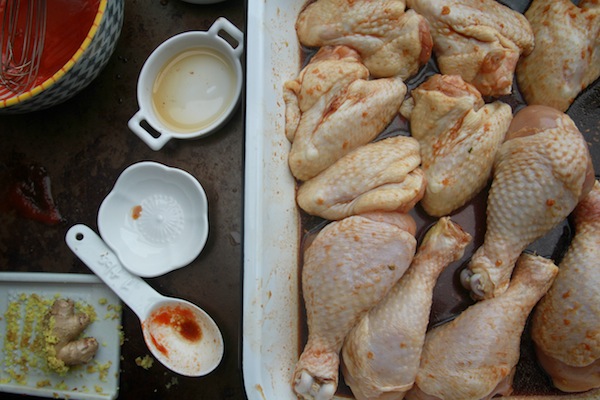 Get the oven cranking. We're ready to bake.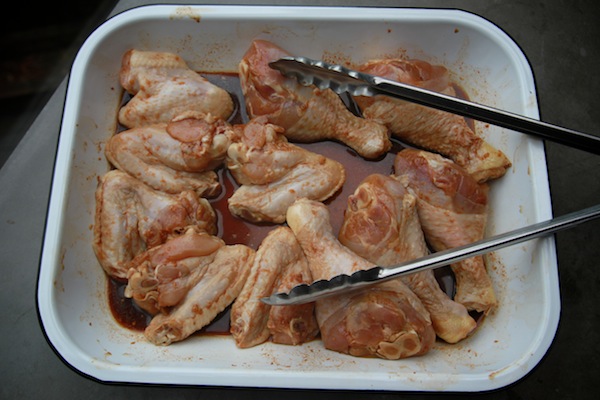 Half way through, we flip and if you want a crispy top, flip again at the last 5 minutes.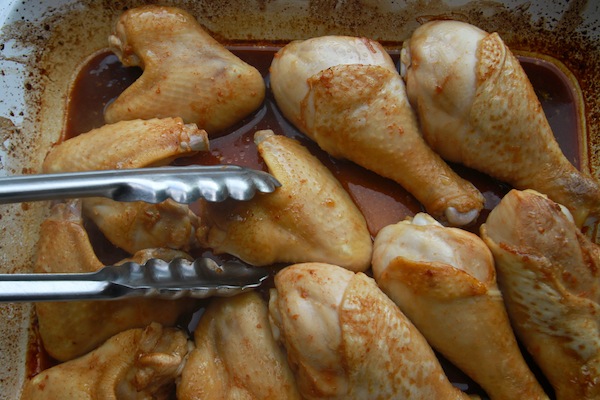 HELLO.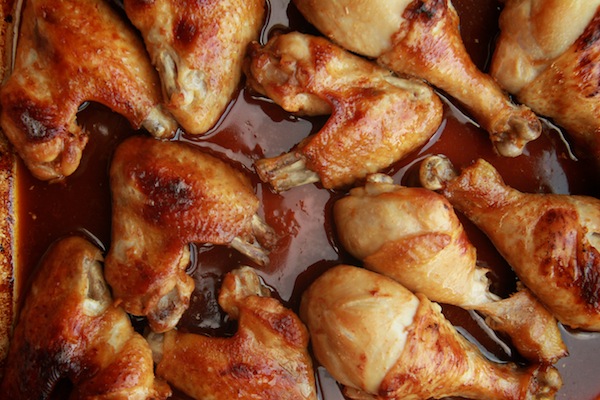 We need a garnish. Chop up two green onions.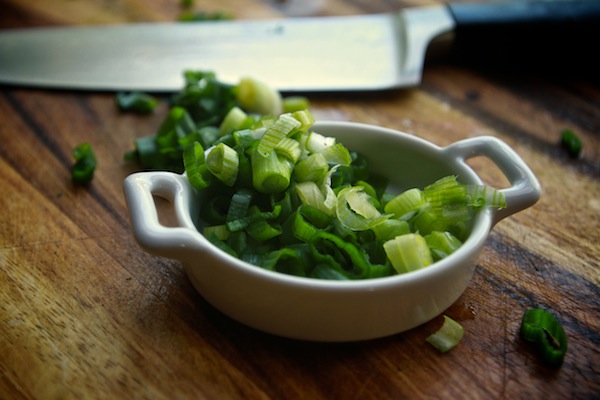 You fancy!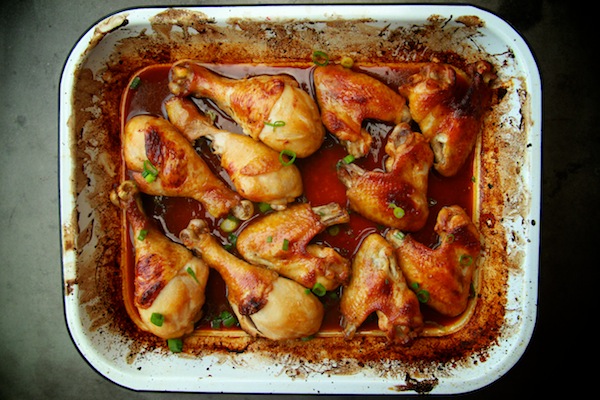 The sauce is incredible. Sweet, sour, salty. All good things.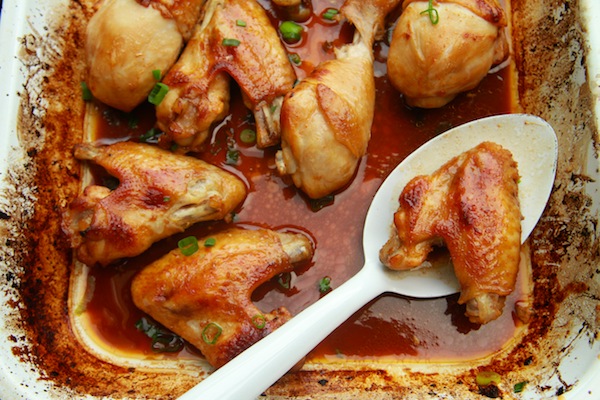 I made this chicken with rice because HELLO SAUCE.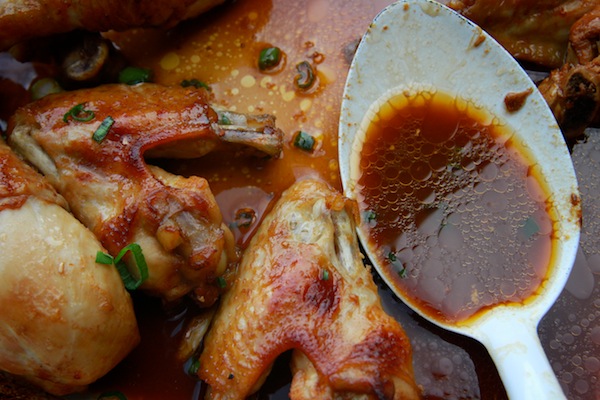 Rice. Extra Sriracha. Sauce. Lime garnish.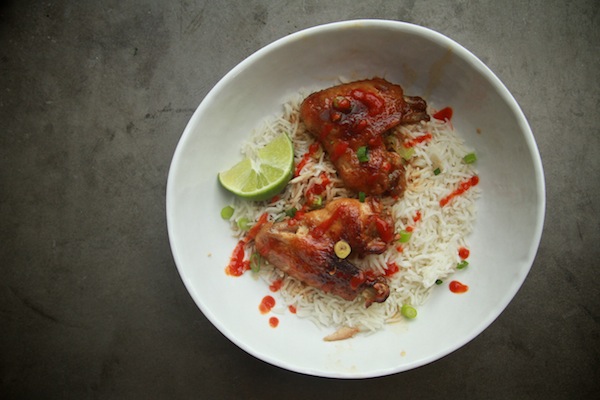 Get over here, YOU.
And if you're looking for some really good BAKED hot wings, check out these bad boys.

Sriracha Glazed Chicken

recipe slightly adapted from Everyday Food Magazine (sniff sniff)

serves 3-4

1/4 cup soy sauce
2 tablespoons plus 1 teaspoon white vinegar
1 tablespoon Sriracha sauce
1 tablespoon sugar
1 1/2 teaspoons toasted sesame oil
1 1/2 teaspoons freshly grated ginger
2 lbs. chicken wings/drumsticks
2 chopped green onions (both white & green parts)

In a small bowl, whisk together soy sauce, white vinegar, Sriracha, sugar, grated ginger and toasted sesame oil. Pour marinade into a glass or enamel baking dish and toss with the chicken. Marinate for 30 minutes, tossing halfway through. Preheat oven to 375F. Bake until chicken is cooked through and sauce thickens, 30 minutes, flipping chicken halfway through. Serve with sprinkled green onions on top.