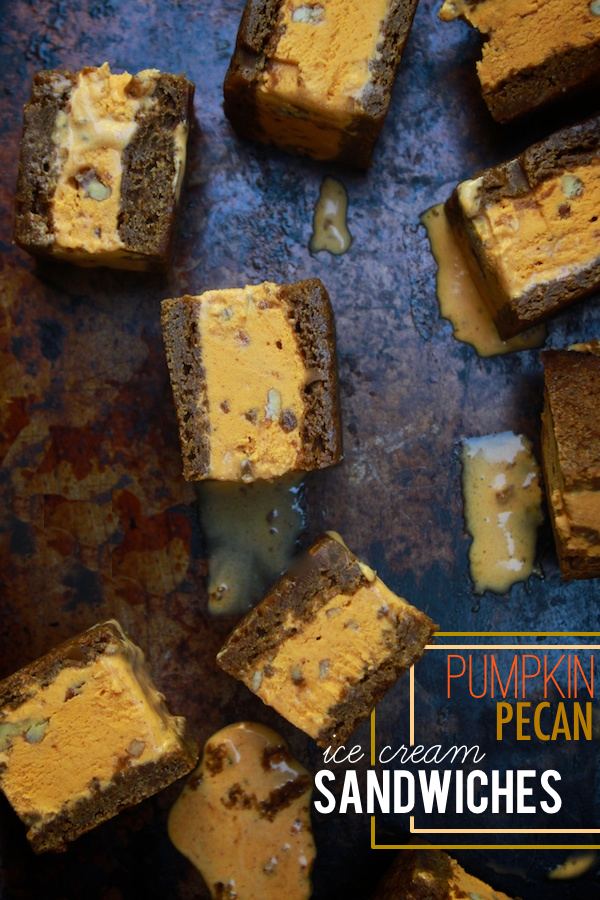 This is the part where I try to entice you with my words. But, today there are none. I MEAN.
LOOK
AT
THESE
PUMPKIN PECAN ICE CREAM SANDWICHES.
I have no words.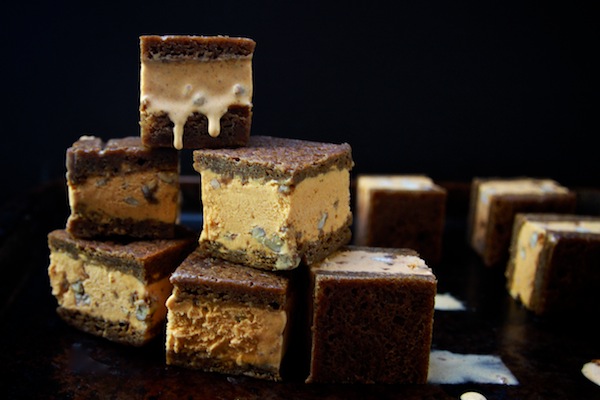 I adapted my Lemon Blueberry Ice Cream Sandwiches from this summer and made them even better!
What should we do for winter??? Something cranberry-ish! Let's think. Maybe something orange for citrus season?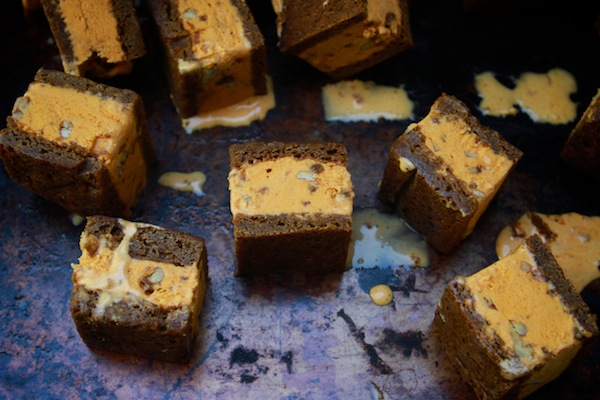 The pumpkin ice cream is dotted with cinnamon butter coated pecans and the cookie sandwich part is like a chewy ginger molasses cookie meets blondie. Iz goooooood and I CAN'T STOP EATING THEM which means YOU SHOULD MAKE THEM like NOW.
First we make our cookie base. Instead of making individual cookies we're gonna make squares and sandwich!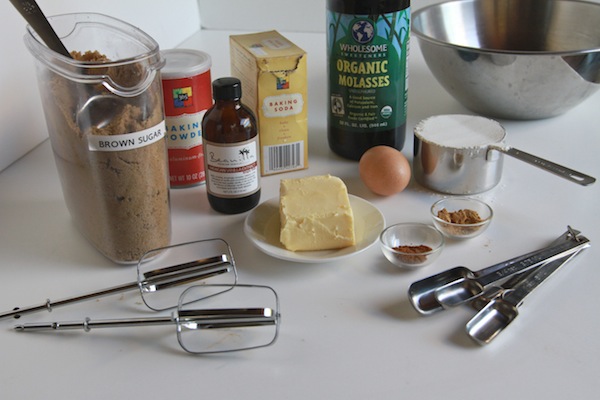 Dry ingredients.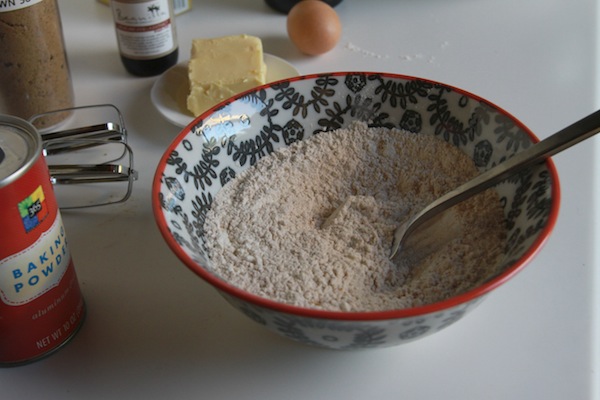 Meet butter and brown sugar and then MOLASSES & vanilla joins the party.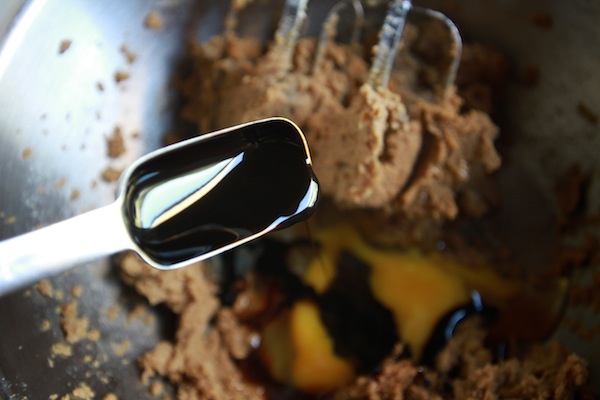 Creamy dreamy. We add the flour mixture and BAM. Batter.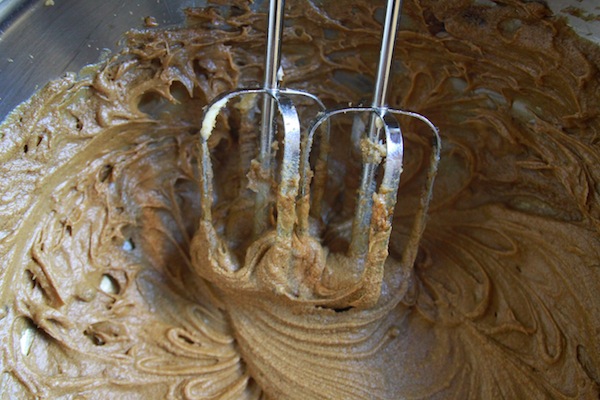 Foiled lined baking pans! Spray them with cooking spray. Spread that batter around.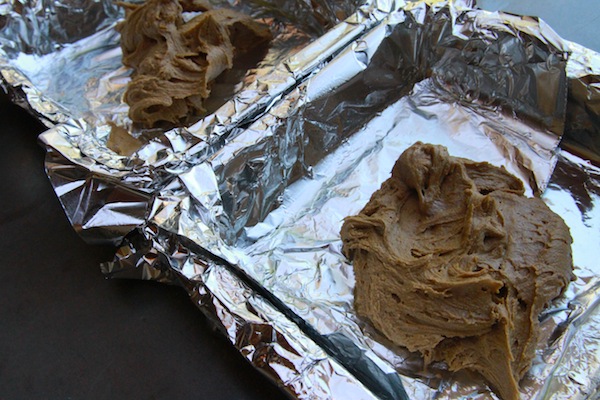 Off to the oven.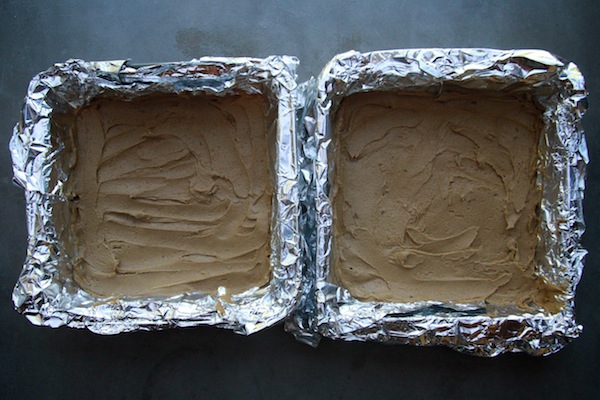 Let's make the buttery cinnamon sugar pecans. I use salted butter & a pinch of salt. CUZ WHY NOT.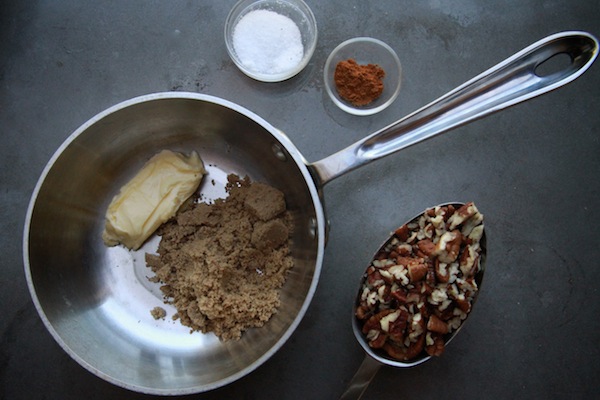 Uh huh.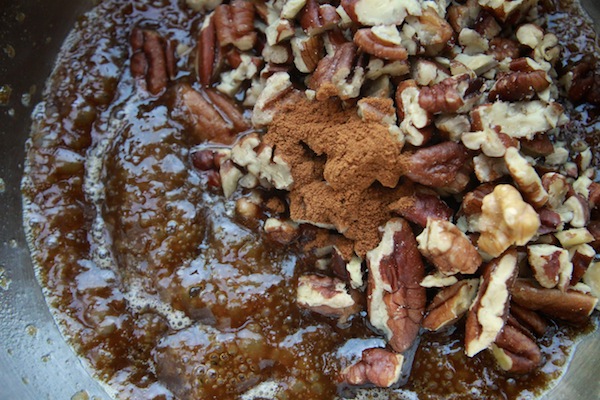 We use store bought ice cream for this one. PUMPKIN!! I had no idea this has booze in it. BONUS.
Also— Pilgrim Joe's OH YOU!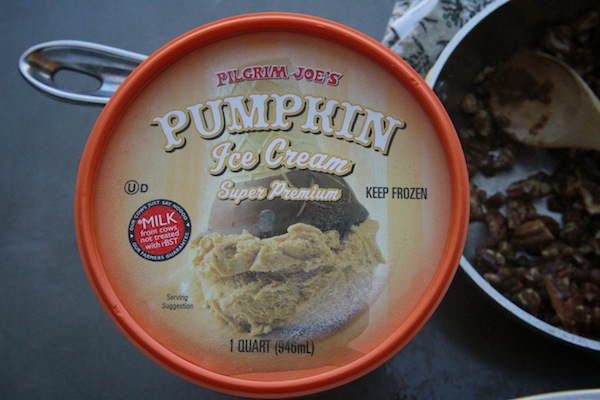 And we mix!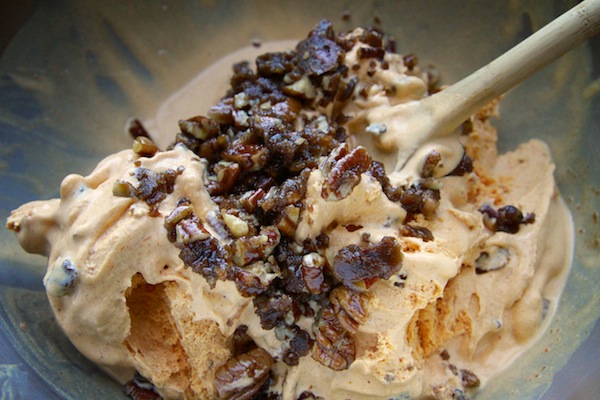 And it's mixed!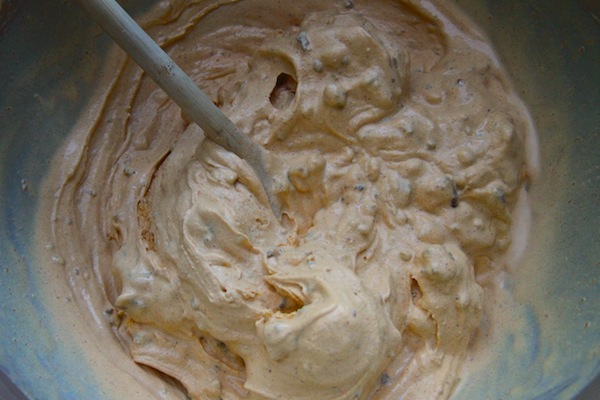 Cookie bases are done.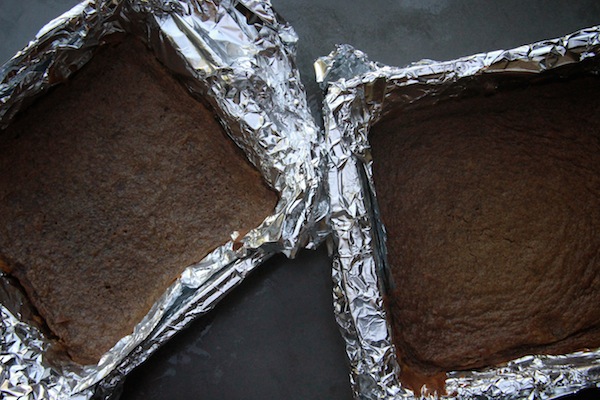 Ice cream goes on top.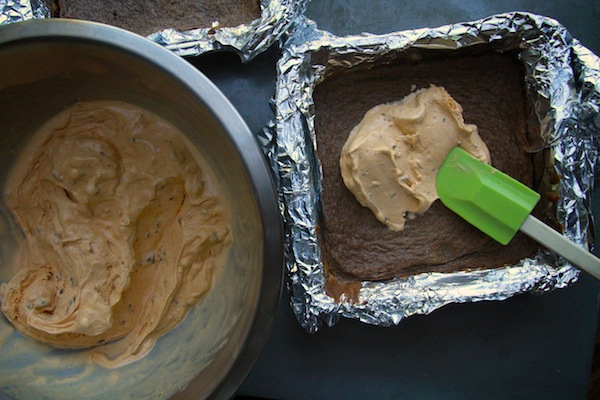 Sandwich TIIIIIIIME.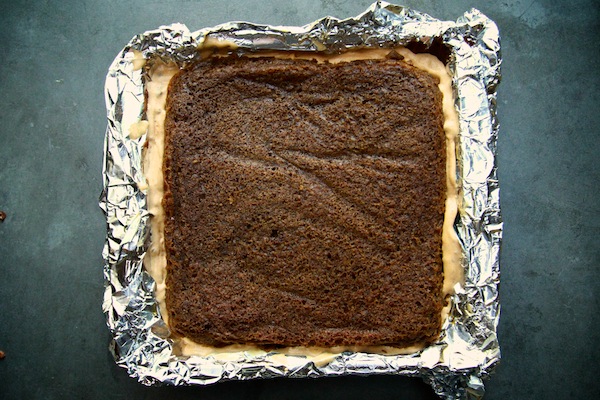 Let it sit in the freezer for 6-8 hours to firm up.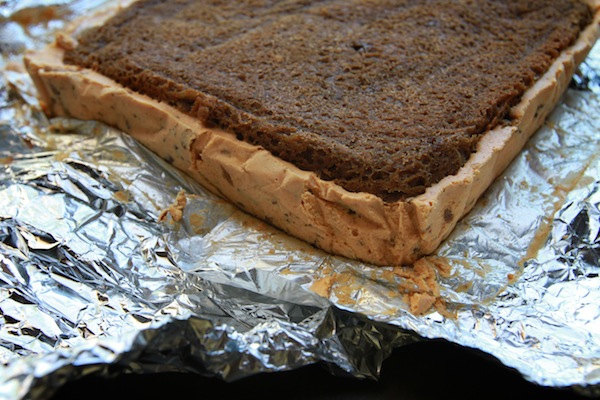 Trim the edges. Eat the edges.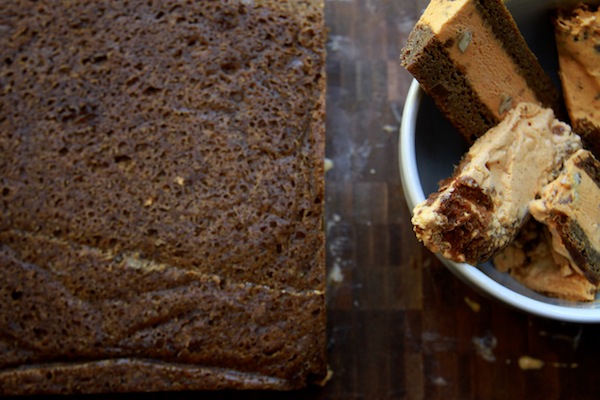 Cut them up!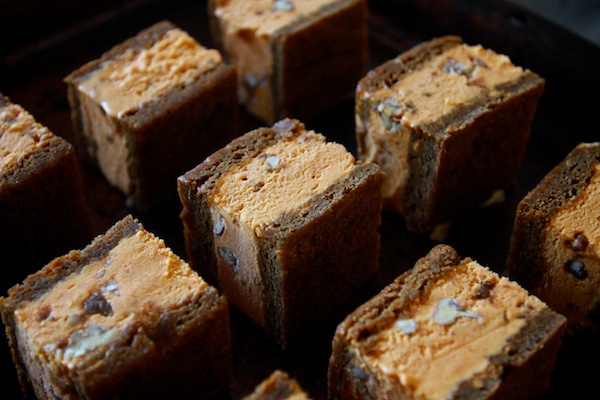 Stack them and watch them melt.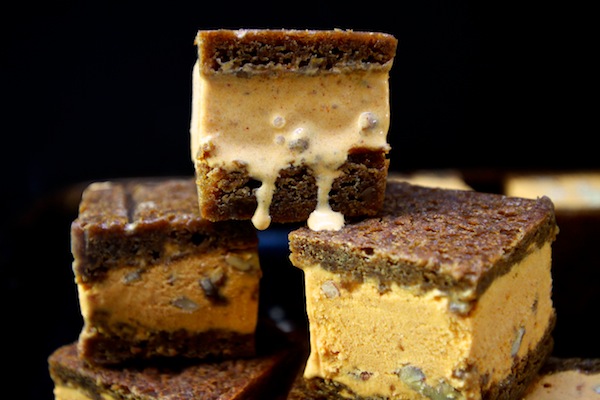 Now have an eating contest. I bet you'll win.
If you're looking for other PUMPKIN FILLED RECIPES, I suggest:
PUMPKIN CAKE WITH BROWN BUTTER ICING
PUMPKIN HAZELNUT GRILLED CHEESE
Pumpkin Pecan Ice Cream Sandwiches

makes 12 (or more, depending on how you cut them!)

for the pecan pumpkin ice cream:

3/4 teaspoon ground cinnamon
2 tablespoons salted butter
pinch kosher salt
1/8 cup brown sugar
1/2 cup chopped pecans
2 pints (1 quart) pumpkin ice cream

for the cookie layer:

1 cup all-purpose flour
1/2 teaspoon baking powder
1/4 teaspoon baking soda
1/4 teaspoon salt
3/4 teaspoon ground ginger
1/2 teaspoon ground cinnamon
1 stick unsalted butter, softened
3/4 cup packed light brown sugar
1 large egg
1 tablespoon molasses
1/2 teaspoon pure vanilla extract

Make cinnamon pecans:

In a small pan, melt butter and sugar over medium heat until sugar and butter are completely melted. Add pecans, cinnamon and salt; stir to coat. Cook for another 2-3 minutes until pecans are nicely glazed. Transfer to a bowl and set aside.

Make pumpkin pecan ice cream: 
Let ice cream sit out for 10-15 minutes at room temperature, until it reaches the consistency of soft serve.  Transfer ice cream into a big bowl and stir in the cinnamon pecans. Cover the bowl with plastic wrap and freeze while making sandwich layers.

Make sandwich layers while compote chills:
Preheat oven to 375°F with rack in middle. Butter baking pans and line with foil, leaving a 1-inch overhang on each side, then butter foil.

Whisk together flour, baking powder, baking soda, ground ginger, cinnamon and salt in a small bowl. Beat together butter and brown sugar in another bowl with an electric mixer at medium-high speed until pale and fluffy, about 3 minutes. Beat in egg, molasses and vanilla. At low speed, add flour mixture in 2 batches, mixing until just combined.

Divide batter between baking pans and spread into thin, even layers with offset spatula. Bake until golden-brown but still tender, 10 to 12 minutes. Cool completely in pans, about 30 minutes.

Assemble sandwiches: 
Spoon all of ice cream over 1 sandwich layer (in pan) and spread evenly using clean offset spatula. Invert second sandwich layer over ice cream, pressing gently to form an even sandwich. Wrap baking pan in plastic wrap and freeze until firm, at least 5 hours.

Transfer sandwich to a cutting board using overhang. Trim edges if desired, then cut into 12 pieces.