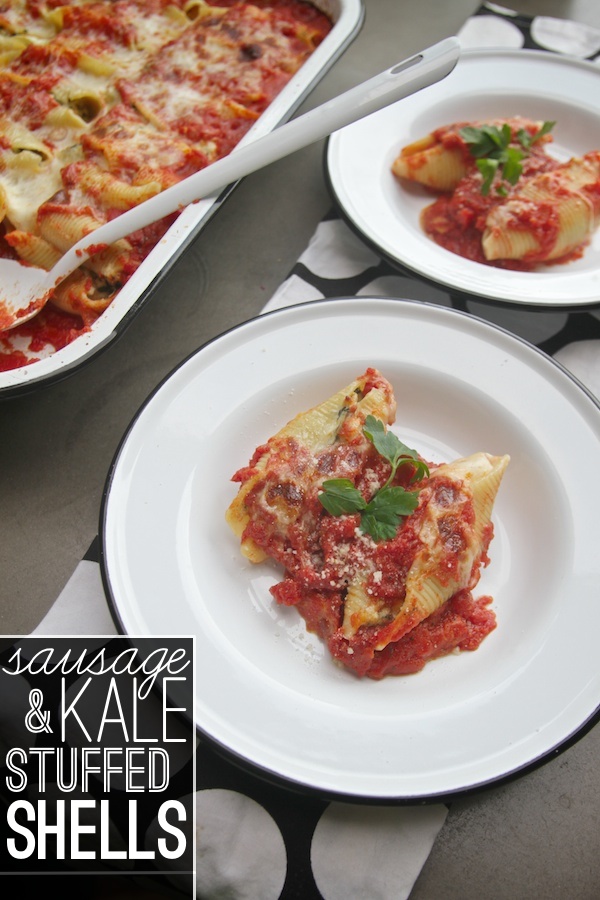 Monday. Let's do this. We will probably be eating these stuffed shells for dinner tonight since I had bright idea to freeze half of the batch and tuck them into our freezer last week. Three cheers for thinking ahead! I love when I do that.  God knows I didn't have energy to do any meal prep yesterday because I was too busy watching the SEASON FINALE of True Detective.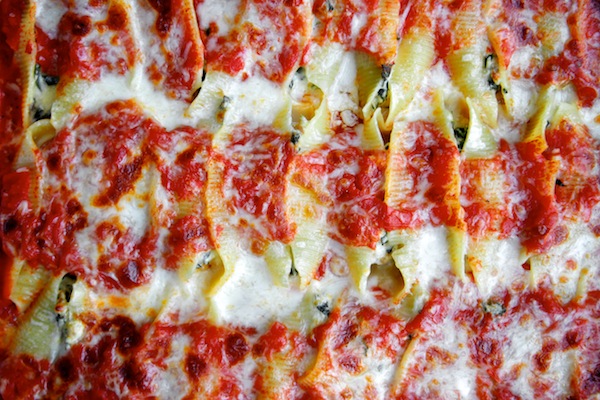 Stuffed shells always seem like a real treat, don't they? My grandma made them for us on special occasions. We left our plates clean!  I really wish I could get Cooper to try them so he could have the same childhood experience, but I'll just continue making large batches and freezing half for Casey and I. We're big fans and my coworkers sure enjoyed the leftovers.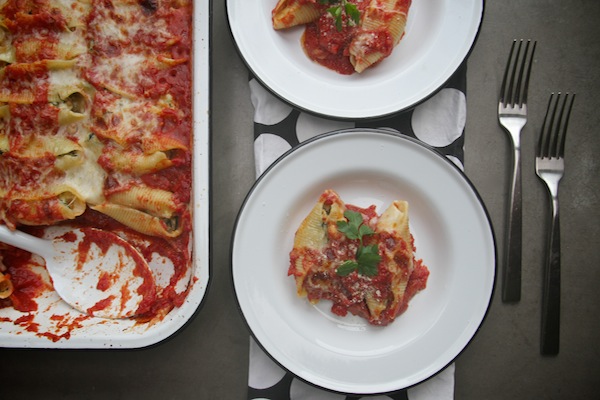 Stuffed shells are for those who like lasagna but don't want to commit having to cut gooey/messy squares and while fighting for edge pieces. Shells are scoopable! One? Two? Four? Easy. I'm not sure why we didn't have these more when I was a kid. They honestly don't take that long to make. Once you have a rhythm going it's smooth sailing. These shells  in particular are fortified with sausage & kale. You can easily omit the sausage if you desire. The kale tastes just like spinach and nicely mixes with the cheesy ricotta filling. I think you'll like it. I think you'll like the stash you put in your freezer for future Mondays even more.
And we're off!
First we start with the kale & sausage mixture. We're gonna need to cook it.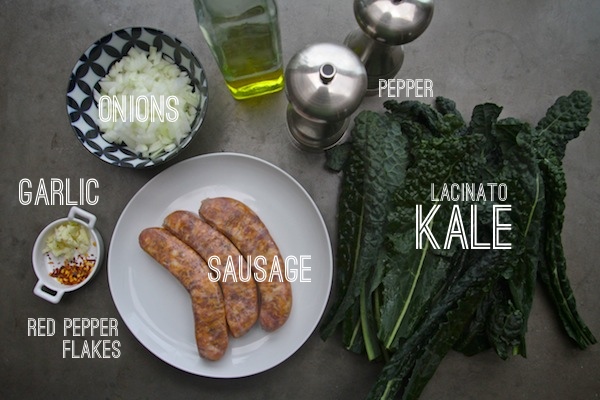 Sausage, olive oil and red pepper go into a hot skillet. We break down the sausage.
You could always use hot Italian sausage in the filling. Just add less red pepper flakes.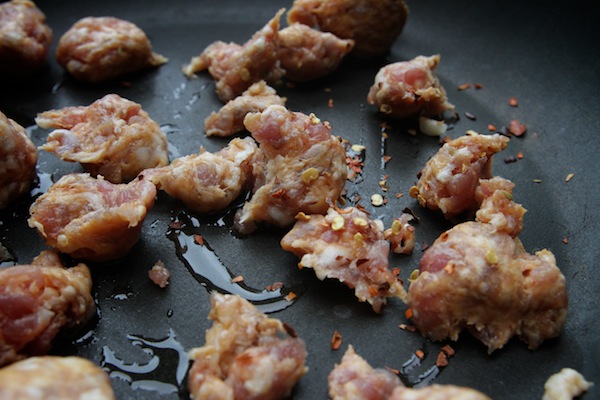 Keep cooking the sausage. Add in the chopped onions. Cook until they are sweated.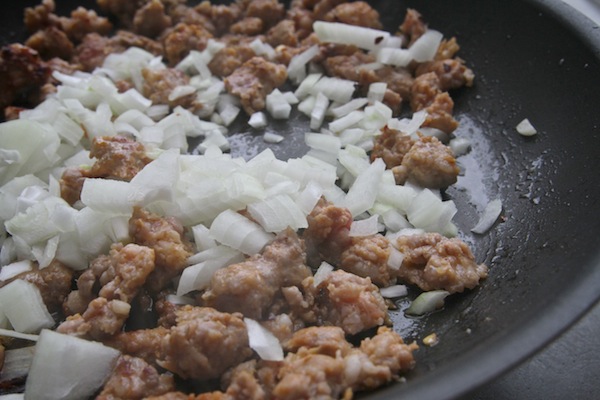 KALE TIME.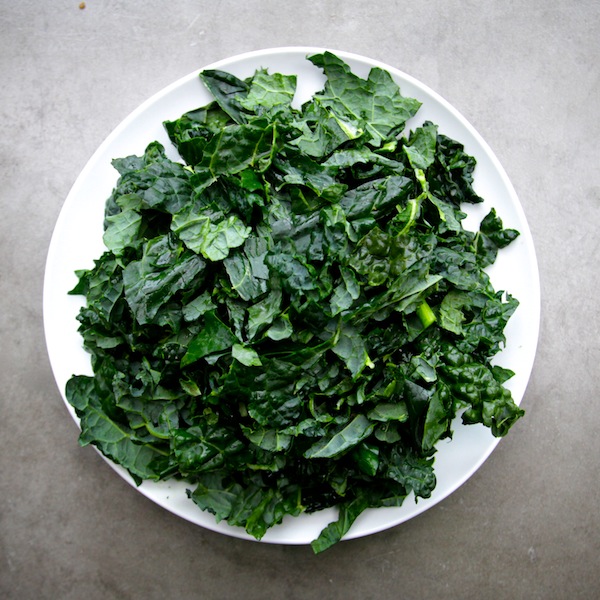 Add the kale in. Cook for a few minutes until it gets soft. Add chopped garlic and cook for 2 mins.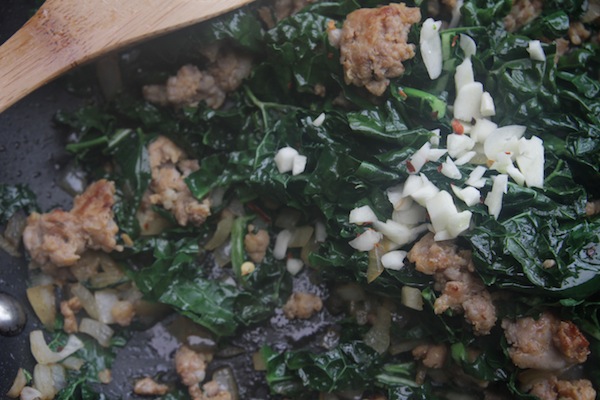 Let mixture cool. We're gonna chop it up so it mixes nicely with our filling.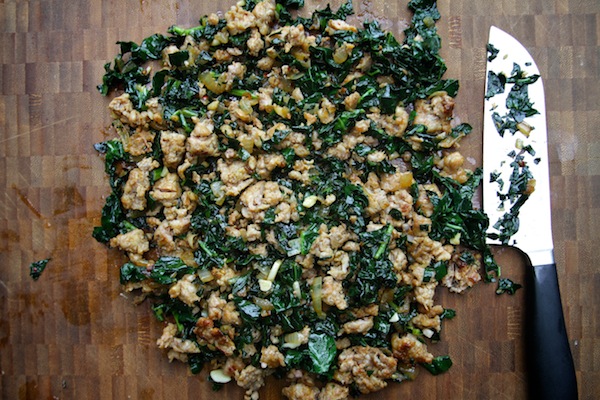 Filling ingredients!!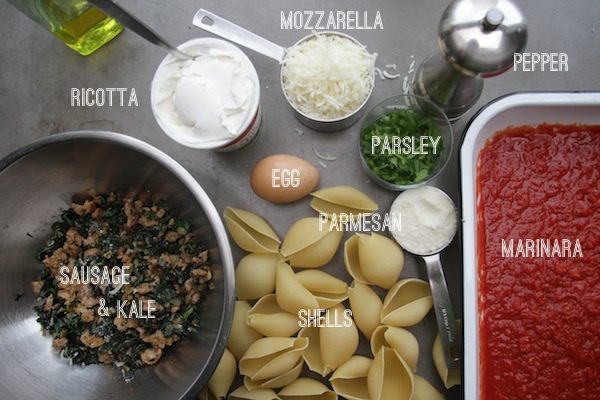 Mix it up. Line a baking dish with marinara sauce.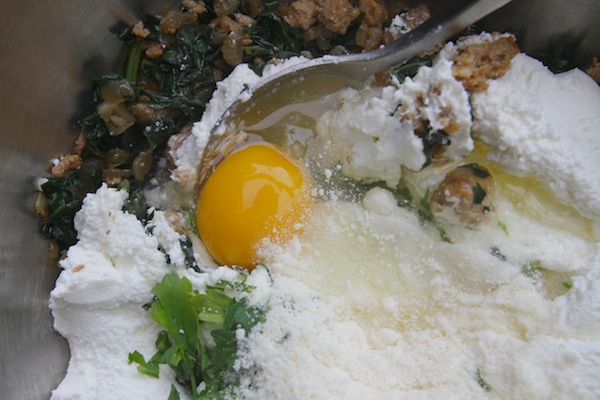 Filling is ready.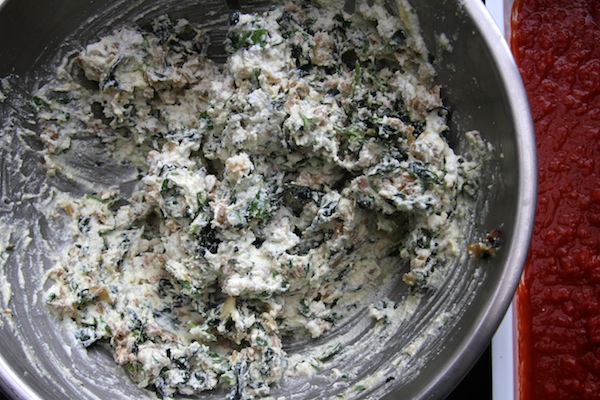 Cook the shells! Transfer them to a paper towel lined baking sheet.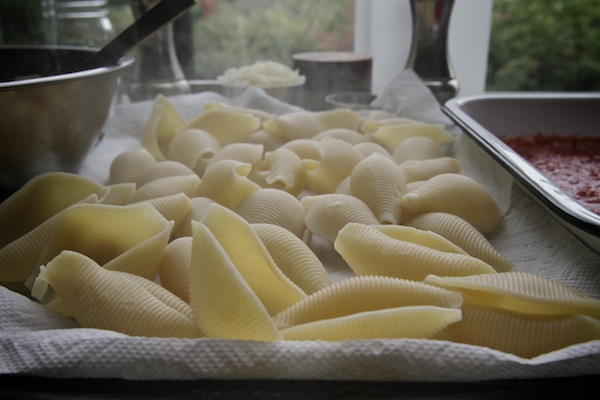 Let the assembly begin.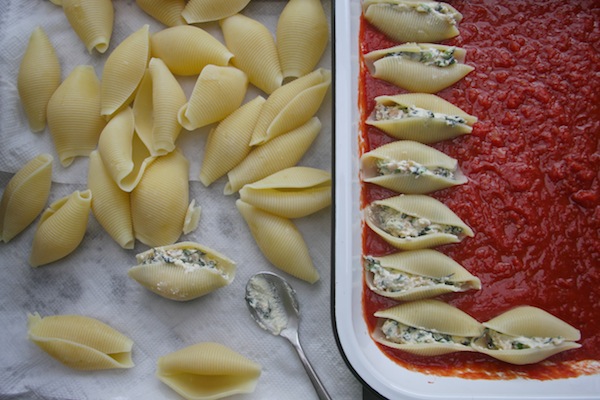 All lined up.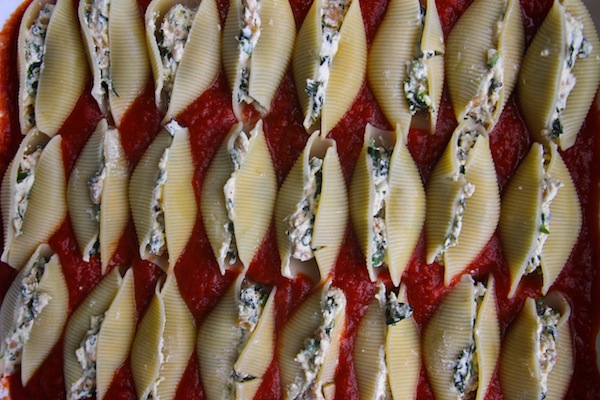 I used an 8 x8 baking pan and a 13 x 9 baking pan for this whole batch.
I'm pretty sure they would have all fit if I put them in the bigger baking pan.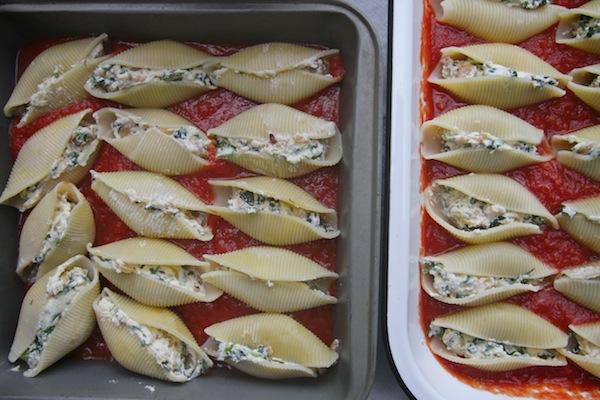 Top with sauce. Top that with mozzarella.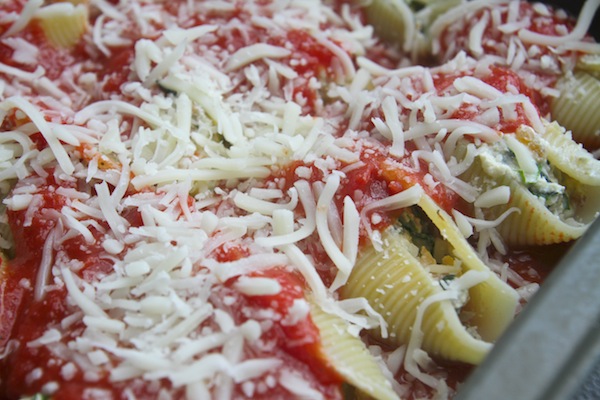 YES.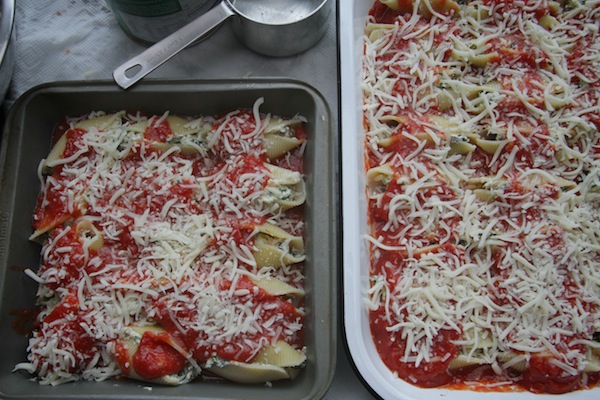 Batch gets wrapped up and put in the freezer. Aluminum foil goes on the batch headed for the oven.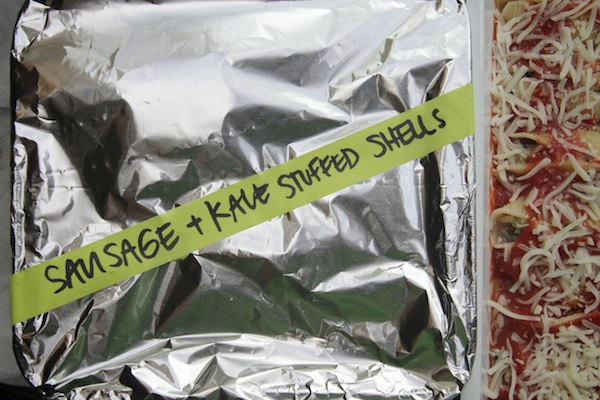 Bake. Serve. Parsley garnish.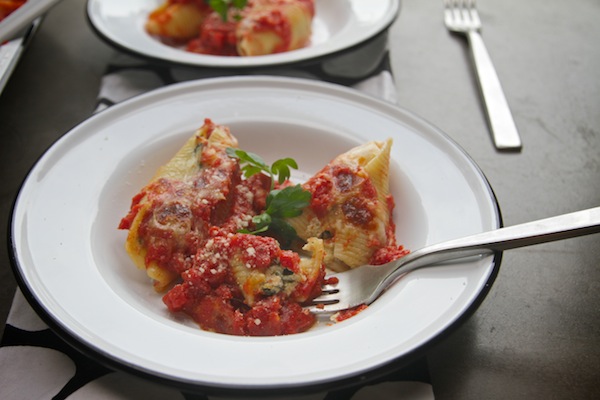 But seriously. Let's just eat it all.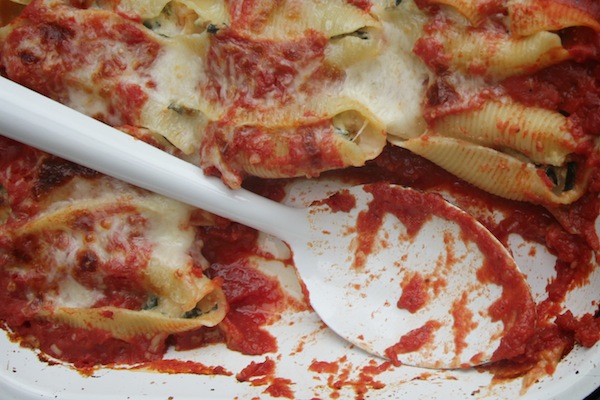 Can I ask you a question? Is it weird that I like my pasta cold instead of hot?
Discuss.
Sausage & Kale Stuffed Shells

makes 8-10 servings (about 36 shells)

1  12 oz. box jumbo pasta shells
2 teaspoons extra virgin olive oil
3 Italian sausages, removed from their casing
1 heavy pinch red pepper flakes
1/2 medium yellow onion, diced
1 bunch lacinato kale, roughly chopped
2 cloves garlic, minced
1 1lb. ricotta cheese
1  large egg
1 teaspoon dried oregano
1 teaspoon dried basil
1/2 cup Parmesan cheese, grated
1/2 cup Italian parsley, finely chopped
freshly cracked pepper
pinch kosher salt
6-7 cups marinara
1 cup mozzarella cheese, shredded

Preheat oven to 375F

In a medium non-stick skillet, heat 1 tablespoon of olive oil over medium high heat. Add Italian sausage and a heavy pinch of red pepper flakes and cook sausage, breaking up into small bits with a wooden spoon, about 4-5 minutes. Add chopped onion and sauté with the sausage until translucent, 2-3 minutes. Follow with the chopped kale and continue to cook until kale softens, another 3-4 minutes.  Add in minced garlic and cook for another 2 minutes, making sure not to brown garlic. Turn off heat and let sausage & kale mixture cool. When cool enough to handle, place the sausage & kale mixture on a cutting board and roughly chop for filling.

In a large bowl transfer sausage & kale mixture and stir in ricotta, egg, oregano, basil, Parmesan cheese and Italian parsley. Season with freshly cracked pepper and a pinch of kosher salt and stir evenly to combine.

Cook jumbo shells in a large pot of boiling water according to instructions. Drain noodles, and lay shells on a baking sheet lined with paper towels. Set aside to cool.

Line the bottom of a 13 x9 baking dish with 2-3 cups marinara. To stuff shells, fill each shell with 1 1/2 tablespoons of the sausage kale mixture.  Layer shells in the prepared baking dish. When all shells are stuffed, pour remaining marinara on top, making sure to cover each shell. Sprinkle the top with mozzarella, cover baking dish with aluminum foil and transfer baking dish to an oven to bake for 30 minutes. Take off aluminum foil and cook for another 5-10 minutes until cheese is lightly browned and sauce is bubbling.

If baking from the freezer, cook for 45-50 minutes at 375F.