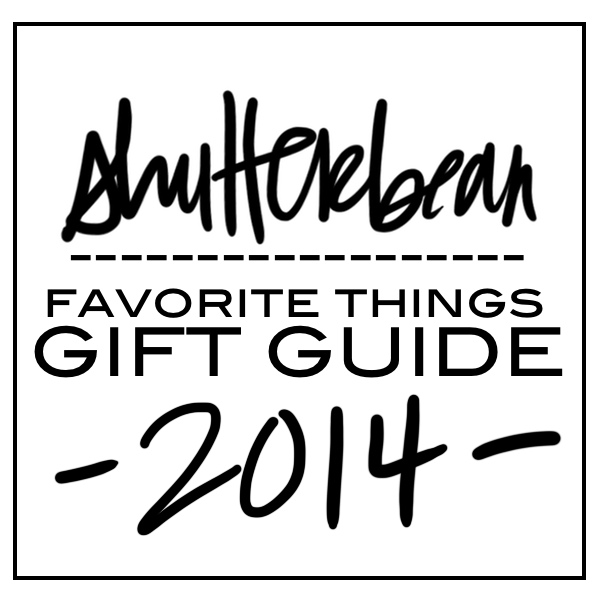 Last year I played Oprah and put together a list of all of My FAAAAAAVORITE THIIIIINGS.  This year, I'm doing it again but I've split it up into three different lists (because I love lists, obviously).  Everything you see on these lists are things I own/love and I can't recommend enough.  I hope this gives you some good gift ideas for your loved ones this holiday season 🙂  Happy shopping!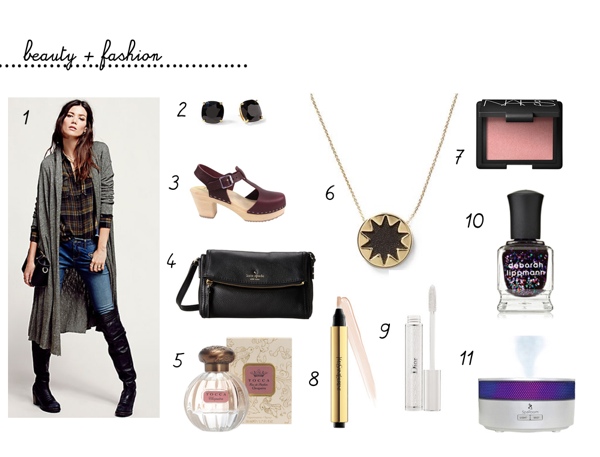 1. Free People Afternoon Wrap– I just treated myself to this wrap sweater and I LOVE IT. It's super drapey and can be worn casually or easily dressed up with a belt on top and leggings & boots on bottom.
2. Kate Spade New York Black Stud Earrings– These earrings have been on a lot of my outfit posts because I LOVE THEM. I have them in the diamond finish, purple and gold glitter. I get a ton of compliments whenever I wear them. They add a little bit of class to any outfit.
3. Lotta From Stockholm Highwood Tbar High Heel Clogs – I really would like to live in these. I'm obsessed. They give me height but they're STURDY and I love wearing them with tights or leggings.
4.Kate Spade Cobble Hill Mini Carson Bag–  I got this as a gift from Casey and it's my GO-TO purse when I'm hanging out with friends. I can be dressed up or dressed down (I took it on our school pumpkin patch field trip!). What I love most is the striped interior. It's all about the lining, if you ask me.
5. Tocca Eau de Parfum Cleopatra – my favorite scent. I've been hooked on it for the past three years. I'm a Cleopatra lady at heart.
6. House of Harlow Pendant Necklace— Being a sun sign, I can't help but gravitate to jewelry like this. I really love how graphic and simple it is. I get a lot of compliments on this one too. Maybe I should start wearing more gold more often? I dunno.
7. NARS Blush– The name of the color makes me giggle/blush (literally). It will give you a good glow because there's a little golden shimmer in there.
8. YSL Touche Eclat Concealer–  I had been hearing a few rave reviews of this stuff online and finally took the plunge. The consistency is perfection and it really helps mask the dark circles I have under my eyes. It's a bit pricey so that's why I'd recommend giving it as a gift.
9. Dior Shadow Eyelash Maximixer– My friend Leslie got me hooked on this stuff. It really makes such a difference when you put it on before you apply mascara. It's one of those treat yo'self gifts for you or a loved one and could round out a present you have for your best friend/sister.
10. Deborah Lippmann Glitter Nail Lacquer, Let's Go Crazy — The name says it all. Perfect polish if you want to add a few party nails to your mix. I currently have some on my toes because it makes me happy when I look at them.
11.  Unitrex – Aroma Mist Ultrasonic Essential Oil Diffuser– I've been hooked on essential oils & aromatherapy for the past few months. This diffuser works wonders!  Not only is it easy to clean up but it has a really cool light that changes colors (Cooper loves that). The combination of lavender & mint helps you focus—which is something I have a hard time with when I have my computer screen in front of me. Ahem…I have some going right now.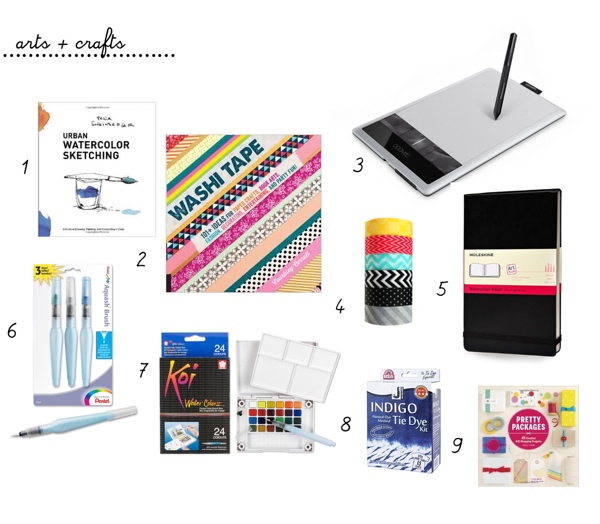 1. Urban Watercolor Sketching: A Guide to Drawing, Painting, and Storytelling in Color— I'm getting back into watercoloring (I used to paint a lot in college) and I bought this book because I like this particular style of watercoloring and wanted to teach myself a few new techniques. I love the way it's written and it's visually stunning!
2.Washi Tape: 101+ Ideas for Paper Crafts, Book Arts, Fashion, Decorating, Entertaining, and Party Fun!  A really great resource for your washi tape needs. If you're looking to customize something or make homemade gifts for the holidays, this book will give you a TON of ideas. The best part about washi tape is that it's not permanent…. so the quick fix /want to customize something NOW aspect of washi tape appeals to me greatly!
3. Wacom Bamboo Capture Pen and Touch Tablet – This is what I use when I write words on photos for my And I Quote posts. I think I'm finally getting the hang of it!
4. Wrapables Washi Masking Tape Collection-  To say I am OBESSED with WASHI TAPE is an understatement. I can't get enough of it. I like when I can buy them in packs because the price is better and I don't have to worry about picking between different individual washi tapes.
5. Moleskine Art Plus Watercolor Album– I've been really enjoying painting in my new watercolor Moleskine. I've always been a fan of Moleskine (hello BULLET JOURNAL!) so it's nice to know that they have good paper to paint on!
6. Pentel Arts Aquash Water Brush Assorted Tips– These brushes are fun to use. You fill them with water and you can easily mix paint with them.  They're really good for on the go painting.
7. Sakura XNCW-24N 24-Piece Koi Assorted Water Colors Field Sketch Set with Brush–  I bought this so Cooper & I can paint when we're out & about. It's perfect!
8. Jacquard Indigo Tie Dye Kit– This year I became obsessed with dying fabric with indigo. I usually buy kits off of Amazon because they're pretty inexpensive. If you want to make homemade gifts, I highly recommend dying napkins & tea towels. It quite addictive— consider yourself warned.
9. Pretty Packages: 45 Creative Gift-Wrapping Projects– I LOOOOOVE creative gift wrapping and my friend Sally is a master at that. This book will give you great ideas for wrapping presents all year round. If you're like me, you have a few friends that would love a copy too. Paper lovers UNITE.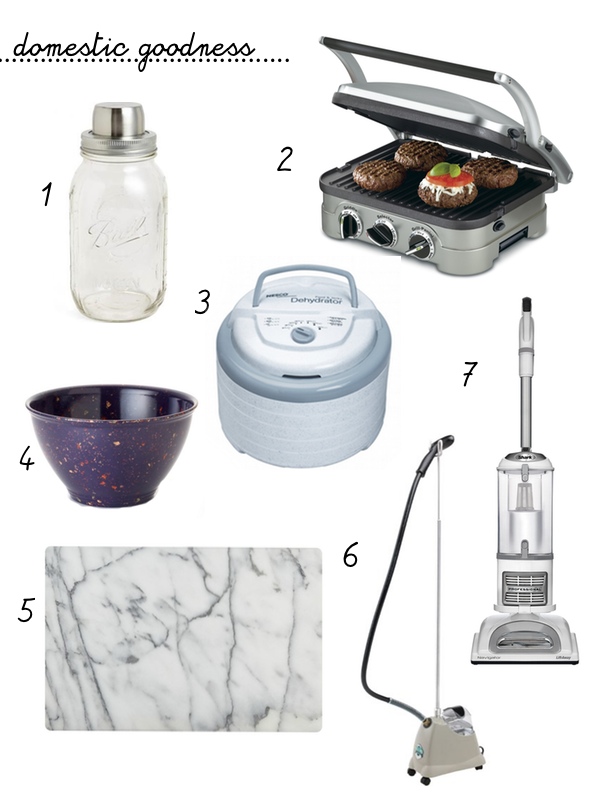 1. Mason Shaker– You know how much I love mason jars…now there's an attachment to turn one into a cocktail shaker! I love that this one fits any wide mouth jar I have. It means that you can take the top off, fasten it on to another jar and mix ANOTHER cocktail instead of having to rinse out the shaker. There's something so gratifying about the sound the ice makes when it clangs against the inside of the mason jar.
2. Cuisinart GR-4N 5-in-1 Griddler–  This has made the list AGAIN this year because we seriously use it like EVERY.SINGLE.DAY.  I even bought the Waffle Plates so we could have square waffles.
3. Nesco Snackmaster Pro Food Dehydrator–  If you want to make homemade gifts, I highly recommend this dehydrator!  I currently have a batch of apples and pineapples drying in ours. We made a bunch of beef jerky with the dehydrator last Christmas to give away as gifts…but Casey and I ate it all. DANG IT.  This dehydrator is highly rated and doesn't cost as much as an Excalibur (ooooh pretty!).
4. Rachael Ray Tools Garbage Bowl – When I'm working on something in the kitchen, I have a hard time stopping what I'm doing and walking over to the garbage can. I have one of these "garbage" bowls hanging out at my range 100% of the time. So whenever I'm done cutting up an onion or have something to transport to recycling or garbage, I throw it in the bowl and then empty it later.  I seriously don't know how I would be able to function in the kitchen without it. My muscle memory is so strong for throwing things in that bowl that when someone moves it I DON'T KNOW WHAT TO DO with myself.
5. Kitchen Pastry Slab– This pastry slab is one of my favorite things in the kitchen. I use it a lot in my food photography to fake a marble countertop. I also use this one when I'm rolling out dough or when I want to make a show stopping cheese plate. It's a thing of beauty.
6. Jiffy Garment Steamer with Plastic Steam Head- I got this steamer and now my iron is pissed. Seriously though! I don't think I will have to iron again because this garment steamer is the BOMB.com! I used to have a problem with letting some of Casey's polo shirts sit in the laundry basket longer than I should have… and now it's not really a problem cuz I turn on the steamer and in less than two minutes his shirts are wrinkle free and the collars aren't a mess. Hallelujah.
7. Shark Navigator Lift-Away Professional Upright– I had been looking for a good upright vacuum for awhile and did extensive research and landed on this one! The price was RIGHT. It's a game changer, people. I can't believe how well it works. I've also been really happy with our steam mop by the same company (great for bathroom floors!).

If you plan on doing any shopping online, you should sign up with EBATES because you get cash back from your purchases. They also will give you the good promo codes for shops online.  All of you have to do is login to your account and go through their website and earn. They'll send you a "big fat check" quarterly. A lot of big online retailers are on there, so I ALWAYS make sure to see if I can get cash back from a sale. When we bought our new fridge we got $75 back! Amazing right??   It costs nothing to sign up.
If you have any questions, let me know. I'd be happy to help!