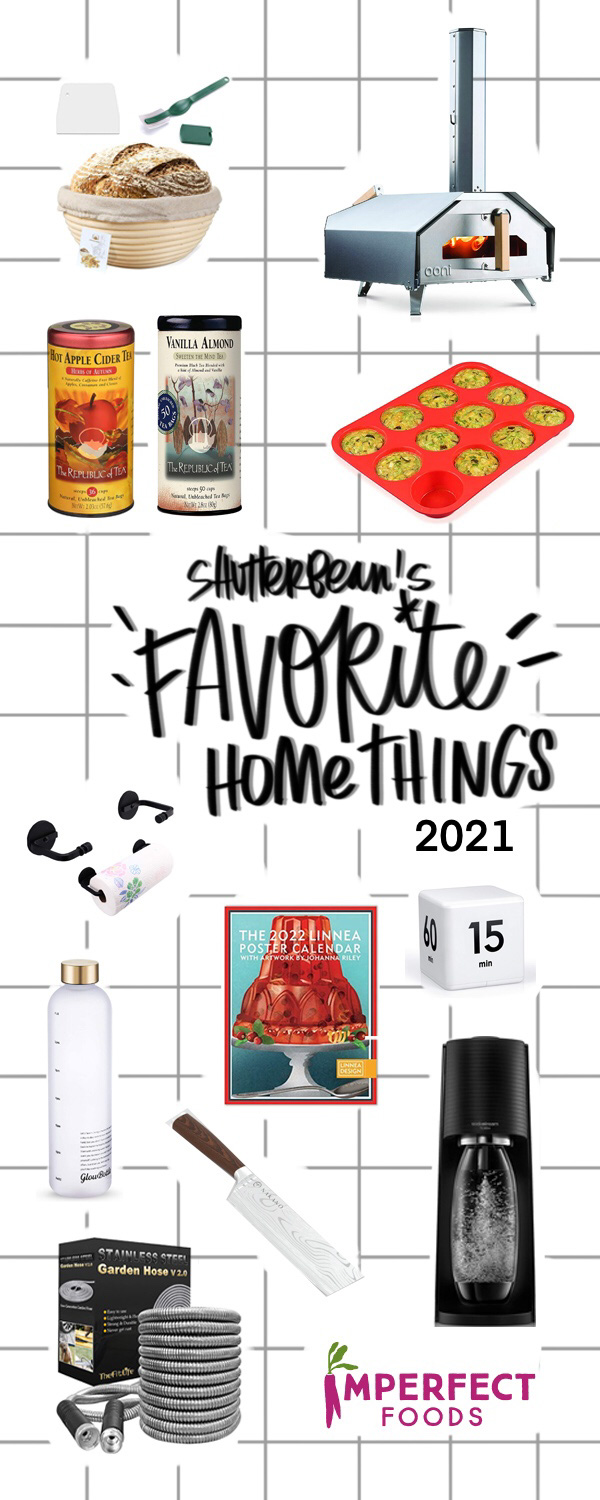 It's time for Shutterbean Favorite Things Gift Guide 2021- Another year, another list of favorites! Everything on the list is something I own/something that's brought value to my life this year. Here are some ways to treat yourself & others:
For the Home:
Bread Proofing Basket– My sourdough bread game got taken up a notch with this bread proofing basket. The bread doesn't stick and I love how it inadvertently creates these pretty rings on my bread because of the shape of the basket. If you have someone in your life who is getting into bread baking, this is a great gift.
Ooni Pro Pizza Oven– This was our Christmas present to ourselves last year. It has been a real blessing. The best part is that it motivated my husband to get really into pizza making and he's really good at it now. HE NOW MAKES DINNER when it's pizza night and that is worth every penny. We haven't ordered pizza delivery since!
Republic of Tea- Hot Apple Cider Tea– Instant apple cider!! I am a big fan.
Republic of Tea Vanilla Almond Tea– You may have seen me love on this tea with my Vanilla Almond Milk Tea concoction! It's my go-to afternoon pick-me-up. It satisfies a sugar craving immediately without having sugar!
Silicone Muffin Pan– If you're ever going to make egg bites and you don't want anything to stick, this silicone muffin pan has been a real game-changer in my kitchen. They pop right out!
Magnetic Paper Towel Roll holder- Our paper towel roll holder took up too much of my limited counter space and I was OVER IT. I did some research and found out that they make magnetic towel roll holders you can put on your fridge and I bought this right away. I love it. I love that it doesn't take up counter space and it's easy to use. Hooray!
Water bottle– If you aren't the greatest at drinking water, this water bottle will help you! There's markers on the side to show you how much water you should have had to drink by a particular time. Fill it up twice every day and you've met your daily water intake. Also, I love the design of it. It looks like glass but isn't!
Mom's favorite calendar– I'm continuing my Mom's tradition by purchasing this calendar every year. She had it in her kitchen and delighted in seeing what the artwork looked like for each month. The print quality is amazing and the colors are so vibrant. I think of her every time I glance at it.
Timer Cube– I bought two of these this year and my productivity shot up! See also: my favorite productivity tools. One sits on my kitchen counter (I use it to time myself cleaning) and the other one sits on my desk so I can employ the Pomodoro technique while I'm working on my computer.
Nakano Nakiri Knife – This knife is a dream to work with! It has helped me immensely throughout the year. It's a meal prep essential! Nakano was nice enough to give my readers a discount if you'd like to order! Use code SHUTTERBEAN for 20% off.
SodaStream– We drink a lot of sparkling water in our house. Even more so when it was pandemic time and we were cutting back on alcohol consumption. The trick to actually using our SodaStream is to keep extra bottles of water filled in our fridge. That way you always have cold water ready to be carbonated at the ready.
Flexible Garden Hose– One of my pet peeves is a hose that tangles. Casey did some research and found this incredible metal hose that has been such a pleasure to use. It never tangles or crimps and it's lightweight and easy to put away. I love it!
Imperfect Foods: I really used this service a lot while we were in lockdown and we couldn't go grocery shopping easily. I still use it because I find their prices very reasonable. I have to place my order before noon on Monday and it gives me a kick in the pants to do some meal planning before the week starts. It makes a great gift for people who have new babies or could use some help around the holidays.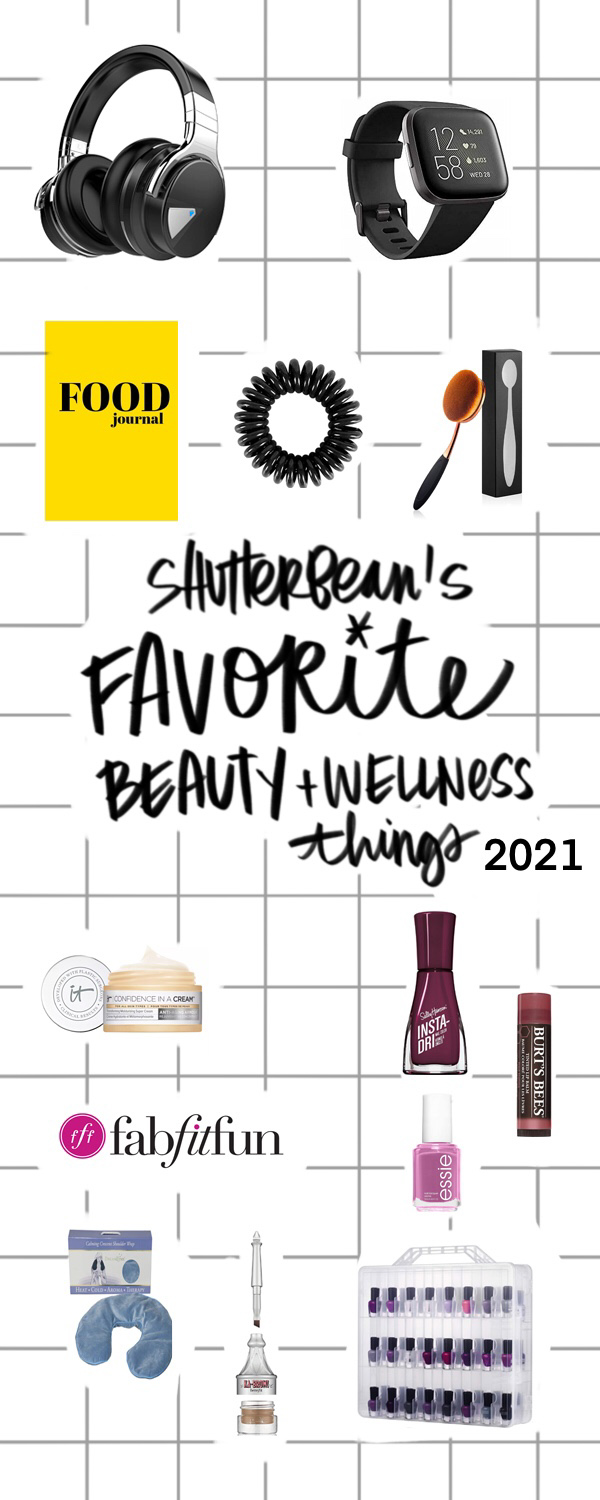 Favorite Beauty & Wellness Things!
Noise-cancelling headphones – If you are an introvert and you have to be around people a lot, these headphones are INCREDIBLE. There's a TV in the same room as my kitchen and my family will watch shows while I'm cooking and it can be SO IRRITATING to listen to something that I don't want to hear. I put these headphones on, put on some music or a podcast and I am in another world. The ultimate coping mechanism!
Fitbit Versa 2– I upgraded my Fitbit this year and am LOVING IT. It's much cheaper than an Apple watch and does everything I need it to. When I'm on the go, I use it to time myself. I got really into tracking my sleep the past year with it!
Food Journal- I went through almost three of these this year! If you want to hold yourself accountable and practice your handwriting, you should join me in food journaling. Get one for yourself and a friend and you can track what you eat, drink, and do during the day. Each journal will get you through 12 weeks of tracking!
Spiral Hair Ties– I let my hair grow out and now have a ponytail! These hair ties have been so easy to use. They don't pull my hair and I can put one around my wrist without it cutting off my circulation. This package has lasted me A LONG TIME.
Foundation Brush – I saw so many influencers plug a foundation brush that cost over $50 and I was not having it. I found this comparable foundation brush and it's been a real pleasure to use. Makes putting makeup on so much easier.
it Confidence in a Cream Moisturizer– I read a lot of reviews before landing on this moisturizer. It's awesome. It makes my skin feel soft and isn't sticky. I have definitely seen an improvment in my skin since I've used it.
Sally Hansen Insta-Dri in Zip Wine- I am forever a fan of dark nail polish and LOVE that this one dries super fast. I love how thick the brush is so it doesn't require multiple strokes with each nail. Simply the best!
Burt's Bees tinted chapstick in Dahlia- I may have mentioned this tinted chapstick in the past but I abandoned it when we were at home for almost 2 years or hiding behind masks because who the heck is going to see my lips? Not only is this chapstick moisturizing, it makes me look a little more alive because it adds a subtle color to my lips. If I have this one, with mascara and my brows are done, I feel complete.
Essie Nail Polish in A Splash of Grenadine– As someone who has olive skin tone, pinks can look a bit weird on me. I was gifted this nail polish this year and I am obsessed! It has a touch of magenta in it/maybe a blue undertone? It makes me feel feminine but not too much!
Fab Fit Fun- I love getting these boxes every season. I've found some of my favorite lotions and hair care products through their samples. Whatever I don't use, goes to friends & family. Cooper was begging me for an electric toothbrush and then this year, we got one in our box! How about that?!! Here's $15 off a box!
Aromatherapy neck wrap– If you're also a person who carries their stress in their neck & shoulders, you might like this wrap. Just heat it up in my microwave and tada! I sit on the couch at night with this on drink my tea while watching TV.
Ka-Brow by Benefit
– When I first bought this brow gel, I was skeptical because I didn't know about the brush but it works wonders for my brows!! It's easy to use and it lasts all day long. I feel naked without it!
Nail Polish Organizer– All of my nail polishes live in their own case now. I like that I can just bring the kit to whatever room I feel like painting my nails in now. Who doesn't love organization?!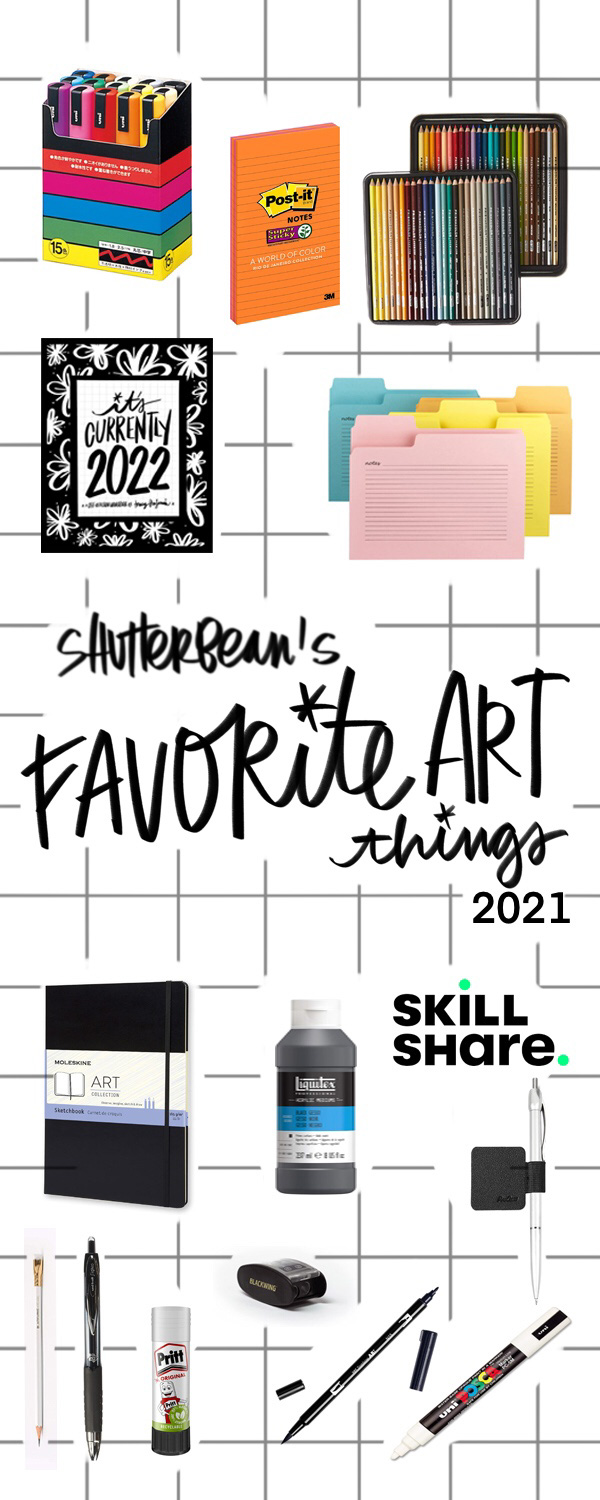 Art Supplies
Posca Paint Pen Set – If you haven't tried paint pens, where have you been??! They're amazing and I am legitimately obsessed!
Large Post-Its– I love these post-its so much. I use them in my Intentions for the Week calendar when I write down the tarot cards I pull each week. I also use them inside cookbooks where I write down the recipes I want to try.
Prisma Colored Pencils– There are a lot of pages in my Currently Workbook filled with colored pencils this year. These are hands-down my FAVORITE colored pencils ever. Not only is there a big variety of colors but each one is so pigmented and smooth!
Currently Workbook- This self-reflection workbook has helped me continue my art practice since 2019. You can see all of my pages through my monthly Currently posts!
Smead Folders – This year I organized my desk and got new file folders. I love how bright and cheerful these file folders are. Also, love that they have lines on the outside of them so I can write what's in them/TO-DO list. A big plus is that they look like folders when I was a kid.
Moleskine Sketchbook– Been working through one of these sketchbooks this year. I love the paper. It holds a lot of the different mediums I put on it.
Black Gesso– My friend Tammi got me into black gesso. I love putting a layer down in my journal and then using the posca paint pens on top. It's so satisfying.
Skillshare- Give the gift of classes, knowledge & info! Here's a free month of a premium membership of Skillshare.
Pen Loop Holder– I liked to put one on my food journal and Intentions for the Week calendar so that I always have a pen/pencil to log my info.
Blackwing Pencils– The smoothest, dreamiest pencil around. They're worth the price because they last long and the eraser is pretty cool. I had to stop my child from taking mine to school cuz I found out he was trading kids for other supplies with them. Lol.
Uniball Signo – Every year, I hunt for a new/promising pen and this is my FAVE. If you're into inky pens (that don't smear), I suggest you add this to your arsenal!
Pritt Glue Stick0- The BEST gluestick around. Seriously, it's incredible. I'll never go back to regular glue sticks.
Blackwing Pencil Sharpener– This sharpener is amazing! It's a two-step process that produces the sharpest/precise point! If you're gonna get some Blackwing pencils, it's a must!
Tombow Brush Pen– All-time favorite brush pen. My handwriting LOVES this pen.
White Posca Pen– If you don't have one of these pens, do yourself a favor and get one! I addressed Save the Date cards for a client with them (on black envelopes) and the pen was so easy to work with and never ran out!
There you have it! If you need more inspiration, then check out the Shutterbean Favorite Gift Guides below!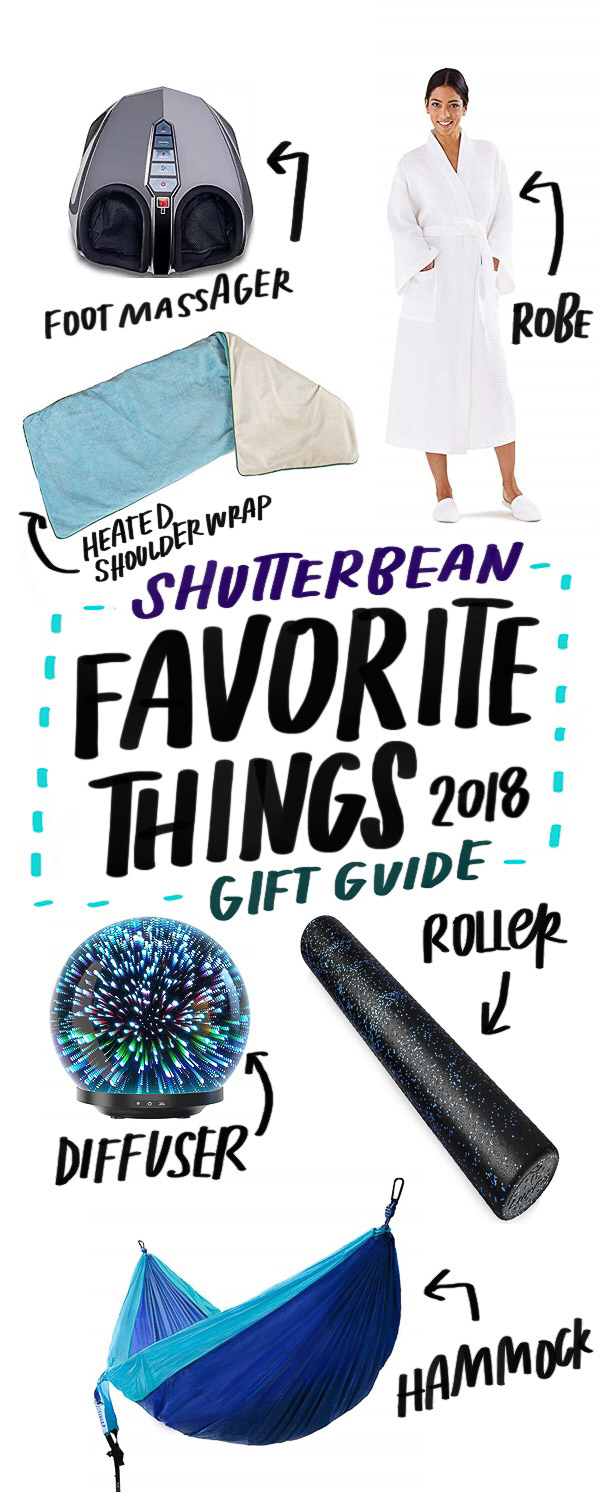 Best wishes for a happy holiday season.