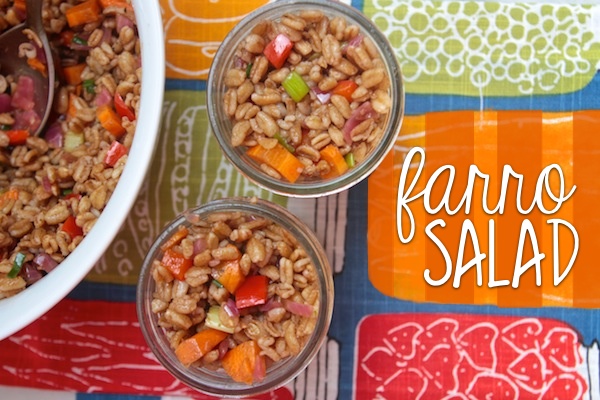 I was invited to my friend Kasey's birthday/picnic in Golden Gate Park over the weekend and I planned on making my favorite potato salad but then my parents came over and my mom brought me a taste of Ina Garten's Farro Salad. I spent 15 minutes hovered over my kitchen counter spooning bite after bite into my mouth. It was tangy. It was hearty. It was crunchy. The peppers! The carrots! The balsamic and the sweetness of the red onions! The nuttiness of the farro! It's as if you crossed farro salad with Giardiniera. And oh boy do I love Giardiniera!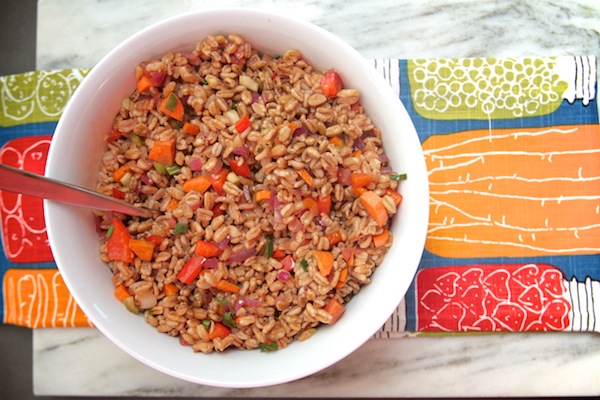 So, this is what I brought. I just HAD to. And in the morning of making it, I stood over the counter pouring scoop after scoop into my a little bowl for "tasting" purposes. Because one has to get everything just perfect before bringing a salad to a picnic, right?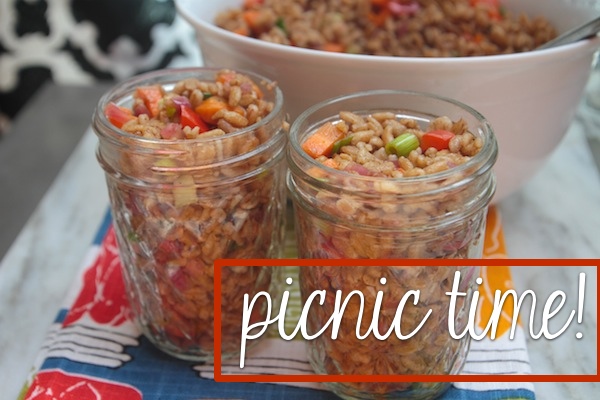 There's no doubt this will be making several appearances in my summer get-togethers this year. Excited!
And we're off!
Ingredients. All staples in my kitchen.
Chopping party. Get the tension out. Chopping is fun when you learn how to do it right.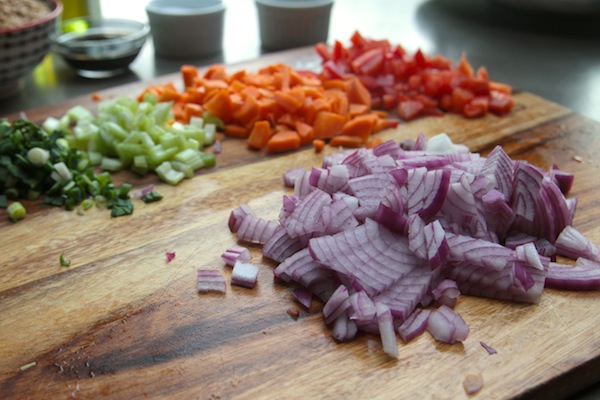 First things first. Make your farro. You boil it in a pot of water. Then drain. Takes about 45 minutes. Alternately, Trader Joe's makes a 10 minute farro. You could totally use that if you want. Let's see how long Trader Joe's has that in stock…I'm still bitter that there's no plain frozen yogurt anymore…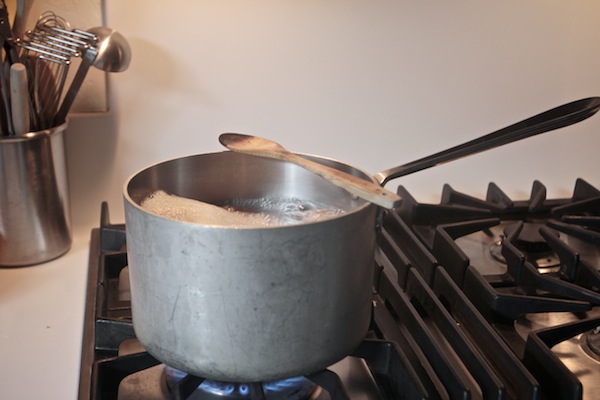 Onions get sautéed in olive oil til translucent. Add in the balsamic. Let it sit for a minute.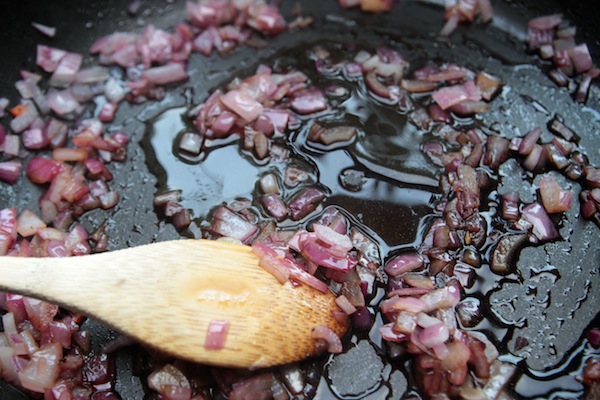 Now we assemble. Season with salt & pepper.
It all gets mixed together. Let it sit for 30 minutes. Refrigerate it!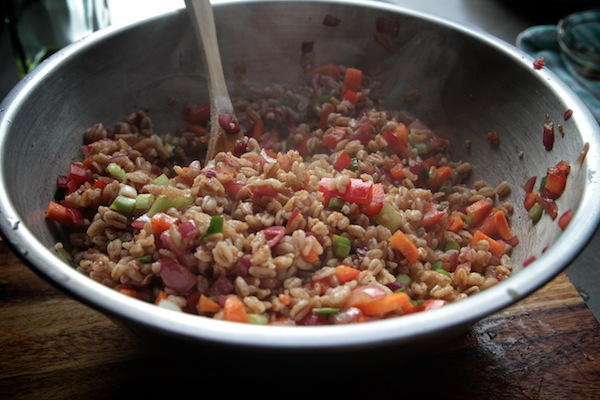 I find that it's really good cold. Most things are really good cold…except cold leftover Indian food. I prefer that heated.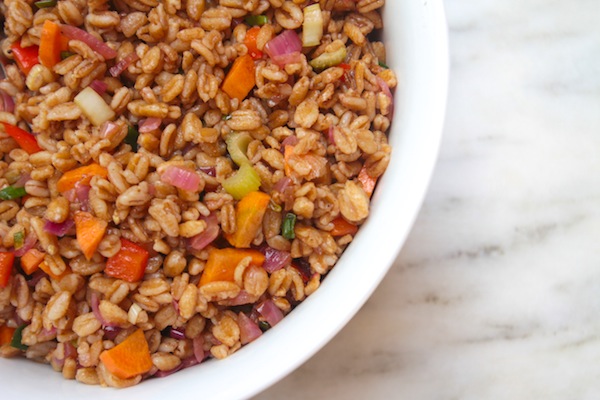 And before I brought it to the picnic, I added feta in it. I think it adds a nice visual contrast!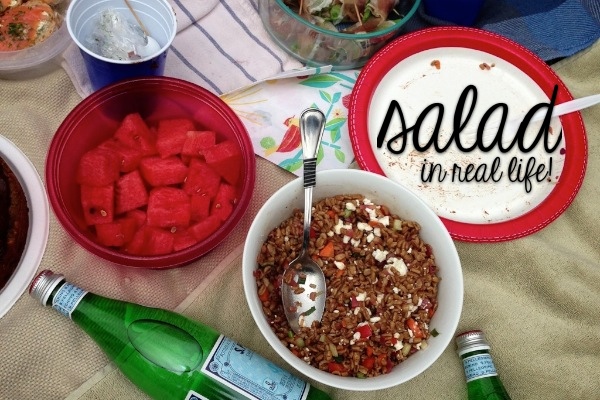 YUM! And it's totally vegan (sans the feta)!

Farro Salad

makes 6 servings

recipe adapted from Barefoot Contessa Family Style

1 cup farro
Kosher salt
1 cup finely diced red onion (1 onion)
5 tablespoons good olive oil, divided
3 tablespoons balsamic vinegar
3 scallions, minced, white and green parts
1 red bell pepper, small diced
1 carrot, small diced
2 celery stalks, small diced
1/2 teaspoon freshly ground black pepper
1/3 cup crumbled feta (totally optional)

Place the farro and 3 cups of boiling salted water in a saucepan and cook, uncovered, over low heat for approximately 45 minutes, or until they are soft. Drain.

Saute the red onion in 1 tablespoon of olive oil over medium-low heat until translucent, approximately 5 minutes. Turn off the heat and add the remaining 4 tablespoons (1/4 cup) of olive oil and the balsamic vinegar.

In a large bowl, combine the warm farro, sauteed onions, scallions, red bell pepper, carrot, celery, 1/2 teaspoon salt, and the pepper. Allow the salad to sit for at least 30 minutes for the farro to absorb the sauce. Season, to taste, and serve at room temperature.