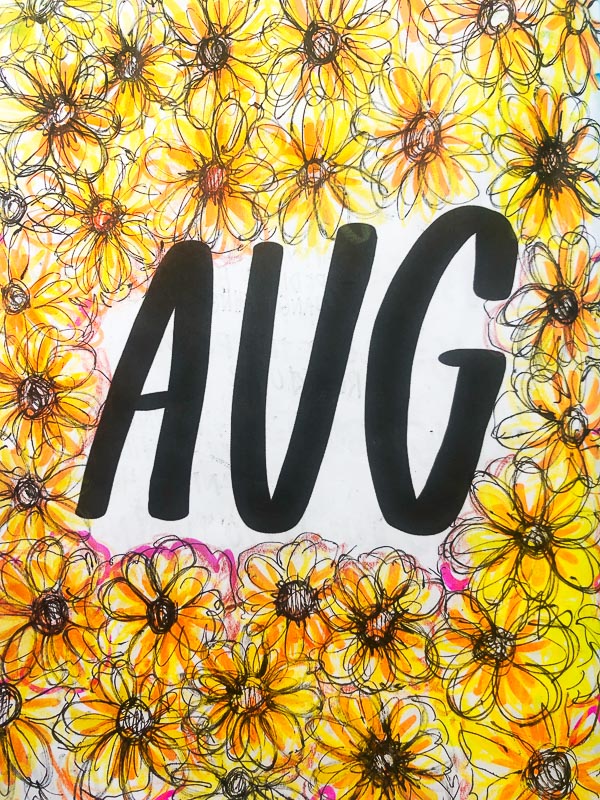 Currently: August 2019
August was a big month.
I went to Italy with my family and then right when we came back, I turned 40.
Summer ended and Cooper became a 5th grader!
School supplies were bought. We raced right into the school routine.
And then
BYEEEEE AUGUST. You were IN & OUT!
Does that mean I don't have to process being 40 yet? I feel like I didn't even process my Italy trip!
You know what's weird?
To be asked, "HOW DOES IT FEEL TO BE 40?" a whole bunch of times in one week.
Honestly, I was just annoyed that my birthday was on a Sunday this year!
My Mom said her 40s were her favorite and an astrologer told me my 40s were going to be fun, SO THAT IS WHAT I THINK OF IT.
The silver hair is coming in and I'm letting it because I am FASCINATED. When I catch myself in the mirror and don't recognize myself,
I remind myself that, "Aging is a privilege, denied to many."
And then my brain goes to a place where I think it's pretty lame my Mom wasn't here to see me turn 40.
I'm in the it's unfair stage of grief. I haven't felt this feeling in awhile. Traveling without my Mom brought it up.
And then I thought
maybe turning 40 didn't feel as big of a deal to me because my Mom wasn't around to make it a big deal.
40 year old me.
It's a ME I could have never imagined. I think I'm starting to really like her.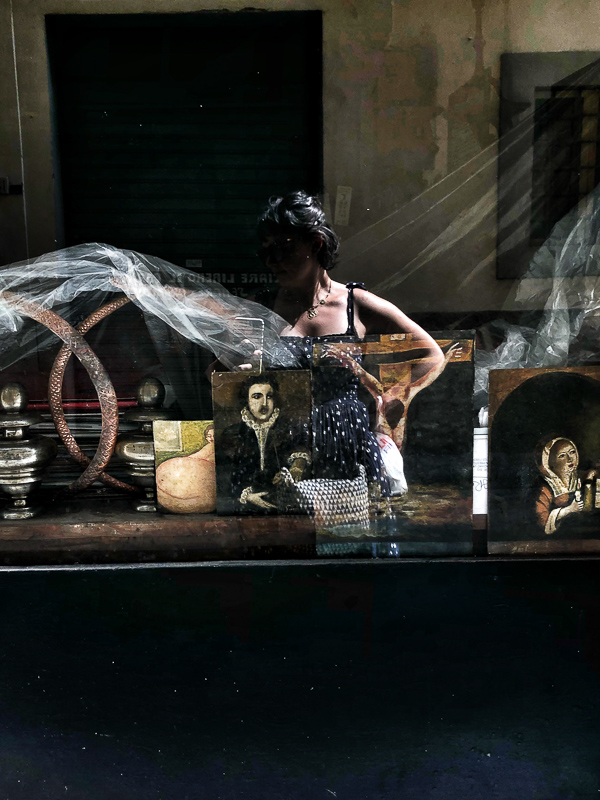 Our family trip to Italy (with my dad, bro/sis, husband, niece and son!) was pretty life changing.
We ate. We drank. We ADVENTURED.
We did so much walking as a family- I LOVED IT.
It was also good for my brain to be away from the computer for awhile.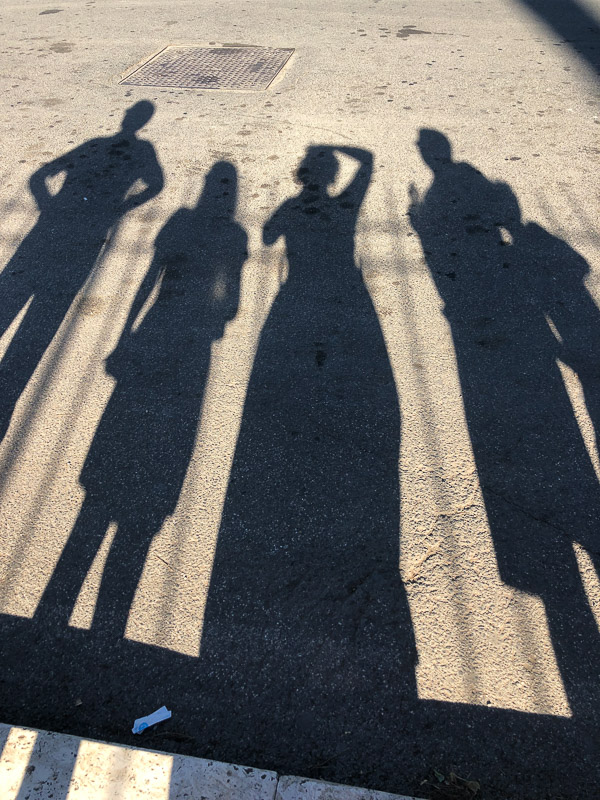 Here's what my Currently Workbook 2019 looks like: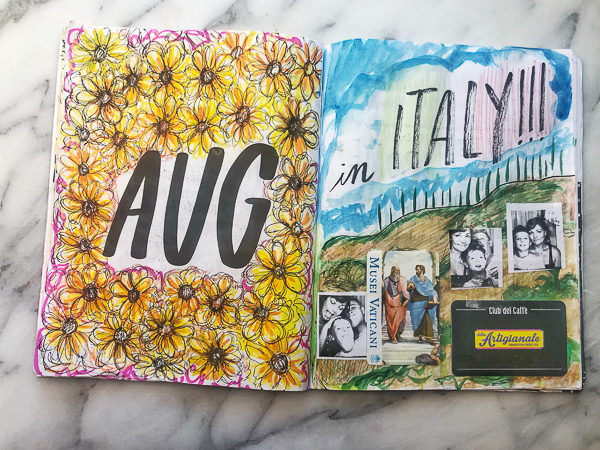 All the good things that happened this month.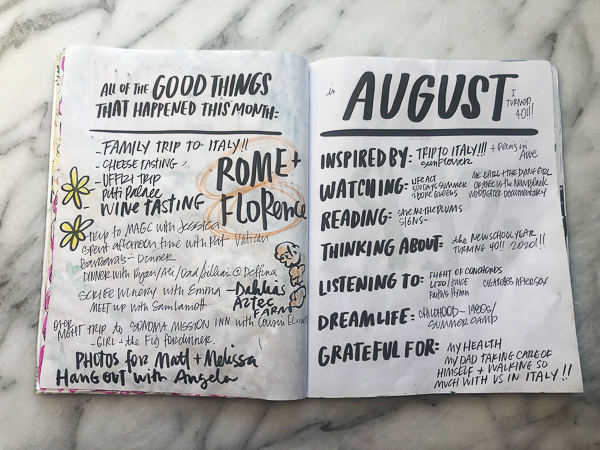 Let's break it down.
Inspired By:
It's obvious that I was inspired by Italy! You can see some of my trip photos in Week 32 + Week 33 on my blog.
We did a lot of walking…which was soo good for all of us. The only thing is that it was SO HOT WHILE WE WERE THERE.
I was talking to my cousin the other day about how I didn't want to do any real/fun cooking for the first year after my Mom died. I haven't really admitted that to anyone, but it's true. Having a food/lifestyle blog made it hard to show up here. When we went to Italy, I suddenly fell back in love/sparked my curiousity with food again. THANK GOD I THOUGHT IT WAS GONE FOREVER.
Thank you for the food inspiration, Italy.
You can read where we ate here.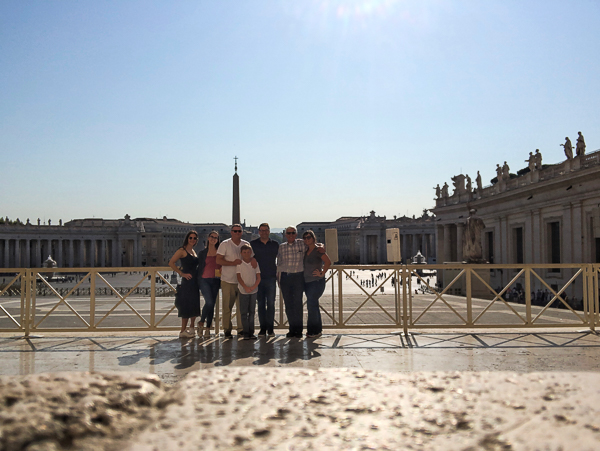 It's something else to see light in another part of the world.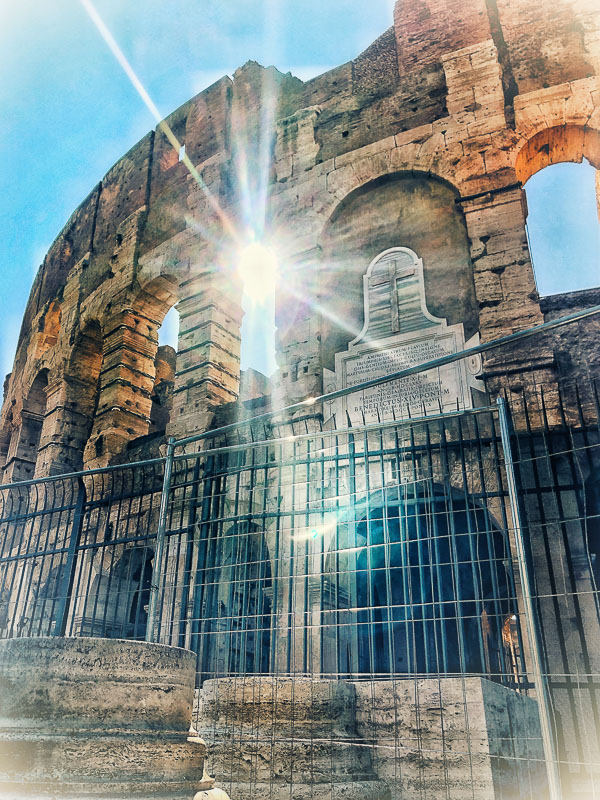 My creative brain left recharged!

Watching:
I did a lot of TV/Movie watching while on the plane.
When Harry Met Sally (an oldie by goodie! It was so cute. I'm glad I watched it again)
Marvelous Mrs. Maisel (loved the last season– especially all the vacation scenes- makes me think of Dirty Dancing)
Orange Is the New Black (the last season has been pretty good so far)
Me, Earl & The Dying Girl (so cute, so sweet, good eye candy, thoughtful)
Woodstock Three Days that Defined a Nation (I loved learning about the clusterF that was Woodstock! the logistics looked like a nightmare!)
Life Itself (made me cry! I loved it)
500 Days of Summer (watched this one while working on the computer on the plane. I always love that big dancing scene)
2 Dope Queens– (loved this! If they showed more than 4 episodes on the flight, I would have binged)
Comedians in Cars Getting Coffee (loved the Eddie Murphy interview)
Dumb & Dumber (watched with Cooper! I cannot believe how much I quote from that movie reguarly)
But other than that, we didn't watch any TV while we were away in Italy!
Reading:
Save Me the Plums– I'm really enjoying this one. I LOVE Ruth Reichl.
However I put down my Kindle after we got home from Italy and haven't picked it up again since. I need to make more time for reading.
Signs: The Secret Language of the Universe
GOOD BOOK! I believe my Mom communicates with me (constantly) so it's nice to feel less alone in this. It's a real trip!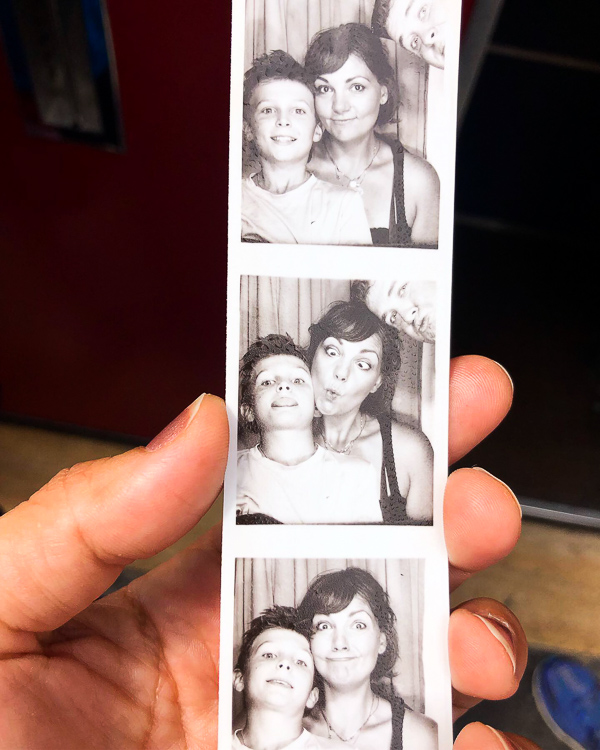 Thinking About:
Turning 40. How weird it is that my Mom is not around to see me turn 40. I hope that I get to see Cooper turn 40. Life has its own timeline.
Listening To:
This one is really good! I use it to reset.

For when I need to smile!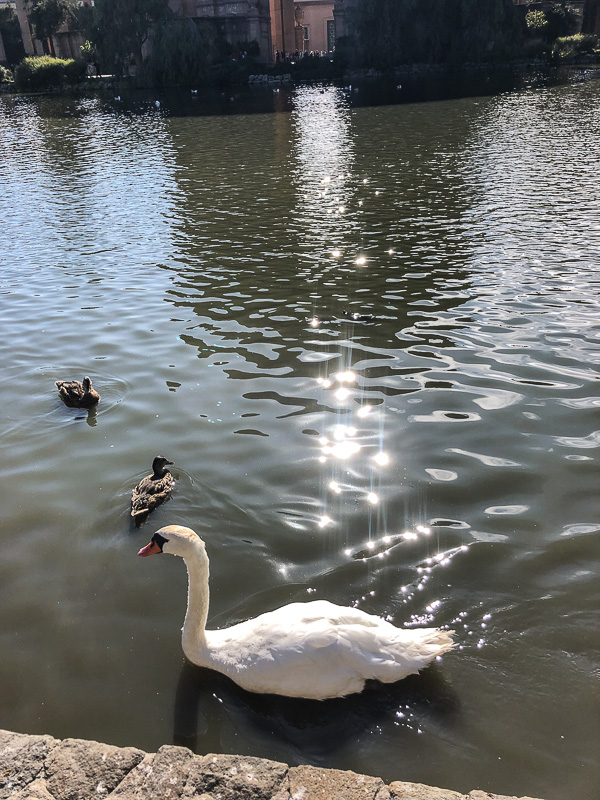 Dream Life:
I had two encounters with a ghost where we were staying in Florence. One was a woman in a plaid dress and the other one was in a blue shadow. I also felt my Mom's presence all around me while we were there. Maybe it's because I've been reading that book about Signs!?!!
My real life sometimes feels like dream life and vice versa.
I'm still in the 80s in my dreams. I am walking around neighborhoods and looking into abandoned buildings.
Eating/Drinking:
Prune Plums from my neighbor. Thank you, Pat.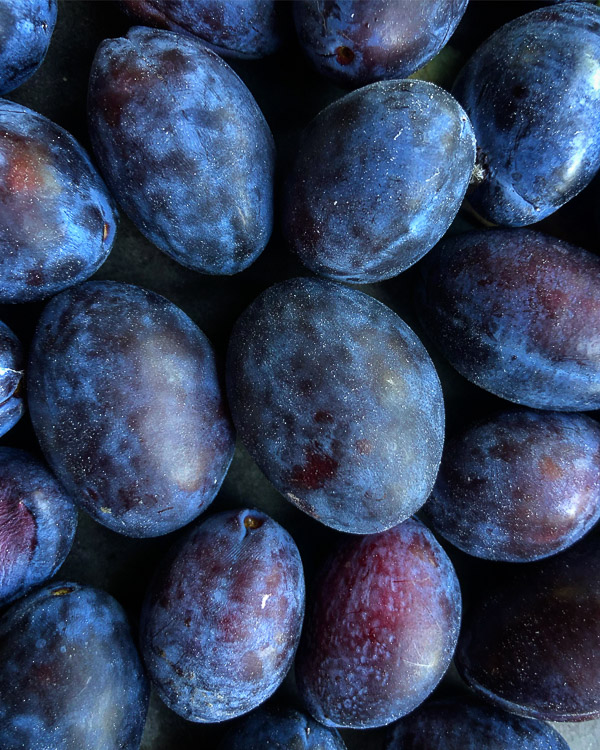 Spicy Pickled Carrots in my fridge all August long!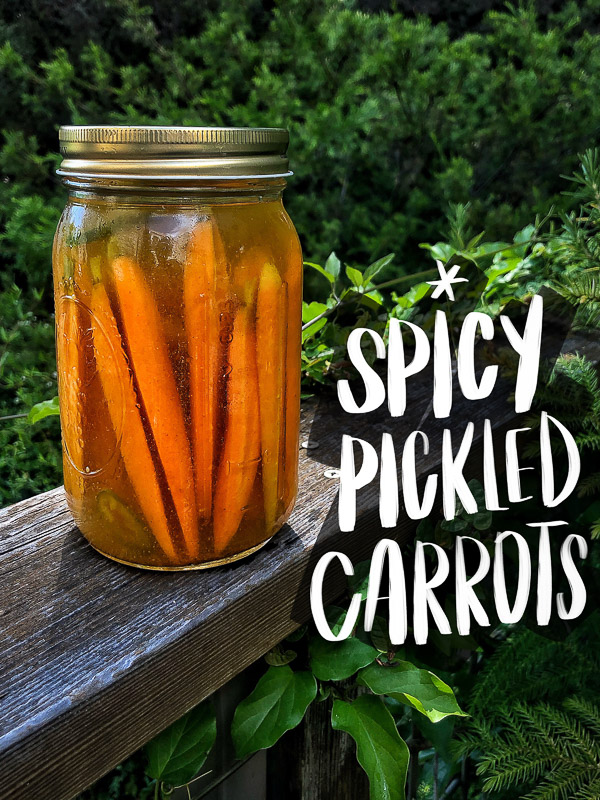 I fell in love with white beans in Chianti.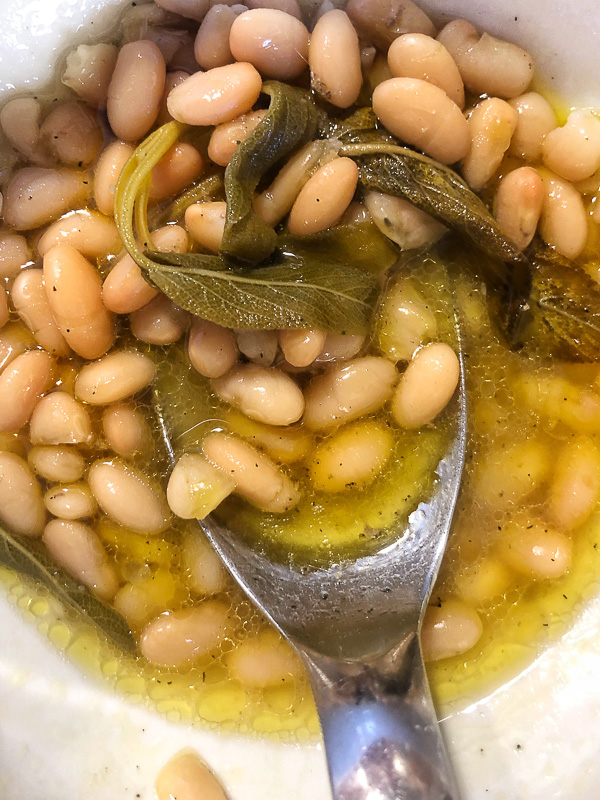 I'm missing the slow mornings in Italy….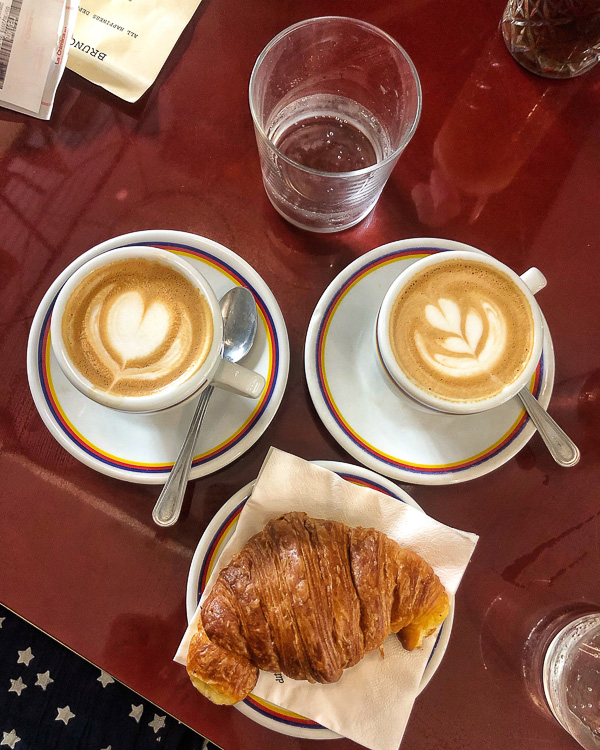 I made my Mom's Grilled Brown Sugar Mustard Chicken! Excited to have it in the rotation.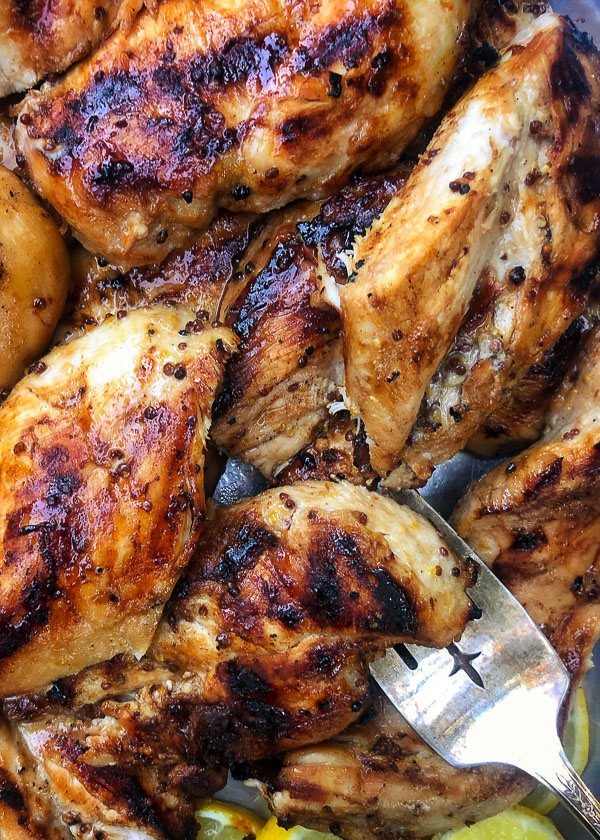 Here's all that we ate in Italy!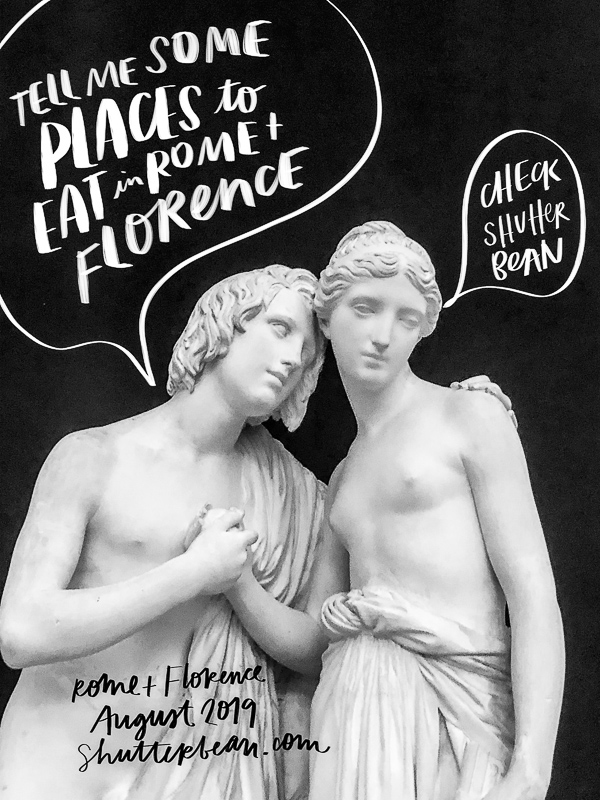 I shared Back to School Dinners on TheKitchn this month!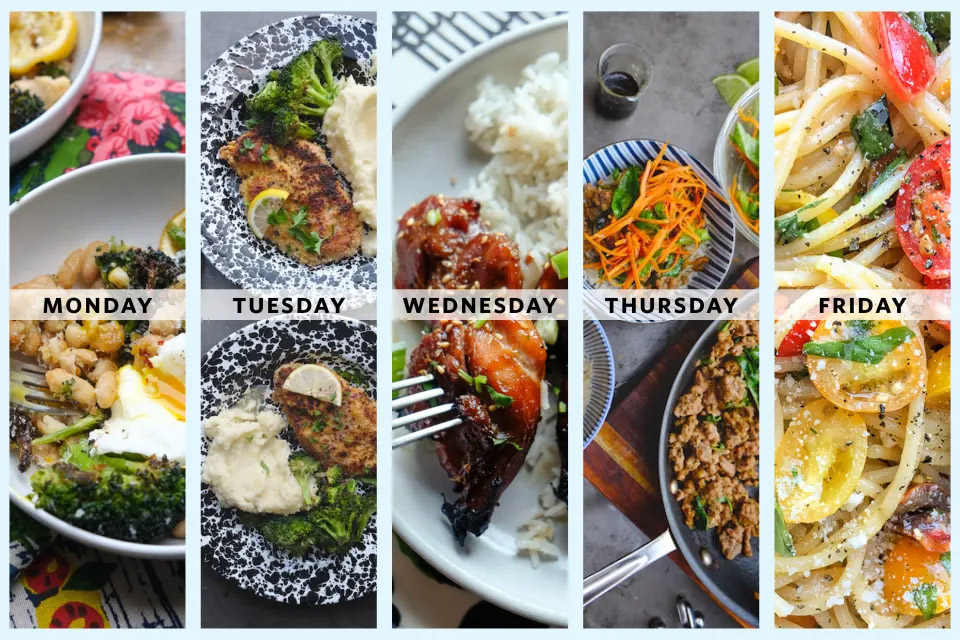 We are back in School Lunch Mode here!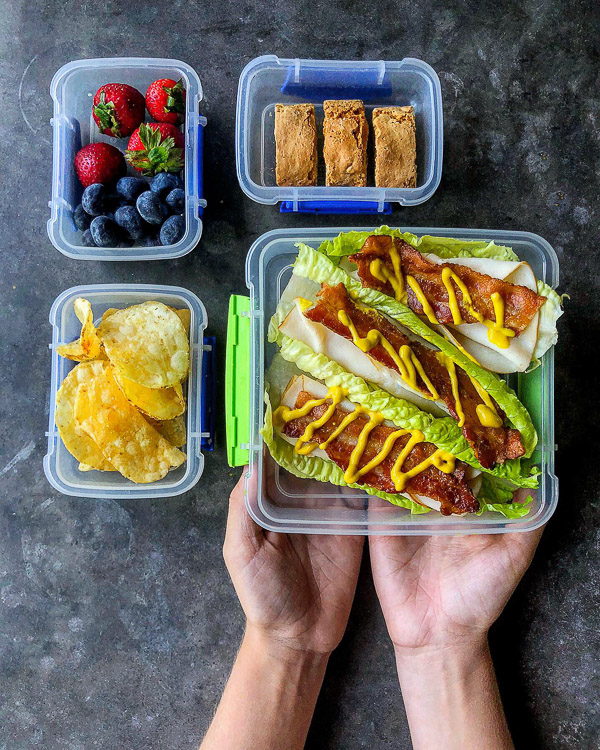 Self Portrait for August: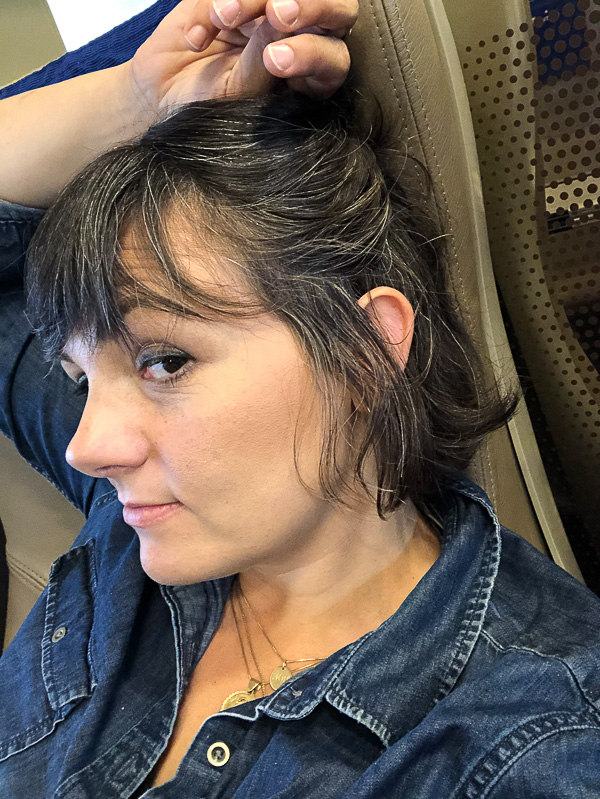 THIS IS 40.
That was August. We are in September. The weather is shifting and I'm excited for Autumn (sooooon)