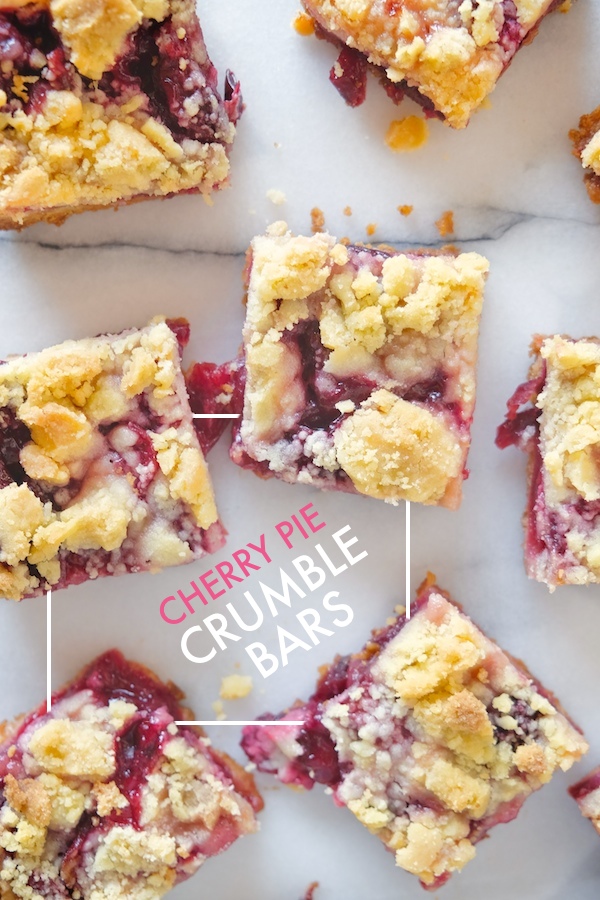 These Cherry Pie Crumble Bars have three of my favorite words in it. Pie. Crumble. Bar.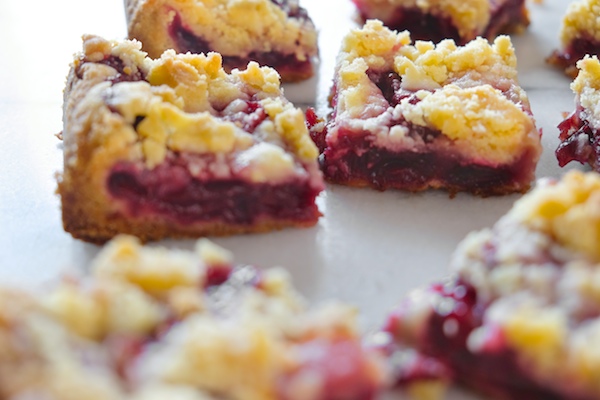 All three things I like to eat. Throw some juicy cherries into the mix and now we're talking!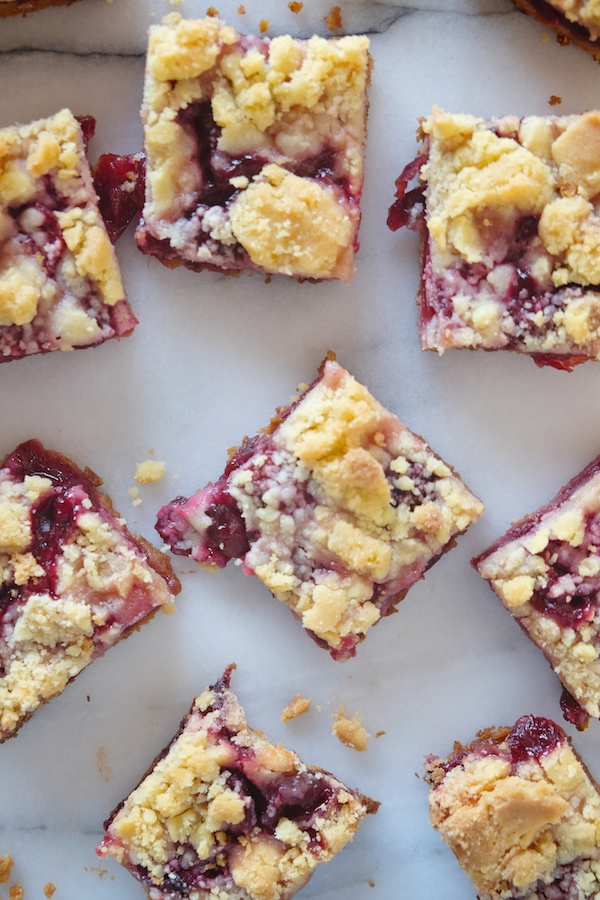 I froze half of this batch because I didn't want to have all of them sitting on my kitchen counter…taunting me…and then in the name of research I found out that they're even better when you eat them frozen. Research, man. RESEARCH.
Let's get our ingredients together!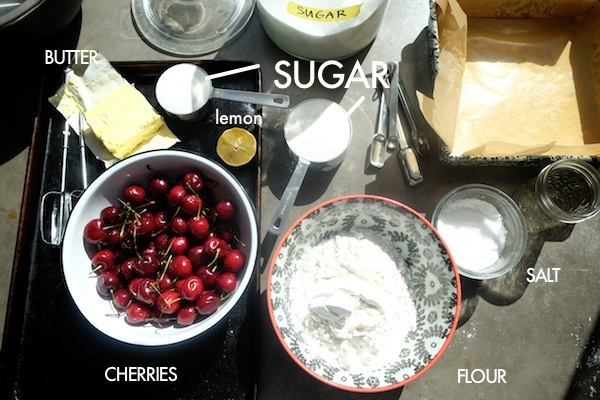 My dad accidentally bought two cherry pitters online this Summer.
He gifted me this one and holy cow cherry pitting was a breeze!  Thanks, DAD!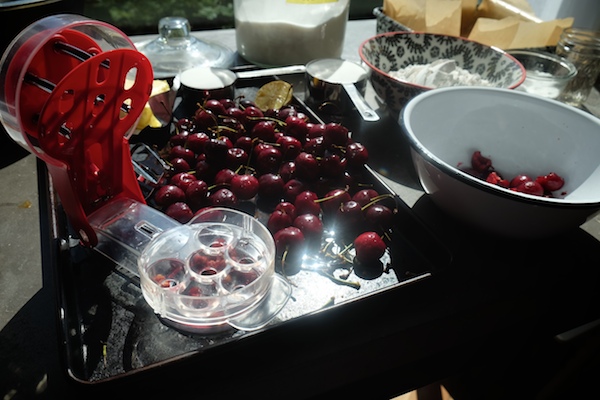 Butter and sugar get mixed with a hand mixer. You can use a kitchen aid mixer too!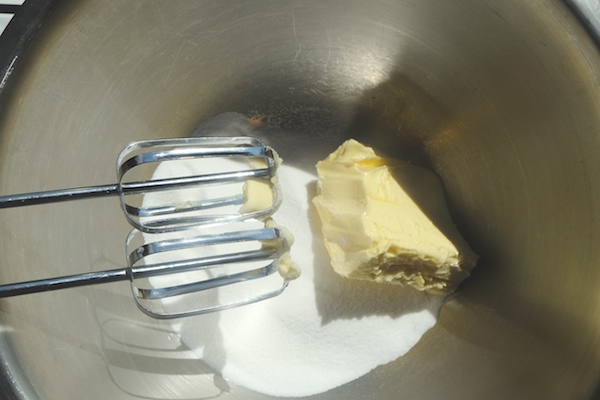 Fluffy sugar butter.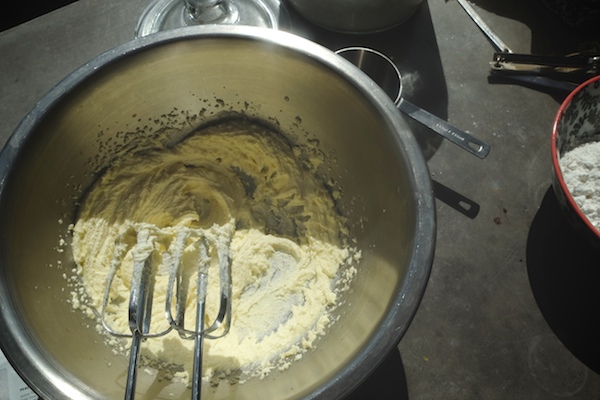 In goes the flour….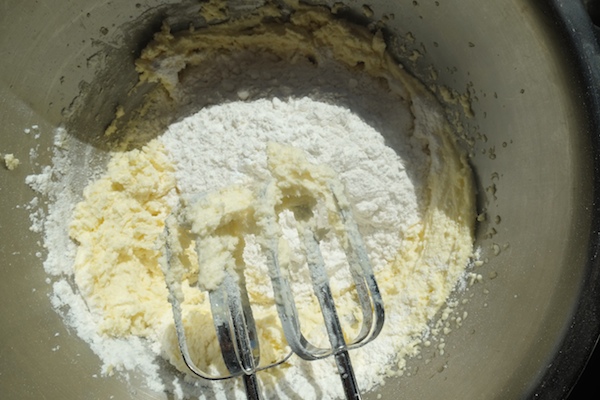 Til we have crumbles.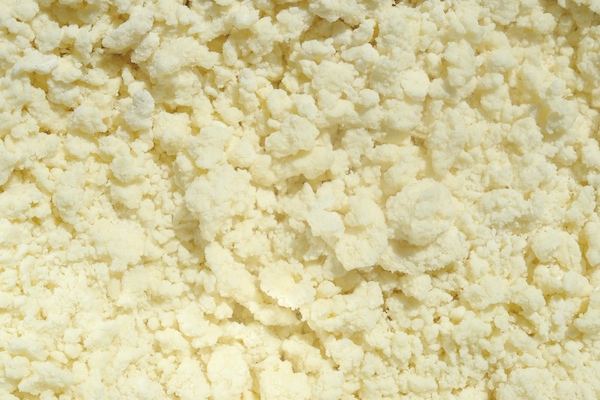 Crumbles go into parchment lined baking pan.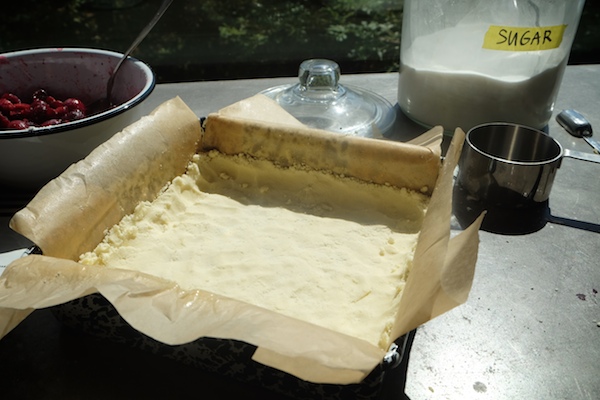 Pitted cherries…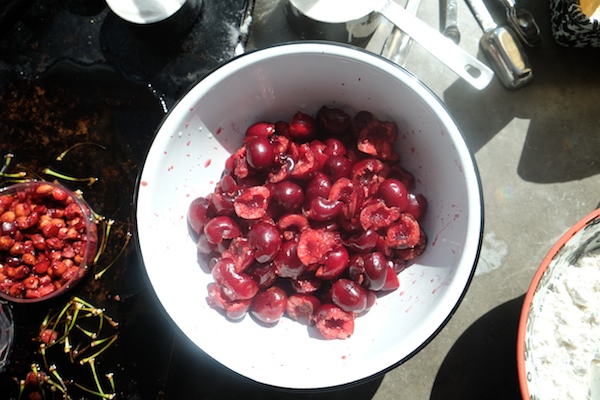 Toss with sugar, lemon juice & flour.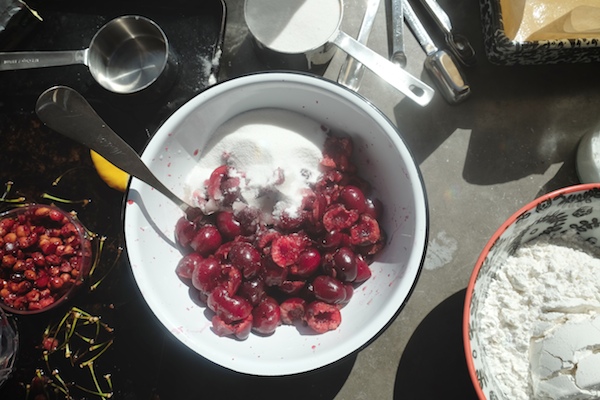 FILLING!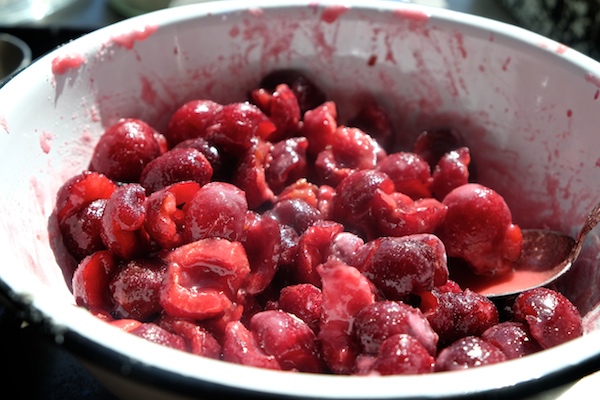 FILLED.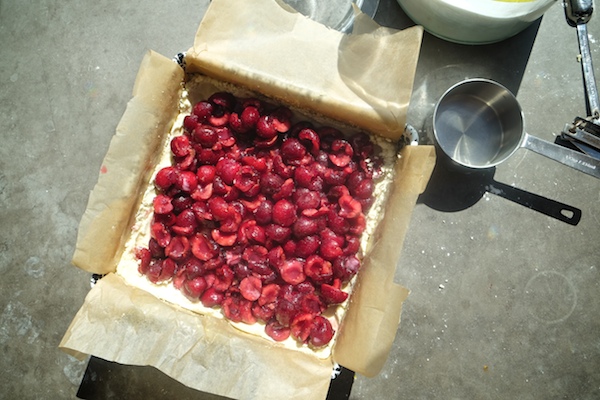 Topped with reserved crumble.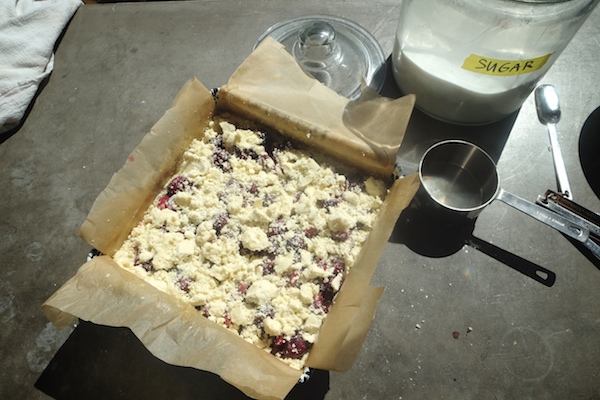 MMMM.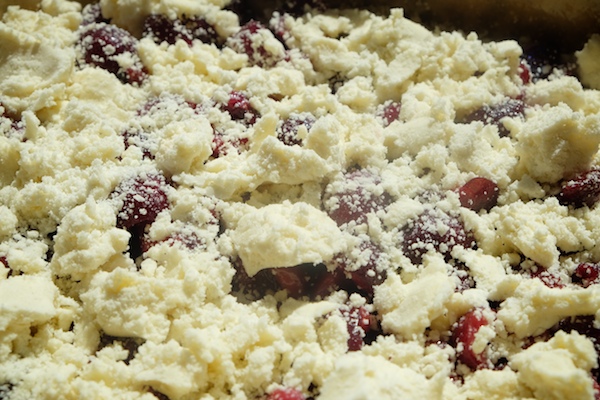 BAKED!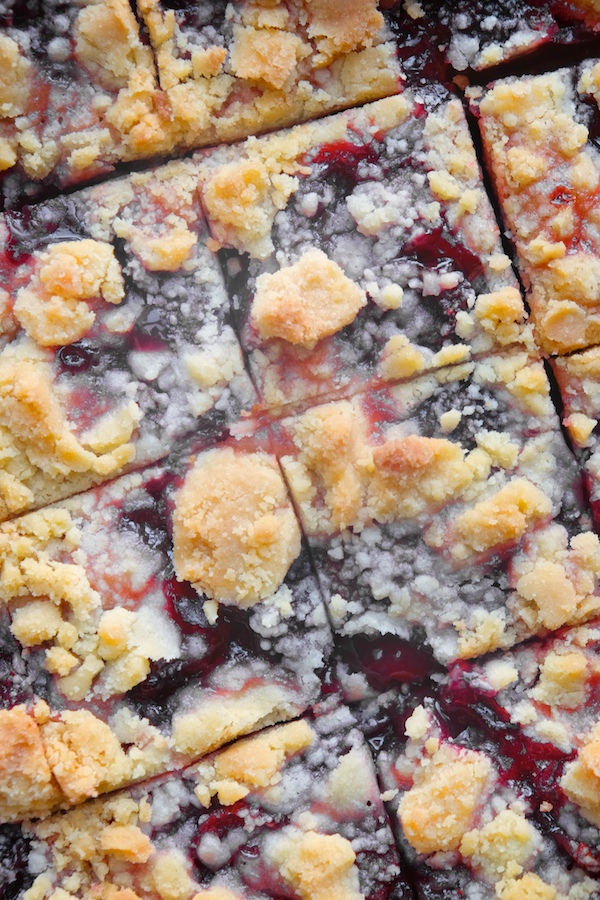 Dibs on all the pieces that have crumble on top!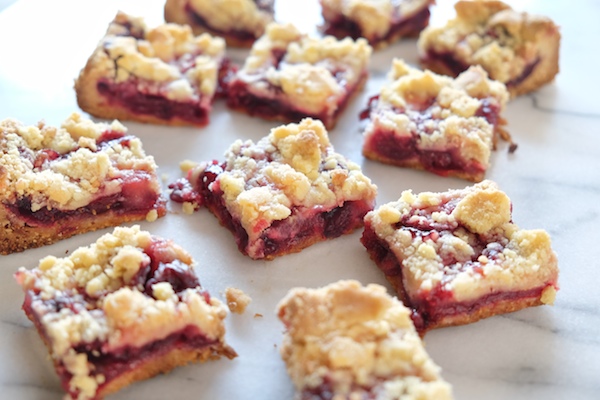 What I love about this recipe is that there's so much cherry goodness inside.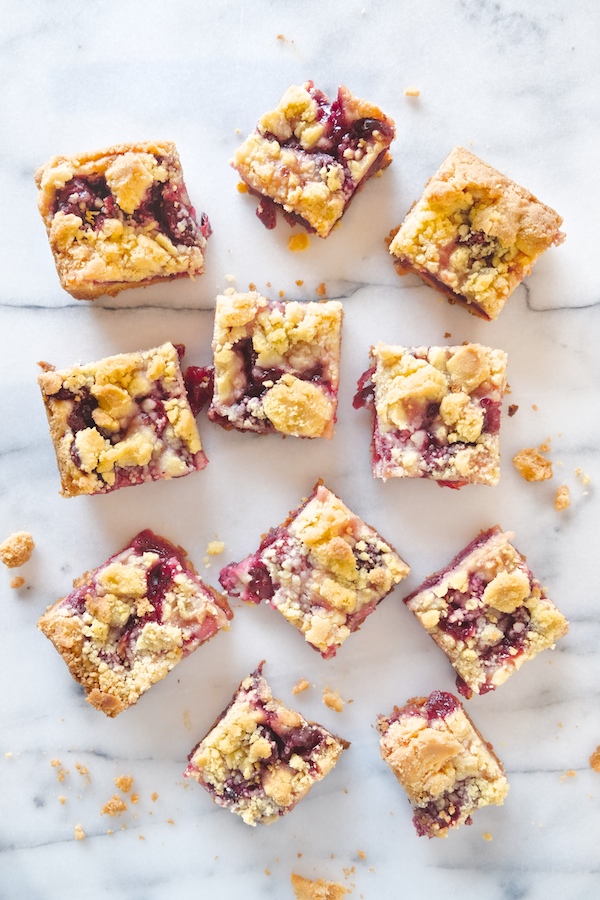 No skimping on the cherries here! That's for sure.
Cherry Pie Crumble Bars

makes 16 bars

recipe adapted from  Martha Stewart Living 

for the crust:

1 stick plus 5 tablespoons unsalted butter, room temperature, plus more for pan
1 cup sugar
2 cups all-purpose flour
1 teaspoon coarse salt

for the filling:

3 cups pitted cherries
1/2 cup sugar
2 tablespoons all-purpose flour
2 tablespoons fresh lemon juice
1/2 teaspoon coarse salt

Preheat oven to 375 degrees. Butter an 8-by-8-by-2-inch cake pan. Line with parchment, leaving a 2-inch overhang on two sides; butter parchment.

Beat butter with sugar in a bowl until light and fluffy, about 3 minutes. Scrape down bowl. Add flour and salt; beat until dough forms clumps but does not completely hold together. Press 2 1/2 cups flour mixture into bottom and 1 inch up sides of prepared pan. 

Stir together cherries, sugar, flour, lemon juice, and salt in a bowl. Pour into crust. Crumble remaining flour mixture evenly over top, squeezing to create clumps. Bake until bubbling in center and crust is golden, about 1 hour, 10 minutes (if browning too quickly, tent top with foil). Let cool 20 minutes. Remove from pan and let cool completely on a wire rack, about 1 hour. Cut into 2-inch squares.