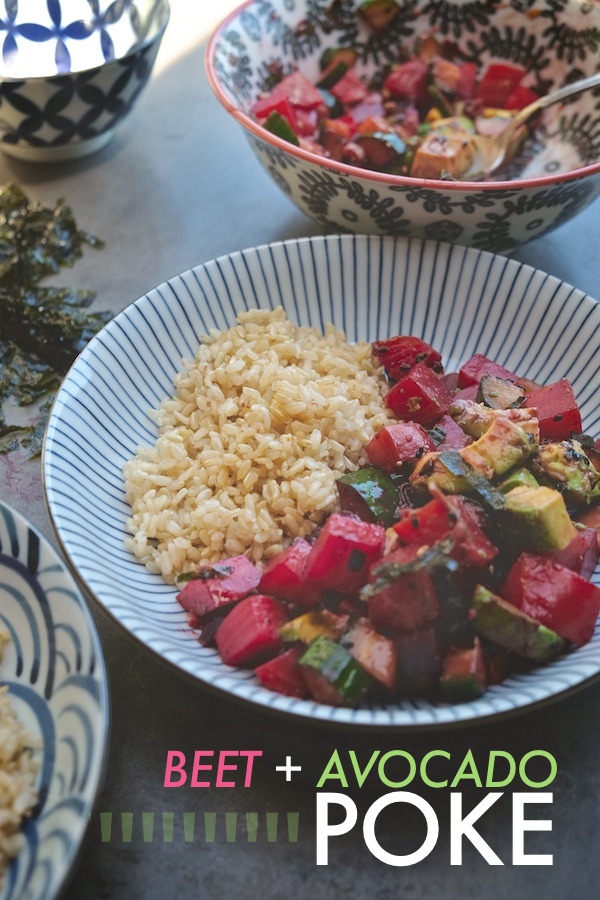 The Ahi Tuna Poke Bowl recipe in Sprouted Kitchen's new cookbook Bowl + Spoon caught my eye recently but I didn't have ahi tuna so I made Beet Avocado Poke Bowls instead!
I mean…chioggia beets kinda look like fish! Right?!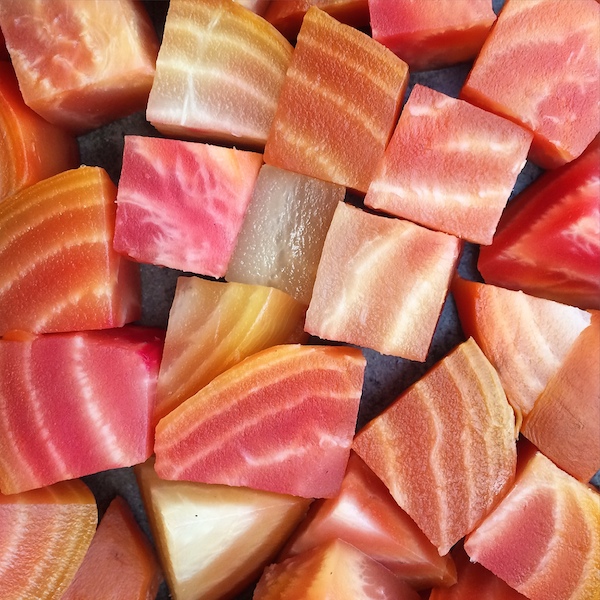 I threw a regular beet in the mixture and the bright red juice beautifully colored the lighter beets.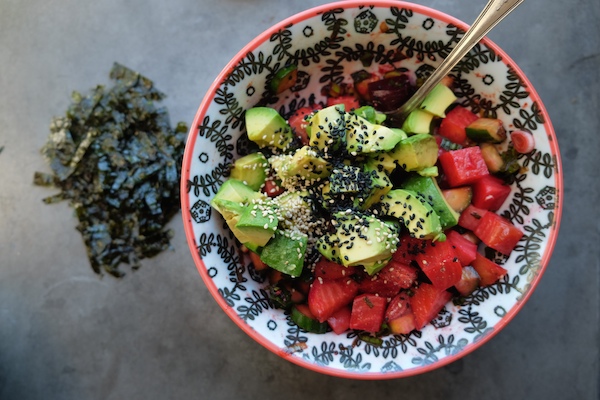 My experiment definitely paid off! The wasabi sriracha dressing and the sweetness of the beets, the crunch of the cucumber, the creaminess of the avocado, the sesame seeds and the nori create the most amazing "sushi bowl." Btw- this sushi salad bowl is pretty amazing too!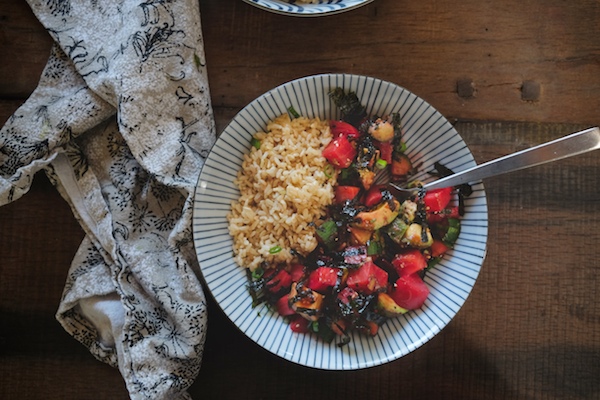 It made for the perfect lunch when we worked from home last week. Beets for the win!!!!
And we're off!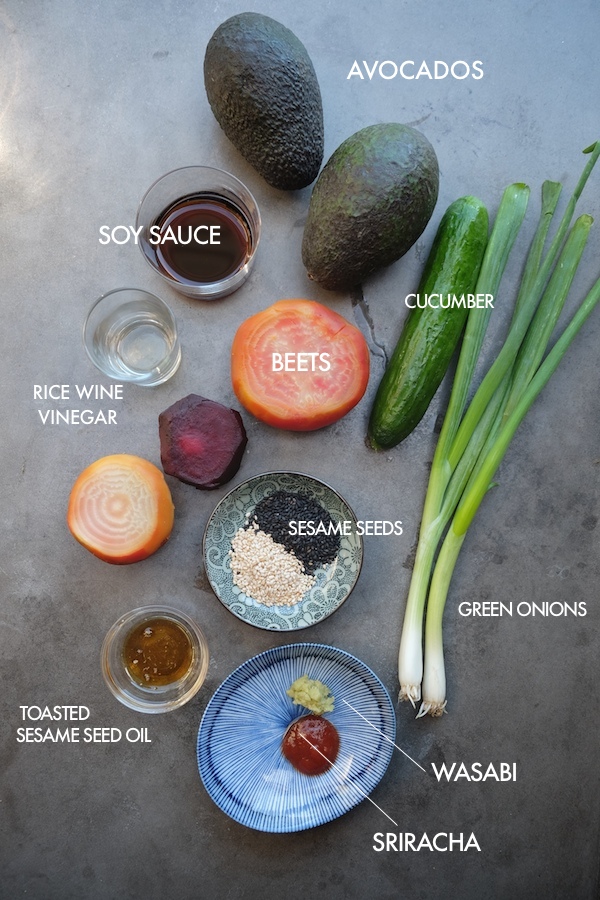 We make our dressing first.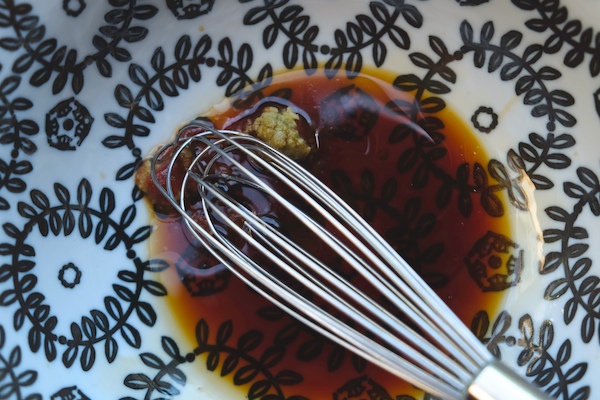 To cook the beets, I roasted them (wrapped in parchment then foil with olive oil) in an oven at 400F for about an hour.
We chop the cooked beets, cucumbers and green onions.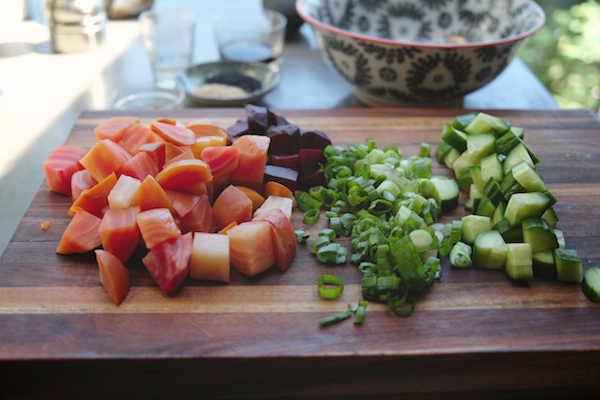 Toss the beets, cucumbers and green onions with the dressing in a large bowl.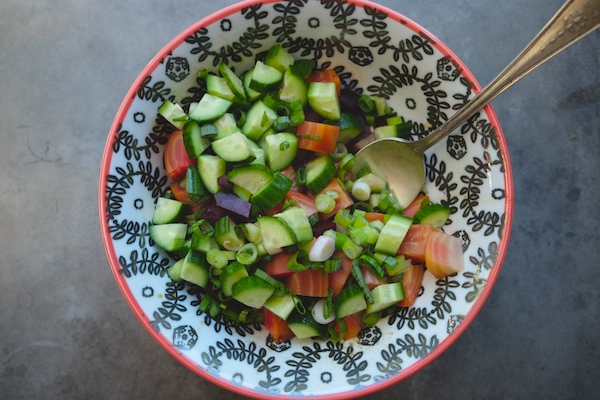 Mix! Now place the beet poke in the fridge for about 30 minutes. We want the flavors to meld!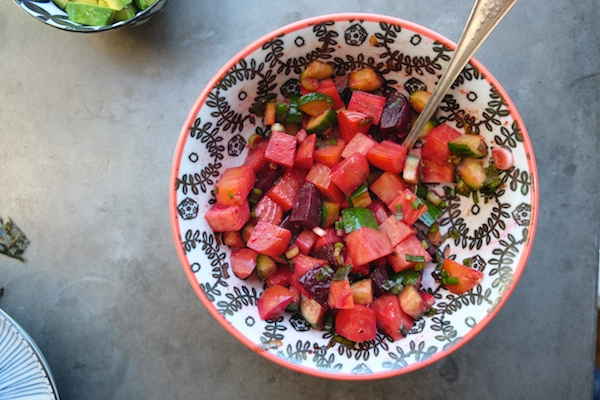 We're ready to serve. Chop up some nori.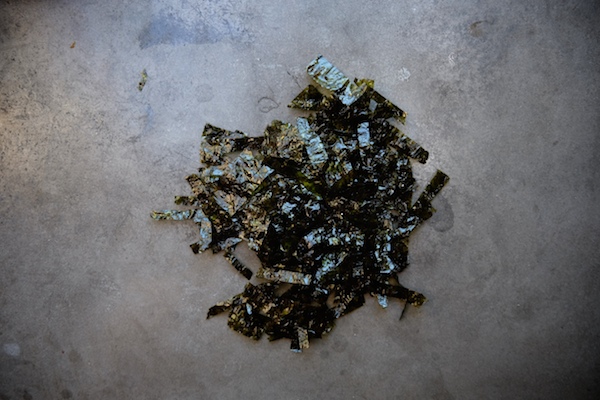 Start chopping up the avocado.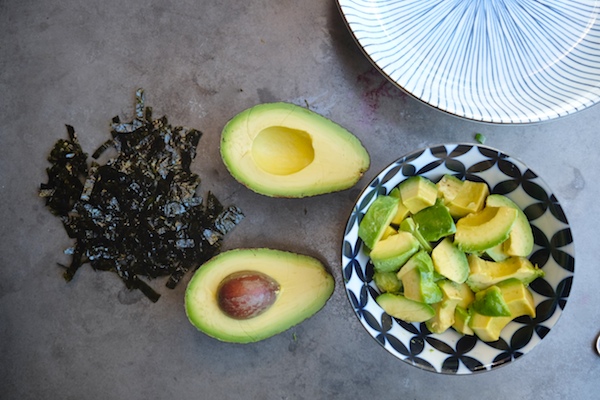 Mix the avocado into the bowl with sesame seeds….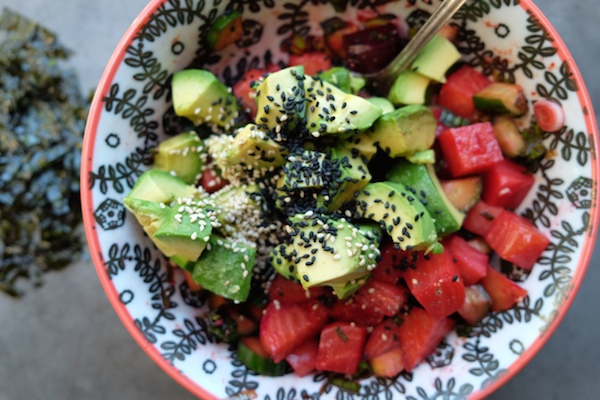 Top with chopped nori.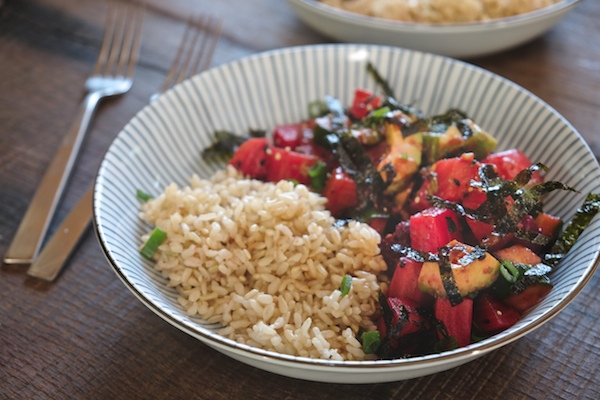 Who needs ahi tuna when you've got healthy pink beets?!
Beet Avocado Poke Bowls

serves 4

recipe adapted from The Sprouted Kitchen Bowl + Spoon

1 1/2 cups short grain brown or white rice
3 tablespoons low-sodium soy sauce
2 teaspoons toasted sesame oil
1 tablespoon rice wine vinegar
1/2 teaspoon wasabi paste
1/2 teaspoon sriracha
3 large cooked beets (about 1 pound), peeled and cut into 1 inch cubes
2 green onions, white and green parts, thinly sliced
1 Persian cucumber, cut into 1 inch cubes
2 large avocados
freshly ground pepper
1 1/2 tablespoons toasted sesame seeds
4-6 sheets dried nori, for garnish

Rinse the rice in a fine-mesh strainer. Cook the rice according to instructions or in a rice cooker.

In a large bowl, whisk soy sauce, sesame oil, vinegar and a bit of wasabi, and sriracha to taste. Add the beets, green onion and cucumber and stir gently to combine. Cover and chill in the fridge for up to 30 minutes.

Just before serving, pit and dice the avocado into small cubes. Gently stir them into the beet mixture with a generous pinch of pepper sesame seeds.

Arrange your poke bowl with a generous scoop of rice, beet mixture and crumbled dried nori on top. Serve with more soy, sriracha and wasabi on the side.