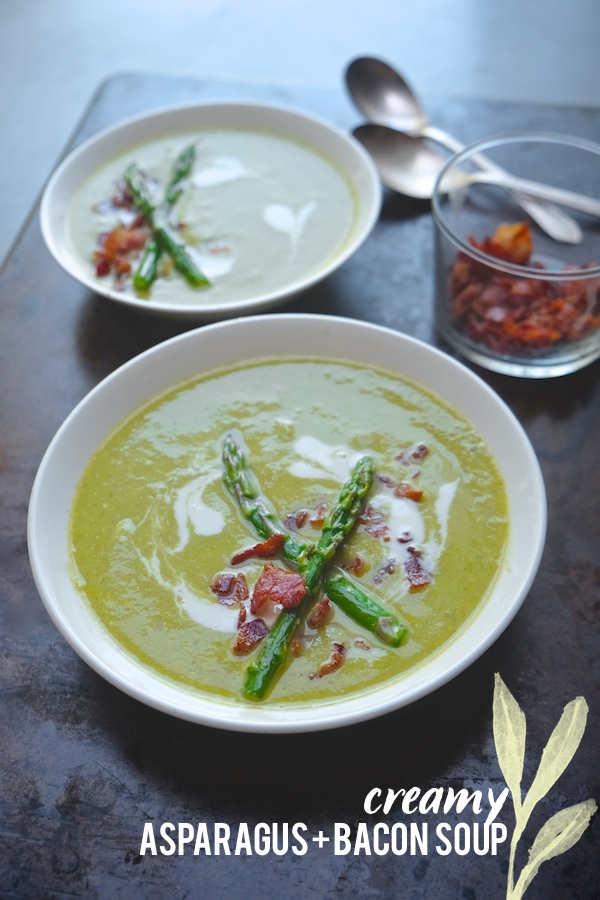 Creamy Asparagus and Bacon Soup is here to brighten your Monday. Oh Monday….ooof.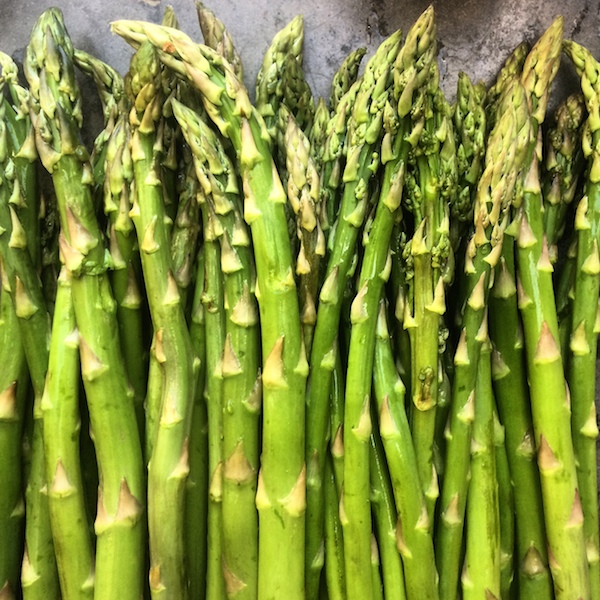 Whenever I see asparagus for a good price at the market, I stock up! Whenever I see asparagus I also think of the song from Alf. Here I found a clip for you.…it's all jacked up but you can see why I have it stuck in my head. Asparagus Asparagus…it's good for your table…Asparagus Asparagus whenever you are able…. Oh gosh what have I done?
If you hadn't noticed, I bought too much asparagus this week. TWO POUNDS.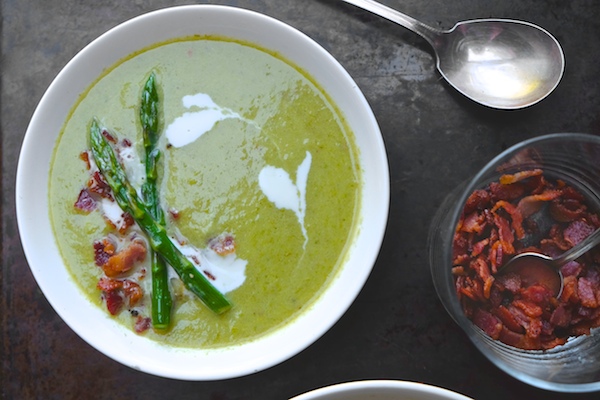 Smoky bacon is the real star in this soup. We crisp some up set it aside for your topping pleasure. Then we cook the onions, garlic and asparagus in the bacon fat and make a soup from it. Creme fraiche is added at the very end for the creamy component. Because creme fraiche is a little tart, it adds the perfect balance. Asparagus Asparagus (soup) whenever you are able. Oh man…I gotta show Cooper an episode of ALF now.
And we're off!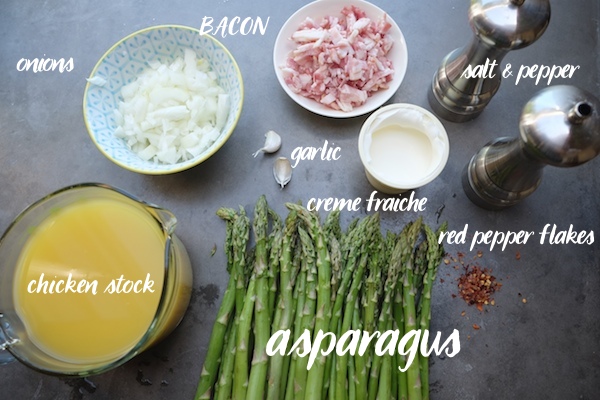 Let's crisp the bacon. Pancetta would be good too.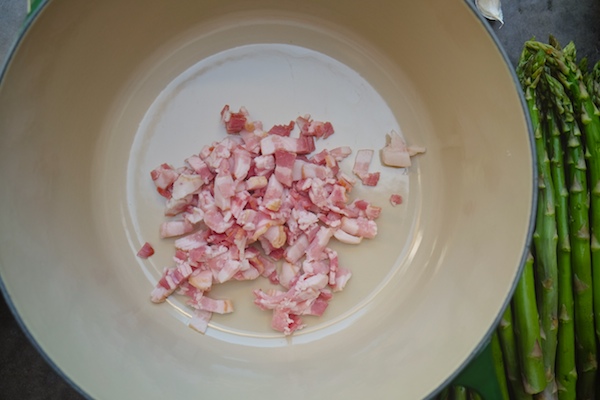 Asparagus chop!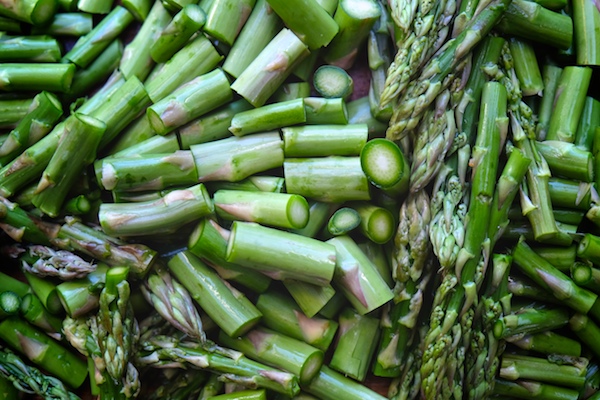 Bacon done.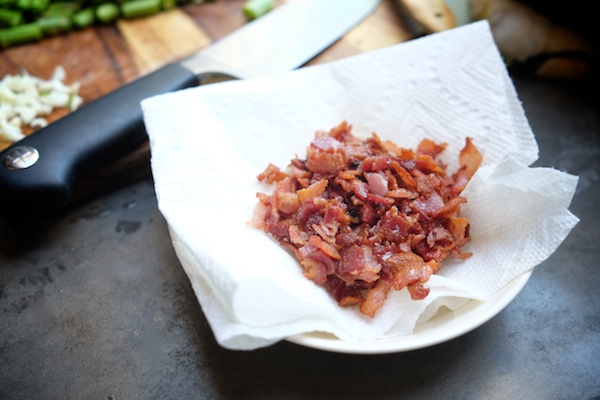 Bacon fat rendered.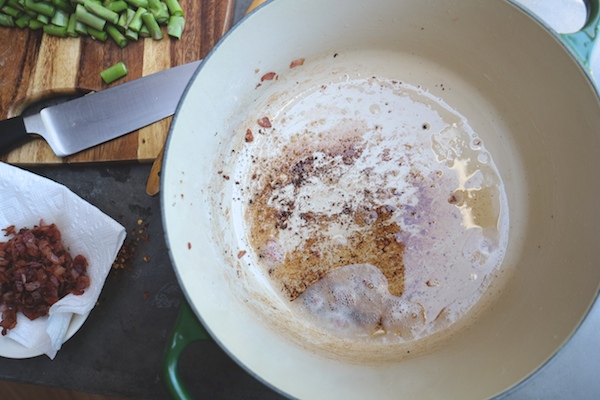 Add the onions, garlic, asparagus and red pepper flakes.
Season with salt & pepper. Cook!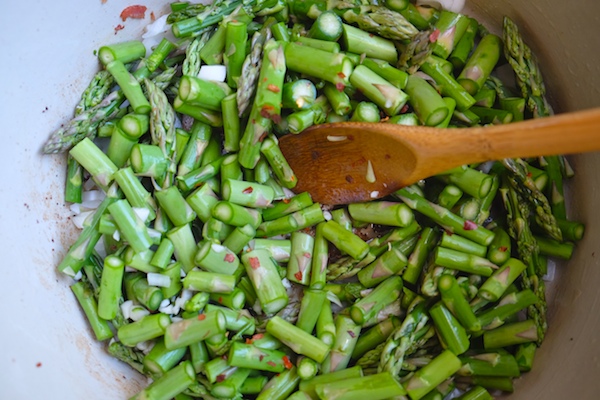 Reserve a few of the asparagus spears. I kept a few longer for this purpose. They're like dangling earrings to an outfit. They add a little texture and a little something something to the soup. Bacon and creme fraiche for later.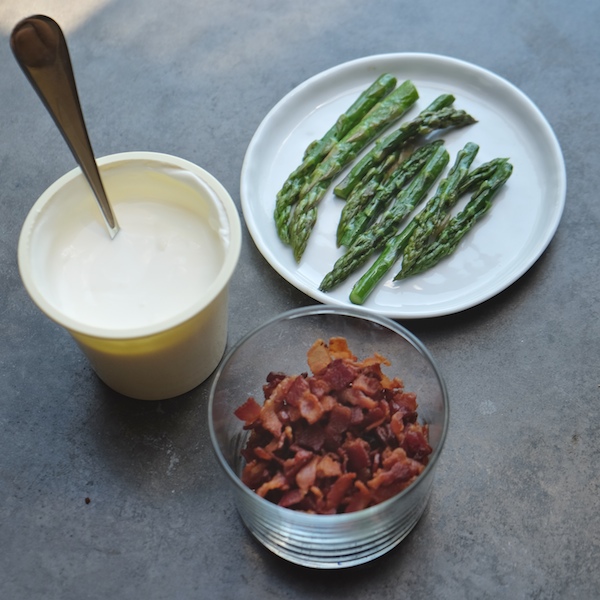 Hello chicken stock.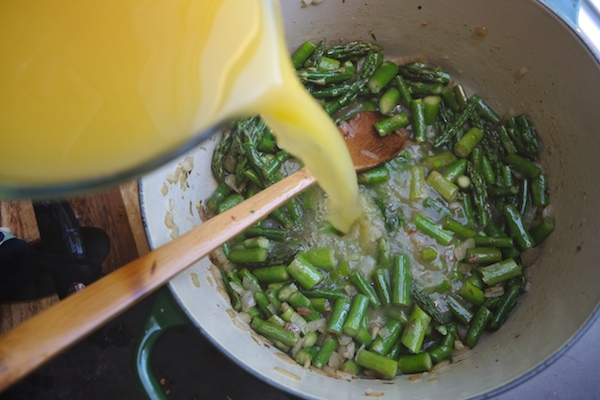 Hello soup! Let's blend you with an Immersion Blender!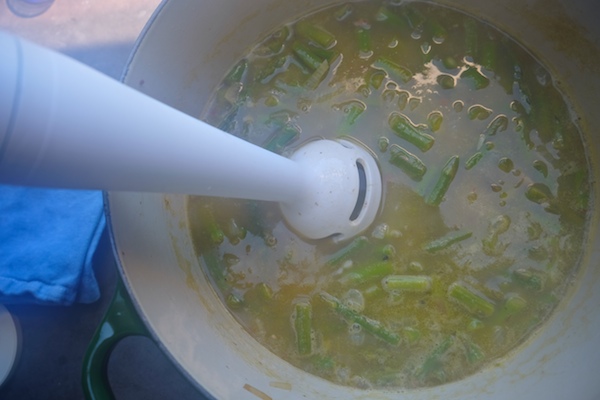 Creamy dreamy soup. Let's add in the creme fraiche now. Look at that swirl.
We put the soup back on the stove for another 5 minutes.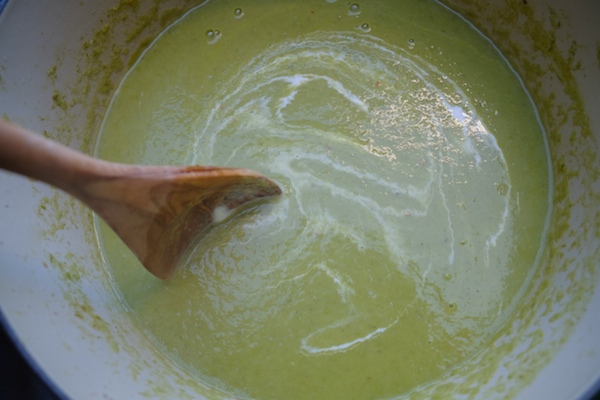 And we start serving!
Dollops of extra creme fraiche.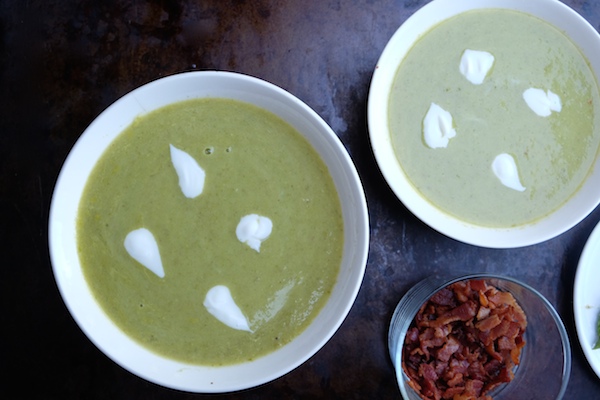 I swirled it with a chopstick.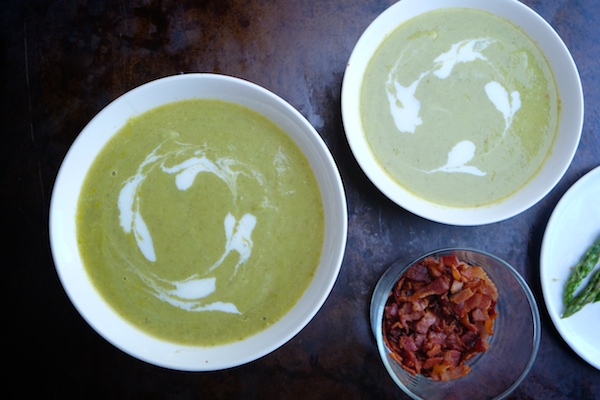 Bacon & asparagus spears.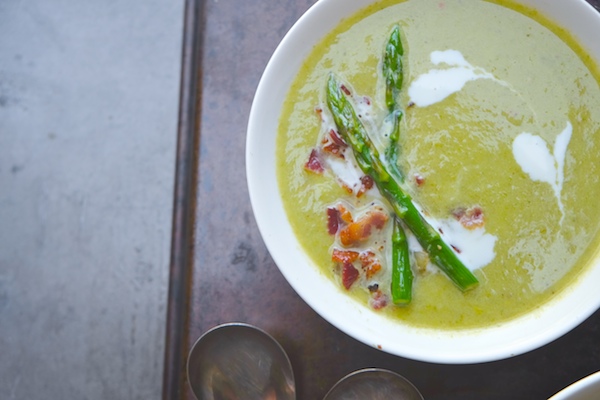 SOUP IS ON!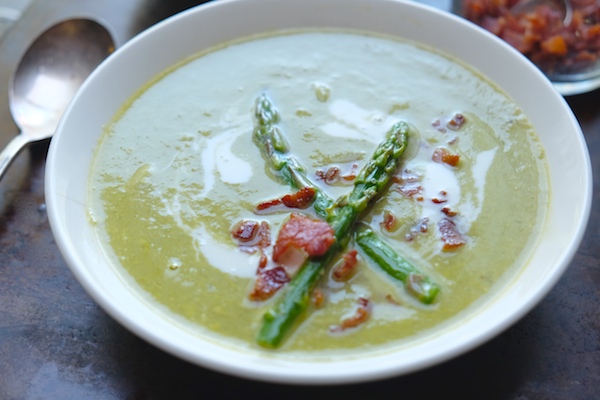 The bacon is everything.
Creamy Asparagus & Bacon Soup

serves 4

4 slices bacon, roughly chopped
1 medium onion, chopped
2 cloves garlic, chopped
pinch red pepper flakes
2 lbs. asparagus, chopped into 2 inch pieces
4 cups chicken stock
salt & pepper
1/2 cup creme fraiche, plus more for serving

In a large sauce pot, cook the bacon over medium high heat until fat renders and bacon starts to crisp, about 6-8 minutes. Drain bacon on a paper towel and set aside. Add onion, garlic, red pepper flakes and asparagus to the bacon fat in the pot and cook for 10 minutes, or until onions are translucent and asparagus has softened. Reserve 6 asparagus tips for soup garnish. Pour chicken stock over the asparagus mixture and cook for another 15 minutes.

Blend soup with an immersion blender until the smooth. Stir in creme fraiche until well incorporated. Season with salt & pepper to taste and heat soup over the stove for another 5 minutes. To serve, ladle soup into 4 bowls. Drizzle creme fraiche on the top, followed by a generous sprinkle of bacon and two asparagus spears for each. Serve immediately.