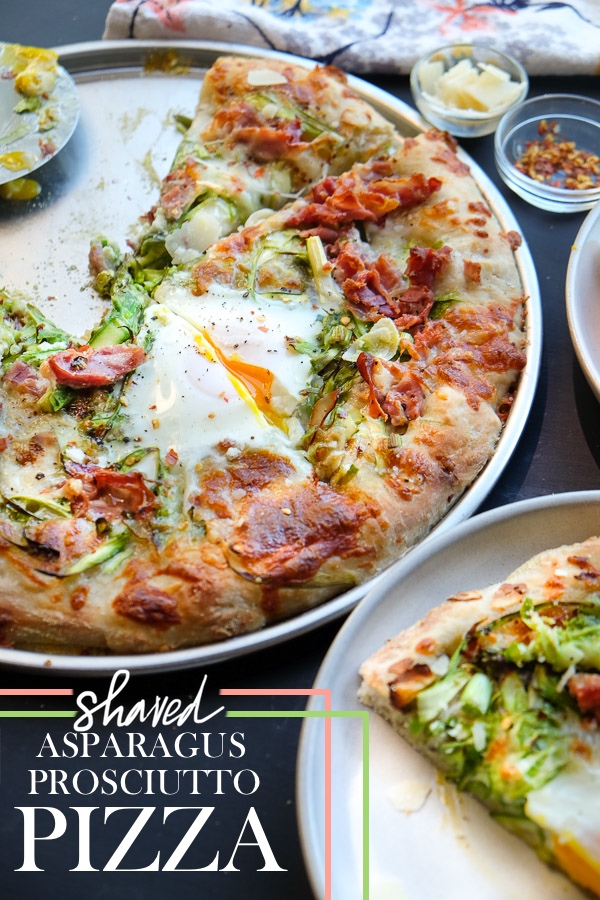 I'm kind of wishing I made this for Easter Brunch. Maybe next year?
Maybe I can just make up for that oversight and make this for the during of Spring?
Too much? Maybe not enough.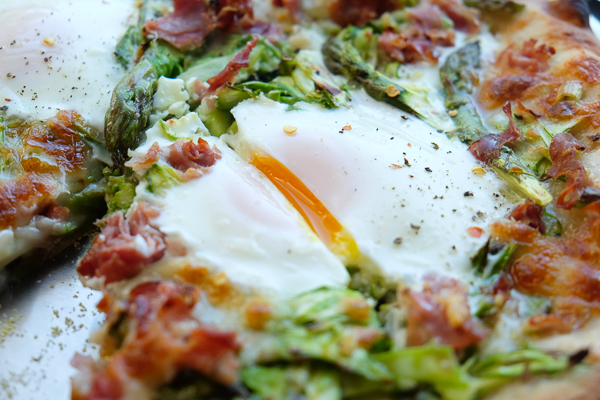 This Shaved Asparagus & Prosciutto Pizza has a secret ingredient.
Below the shaved asparagus, the creamy melted mozzarella and the crispy bits of prosciutto lies a very thin layer of grainy mustard.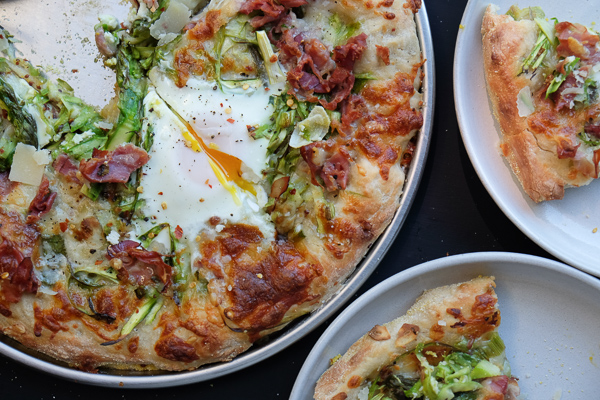 It adds a nice little sharpness to the pizza. A good tang, if you will. I can't wait to have leftovers tomorrow for breakfast because pizza for breakfast is bonkers…especially when eggs are involved.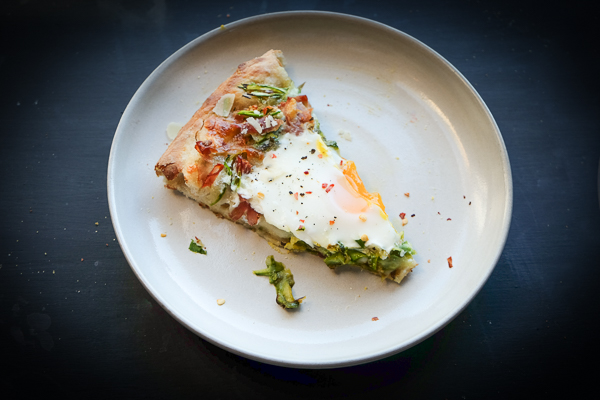 Or maybe we can change our view and have breakfast for dinner? Totally suitable for any meal of the day. #putaneggonit
Let's gather our ingredients: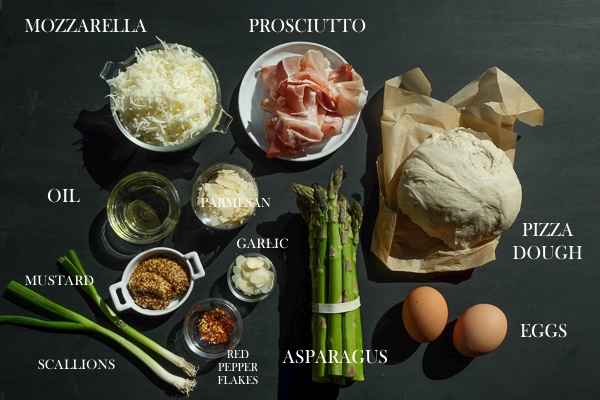 First we shave our asparagus. Use a potato peeler!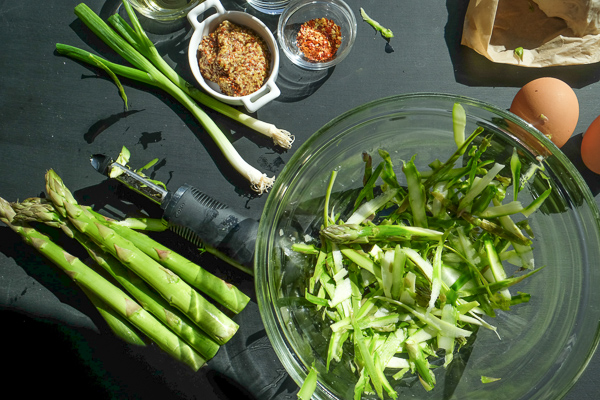 We drizzle olive oil on top and season with a little salt & pepper.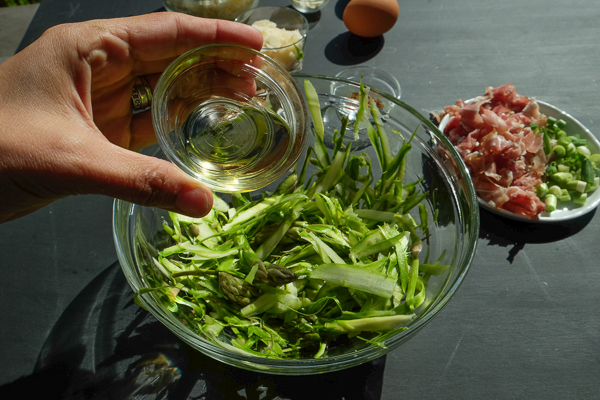 I like a cornmeal crust…obviously. Maybe a liiiiiiiiittle too much.
Makes it feel authentic to me.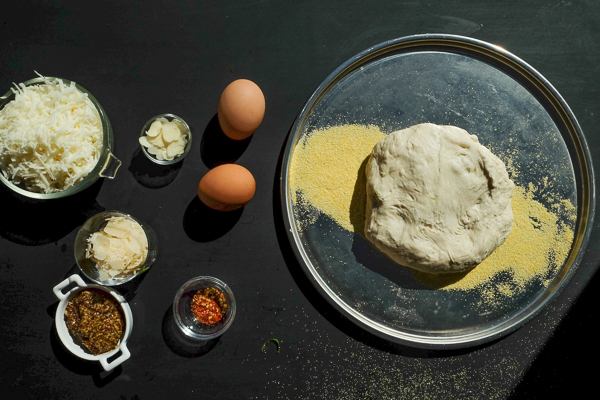 Grainy mustard layer.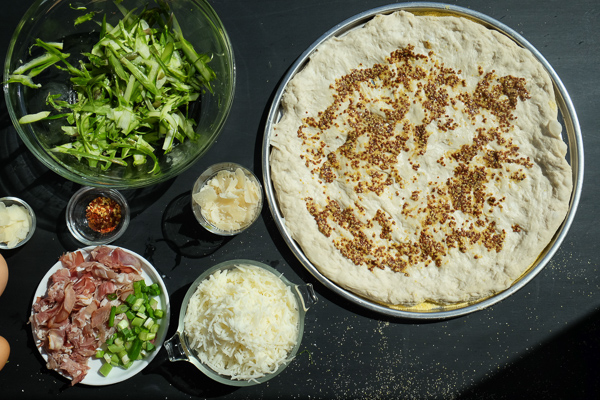 Followed by garlic, cheese, shaved asparagus….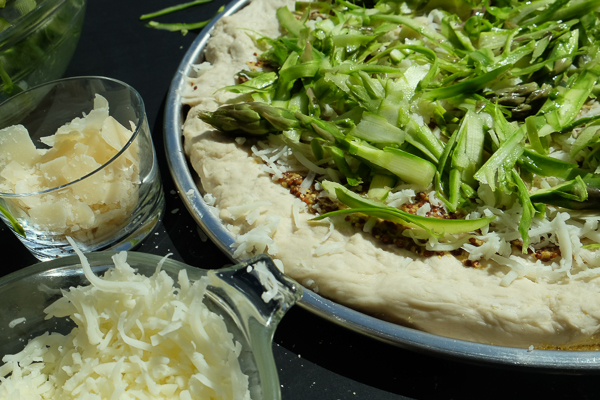 And prosciutto! Add the rest of the cheese. Make two little nests for the eggs.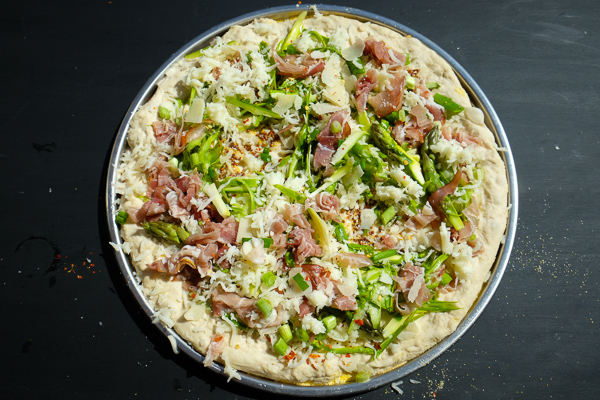 Bake the pizza for a little bit and then add the eggs!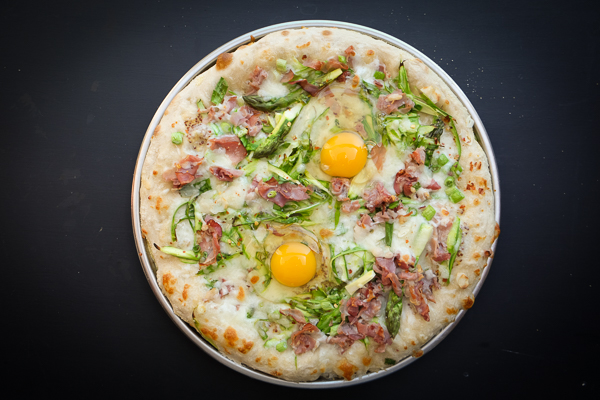 BEFORE.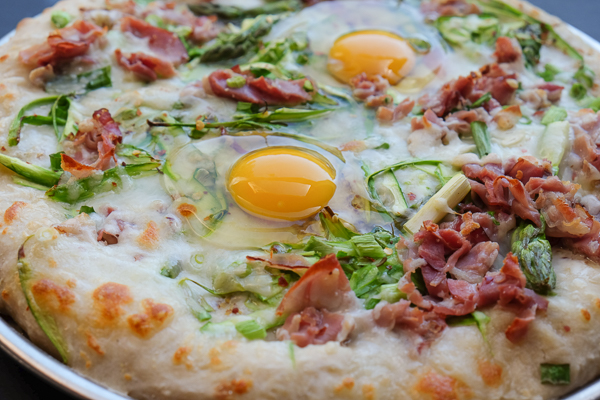 AFTER.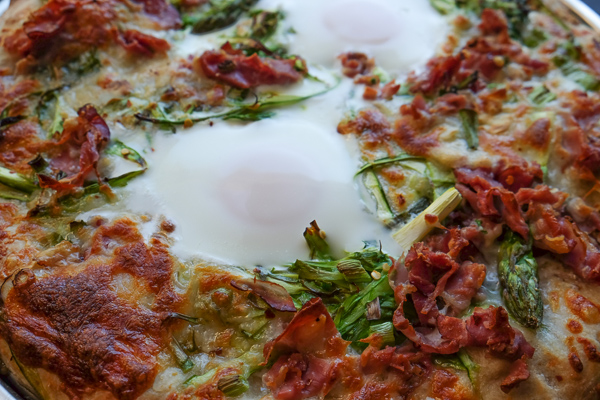 OMFG.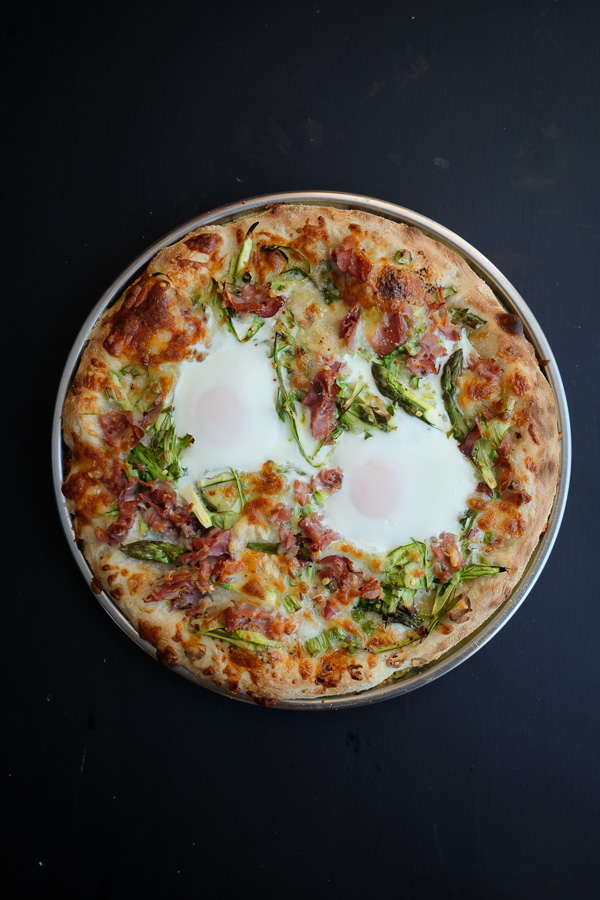 Season with red pepper flakes, salt & pepper.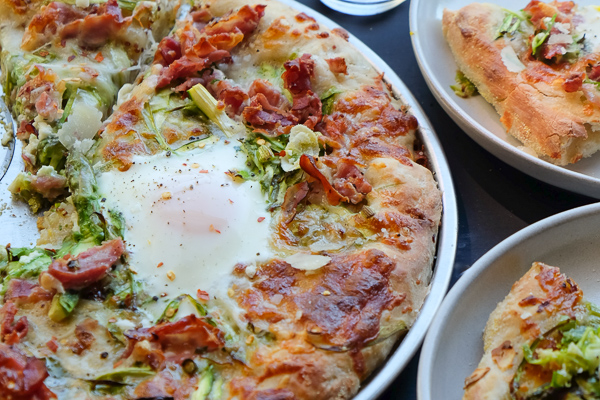 Slice it. LOOK AT THAT YOLK.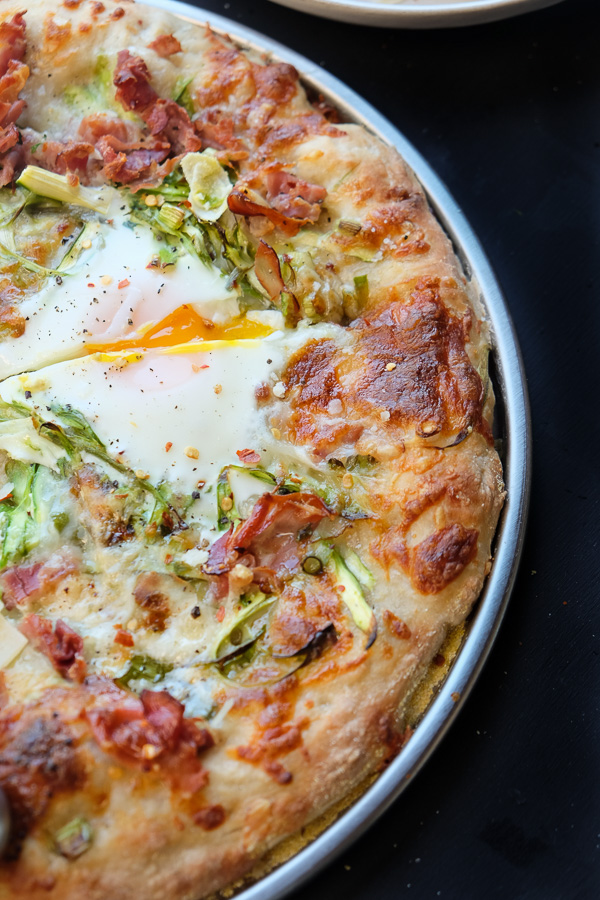 Dibs on the egg piece!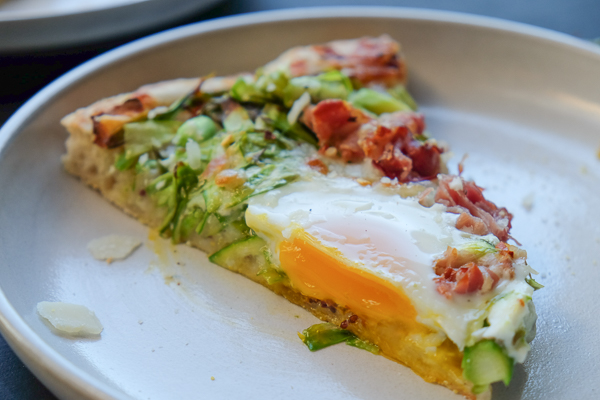 For more PIZZA recipes, check out my archives!

Shaved Asparagus & Prosciutto Pizza

makes 1 12 inch pizza
recipe adapted from Smitten Kitchen

1 1lb. pizza dough
1/2 lb. asparagus
1 tablespoon olive oil
sea salt & fresh cracked pepper
2 tablespoons grainy mustard
1 1/2 cups shredded mozzarella cheese
2 cloves garlic, thinly sliced
5 slices prosciutto, roughly chopped
2 scallions, thinly sliced
1/4 cup grated parmesan
red pepper flakes
2 eggs

Preheat oven to 500F.

Shave the asparagus with a potato peeler into a medium sized bowl. Season with olive oil, salt & pepper and set aside.

Stretch pizza dough into a 14 inch circle onto a pizza pan or baking sheet.  Spread grainy mustard evenly on top of the dough, leaving a 1 inch border for the crust.  Top dough with 3/4 cup cheese followed by garlic, shaved asparagus, prosciutto and scallions. Create two "nests" with the toppings so you'll have a place to crack the eggs into half way through the baking process.  Top with the remaining mozzarella and parmesan cheese.

Bake in the oven until crust starts to turn golden, about 8 minutes. Crack eggs into the "nests" on the pizza and cook for an additional 6-8 minutes, or until eggs are set and crust is nicely browned. Serve hot.