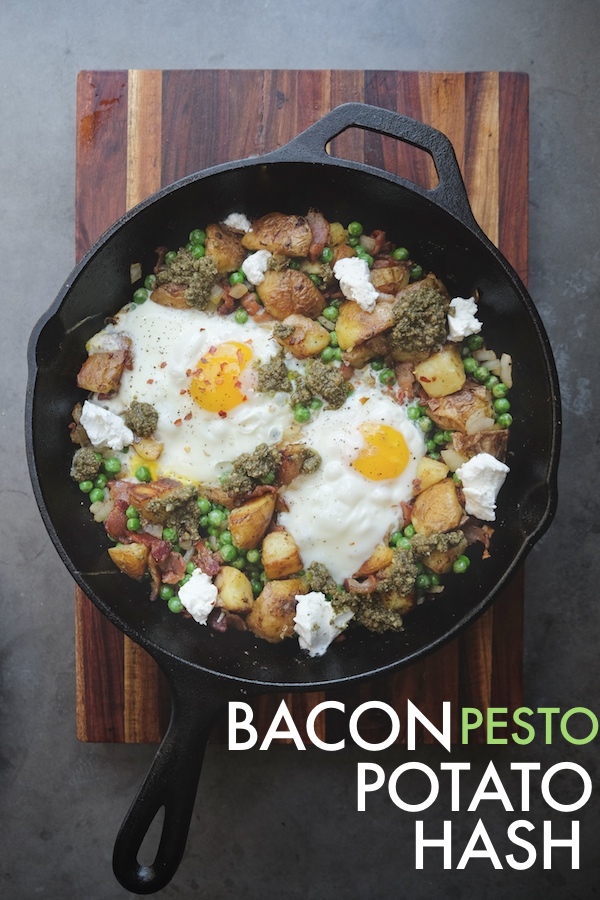 Hello, Pea & Bacon Potato Hash!
Last year I was on a pizza kick. This year, I'm all about making really quick hashes.
I think it started when I had leftover roasted potatoes in one of my weekly Meal Preps.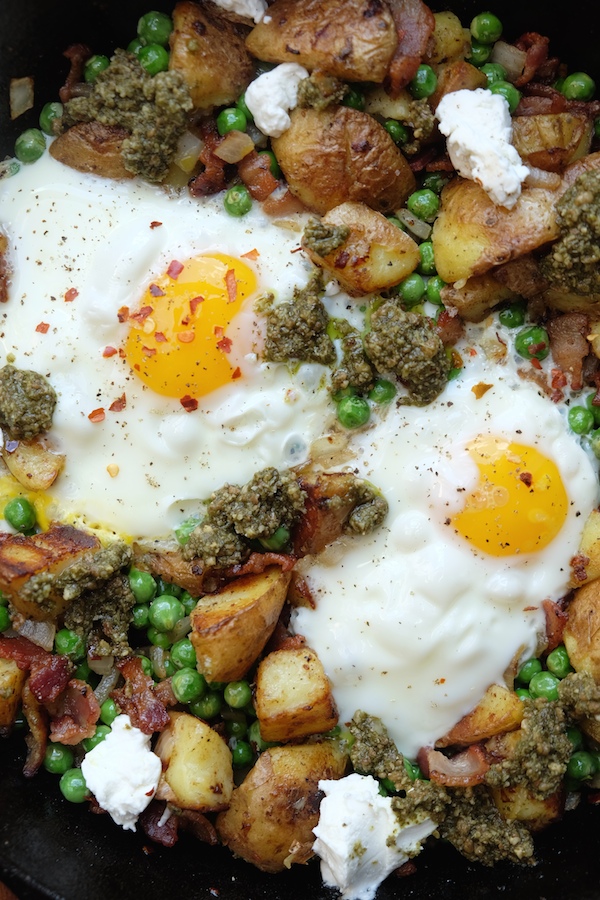 What I like about hashes is that they're a great way to clean out your fridge. I had a cup of fresh peas and 4 strips of bacon to use up, so I threw this hash together before I left for my trip. I also added some pesto and crumbled goat cheese for good measure.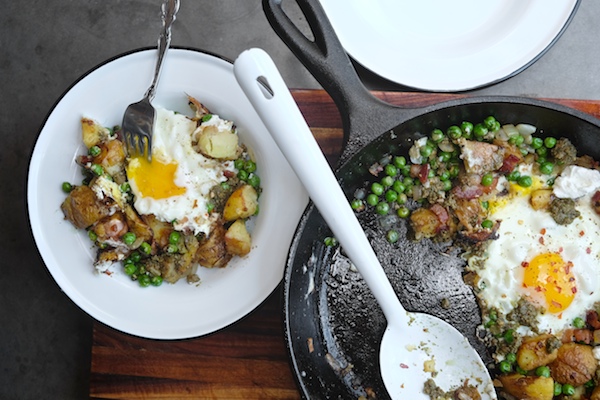 Oh yeah and red pepper flakes because I love spice. Talk about Easy Gourmet! Hopefully this makes you consider having cooked potatoes in your fridge every week. You're seriously a few minutes away from an incredible dinner…breakfast or lunch.
And we're off!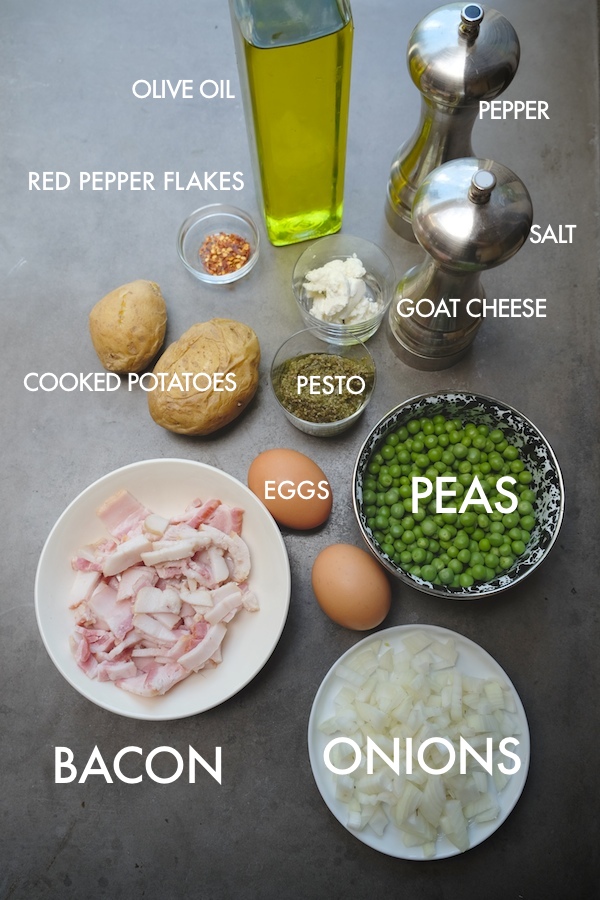 First we cook the bacon. Cast Iron Skillets are necessary for good hashes. I obsessively season mine.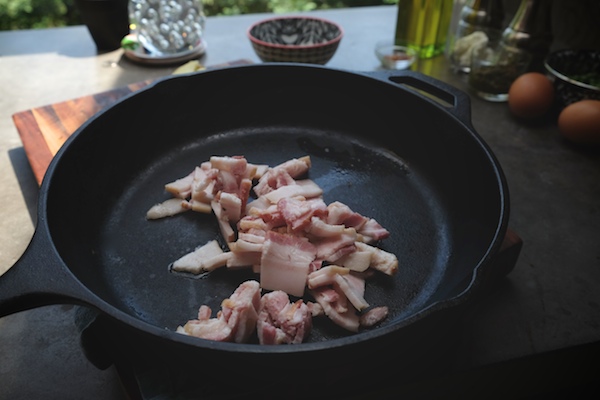 Bacon fried.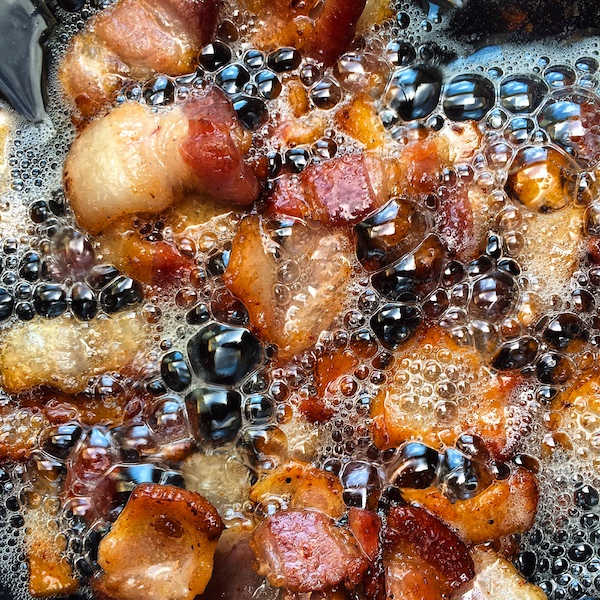 Let's reserve some of that fat for the potatoes. We don't need this big much fat though.
Bacon goes on a paper towel off to the side.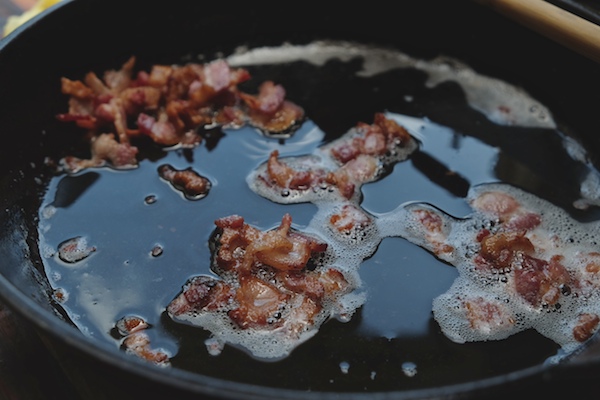 Cut up the potatoes. I like when some of the skin hangs off because I know it's gonna get crisped up.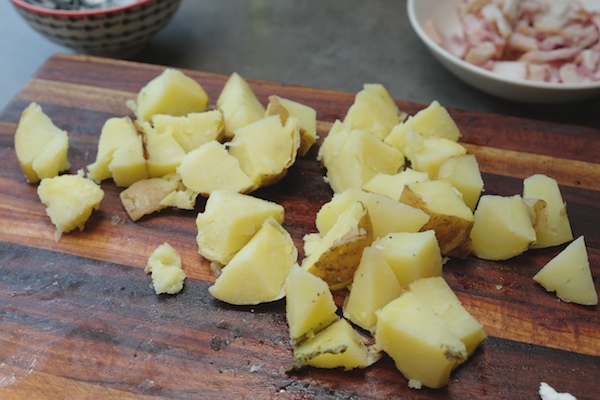 And we cook. I add just a little bit of olive oil to help the crisping.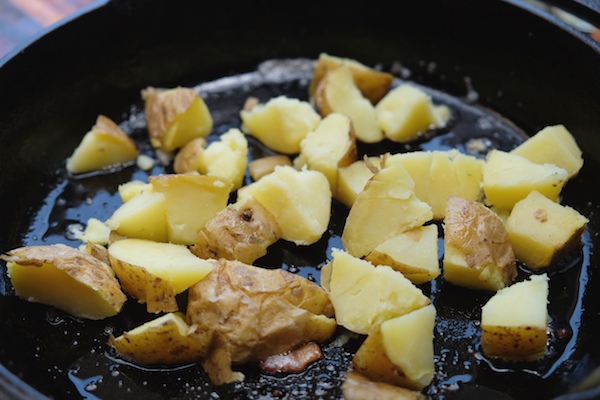 The key is to stir them only a few times. We want crispy bits.
Add in the peas and onions. We do this towards the end because we are looking for the peas to still be tender and the onions to be translucent.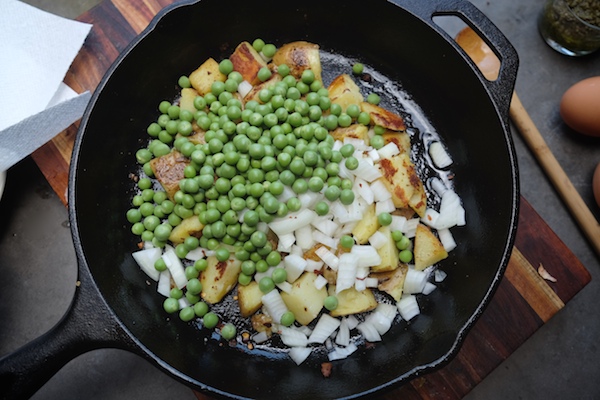 After a few minutes we add the bacon back in.
Make two wells for eggs. Drizzle a little bit of olive oil in there.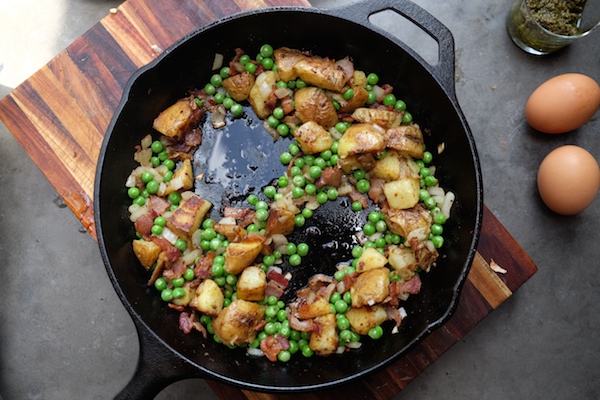 Eggs go in.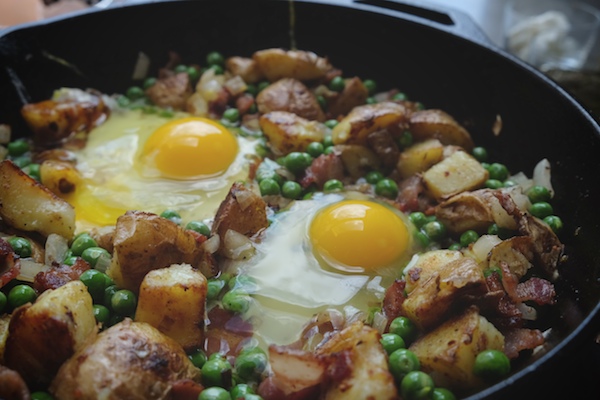 COOKED! Waiting for toppings.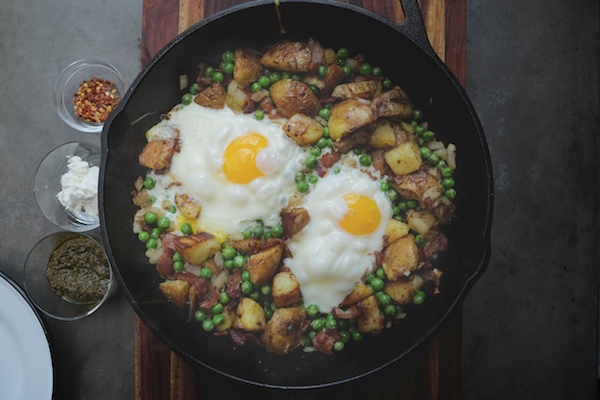 Pesto & goat cheese topping!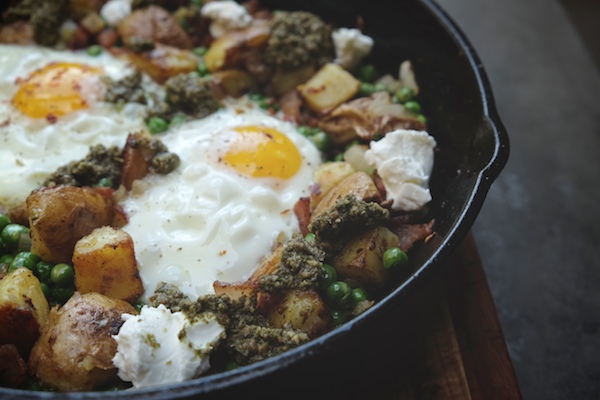 A little extra red pepper flakes for me.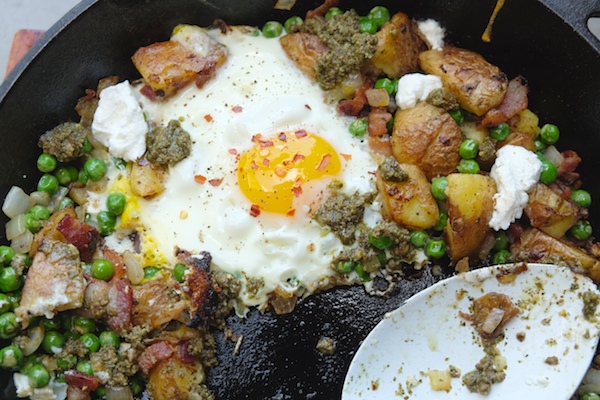 BREAKFAST FOR DINNER FOREVER and EVER. AMEN.
Pea & Bacon Potato Hash

serves 2

4 strips bacon, roughly chopped
2 cooked Yukon gold potatoes, cut into 1 inch chunks
a few glugs of olive oil
1 cup fresh peas
1/2 medium onion, chopped
salt & pepper
pinch red pepper flakes
2 large eggs
2-3 tablespoons fresh pesto
3 tablespoons crumbled goat cheese

Cook bacon in a cast iron skillet over medium-high heat until crispy, about 4 to 5 minutes. Transfer bacon to a paper towel lined plate with a slotted spoon. Reserve 2-3 tablespoons of the bacon fat and cook the potatoes until all sides are crispy, about 5 to 7 minutes. Be sure to stir the potatoes seldom or else you won't get nicely crispy bits. Add the peas and onions to the potatoes with a generous pinch of red pepper flakes. Season with salt and pepper and cook for another 4 to 5 minutes, or until the onions have become translucent and the peas have softened. Stir in the reserved bacon and cook for another minute.

Make two wells in the center of the skillet. Drizzle each well with a glug of olive oil and drop an egg into each well. Cook until the eggs have set. Remove skillet from the heat and add dollops of pesto and goat cheese to the skillet. Add additional salt & pepper to the eggs and a pinch of red pepper flakes. Serve immediately.