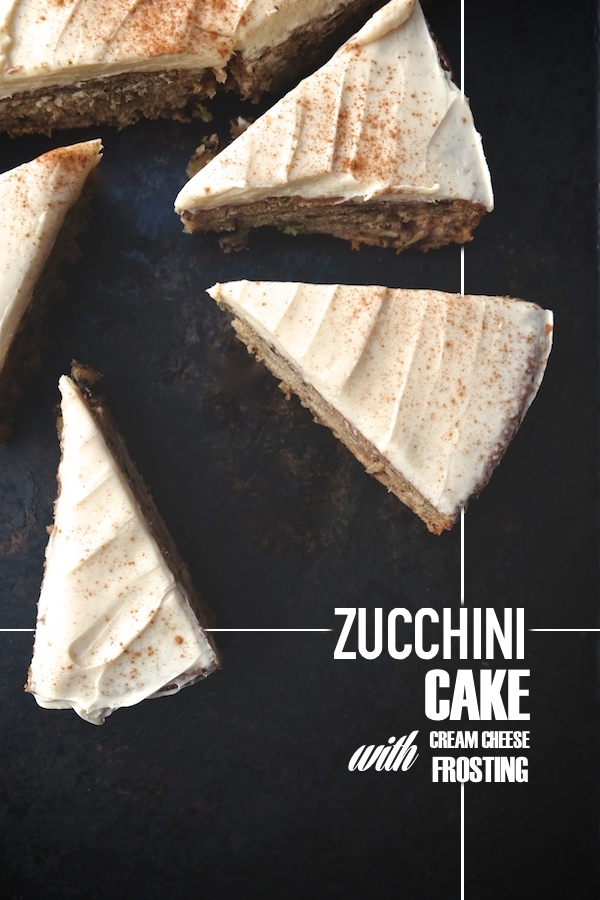 Before we said goodbye to summer break, I had a little get-together at my house with our friends who live up the street.  There's nothing like grilling outside and enjoying each other's company before the hustle and bustle of back to school season starts.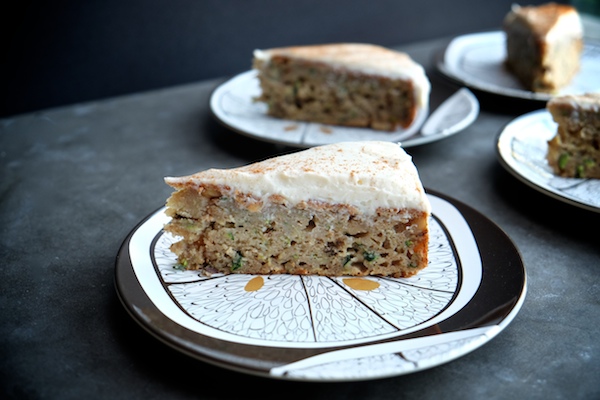 After our dinner of grilled hot dogs, tater tots & salad, I served this Zucchini Cake with Cream Cheese Frosting for dessert. It's packed with zucchini and none of the kids had any idea until we told them.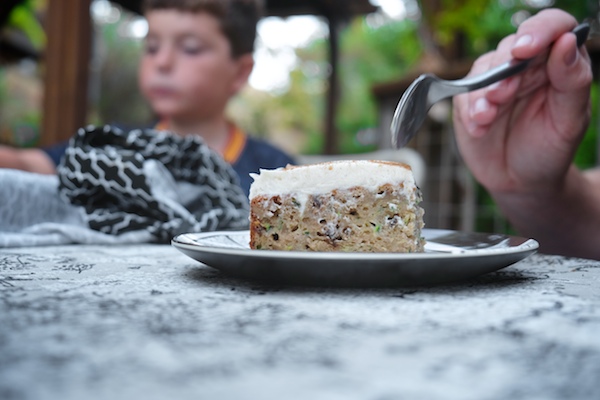 This is an incredibly moist cake, thanks to the combination of shredded zucchini and Olivari Olive Oil. It's not too sweet, which meant that it was the perfect thing to have the night before school started. Also…it was the perfect cake to have for breakfast with a hot cup of coffee. I believe that cream cheese frosting makes mornings, afternoons and evenings better. Don't you agree?
Let's gather our ingredients: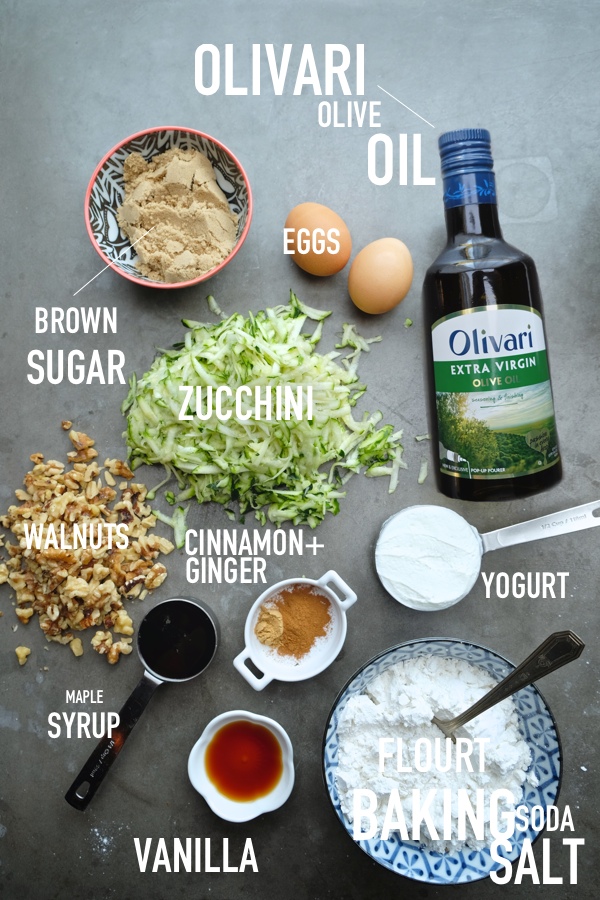 Let's get our dry ingredients together.
Olivari developed an hands-free app (it narrates the recipe to you!)  with a library of great recipes (including this one) that feature their olive oil. It's called the Olivari Audio Cookbook. That means you can be hands free while you're working on the recipe. No more flour gunk on your phone!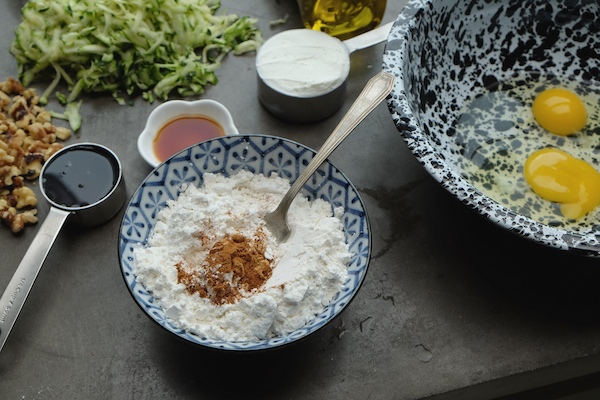 One of the main ingredients (besides zucchini!) is this Olivari Olive Oil.  It has a smooth fruity flavor profile which made it perfect for this cake.
When Olivari sent me their olive oil, I had no idea that each bottle had a pop-up pourer.
I found it pretty cool and super convenient!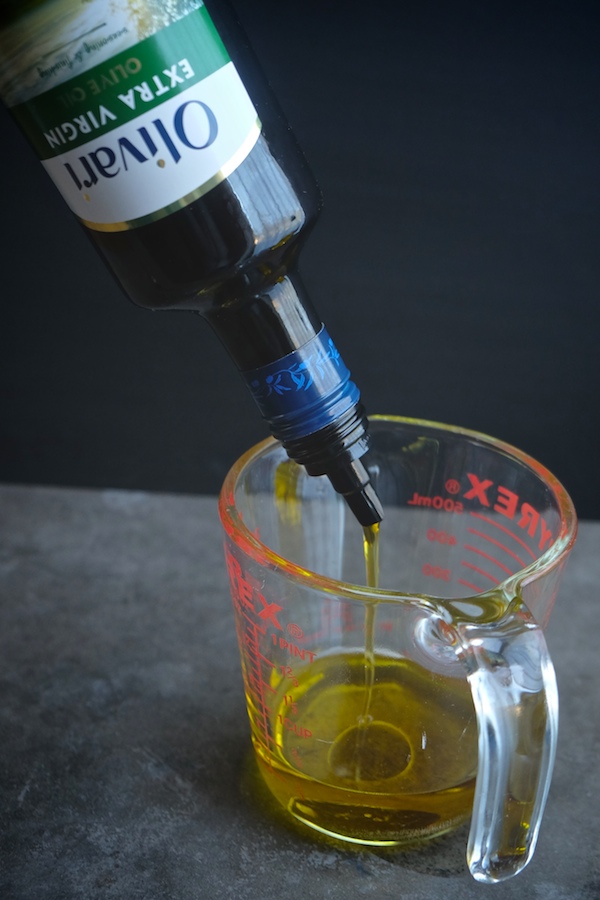 We stir the wet ingredients together. Zucchini goes in with the Greek yogurt.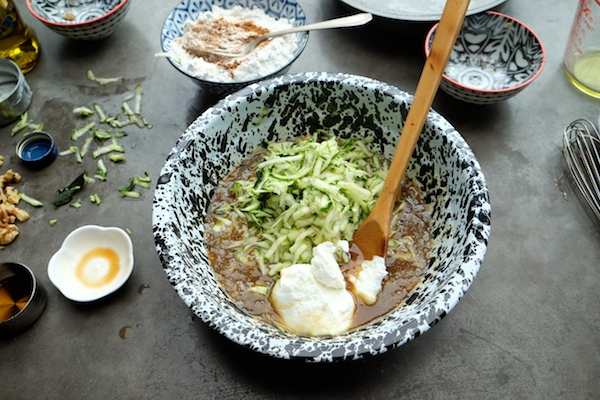 Dry meets wet.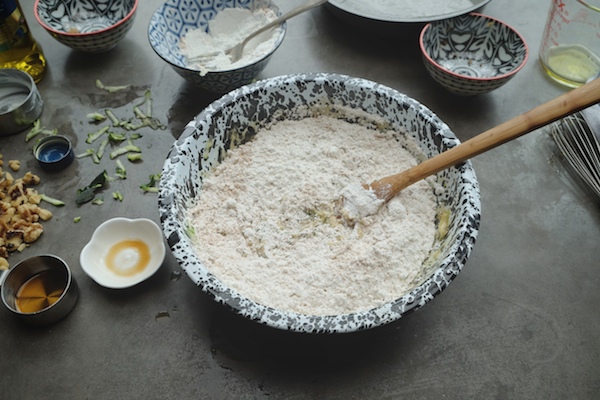 Walnut addition. Omit if you're a walnut free household.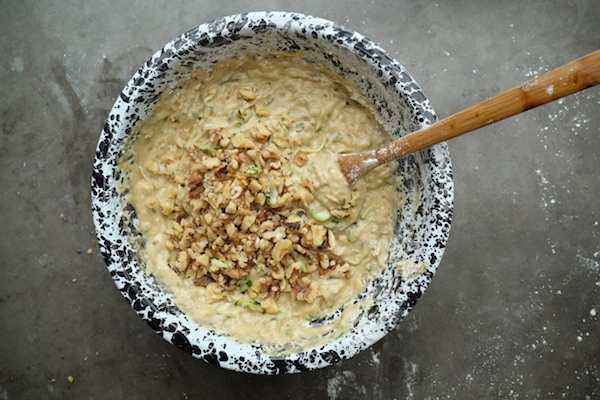 Off to the oven!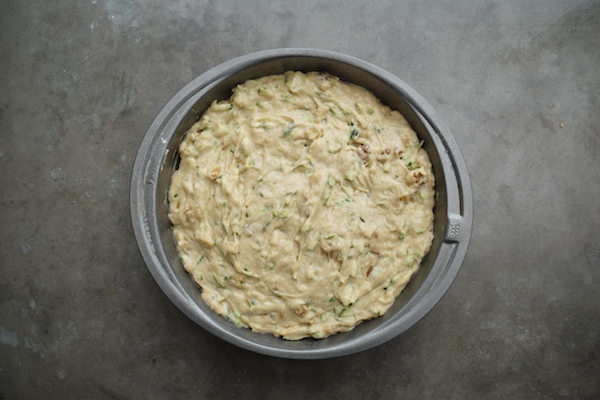 Baked!  Now cooling.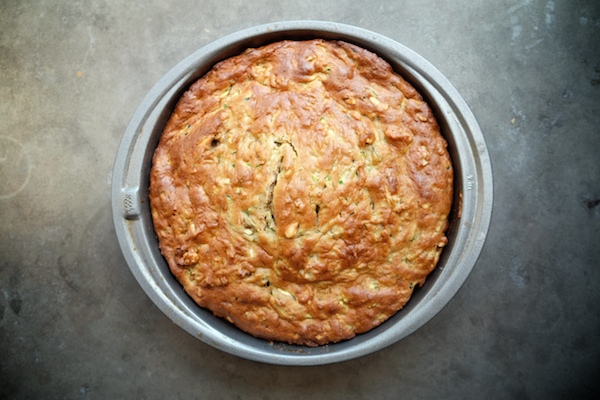 Let's make the cream cheese frosting. It has cinnamon in it for extra flavor.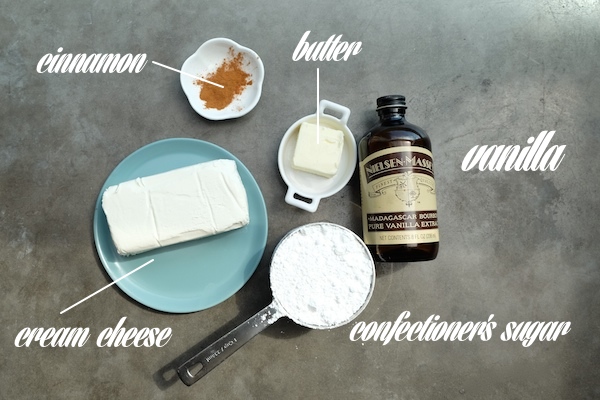 Before: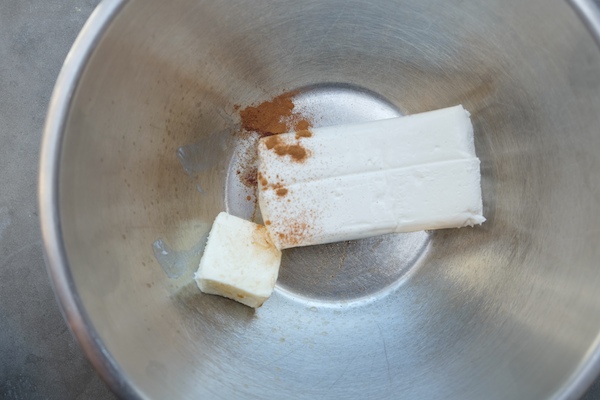 After!  With the addition of the confectioner's sugar and a whip session with the hand mixer.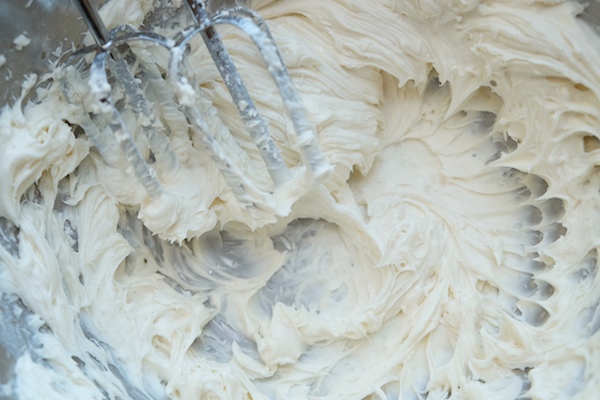 Invert the cake. Smooth side up! Frosting goes on.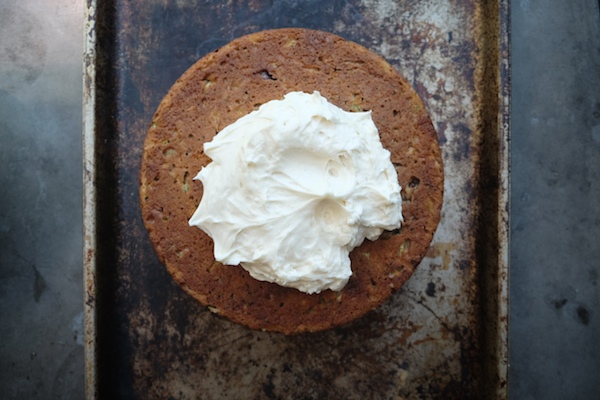 Spread evenly.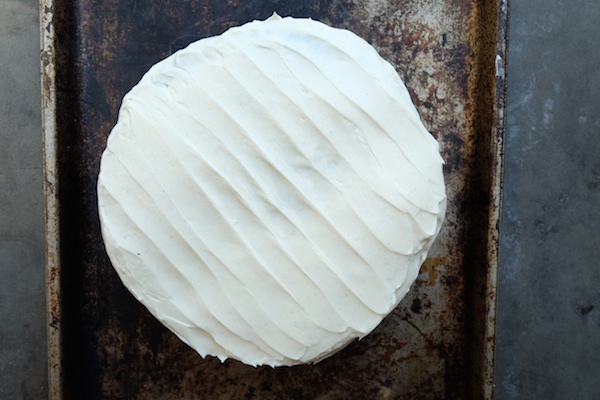 Don't worry about mistakes…that's what cinnamon dusting is for.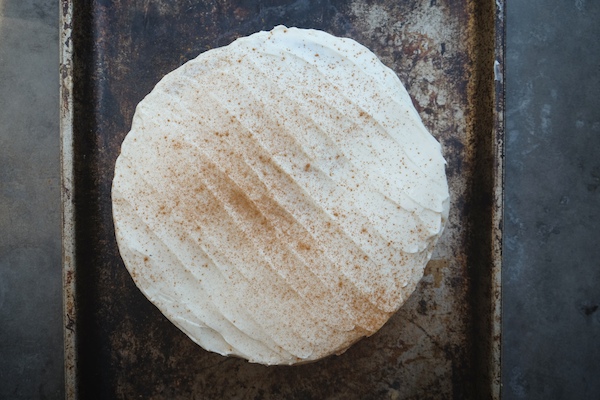 Here we have it served up!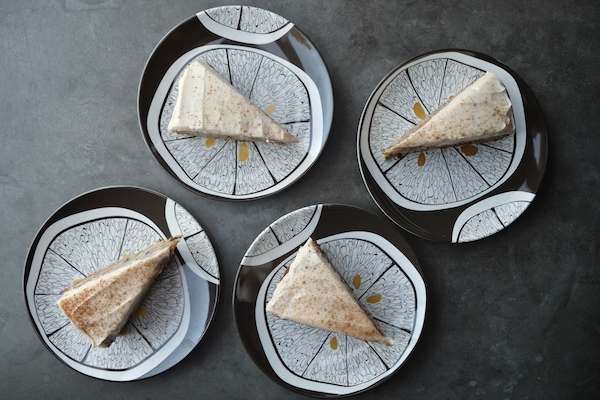 And here we are enjoying it!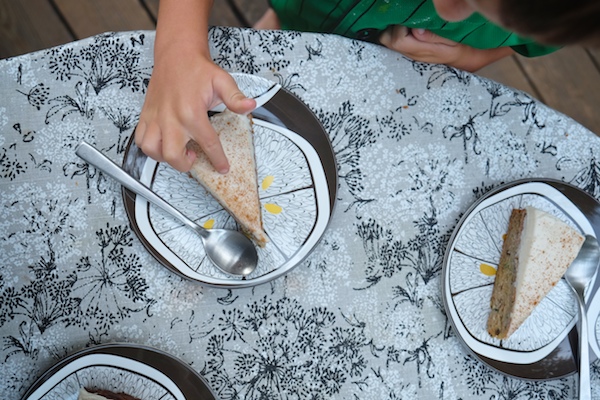 Someone enjoyed it a little too much….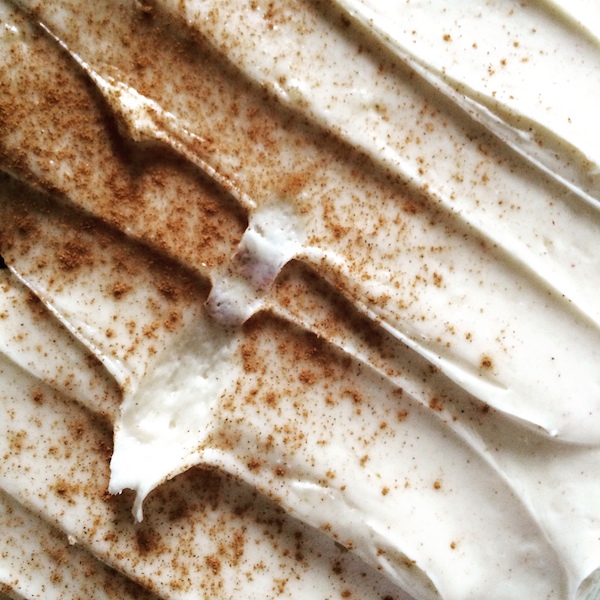 It  was nice to be able to direct my friends to the recipe on their app when they asked for it. Remember when we had recipe cards? Life is so high-tech now!
(You can download the app here)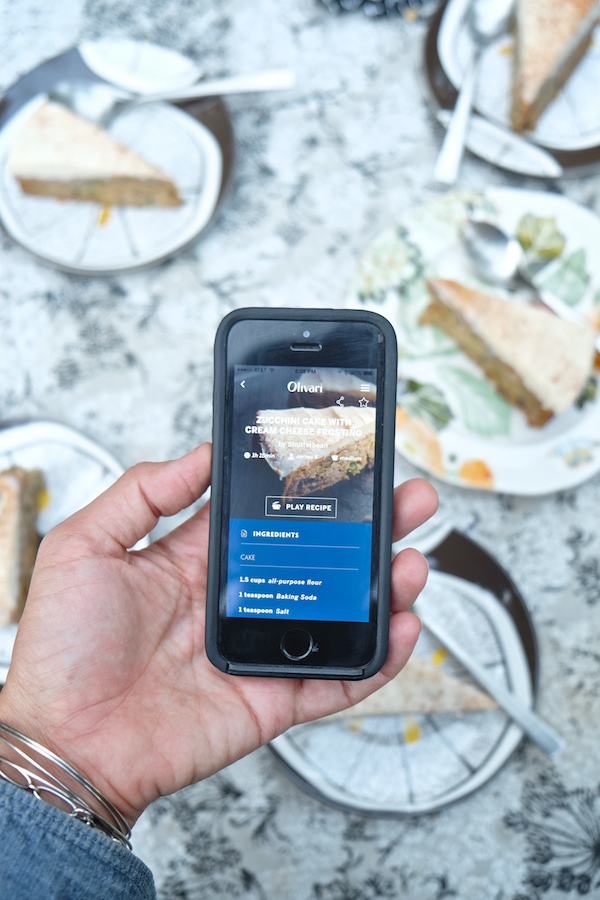 So, there we have it!  Zucchini Cake studded with walnuts and topped with the perfect amount of cinnamon cream cheese frosting.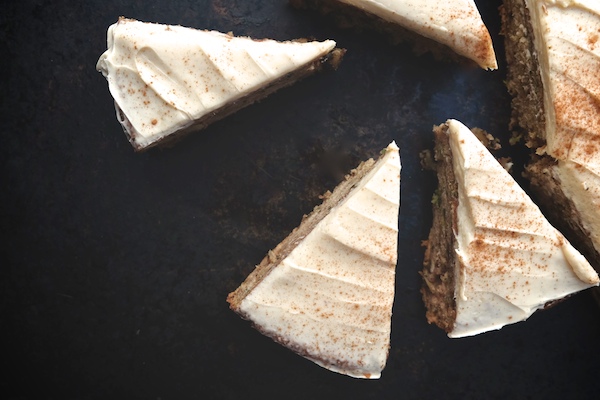 It makes for a really nice transition into fall.

Zucchini Cake with Cream Cheese Frosting

serves 6-8

for the cake:

1  1/2 cups all-purpose flour

1 teaspoon baking soda
1 teaspoon salt
1/2 teaspoon ground cinnamon
1/4 teaspoon ground ginger
1/2 cup Olivari Olive Oil
1/2 cup brown sugar, packed
1/4 cup maple syrup
1 1/2 teaspoons pure vanilla extract
2 eggs
3 zucchini, shredded (about 1 1/4 cups)
1/2 cup Greek yogurt
1/2 cup chopped walnuts

for the frosting

1 8oz. package cream cheese, at room temperature
2 tablespoons unsalted butter, at room temperature
1 cup confectioner's sugar
1 teaspoon pure vanilla extract
1/2 teaspoon ground cinnamon, plus more for topping

to make the cake:

Preheat oven to 350F. Butter one 8 inch cake pan and set aside.

Whisk together the flours, baking soda, salt and spices in a medium bowl and set aside.

In a large bowl, whisk together the olive oil and brown sugar, breaking up any lumps. Add the maple syrup and vanilla, whisking until smooth. Add the eggs, one at a time and beat until fully incorporated. With a wooden spoon, stir in the shredded zucchini, followed Greek yogurt. Add the flour mixture to the liquids, stirring until just combined. Fold in the chopped walnuts to the batter;  do not over mix. Pour batter into prepared pan, evening out the top if necessary. Transfer batter to prepared cake pan and bake in the oven for 30- 35 minutes, or until tester comes out clean.

Remove from the oven, and leave the cake to cool in its pan for 10 minutes.

to make the frosting:

Place cream cheese, butter, vanilla in a mixing bowl and beat with a hand mixer until well combined. Slowly add the confectioner's sugar and cinnamon and continue beating until frosting is well incorporated.

to frost the cake:

Invert the cake onto the serving platter/plate. Spread frosting evenly over the top of the cake, making sure to leave the sides frosting free. Dust the top of the cake with ground cinnamon and serve.