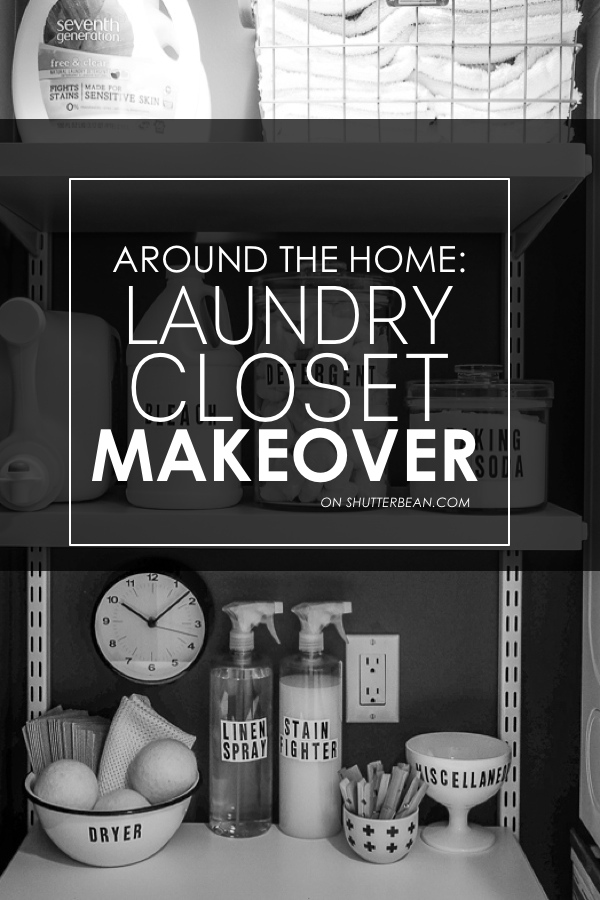 We finally updated our laundry room closet!  This small narrow space was driving me absolutely BONKERS because it was so disorganized and cramped.  We all had some bad habits of shoving stuff in that corner when we didn't want to deal with it. Actually…it was mostly me.
When we first moved into my childhood home, we used my parent's washer & dryer (washer from my childhood!) until they stopped working. We bought ourselves front loaders and stacked them in this little closet instead of having them side-by-side. We wanted to put shelving in and paint the inside but didn't have enough momentum so I put a super cheap IKEA shelf from our old house in the small/narrow space and called it done "for now."  Shelf was too narrow and a poor use of space. It's gone and a new organizing system is in place. Let me show you!
Here is the BEFORE: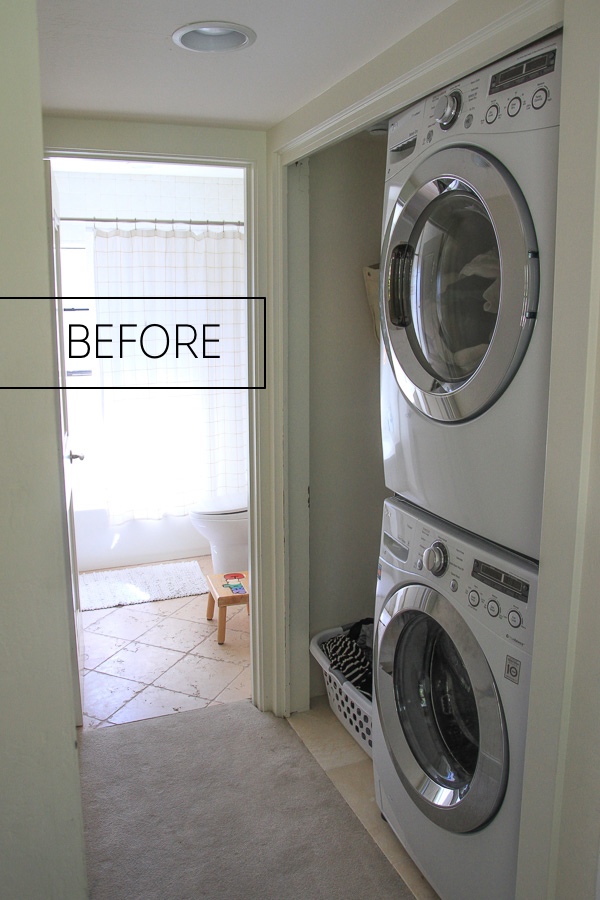 I started with a plan in my journal. Whenever I start a project I think of the questions that need answering like:
What goes in a laundry closet?
That way I can figure out what containers I need.
What colors would work with this space? 
So I can easily spot the colors I'm looking for on my shopping trips.
How will I use this space in ways I haven't already?
Will it be a place where I iron? Does there need to be a section for just stain removal? Can I make something else in my life better by moving things around?
A lot of measuring went down. Measurements made it onto several pieces of paper and not my notebook.
Figures.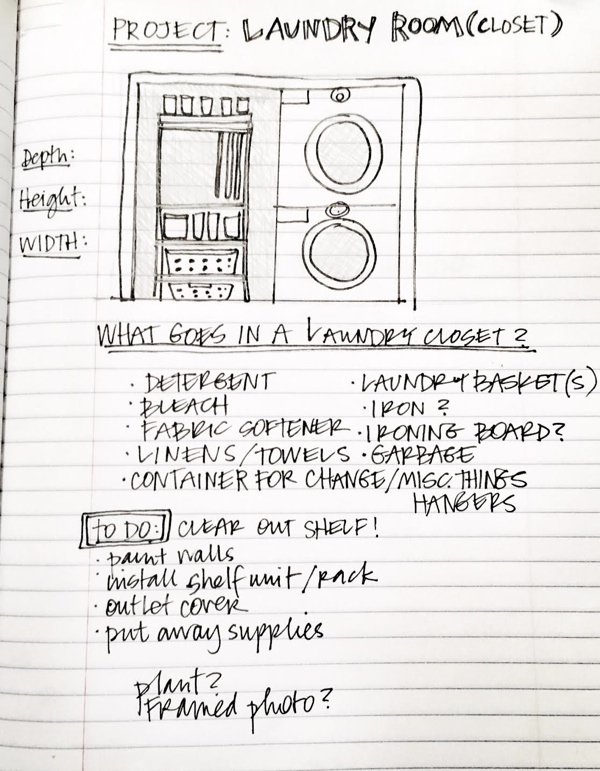 Here's more of the before. There's that rickety shelf thing I got in the IKEA return section.
The bag up on the top holds clean rags. It almost always falls off.
There's a plug outlet cover missing and just outside the frame there's an overflowing laundry basket on the floor.
If you look closely, you can see that brown sock wedged in the laundry detergent.
So THAT'S WHERE THAT SOCK WENT.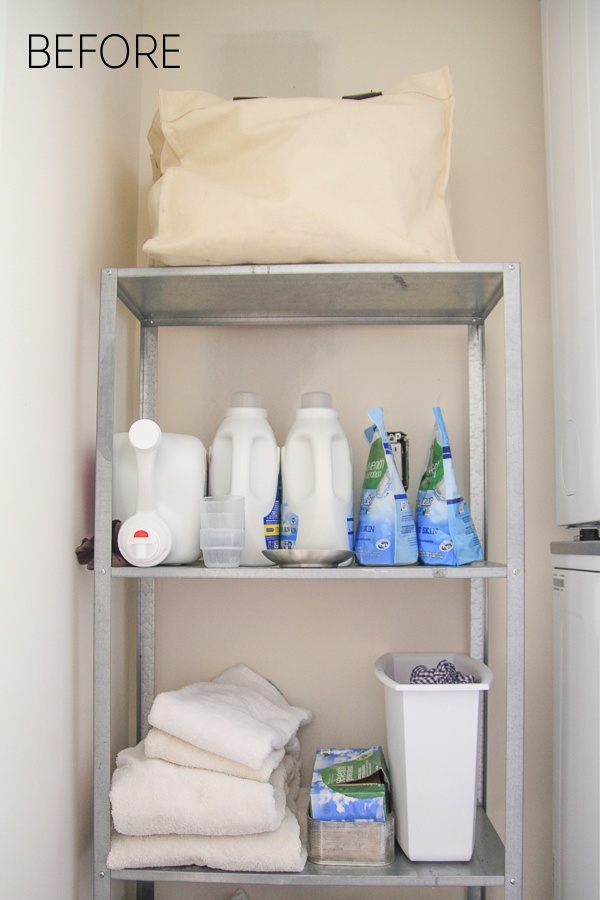 We removed it ALL! And then we moved out the washer & dryer and painted the closet.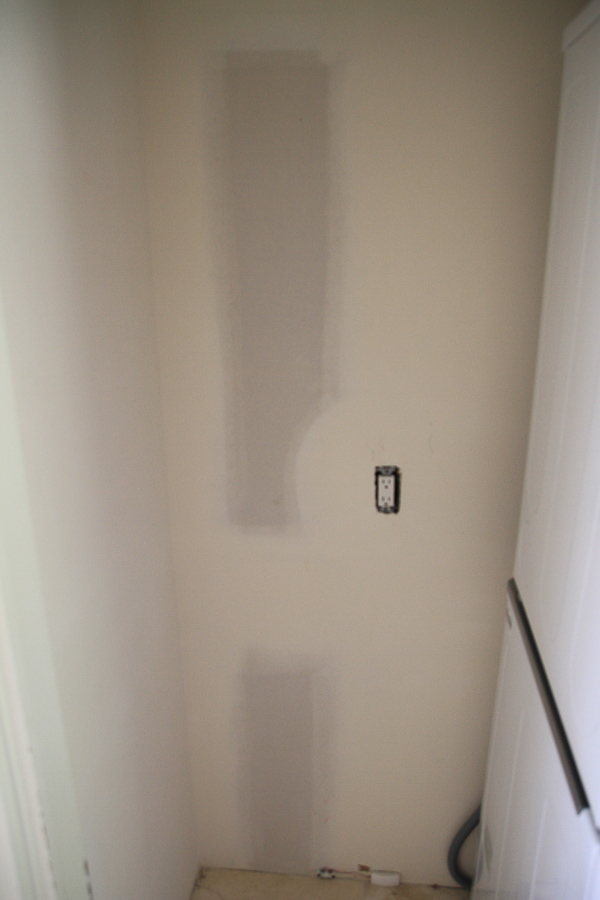 I shouldn't say WE painted the closet. Casey painted the closet while I went deep into container swapping and labeling mode.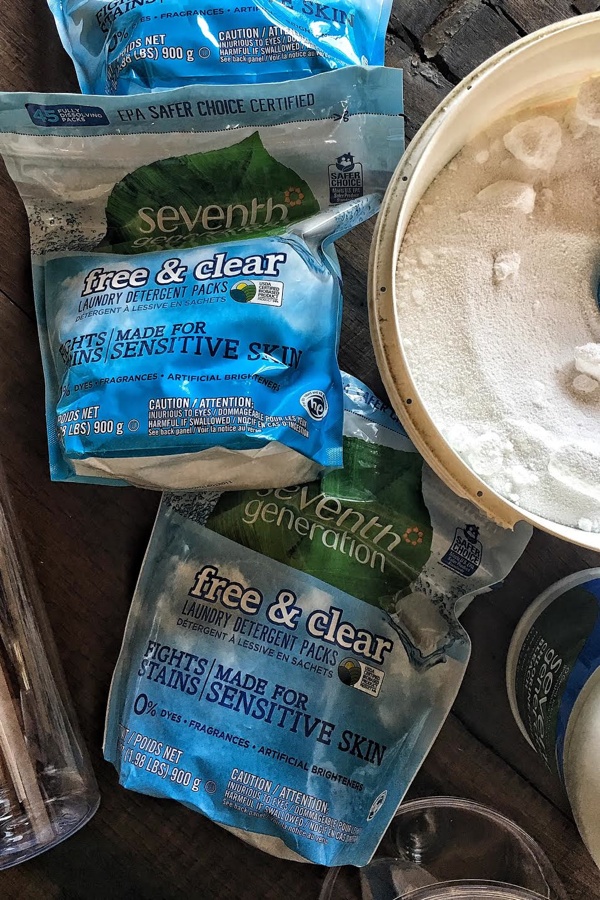 This year, I partnered with Seventh Generation which means I switched to using ALL of their cleaning products in our home.  We started using Seventh Generation Free & Clear line of laundry detergent and I've been quite pleased with the results.  Their laundry detergent packs are made for sensitive skin without dyes, synthetic fragrances and artificial brighteners. They're super convenient if you don't want to deal with pouring out and measuring liquid + powders (hello, My name is Tracy and I spill things) and work in both hot and cold temperatures.  They'll also give you peace of mind when you have little children around because they're EPA certified as a safer choice for laundry care.  If you have a front loading machine like I do, fill it up with clothes and put the pod IN with the clothes. You don't want to put it in the detergent compartment or else it won't dissolve. It's as simple as that.
I wanted to put everything in new containers so that things would look more cohesive and organized when I pass by the laundry closet. So, here I am labeling everything with sticky labels.  They're not perfectly lined up but I really like that. I think it adds character!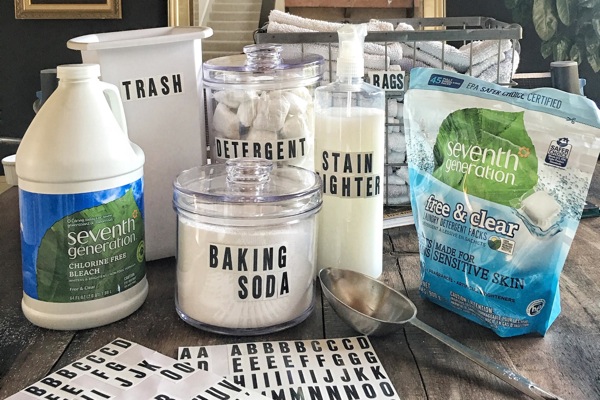 Let's show you some progress shots.
Closet was painted a darker gray. Color- Bottlenose Dolphin by Valspar.
Casey installed an Elfa system from The Container Store. YAY, CASEY!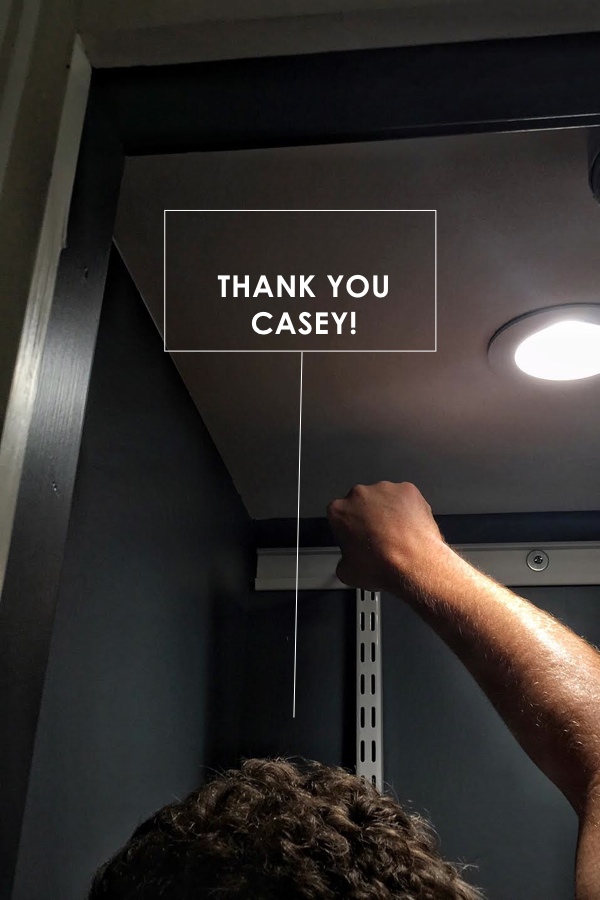 At first I thought we were going to go with a clothes rack but it looked kind of awkward and I figured it would be a waste of space if there was nothing hung up, so we changed plans and put two small top shelves on top and two deeper shelves on bottom.
This is before we put the second smaller shelf in.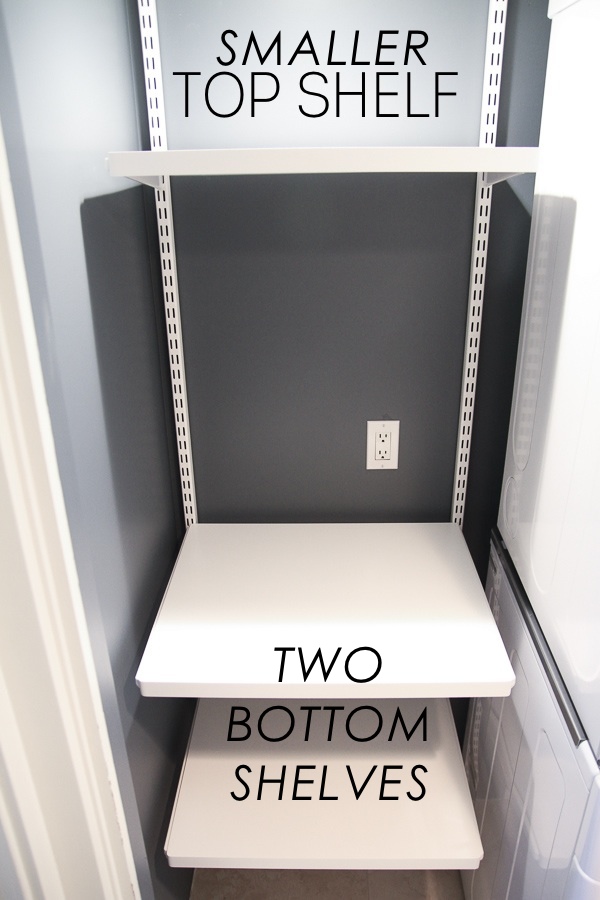 TADA. I told you the space was narrow! Kinda awkward to take pictures in.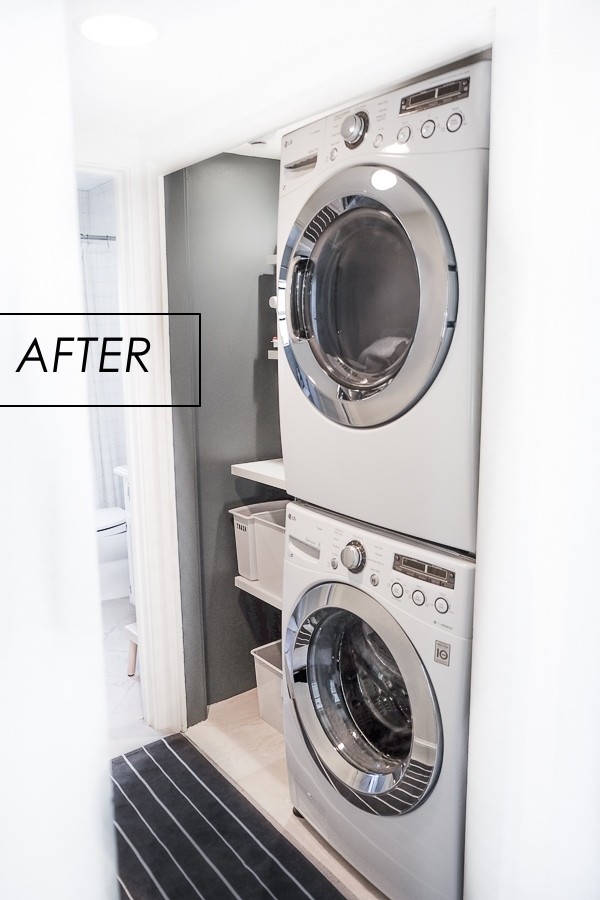 And here we go…here's the AFTER!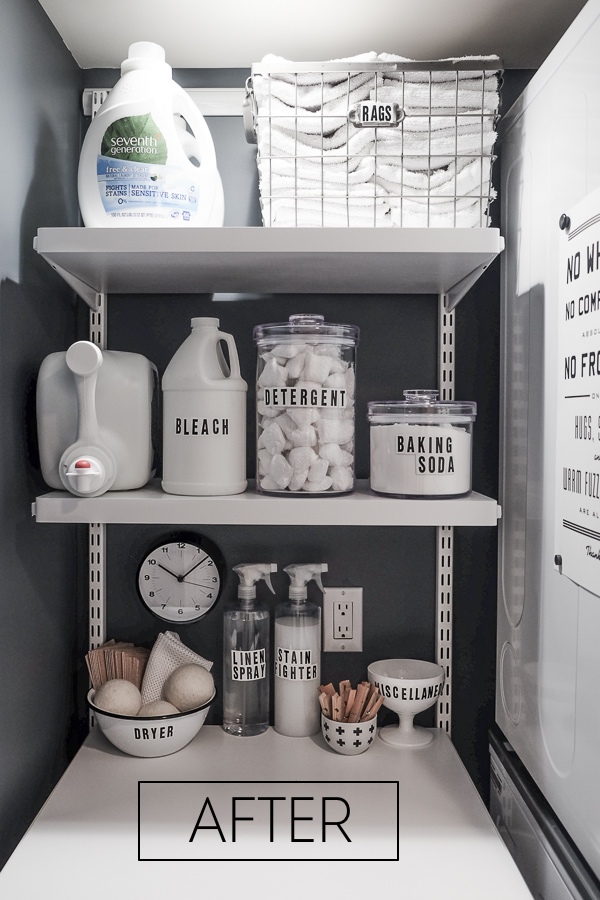 I put all of our rags in a metal basket. The basket now lives on the top shelf with extra detergent.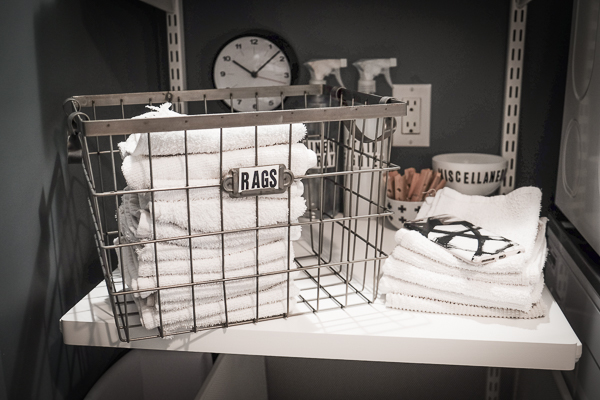 Here I am listening to a podcast while folding towels! AMAZING.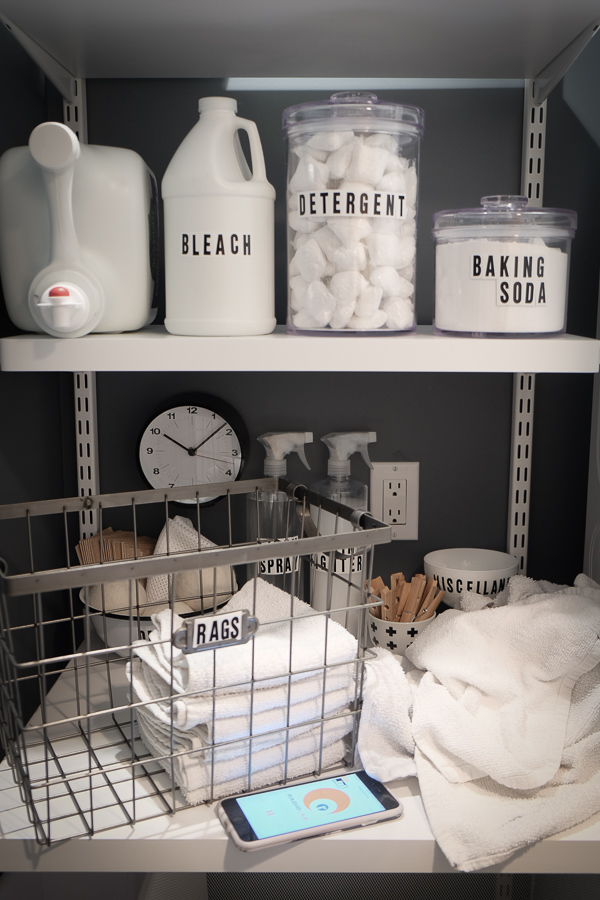 But then I thought…HEY! I have one of those magnetic container things. Let me put my phone in it and stick it to the washing machine. To my surprise, it acted like a speaker, making the podcast even louder.  Now I know where my phone is!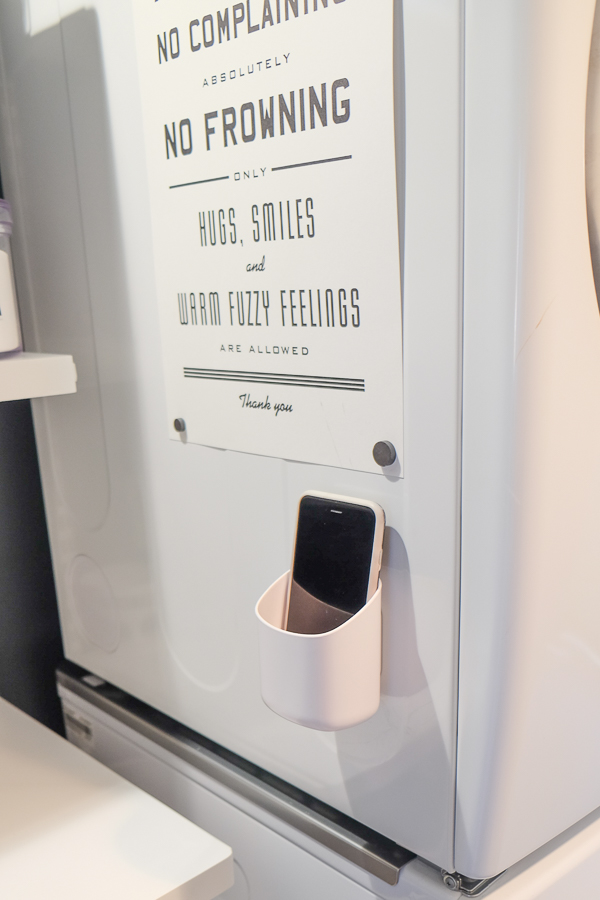 Besides their Free & Clear detergent, I really enjoy Seventh Generation's  Natural Laundry Soap in Blue Eucalyptus + Lavender. It's a very light floral scent. Makes stinky boy socks smell fresh!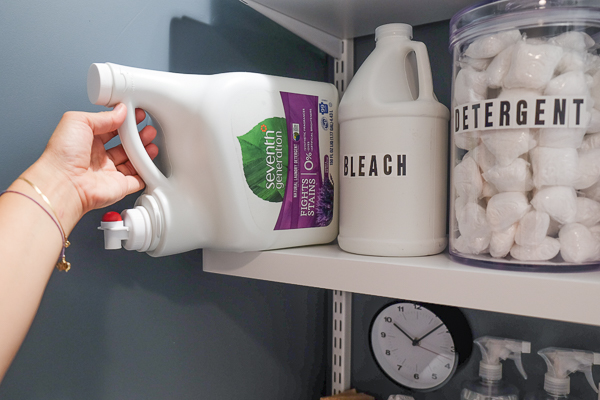 All of the laundry detergent packs fit in that canister! Now when I do a load, I just grab a packet and stick it in the wash.
Because I wanted everything on this shelf to be white, I pulled off the label from Seventh Generation bleach bottle and labeled it with the sticker letters. I also put the baking soda in its own container (which I use with vinegar for stains + deodorizing old towels) as well.
The graphic designer in me is pleased greatly by labels.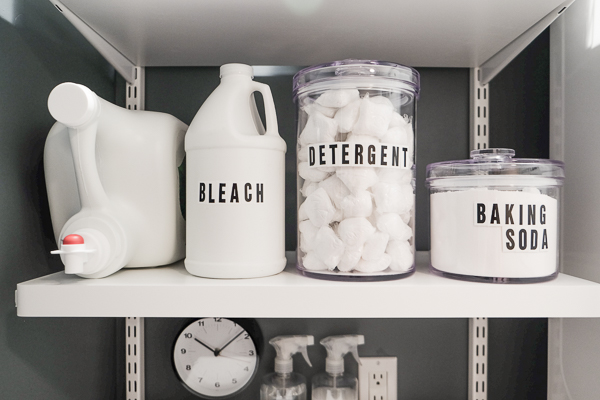 Now we have some space left on this shelf to do some folding.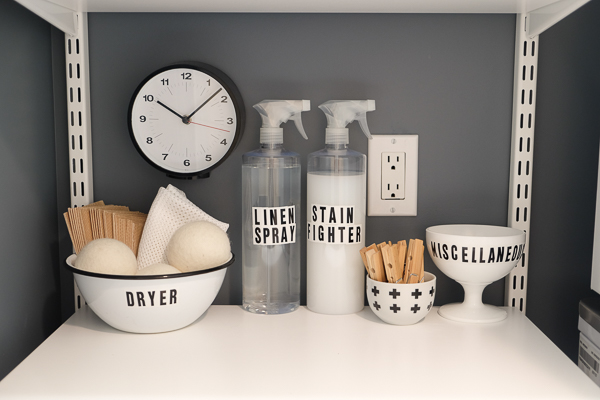 And below we have two shelves for laundry baskets + a small garbage can for lint or candy wrappers I find in my husband's pockets.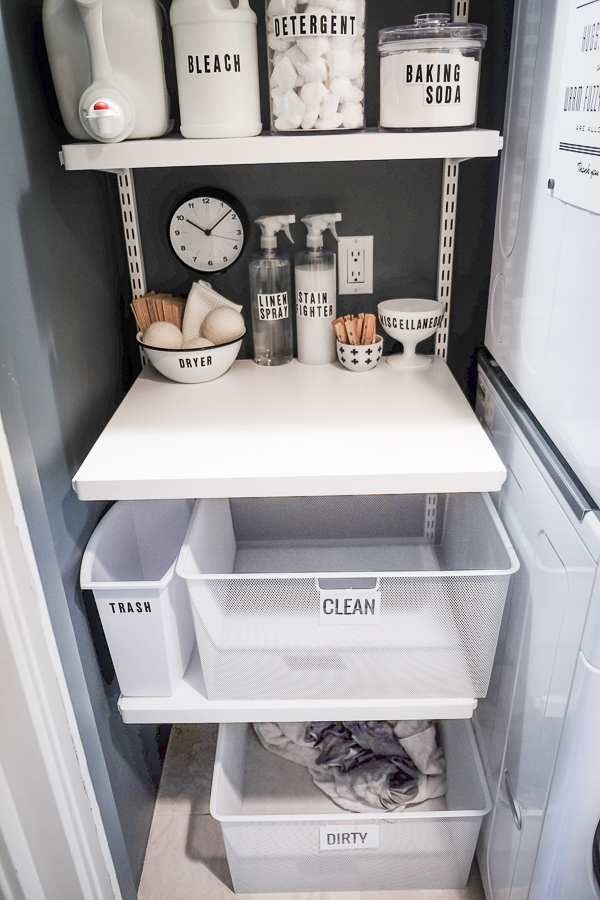 So many plastic laundry basket handles break on me so I invested in some metal mesh basket/drawers.
I printed out the words Clean/Dirty on printer paper & laminated them and attacked them with string on the baskets.
The "boys" bathroom is right next to the laundry closet so there's no excuse now to have dirty clothes on the bathroom floor.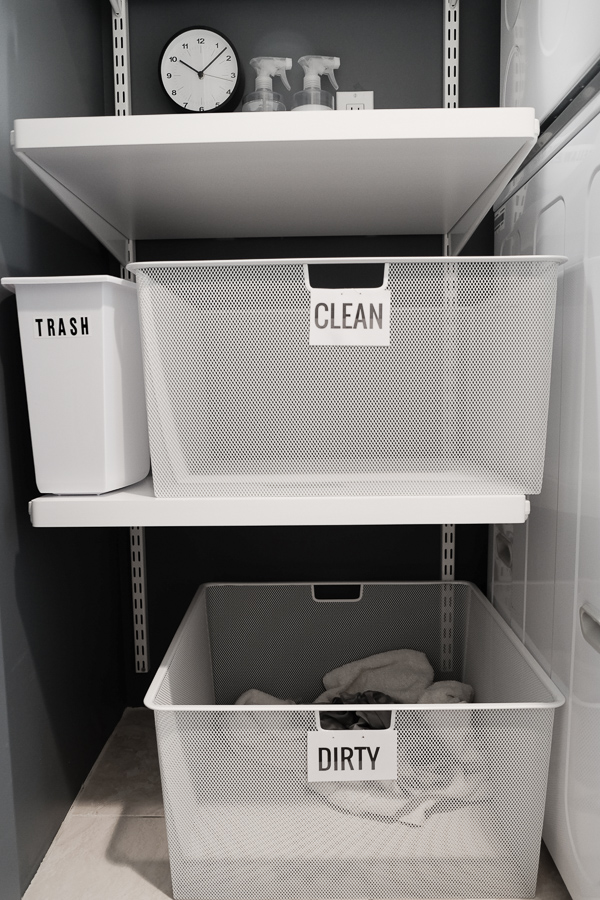 And I put up a little sign that both Casey and Cooper will see when they leave the bathroom.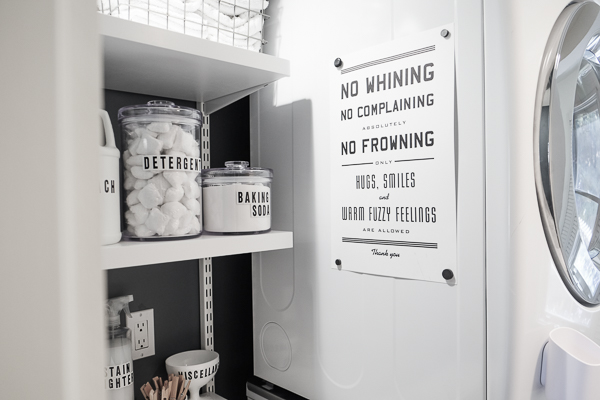 OK. WHO IS EXCITED TO DO LAUNDRY NOW??!!
This girl.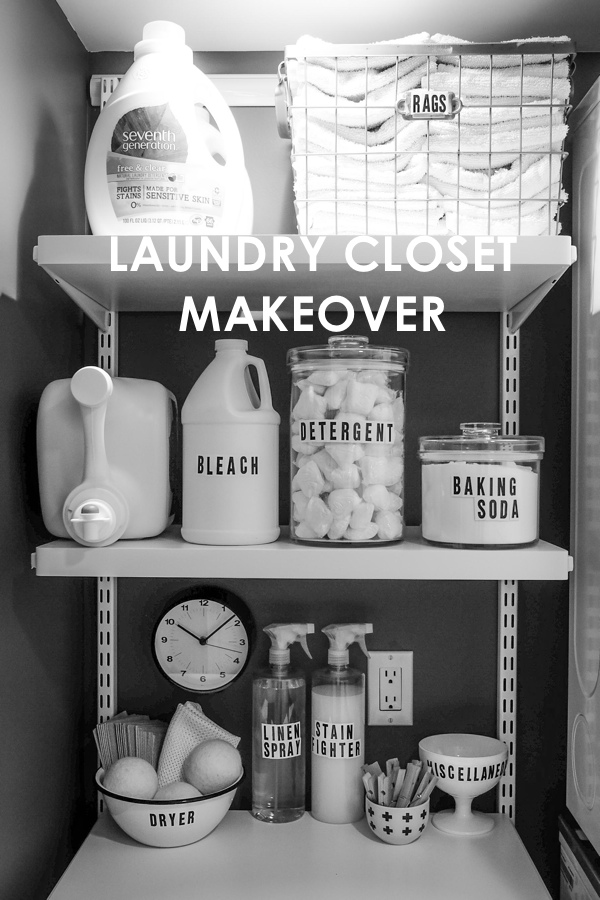 Sources:
This Laundry Closet Makeover post was produced in partnership with Seventh Generation. As always, all opinions are my own. Thank you Seventh Generation for helping make my laundry experience more enjoyable!