Back on the meal prep train. I was  out of my normal schedule with the kitchen painting stuff. Don't worry, I am editing photos and should post pictures of my kitchen sometime this week. Stay tuned on that! This week was a really busy week. I shot recipes for One Potato, which meant we had a ton of food in the house. But I wanted to create a foundation so that I could make some things on the fly.
Let's look at the week:

THIS WEEK'S MEAL PREP:
lettuce for salads
basil pesto (look at what my photos looked like in 2007!)
peeled carrots + red peppers
croutons
MEAL PREP IN ACTION:
Here we have kale caesar (used the dressing!) with rice & roasted sausage.
All three of us ate the same thing which made me super happy.

Peso on fettuccine with Caesar salads! BOOM.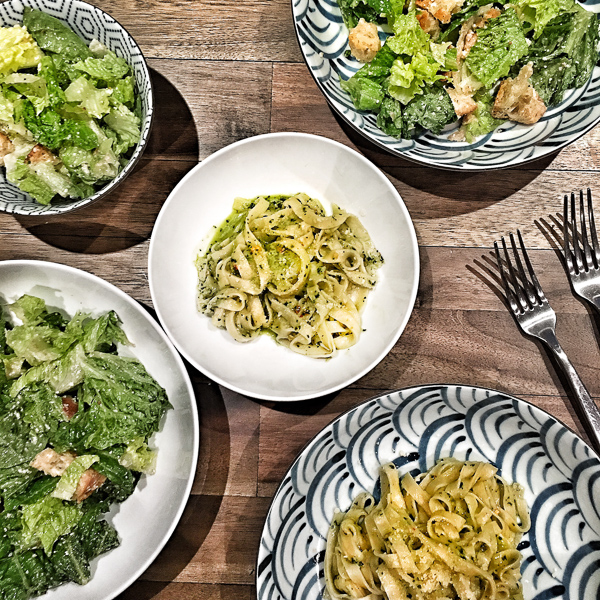 I got a lot of use out of the pesto this week. Here's a breakfast with pesto toast, cheesy eggs & broccoli.  I turned it all into an open-faced sandwich.

Work from home lunch meant grated zucchini sautéed with rice and pesto. Lots of red pepper flakes and a fried egg on the side. Delicious.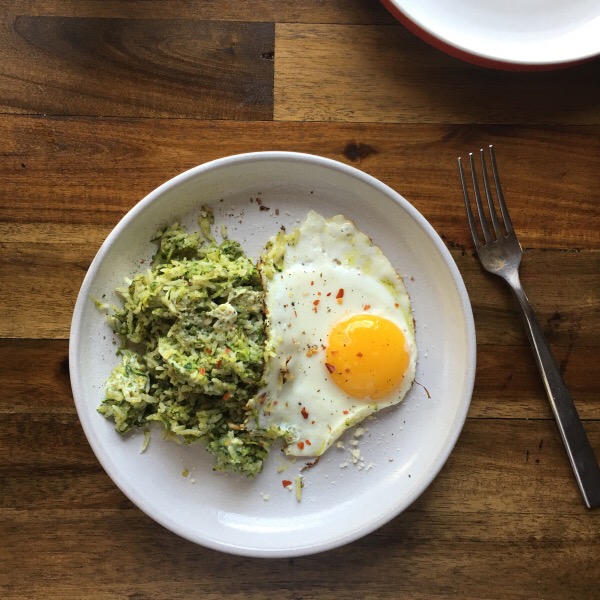 A few weeks ago, Cooper and I wrapped up some bananas and put them in the freezer. Pulled them out and made a blueberry banana smoothie with them.
Love having frozen bananas in our arsenal.

Casey and I were working from home so I made us a gigantic salad with the potato salad, lettuce I prepped, caesar salad dressing & croutons. There's also broccoli cheddar soup with croutons.
Grilled cheese for Casey… He's so lucky.

This was another awesome breakfast. I sautéed asparagus and red peppers in a spoon full of the Caesar dressing and finished with a scoop of pesto. Served with eggs and toast. Amen.
I liked how the garlic and vinegar brought out the sweetness of the peppers in the mix. It had such a good umami flavor.

Pesto + Arugula + Chopped Almonds + Chicken = Happy Tracy

OTHER NOTES:
Cooper and Casey plowed right through the banana bread, like I knew they would. I'm glad we had carrots & red peppers in the house because I got through the Monday munchies unscathed thanks them. I'm notorious for eating well on Monday during the day and then the second I get home from work I'm like GIVE ME ANYTHING and GIVE ME IT NOW.  Carrots helped while I made dinner.
I'm so glad I thought to make Caesar dressing because Cooper ate a TON of salads during the week and that made me happy.
Casey enjoyed the limeade with a few cocktails this week. It's great with rum.
I made a batch of Kombucha– flavor = Pineapple Mango
Week 2 was a success. I didn't have any leftovers!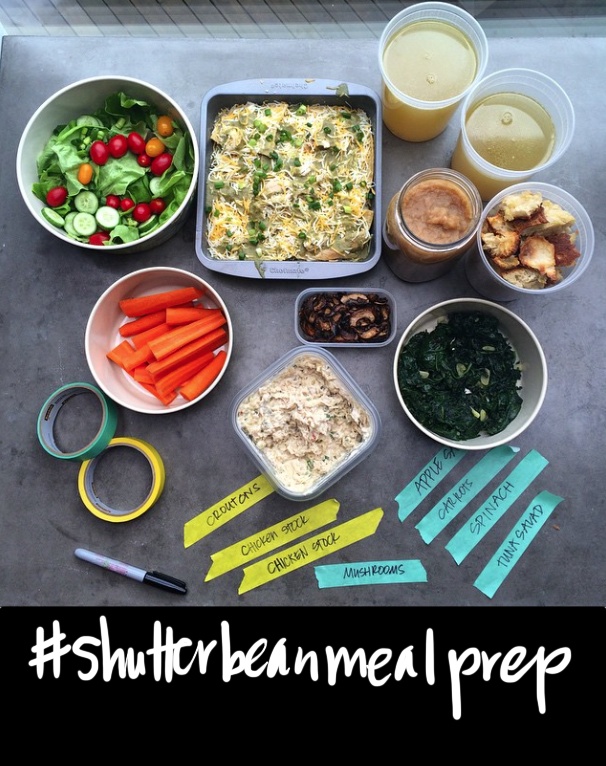 Hope this inspires you to do some meal prep this week.
If you need more inspiration, follow my #shutterbeanmealprep hashtag on Instagram.
Curious about meal prep? Read my post here!