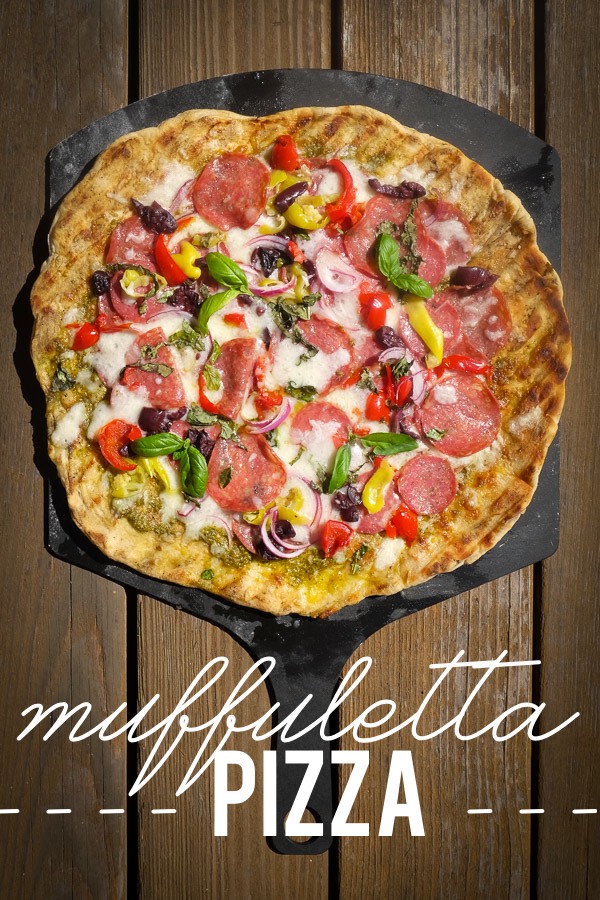 Let's fire up the grill and make pizza! Today I'm showing you how to throw together a tasty Muffuletta Pizza for your outdoor grilling parties with the help of Columbus Craft Meat.
What's a muffuletta? Well, it's a an amazing Italian sandwich filled with different kinds of cured meats, picked vegetables, olives, mozzarella & provolone.
But wait…this is PIZZA, Tracy.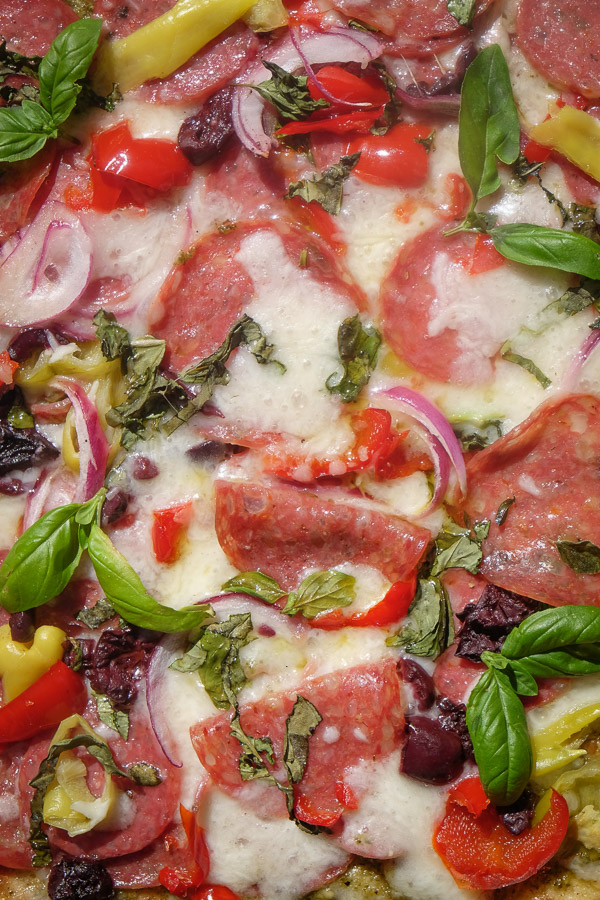 I know, I know.
I've borrowed the flavor profile of a muffaletta and turned it into a pizza LOADED with toppings.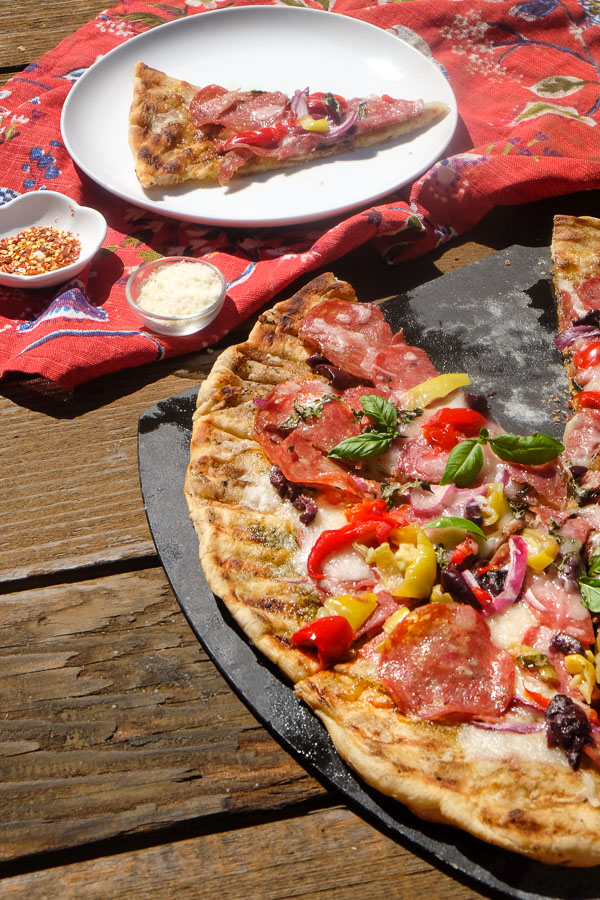 The nice thing about that is that it's the only way I can stop eating pizza after two slices. The toppings on this pizza will definitely fill you up. Whereas, if I was eating a simple cheese pizza I wouldn't stop until after 6 slices…and then I'd make room for more!
Let's gather our ingredients!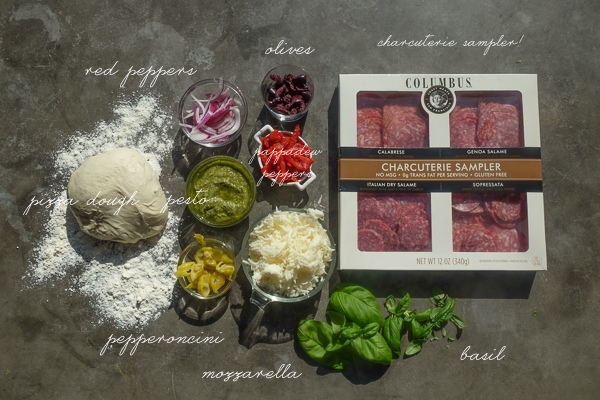 The star of this pizza? Charcuterie! Columbus makes a really nice charcuterie sampler package (see below) that has a variety of craft meats. It's important to have a variety of meats if we're going to mimic a muffuletta situation. I'm pretty impressed with this sampler pack. It will be great for impromptu hangouts this summer. I might even slip it in my beach bag with a baguette for a picnic situation.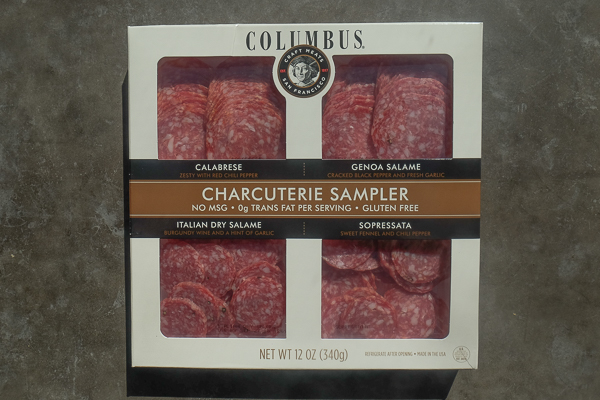 OK! So, we're going to grill pizza. Have you done that before? It's super simple and you don't have to turn on your oven and make your kitchen super hot. Win Win.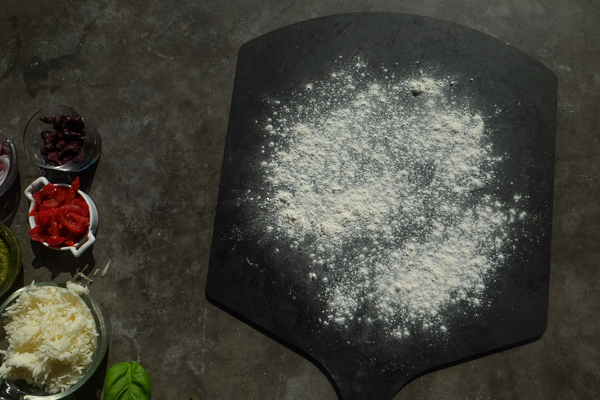 Pizza dough gets stretched out and shaped. I floured my pizza peel and placed the shaped pizza on top. Pizza gets a drizzle of oil.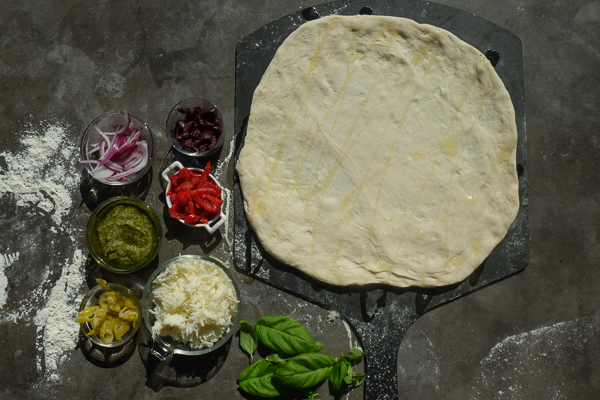 Pizza on the grill. It takes a little finesse at first to get it on. But you can easily shape it back into place if you run into a precarious situation.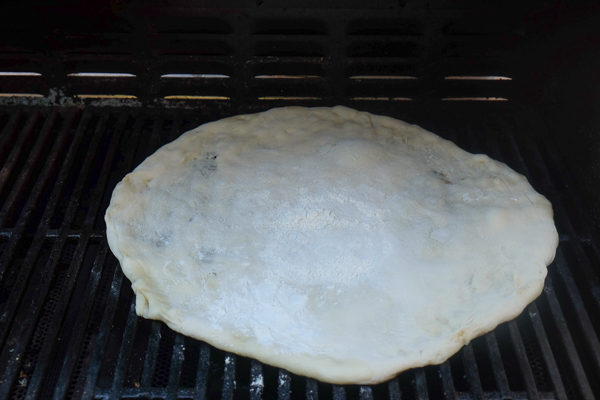 What we are going to be doing here is cooking the TOP of the pizza. We want it uniform because that's the side we're going to see.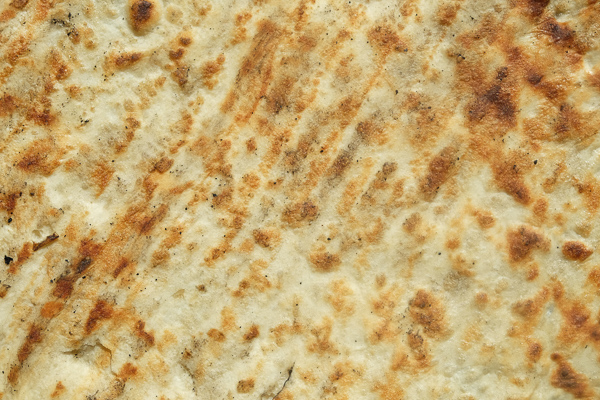 SEE?! Now we top it.
Pesto layer down first.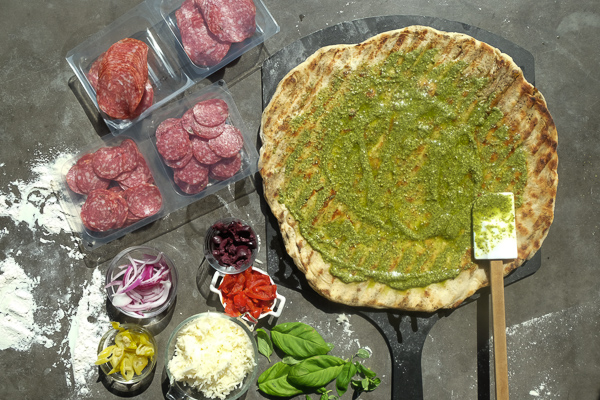 We start with some craft meats.  I love arranging them on pizza. So zen.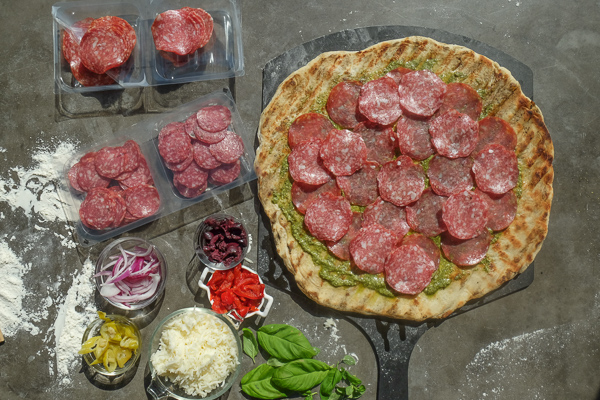 Followed by cheese and then more craft meat.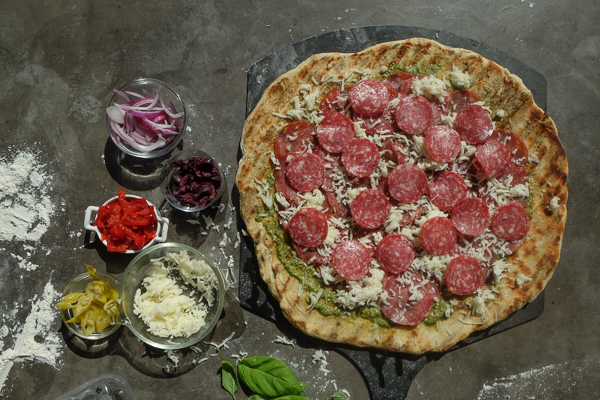 Finish with red onions, pepperoncini, olives and fresh basil.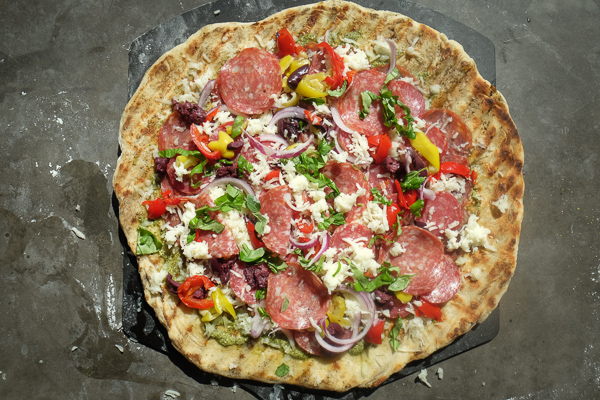 We go back on the grill.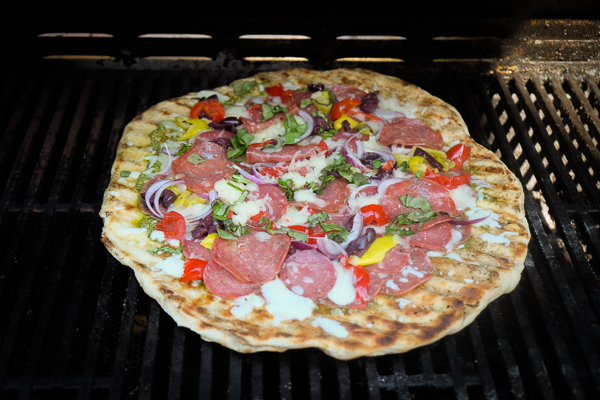 Cook until the bottom is nice and crusty.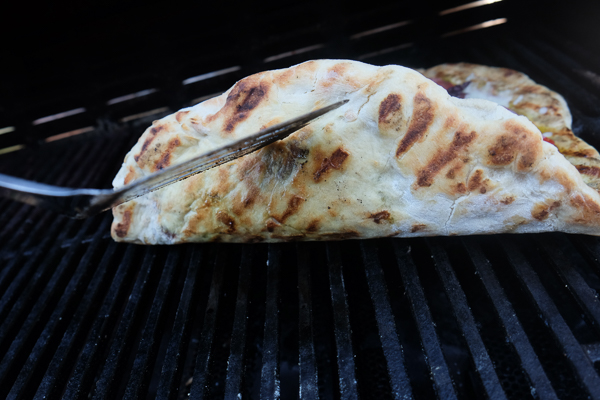 BAM.
Sooooo much good stuff on one pizza.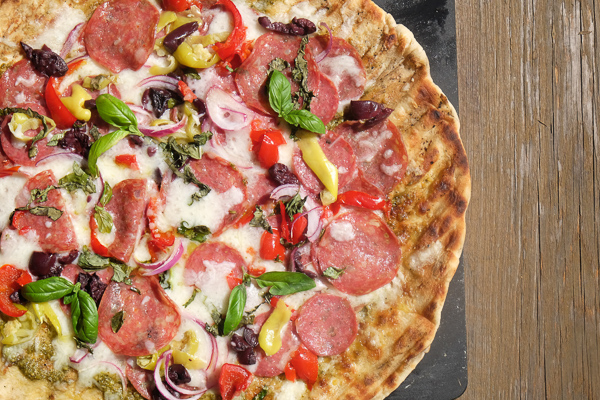 I'm thinking of sandwiching two pieces together and eating it like a sandwich.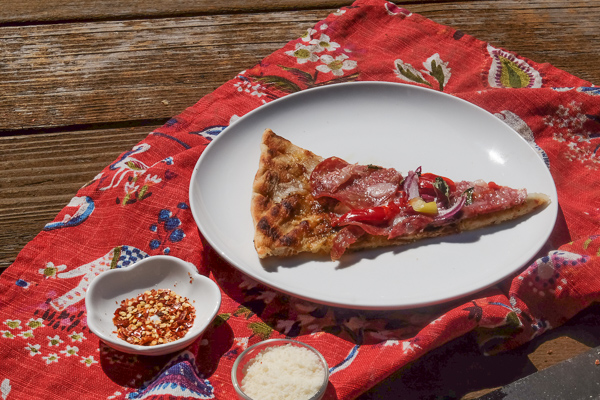 A muffaletta pizza sandwich!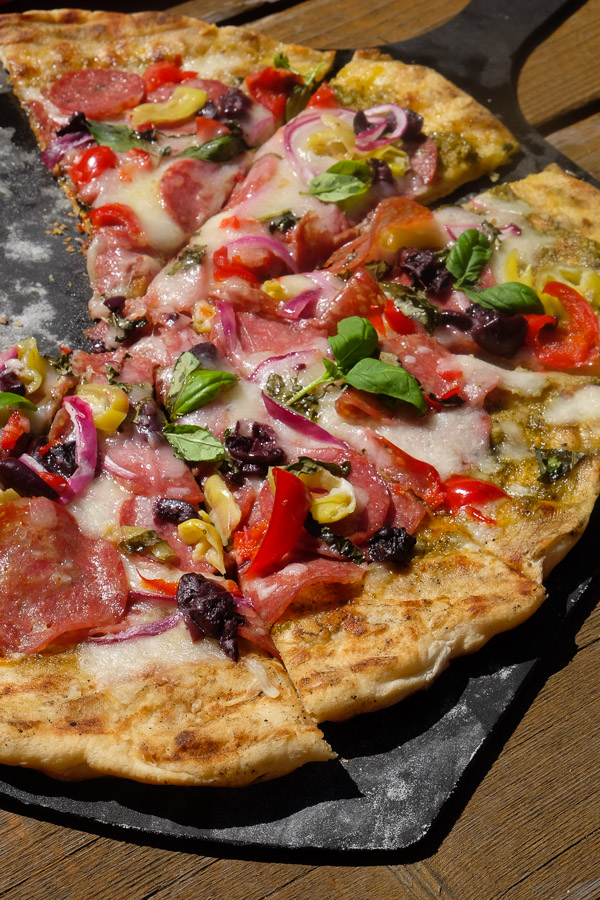 Thank you to Columbus Craft Meats for kindly sponsoring this post. All opinions are 100% honest & completely my own.
Muffaletta Pizza

makes one 16 inch pizza

1 lb. pizza dough
1/2 cup basil pesto
1 1/2 cups shredded mozzarella cheese
8 oz. assortment of Columbus salumi
4 pepperonicinis, thinly sliced
4 pickled pappadew peppers, thinly sliced
1/4 cup thinly sliced kalamata olives
1/4 red onion, thinly sliced
basil, for topping

Preheat grill, making sure one section is on high and the other is at medium heat.

Shape pizza into a 16 inch round and place on the hot section of the grill. Cook pizza for 3-5 minutes (dough should not stick when ready to flip) and flip pizza over. Move pizza over to cooler side of the grill and top each pizza with pesto, a layer of craft meat, and half of the mozzarella. Continue topping pizza with another layer of assorted salumi, and finish with remaining mozzarella, pepperoncini, pappedew peppers, olives, and onions.

Cover grill and cook pizzas for 10-15 minutes, or until crust is browned and cheese has melted. Take pizza off of the grill, sprinkle top with fresh basil and serve hot.