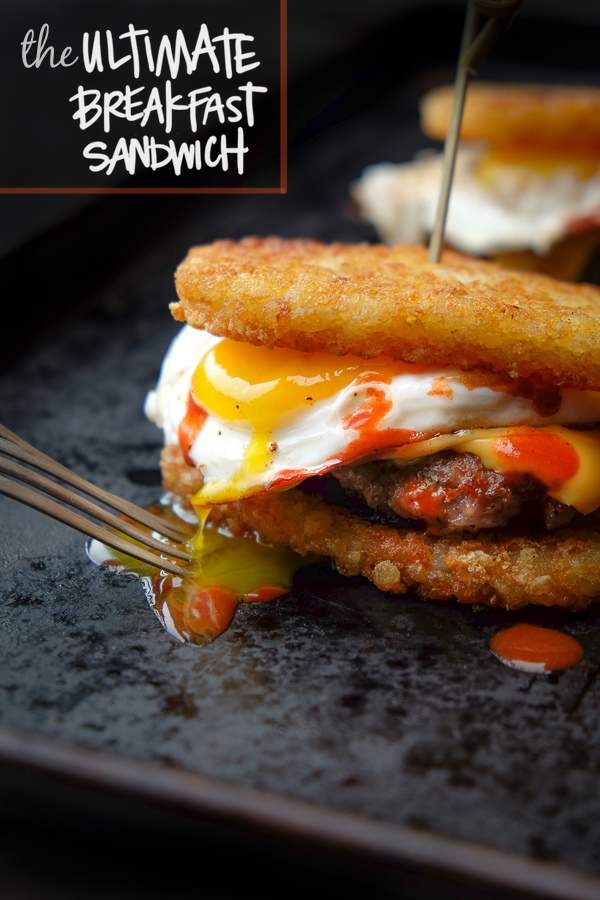 On the weekends I crave breakfast sandwiches. Sometimes I sit on the couch with my coffee and try to will one to appear. Actually, I am trying to send Casey some mental vibes…like in my head I'm yelling GET ME A BREAKFAST SANDWICH (in a sweet voice, though).  It never works. I take that back. It only works when we're hungover but then we have to motivate each other to get in the car and pick one up. And then there's this mental warfare of like should I? Shouldn't I? How am I gonna feel? Is that stuff really food?  I suppose that's why it's a no brainer to get a breakfast sandwich when we leave on road trips. You just carry on with your business and don't have wrappers in your trash at home…staring at you all day.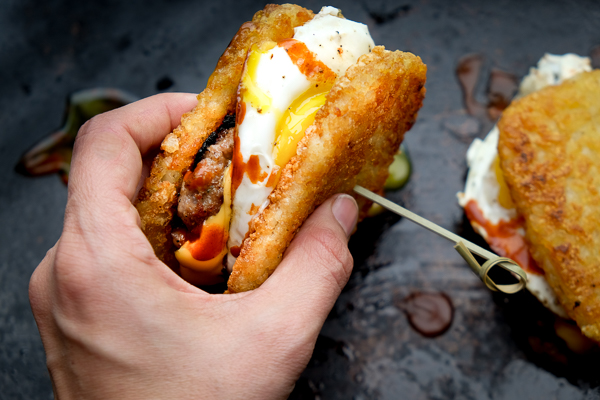 I was looking through the latest Bon Appetit magazine and this recipe for Homemade Breakfast Sausage caught my eye… It's an ingredient to their "Best Breakfast Sandwich."  Well, yes. Thank you for luring me in like a moth to a flame, BA.
So, when I'm sitting on the couch fantasizing about breakfast sandwiches, I often think about omitting the bread and sandwiching sausage, cheese & egg in between two crispy hash brown patties. Here it is and IT IS THE ULTIMATE BREAKFAST SANDWICH. Don't fight me on this.  Welcome to Indulgentville. Population 2.  We're saving this beauty for special occasions….like I drank too much bourbon on a Friday night and it's Saturday morning and I want something super savory and need you to make me a coffee before I talk to you k thanks bye, occasion.
Let's gather our ingredients.
We will make homemade breakfast sausage first.
It's so easy. I don't know why I don't do it more often.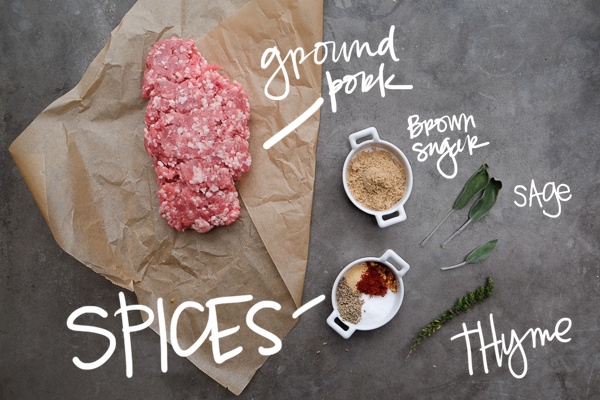 Spice mixture:
Did I spell paprika right? My R looks weird.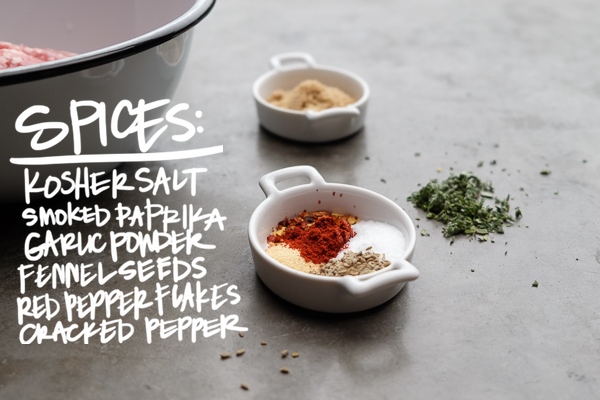 So…. here I brought out a spoon to fake mixing it….with a spoon.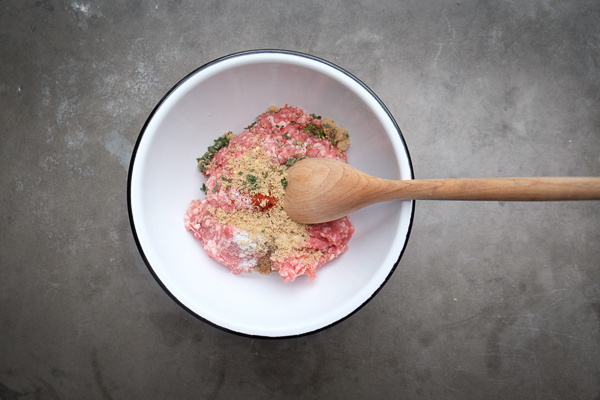 But really– use your hands.
This shot is for my brother, the hand model. Hey Ryan, I didn't get the hand modeling gene.
It's cool.
You didn't get the photography gene.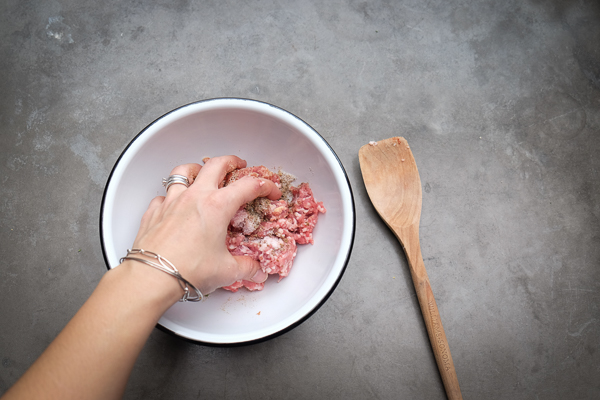 Patties are going to be formed and placed between parchment sheets.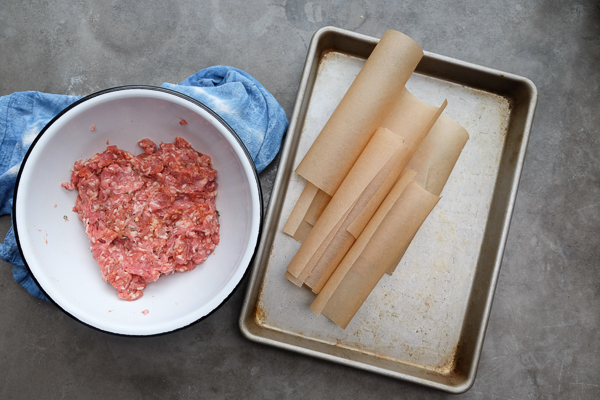 Patty party. The opposite of a pity party.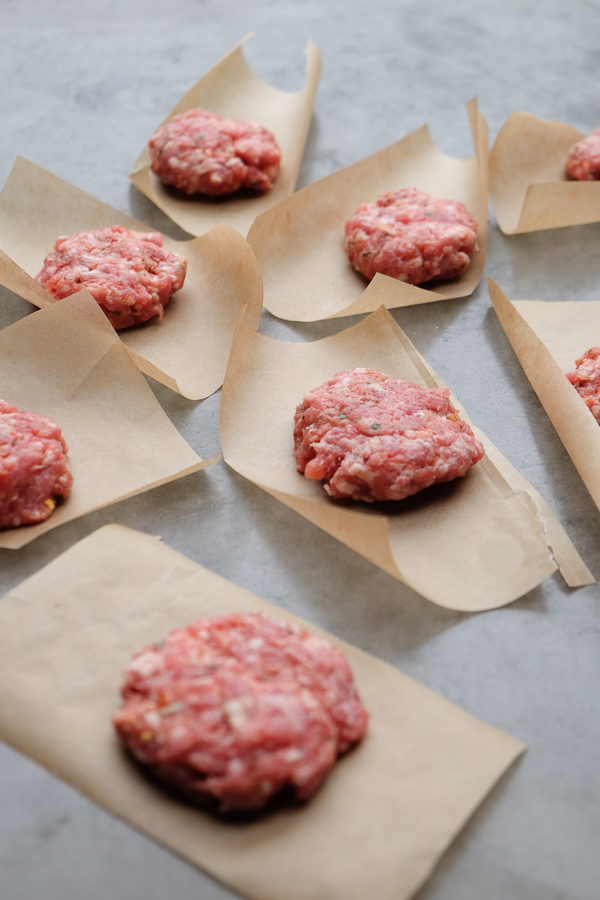 Now we can store them in the fridge… Take as many as you need.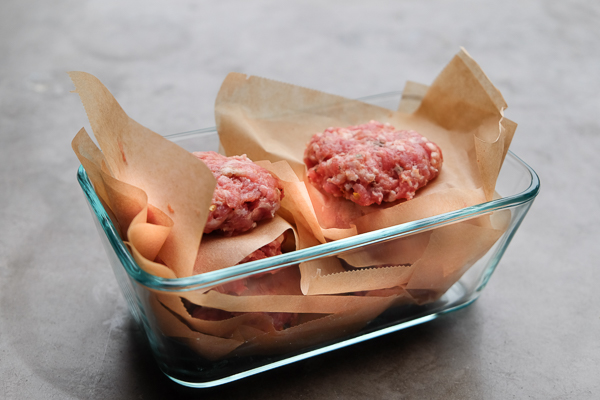 OK. We make the ultimate sandwich.
I bought American cheese for this. I think this is my first time buying it as an adult.
It's really what makes a breakfast sandwich a breakfast sandwich….at least the ones from the golden arches.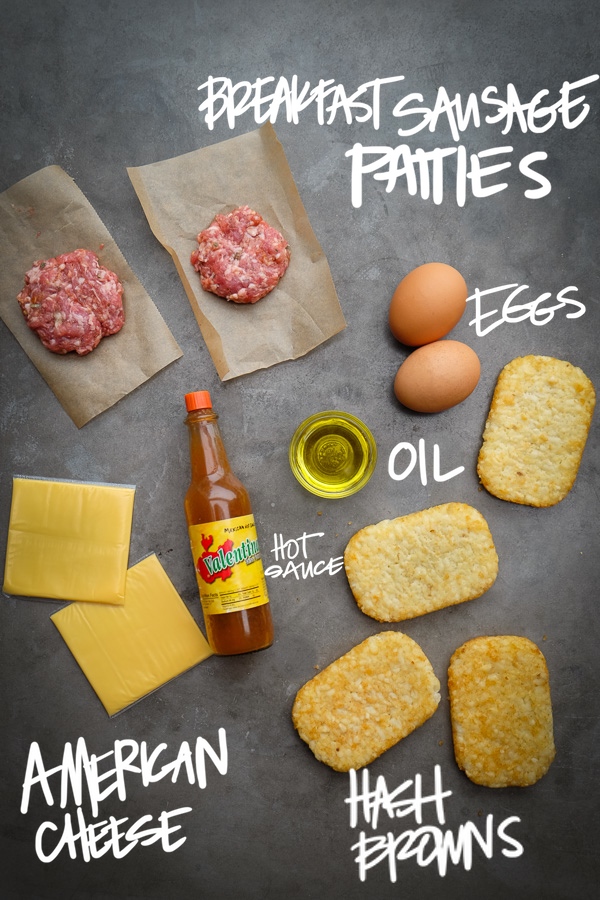 I get these hash browns at Trader Joe's. I love them.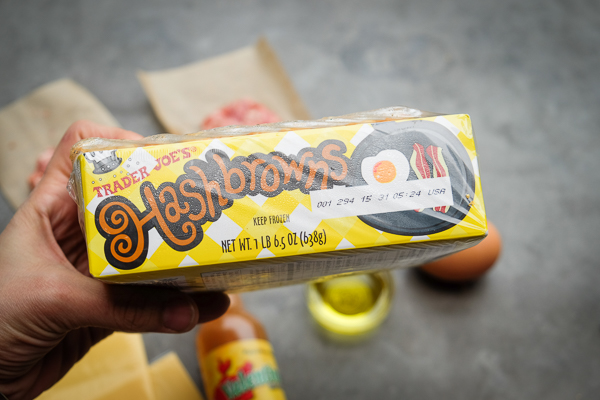 H-browns go into an oiled skillet. Cook 4 minutes per side.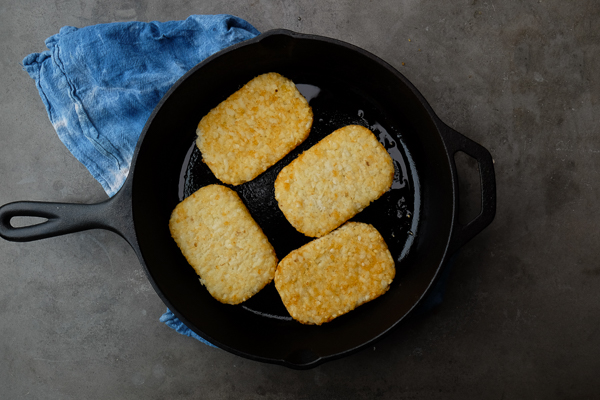 Flatten patties to the shape of the h-browns.
Sorry I said h-browns twice. P.S.— I'm not going to stop.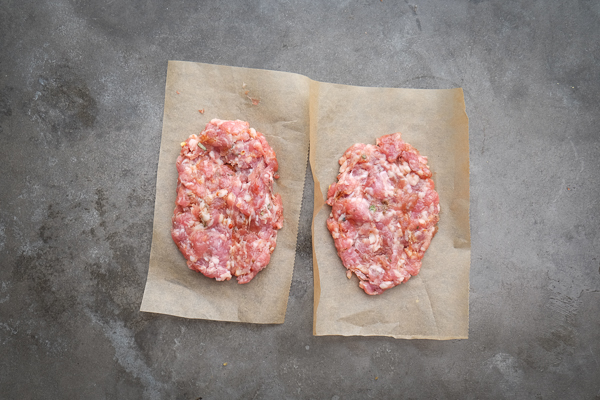 2 minutes per side.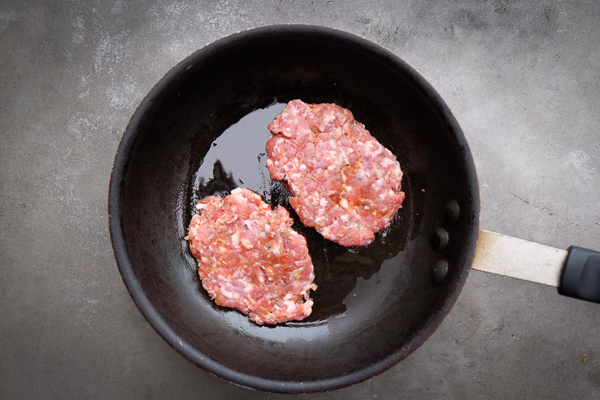 H-browns. We keep them warm in the oven.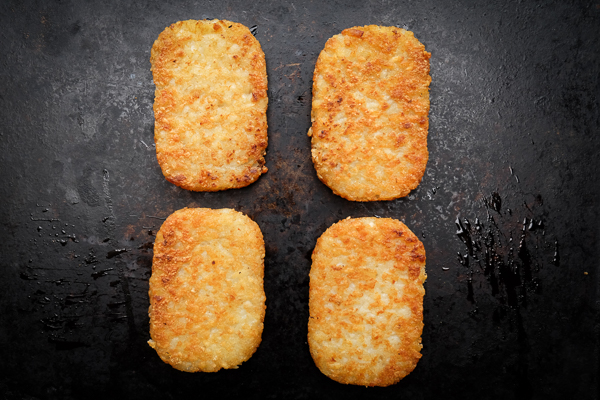 Sausage!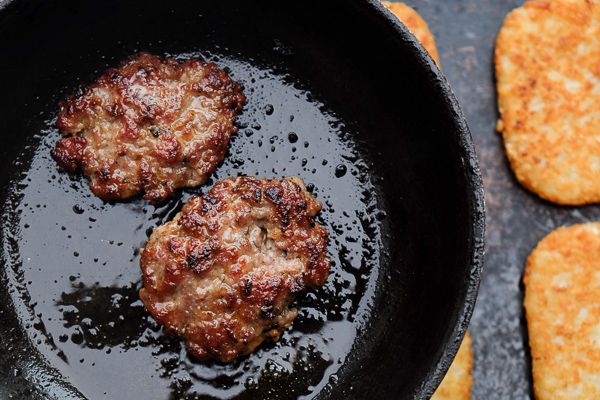 Topped.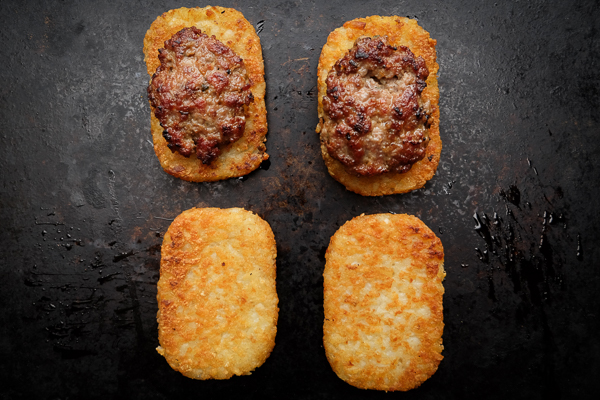 Eggs were made. There was like a two minute period where they looked like the yin-yang sign.
Egg magic.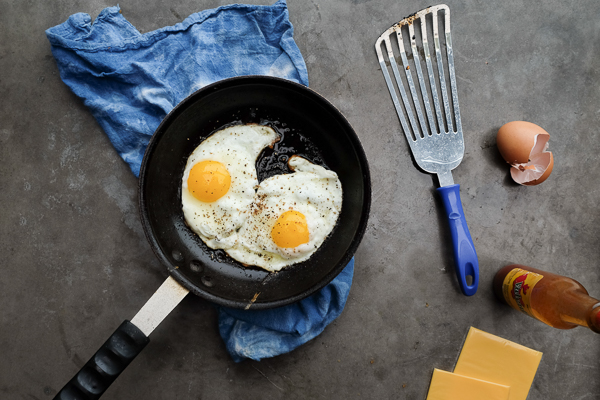 Did I mention we put cheese on the sausage??!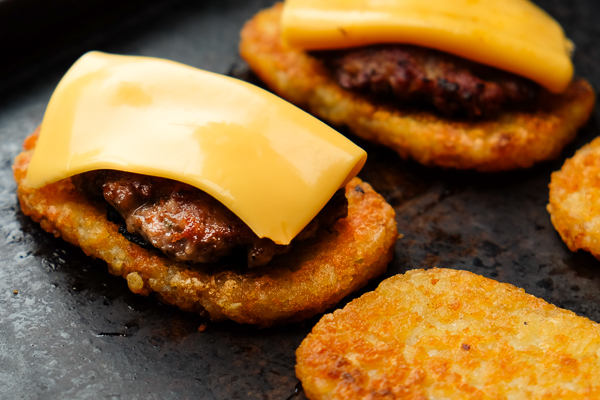 G-damn.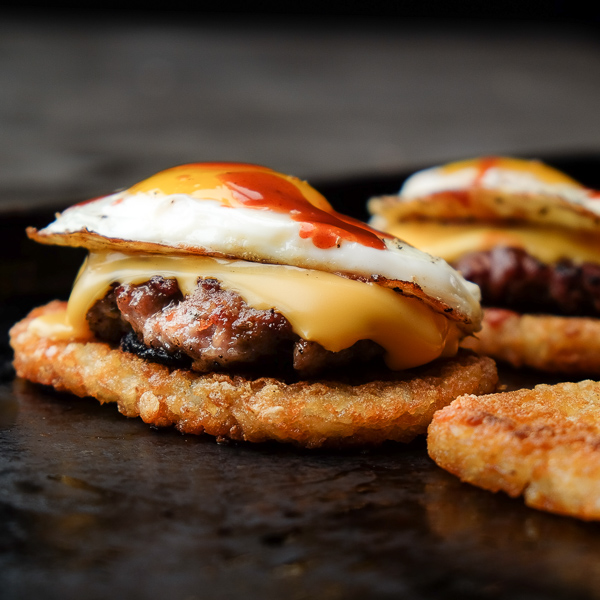 Can I put "Egg Yolk Poker" on my Linked In profile?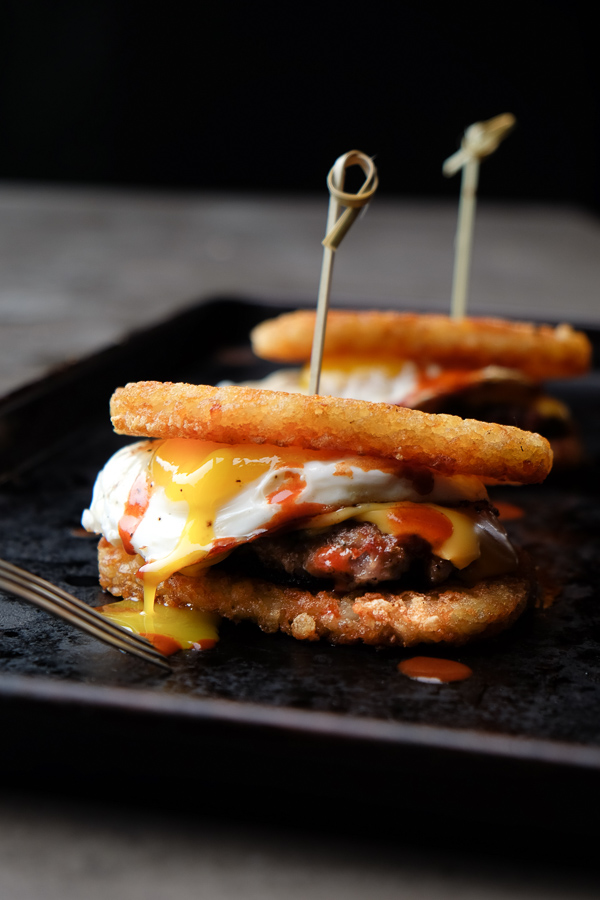 Say my name say my name.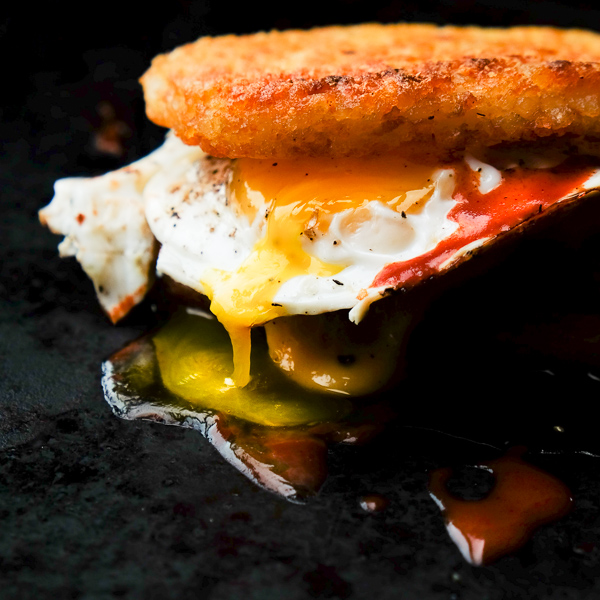 If no one is around you, say baby I love you….
The Ultimate Breakfast Sandwich

makes 2 breakfast sandwiches

4 frozen hash brown patties
2 tablespoons olive oil
2 breakfast sausage patties (see recipe below)
2 slices American cheese
2 large eggs
salt & pepper
hot sauce, for topping

Preheat oven to 300F.

Heat a cast iron skillet with 1 tablespoon oil over medium high-heat. Place hash brown patties in hot oil and cook 3-4 minutes per side, or until hash browns are evenly browned and crispy. If you find them sticking to the skillet, add more oil. Remove from pan, place on baking sheet and heat in the oven while you cook the sausage and eggs.

Add the sausage to the pan and cook until browned on one side, about 2 minutes. Flip and cook 2 minutes more. Place the sausage on two of the hash browns. Top with cheese and place back in the oven.

Clean skillet, add remaining oil to the pan. Fry eggs until edges are crispy and the whites have set. Season with salt & pepper. Drizzle eggs with hot sauce and place each one on the cheesy sausage topped hash brown. Take the remaining hash browns and sandwich them on top of the egg/sausage/cheese. Serve immediately, with additional hot sauce.

BREAKFAST SAUSAGE

makes 8 patties 

recipe from Bon Appetit

1

 

tablespoon

 

finely chopped fresh sage

1

 

tablespoon

 

finely chopped fresh thyme

2

 

teaspoons

 

light brown sugar

1½

 

teaspoons

 

kosher salt

1

 

teaspoon

 

crushed fennel seeds

½

 

teaspoon

 

crushed red pepper flakes

¼

 

teaspoon

 

freshly ground black pepper

¼

 

teaspoon

 

garlic powder

¼

 

teaspoon

 

smoked paprika

1

 

pound

 

ground pork

Mix sage, thyme, brown sugar, salt, fennel seeds, red pepper flakes, black pepper, garlic powder, and paprika in a medium bowl. Add pork and work spice mixture into meat with your hands until it's very well blended.

Scoop out ¼-cupfuls of mixture and flatten into about ¼"-thick patties. Layer patties in between small sheets of parchment paper. Place in an airtight container and refrigerate up to 3 days.