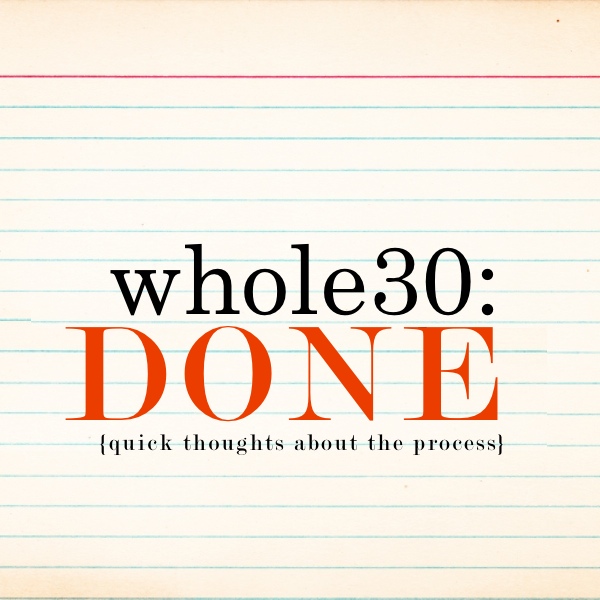 Whole 30 = DONE.
I haven't decided what I am going to eat/drink first because for some reason the pressure feels too great. I also feel like it might be counterintuitive to celebrate with food. So many feelings yet to process. But yeah! 30 days, man. Wow.
What did you eat/drink first when you went through the Whole30 journey?
How did you feel when you did it?? 
We haven't talked about the weight part yet, because it's kind of a big deal.
I lost 10 lbs. in 30 days.
10 lbs. of padding I had to protect me from my feelings.
Ten pounds gone because I was a better advocate for myself.
I said no to certain things because
I have willpower.
I said no because I am putting myself first.
I am going slow
because I am worth the effort.
Ten pounds lost by being mindful.
30 days of saying YES to myself and NO to bad habits.
Ten pounds lost by making the right choices because
I am not rushing into things.
I am allowing myself to feel feelings and when they're too much,
I learn how to make a quiet space for myself
so I can RESET. I must breathe. I can't hold my breath.
I am  finally learning that I MUST slow down.
Slowing down is hard for someone with my intensity.
When I don't slow down, my body retaliates.
I have learned that to go slow, I must sacrifice certain things.
The more I know
ABOUT MYSELF, 
the easier it is to make those sacrifices because
I AM WORTH THE EFFORT.
When I
GO SLOW
I can evaluate my choices and be better at controlling my
IMPULSES.
Knowing myself, means understanding my impulses because
they're mostly rooted in feelings. 
Numbing my feelings just adds more stress to my life.
I am in the process rewriting the story.
Creating better habits is KEY.
Habits with impact. Habits that will help me reset when I need to
THE MOST. 
More soon. Still feeling all the feelings!
There's a doughnut downstairs on the counter I have to contend with.
It's cool.
I'll be happy with my decision either way.
I summed it all up in my bullet journal: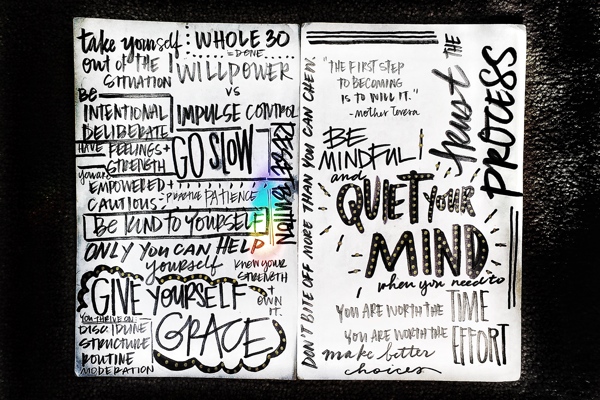 Here's a look at week 2 and week 3
Thank you for following me on this journey!